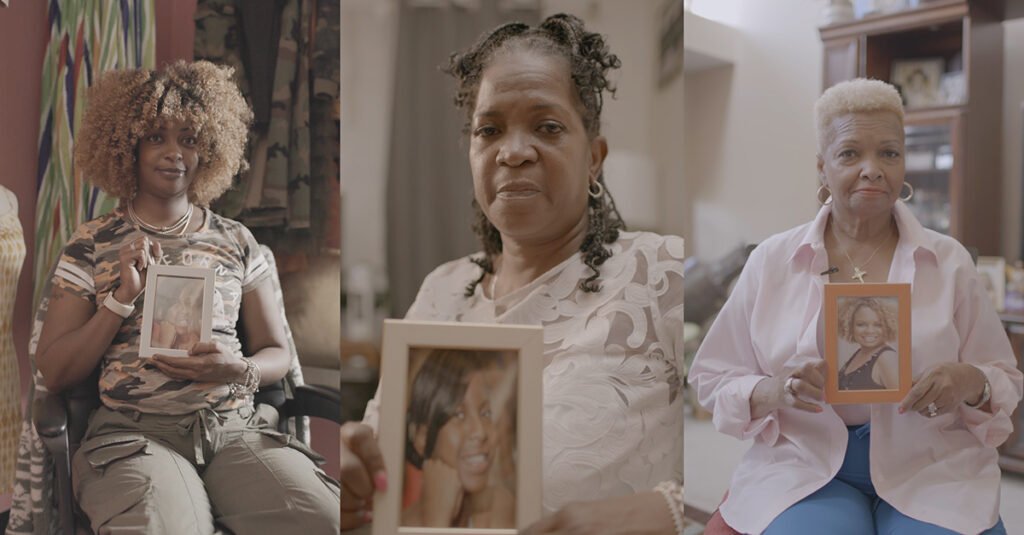 In mid-1990s, Sonya and Bridgette Rouse would hit the clubs. "It was a 'Sex in the City' sitcom — two Black sisters, just running around, doing our thing in Chicago," says Bridgette Rouse.
Rouse would watch in admiration every time her older sister, Sonya, went under the bright lights of the Cotton Club and drew people to the empty dance floor.
"Sonya didn't really care whose eyes were on her," she remembers. "It was just her way of connecting socially, not with other people, but with herself." Music was a form of treatment for her older sister's depression because she found peace in rhythm.
Sonya Rouse, who went missing in March 2016 at the age of 50, was the older sister you could talk to about anything, her sister says. She was a contradiction, at times: the life of the party but also quiet, reserved until she knew you but with a bold and bright style that spoke for her when she walked into a room.
"She loved to dress," her mother Shirley Enoch-Hill remembers of the oldest of her three girls as she sits near a colorful painting of Sonya that hangs in the family room of her Lynwood, Illinois, home.
That was Sonya: clever and funny but also sensitive and shy. As a child, she was the bookworm in the family, often holed up in her room reading the newest book she'd received from her children's book club. "She just loved to read and that's all she did," says Enoch-Hill.
After graduating from Kenwood Academy, Sonya Rouse headed downstate to Illinois State University, where she studied communications and journalism. She dreamed of being a journalist, maybe even the next Oprah Winfrey, her mother remembers. She was the first in her family to graduate from college.
To this day, Enoch-Hill wonders if her oldest daughter is still alive.
Things changed after Rouse moved back to Chicago from college in the early '90s and gave birth to a daughter. After the birth, Enoch-Hill recalls, postpartum depression gripped Rouse. Substance use and untreated mental health conditions drove her into a cycle that the family was unsure she would survive.
"I remember one doctor said, 'Sonya, if you would just let me help you with the medication and stop trying to self-medicate yourself, things would be better for you.' I would say, 'You can do it, you're strong.' And she said, 'No, mother, you're strong. I'm not as strong as you are,'" remembers Enoch-Hill. Eventually, she raised her granddaughter because Rouse "couldn't get herself together."
"The depression just got the best of her," says Enoch-Hill.
Rouse met a boyfriend in rehab and got clean for a while, but the relationship ended when she relapsed. It got so bad that her mother set up a safety plan: She would check in every few days over text or a phone call, and if she didn't hear back, she would report Rouse as missing to the Chicago Police Department. Enoch-Hill knew that her daughter's health issues put her at risk of going missing or being the victim of a crime.
Rouse then started seeing a man and moved in with him at a house in Greater Grand Crossing. He physically abused her, Enoch-Hill says. She would run from him, and sometimes the police or her family would come to get her out of the house.
"It hurts you to see your child being abused, beaten like that. It seems like they're listening, but when they go back, it's like the abuser has the upper hand," says Enoch-Hill. "I went and got her several times … but she kept going back." That's how she knew something was wrong—too many days had passed without their regular calls and text messages.
In March 2016, on a rainy Sunday after church, Enoch-Hill knocked on the door of Rouse's home where she lived with her boyfriend. Earlier, she had received a text message that didn't feel like it came from her daughter. No one answered the door, and she never saw her daughter again.
After filing a missing person report, Enoch-Hill says family, friends, and church members did everything they could to locate Rouse. They posted flyers in her neighborhood and held prayer vigils outside her house. Enoch-Hill talked to her neighbors. They sent tips to her detective, urging him to interview Rouse's boyfriend and search her home.
Media attention was scant and sterile. "Rouse is diagnosed with bipolar disorder and has emotional issues. She could be carrying a purse," one news report said.
Bridgette Rouse wrote letters to then-Mayor Rahm Emanuel, news outlets and the Chicago Police Department. She constantly called the Special Victims Unit and pressed Detective Brian Yaverski, assigned to the case, for updates on the investigation.
The younger Rouse sister remembers one interaction with Yaverski that she can't shake.
"He stated that my sister's struggle with alcoholism and her mental health led her to illicit behaviors. I responded saying, 'Does that mean you shouldn't be searching for her?'" recalls Rouse, who felt Yaverski blamed her sister for her own disappearance.
Enoch-Hill feels that the police didn't take her daughter's case seriously because she was a missing Black woman, and she warns others that it could happen to them. "Hold on to your children, talk to them, try to get them some help because if they come up missing, it's like nobody cares," she says. "The police don't care — that's how I feel."
According to police documents, the boyfriend was in a work release program through the Illinois Department of Corrections when Yaverski attempted to interview him. An IDOC official said they could accommodate an interview by bringing the boyfriend back into custody, but Yaverski stated that he would wait until the boyfriend was fully released. Medical examiner data shows that he died of fentanyl overdose in December 2018, and there's no indication in police records that he was ever interviewed in relation to Rouse's case. Yaverski did not respond to a request for comment from City Bureau and the Invisible Institute.
Enoch-Hill feels that if the detective had interviewed Sonya Rouse's boyfriend, he might have discovered what had happened. "When he died, the truth of what happened to Sonya did as well," she says.
Enoch-Hill believes that if her daughter had been a white woman on the North Side, the detective would have handled the investigation differently, "but because she's Black, and from the South Side, nobody is trying to find her. That's how [police] made you feel."
Looking back, Enoch-Hill sees a pattern amid her daughter's inability to break free from an abusive relationship and her struggle with mental illness, substance use, and her eventual disappearance. "She told me, 'Mother, it's the demons that I'm running from; there are things I can't face.'"
No parent wants to lose a child, but it's a singular sort of pain when "you don't know where your child is on this earth," Enoch-Hill says.
"It's a strange and sad situation when you can't put your children to rest," says Enoch-Hill, who adds that she is not going to give up hope.
"There's no closure."