When was hip hop born? 
Its widely accepted birth date is 11 August 1973, when a now legendary party was thrown in a community room at 1520 Sedgwick Avenue, a tower block in the Bronx, New York. It was organised by Cindy Campbell, a Jamaican-born teenager, who charged 25 cents for ladies and 50 cents for "fellas", in order to raise money for new back-to-school clothes. 
Her older brother Clive Campbell – better known as DJ Kool Herc – was in charge of music. He was only 18 at the time, but he did something that would transform popular music: using a two-deck turntable, he mixed soul and funk records together, isolating and extending the short percussive parts (known as "breaks") that the dancers (or breakdancers) loved best, while making rhyming announcements on a mic. This block party, said The New York Times, is now seen as "hip hop's big-bang moment".
What exactly do we mean by hip hop? 
Although often used as a synonym for rap music, hip hop is also a wider cultural phenomenon, with four different elements, or "pillars": DJing; rapping (or "MCing"); break-dancing (or "B-boying"); and graffiti. It was rooted in African-American street culture, originally in New York City (and the Bronx, in particular) at a time of major deprivation. The city was facing a fiscal crisis that was used to justify funding cuts to policing and other public services in poor areas like the Bronx, and gang violence was escalating. Most young people growing up in this environment had few opportunities to put aside their problems, aside from at neighbourhood "block parties", where DJs such as Kool Herc and Grandmaster Flash set up sound systems, MCs rhymed into microphones and "B-boys" showed off their moves.
When did it go mainstream? 
By the late 1970s, people were beginning to see hip hop's commercial potential. In 1979, the The Sugarhill Gang's "Rapper's Delight" became a mainstream hit, selling 14 million copies around the world, and its opening lines ("I said-a hip, hop the hippie, the hippie / To the hip hip hop-a you don't stop the rock") became a calling card for a burgeoning genre. In 1982, "The Message" by Grandmaster Flash and the Furious Five was the first rap single to provide social commentary about the stresses of inner-city life ("Got a bum education, double-digit inflation / Can't take the train to the job, there's a strike at the station"). But hip hop only truly entered the mainstream in the mid-1980s, with acts such as LL Cool J, the Beastie Boys and Public Enemy. In 1986, a groundbreaking rock and hip hop crossover – Aerosmith and RunDMC's "Walk This Way" – helped bring the genre to a huge new audience.
How did it evolve? 
By the late 1980s, hip hop was growing and diversifying. Tracks such as Public Enemy's "Fight the Power" and N.W.A.'s "F**k Tha Police" expressed outrage at the injustices faced by black Americans from New York to Los Angeles. Alongside this gritty tradition, there were more upbeat, hippyish "daisy age" acts, such as De La Soul and A Tribe Called Quest, that also enjoyed success. By the early 1990s, often labelled hip hop's "golden era", more female rappers, such as Lauryn Hill and Queen Latifah, were emerging. But the genre came, for a time, to be dominated by "gangsta rap", with artists such as The Notorious B.I.G. (also known as Biggie Smalls) and Tupac Shakur competing to top the charts, and publicly exchanging barbs as a bitter rivalry emerged between east and west coast hip hop acts. By 1997, both Biggie Smalls and Tupac Shakur had been shot dead (aged 24 and 25, respectively) and the genre became increasingly controversial.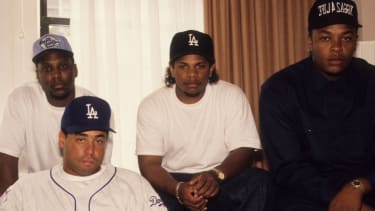 Why was it controversial? 
Many were concerned that the increasingly violent, misogynistic and rampantly consumerist lyrics of rappers such as Snoop Dogg, Ice-T and N.W.A. glorified criminal behaviour. There was also widespread distaste, inside and outside the African-American community, that a lurid and stereotyped version of black life was being sold, largely to white teenagers, to profit large corporations. In 1994, the US senate held hearings to examine whether gangsta rap caused violence; the civil rights activist Cynthia Delores Tucker warned that a generation "coaxed by" the genre could "trigger a crime wave of epidemic proportions". Rappers rejected this charge, arguing that their work merely reflected social realities or that they were playing theatrical "roles". Ice Cube satirised the moral panic with his single "Gangsta Rap Made Me Do It".
How popular is hip hop today? 
Hugely. Chuck D, Public Enemy's frontman, once said that "Rap is black America's TV station". But it has also, since the 1990s, been a dominant presence in the wider music industry. In 2017, R&B/hip hop surpassed rock as the most widely consumed music genre in the US; globally, hip hop is listened to by about 1.85 billion people (a quarter of the world's music listeners). It influences everything from mainstream pop to fashion, to language: "bling", "diss", "chill" and "woke" all came out of hip hop culture, which has spread round the world.
Where has it taken root? 
Hip hop has become a kind of global counterculture: local versions have spawned, from grime in the UK to Nigerian hip hop, to French rap in the banlieues, Dutch Netherhop and K-hip hop in South Korea. "Hip hop is to music what football is to sport," said Nanjala Nyabola on Al Jazeera: a globalised lingua franca, requiring "very little initial capital from the participant". As traditional musical instruments fall into disuse, hip hop is "an accessible solution for the musically inclined", requiring only a mic and backing music. As a result, hip hop is the soundtrack of rebellious youth – and partying youth – all over the world.
Creation myths and origin stories 
Not everyone accepts the claim that hip hop was born in 1973. Rapping, rhythmic talking over music, has been around for much longer than 50 years: it has been traced to the "toasting" of Jamaican dancehall MCs; to the patter of R&B radio DJs; to the traditional African-American rhetorical sparring known as "the dozens"; to jazz scatting, talking blues, even to West African poetic chants. 
There are other plausible origin stories. For instance, in the late 1960s, The Last Poets, a group linked to the Black Power movement, performed taut spoken-word poems that aimed to raise black consciousness, to the beat of a congo drum: they laid the ground for more political strands of hip hop. Their contemporary, the late jazz poet Gil Scott-Heron, did something similar, earning a reputation as "the godfather of rap" with politically charged tracks such as his 1971 song "The Revolution Will Not Be Televised". The desire to enshrine a date on which hip hop was born largely reflects a desire to give it permanence, said Jon Caramanica in The New York Times. For decades, it was "perceived as disposable, a nuisance, an aberration". Insisting that it had a start date is "really just another way of insisting on its importance, its stability and its future".