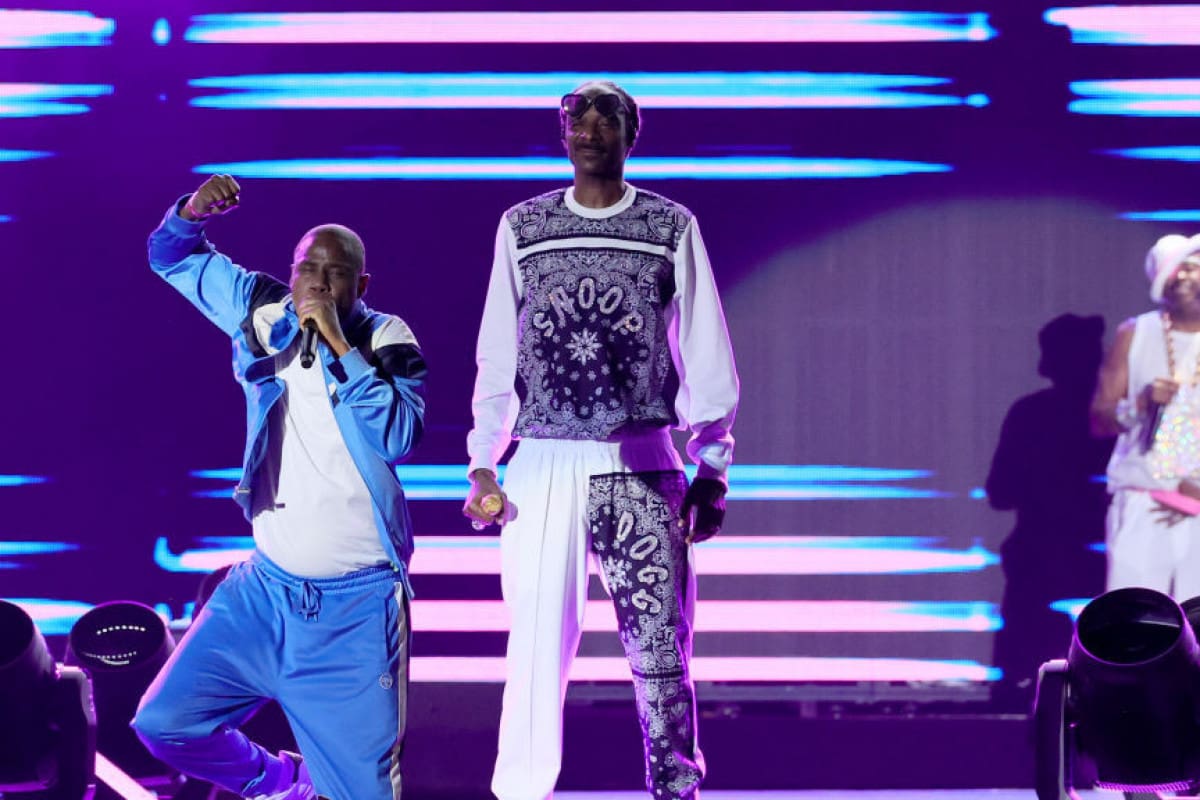 Hip hop is 50 years old and "REVOLT Black News Weekly" dedicated an entire episode to celebrating the culture. More than just the music, Friday's (Aug. 11) installment also showcased how hip hop, which started in The Bronx, has impacted the globe socially, economically, politically and more. A special segment also made sure to celebrate the queens of the culture. "RBN" managed to squeeze 50 years of hip hop history into one hour, from its underground beginnings to its mainstream heights.
It all started with a back to school party thrown by pioneer Clive "DJ Kool Herc" Campbell and his sister, Cindy Campbell, held on Aug. 11 in the community room of 1520 Sedgwick Avenue in The Boogie Down Bronx. Despite the poverty and chaos that surrounded them, Black teens having a good time developed into a cultural phenomenon. Herc's party, and innovation with the turntables and breakbeats, birthed one of the world's most influential art forms that has become the voice of multiple generations.
In 2017, hip hop became the most popular genre of music in the entire country with some of the most recognizable artists in the world. So, how did it get to this point? While Herc's "merry go round" of using two records to extend breakbeats set the tone of how people partied, in 1979, The Sugarhill Gang scored hip hop's first commercial hit record with "Rapper's Delight." "It exposed it to a larger audience," said Ebro Darden of the song's importance. "It took hip hop to places it hadn't reached yet." Added Rocky Bucano of the Universal Hip Hop Museum, "It was a domino effect. The gates from the jam were unleashed and you had a flood records. Ever since then, it's been nonstop."
Besides the music, hip hop was an entirely new art form and lifestyle. The elements included the DJs, rappers, b-boys and graffiti. Many now consider beatboxing the fifth element, created by Harlem's Doug E. Fresh. But Doug E. said the culture became truly mainstream after the success of RUN-DMC. "Whatever the wall was between hip hop and the mainstream, they just knocked it down," added journalist Shaheem Reid. "After 'Walk This Way,' everybody said, 'Listen, hip hop is on top now.'"
Hip hop truly asserted itself during its golden age of the late 1980s and 1990s. Acts like A Tribe Called Quest, Wu-Tang Clan, Eric B. & Rakim and Nas, among many others, were mega-talented and as diverse as their audience. Moreover, Bad Boy Records, created by Sean "Diddy" Combs and home to The Notorious B.I.G., put their stamp on the game. Diddy ushered in countless records tailor-made for the radio and the club, only pushing hip hop's star power forward.
While the East Coast started it all, across the nation, there were talented West Coast artists bringing their own style and flavor to the mix. Some of those foundational rappers included Ice-T, N.W.A and DJ Quik. The emerging rappers from Los Angeles reflected gang culture in their music, which would eventually lead to Dr. Dre creating Death Row and ushering in icons like Snoop Dogg. The label would also sign Tupac before his untimely death. Unfortunately, Pac and The Notorious B.I.G. would lose their lives to gun violence just six months apart, partly due to the East Coast versus West Coast rap rivalry.
Hip hop would regain its footing, though, with more regions like the Dirty South (Atlanta) and the Midwest (Chicago) establishing themselves as well as continually affirming the music's purpose. From Public Enemy to Tupac to Kendrick Lamar, hip hop has always helped its fans — and, particularly, people of color — push for social justice. Lamar's "Alright" became the unofficial anthem of the Black Lives Matter movement while Public Enemy's "Fight The Power" remains a classic protest song. There have also been songs like Donald Glover's "This Is America" and Grand Master Flash and The Furious Five's "The Message" that only proved hip hop is social justice music by definition. "Hip hop has a very specific place in politics and social justice because it's music made out of necessity," said Van Lathan. "The same thing that made Muddy Waters pick up a guitar. The same thing that made the blues necessary for people to talk about. The same thing that made kids start breakdancing on boxes, and putting their musings and thoughts about society and the world onto a beat."
Hip hop doesn't just rely on its music to spark change now. Rappers like JAY-Z, Pusha T and Cardi B are routinely seen rubbing elbows with politicians and pushing for progress. There are also the philanthropic endeavors from moguls like the aforementioned JAY-Z and Diddy, who routinely use their wealth to effect change. REVOLT also took a look at how hip hop and its "hustle culture" has created millionaires and billionaires via record labels, clothing lines, entrepreneurship and more. And while hip hop may seem like a boys' club, female rappers like MC Lyte, Queen Latifah, Lil' Kim and Lauryn Hill have been breaking barriers since the beginning, making the way for artists like Cardi B, Megan Thee Stallion and Nicki Minaj. And of course, hip hop's continued influence on the fashion world is undeniable, as rappers are now red carpet regulars at events such as the Met Gala. "How do you completely sum up 50 years of culture-shifting, world-changing creativity?" asked global news anchor Mara S. Campo. "I'm not sure we can… Happy 50th, hip hop."
Be sure to watch new episodes of "REVOLT Black News Weekly" every Friday at 5 p.m. ET via REVOLT's app. Plus, a quick clip below.