LONDON — It's the month of change for Gucci, in and out. 
The Italian luxury brand has opened the doors to its new boutique on London's New Bond Street, replacing its former location on the corner of Old Bond Street.
The store takes its lead from the Gucci Salon as a celebration of the house's craftsmanship and involvement in art. 
The store is double the space of the previous one, taking up 15,000 square feet with five floors inside a Grade-II listed building that was founded in 1913 as an art gallery. The building is preserved by Historic England, a public body of the British government, with only minor restorations allowed to take place with permission for painting, replacing doors and windows, and replacing the roof.
The space is owned by Trophaeum Asset Management. Trophaeum purchased the site in 2020 from a firm controlled by the banker Joseph Safra.
The former gallery space now displays Gucci's offerings of handbags, fine jewelry, women's ready-to-wear and footwear set against the backdrop of white columns and dark wooden chevron flooring.
A curved staircase leads to the lower floor, where men's ready-to-wear, watches and small leather goods are positioned, while a mezzanine has been specially installed for the Gucci Valigeria travel collection, which replicates a vintage railway train.
The Tudor Room is dedicated to Gucci's past with a selection of suitcases and duffel bags from the brand's archive in Florence spanning from the 1930s to the '80s.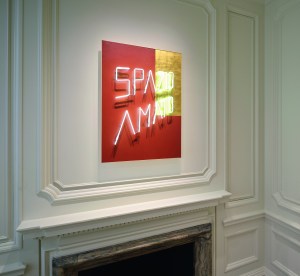 All eyes were on the Gucci duffel this summer as Italian tennis player Jannik Sinner made an entrance at the 2023 Wimbledon Championships, stepping onto center court with a green and red web stripe bag with his initials J.S. marked against where the straps connect on brown leather. It was the first time a luxury bag made a cameo appearance on the famous green grass court.
This is Gucci's first European store with a special space for a Salon on the top floor reserved for VIPs and top-tier clients by appointment only. The room will change with each appointment as it will be tweaked to fit the tastes of the client coming in.
The New Bond Street destination also has made-to-measure and made-to-order service available.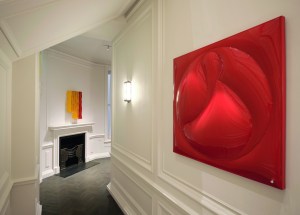 The store isn't only neighbors with other luxury fashion brands, but also London's finest galleries from Richard Green and Halcyon Gallery to Sotheby's all within a stone's throw away.
Inside, the store will house artwork from Liliana Moro, Franco Mazzucchelli, Alighiero Boetti, Matilde Cassani, Jonny Niesche, Massimo Uberti, Joshua Woolford, Simon Callery and Tim Etchells.
The works have been selected by art consultant Truls Blaasmo to celebrate Italian artistry, as well as art forms such as geometry, primary colors, sculptures and text-based art.
Lucio Fontana red "1967," artwork will be put on display during Frieze Week in the Salon room in October and stay there afterwards.
More artwork will be introduced later in the year as the brand pushes to turn the store not only into a shopping destination but a living space that tells the story of Gucci in a museum-like way.
The store will be following LEED guidelines by implementing eco-friendly energy efficiency.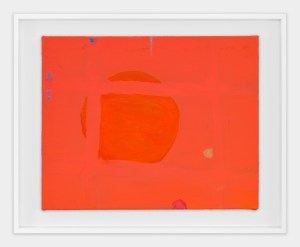 In April, Gucci debuted its first Salon in L.A. with a slew of fresh-off-the-red-carpet gowns.
There are nine Salon concepts that are both permanent and temporary opening in New York, Paris, Milan, Dubai, Hong Kong, Shanghai, Taipei and Tokyo, each with its own curation of product and art.
Gucci's focus on the wealthiest shoppers is part of its turnaround strategy after sales fell 14 percent in the last three months of 2022, dragged down by COVID-19 lockdowns in China and a declining desire for its fashion in the U.S.
The Italian luxury brand is in a transition period, having parted ways with its longtime creative director Alessandro Michele in November 2022. His successor Sabato De Sarno, previously a designer at Valentino, will debut his first women's collection on Sept. 22 during Milan Fashion Week. That will kick off a new phase for the brand, which is being further revamped by a major management reshuffle revealed in July.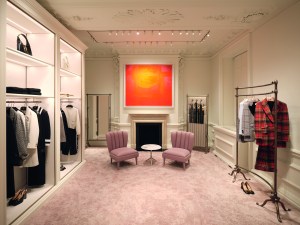 The C-suite change will see longtime president and chief executive officer Marco Bizzarri exit the brand after the spring 2024 show in Milan. Kering Group managing director Jean-François Palus is succeeding Bizzarri ad interim. François-Henri Pinault, chairman and CEO of Kering, said in July the group will begin the search for a permanent Gucci CEO in September or October, and is open to candidates from outside the luxury sector.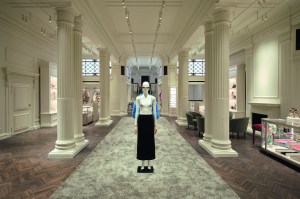 Sources in Milan continue to speculate Francesca Bellettini will eventually be appointed to helm Gucci, although the president and CEO of Yves Saint Laurent was named Kering deputy CEO, in charge of brand development, and will remain in charge of the French label, according to Pinault. 
The Italian luxury brand also is seeing Alessio Vannetti return as its new executive vice president, chief brand officer, effective Monday.
Vannetti, who was Gucci's worldwide communications director from 2015 to 2019, has spent the last three and a half years at Valentino as its chief brand officer.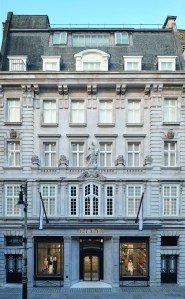 Back at Gucci, he takes over duties from Susan Chokachi, who is leaving the company after 25 years of service, most recently as executive vice president, chief brand and client officer.
Vannetti will lead Gucci's brand and client engagement team and oversee "the company's strategic brand and image direction, marketing, communications, metaverse and client engagement efforts," the fashion house said in a statement.