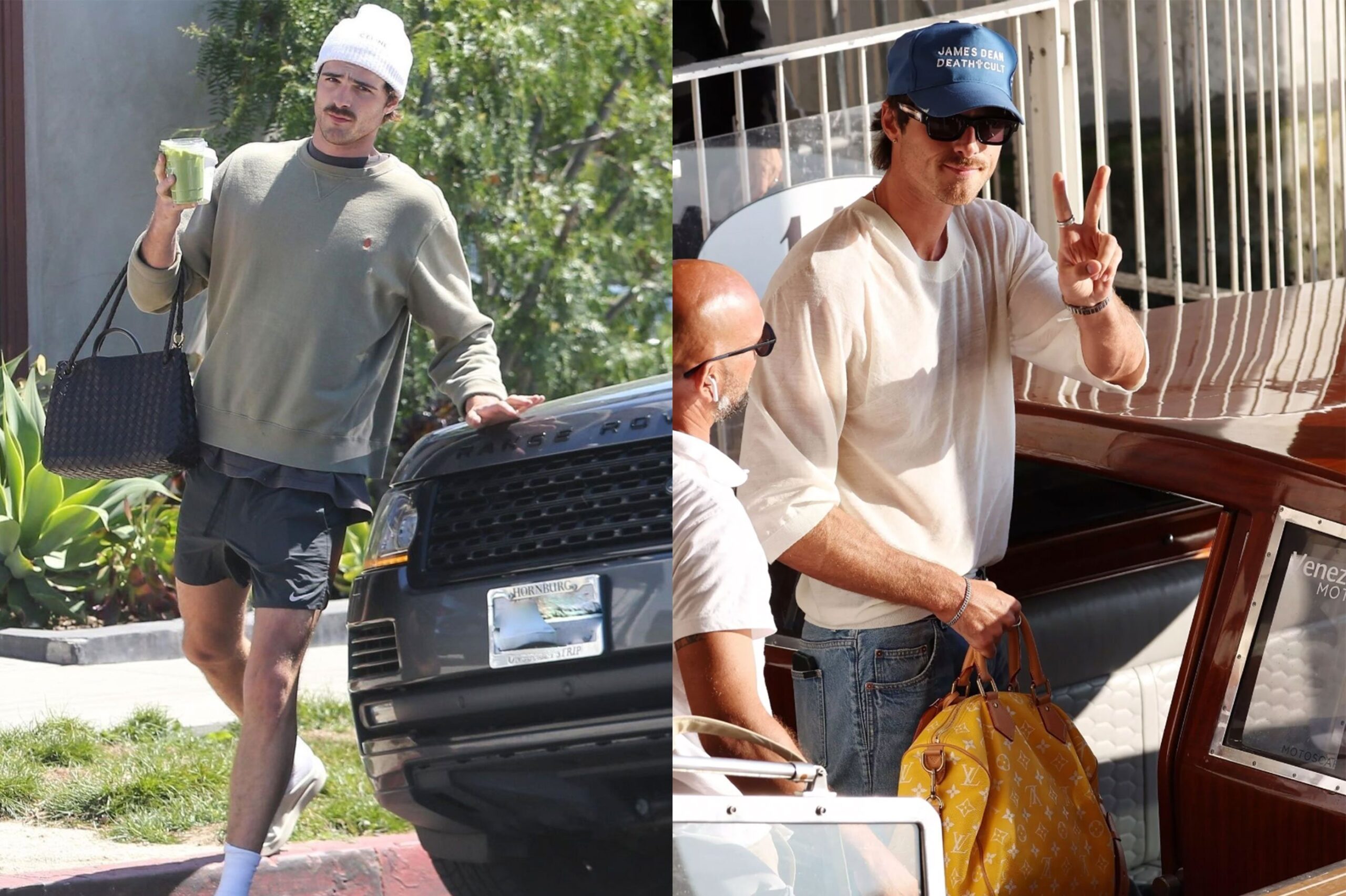 Aussie actor Jacob Elordi is having his moment in the sun right now. His big breakout role in HBO's acclaimed series Euphoria, where he plays toxic high school jock Nate Jacobs, propelled him to a household name, and also into the front row of fashion shows around the world for luxury Houses like Valentino, Burberry and Saint Laurent.
But it's hard to tell what came first, Elordi's adoption into the circles of luxury brands, or his spirited and eclectic personal street style catching their eye. "If it makes you happy, I feel like you should wear it," Elordi said in an interview earlier this year. "You know, life is too short to wear shit clothes."
The actor's ability to effortlessly mix masculine and feminine silhouettes is a key part of his look – he's no stranger to silk blouses and women's handbags, which perfectly juxtapose more casual, masculine sneakers and workwear silhouettes. Elsewhere, Elordi likes to keep things simple. A pair of tailored trousers and a monotone slouchy pullover jumper are both regularly reached for in his day-to-day.
The actor's predilection for a designer it-bag has fast become a signature part of his look – whether on red carpets, at fashion shows, or on coffee runs. He's been spotted with a myriad of this year's most sought-after accessories – from the Fendi Baguette and the Burberry Olympia, to the Louis Vuitton Speedy or the iconic Bottega Veneta padded Casette and Andiamo bags. Simply put – he's rarely snapped without one of the season's most coveted arm candy slung over a shoulder.
He was also recently appointed as one of Swiss watchmakers TAG Heuer's new global ambassadors, where he donned Louis Vuitton and one of the brand's Monaco timepieces for a day out in Adelaide.
Now on the precipice of releasing several hotly anticipated new films – Sofia Coppola's Priscilla, which just debuted at Venice Film Festival, and Emerald Fennell's thriller Saltburn – we thought there would be no better time to delve into the archives of his street style to show you some of our favourite Jacob Elordi style moments from over the last few years.