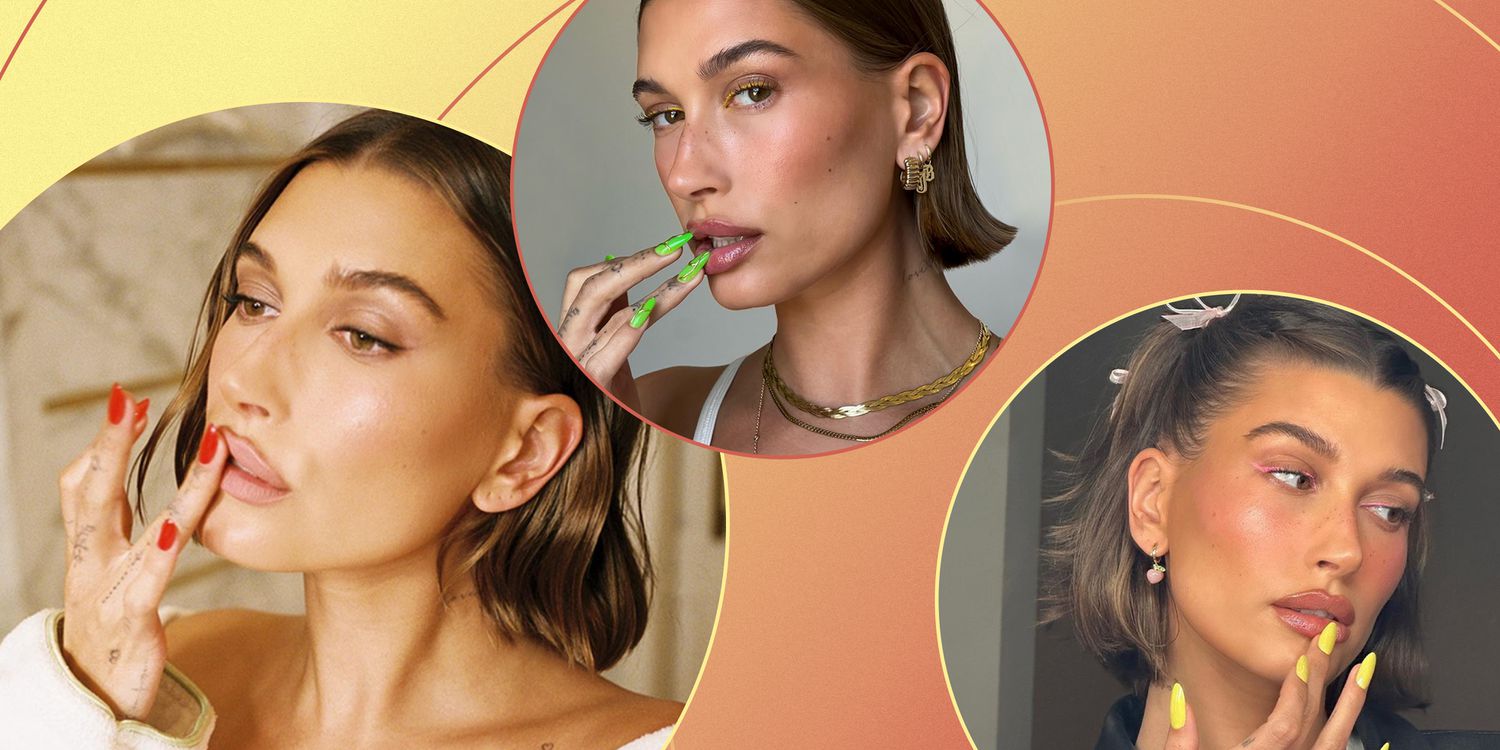 At this point, we can't talk about nail art trends without talking about Hailey Bieber. The Rhode beauty founder, who continues to provide endless inspiration for our manis, is the reigning queen of nail art for 2023 (and beyond!).
From introducing glazed donut mania to serving up the ultimate psychedelic mani, Bieber's influence is truly something to behold. And while it's hard to keep track of every craze she's inspired, we narrowed down the top nail trends we'll be copying all summer.
Without further ado, scroll down to see Bieber's ten best nail looks, which we can't stop obsessing over.
Glazed Donut
Yes, it's the nail look that started it all: the glazed donut manicure. Bieber's go-to nail artist Zola Ganzorigt created this dreamy iridescent white nail to match Bieber's 2022 Met Gala look. And since then, the glazed revolution has flooded our socials and inspired many spin-offs. And we're not mad at it!
Lavender Tint
Want to put a unique spin on glazed donut nails? Simply change up the base color. Opt for a subtle lavender tint for a dose of cool.
Barbie Glaze
Another iteration of the glazed donut manicure capitalizes on the color of the moment: Barbie pink. Channel your inner Barbie with a bright bubblegum hue featuring an iridescent finish to really make it pop.
Psychedelic Vibes
Earlier this year, Bieber threw everyone a curveball by ditching her signature minimal nail art and opting for these fun psychedelic nails. This '70s-inspired design is a mesmerizing kaleidoscope of colors and prints guaranteed to put a smile on your face.
Sunshine-Dripped
We called it: the color to watch this summer is bright sunshine yellow. Bieber's strategy for making a statement? A full-coverage yellow shade on long, almond-shaped nails.
Bright Lime
This neon-bright lime green shade is bold on its own. But we love the metallic accents Bieber added on top to elevate the look.
Red Hot Tips
You can never go wrong with a classic French mani. But to spice things up, make like Bieber with a set of cherry red rounded tips.
Chocolate Brownie
Dark, moody, and cozy, Bieber's dark chocolate brownie nails make for a perfect versatile shade.
Tiffany Blue
It goes without saying: Tiffany blue is iconic. Fittingly, Bieber wore the shade at the reopening of Tiffany & Co.'s flagship store in New York City, showcasing how chicly bright turquoise pops against a minimal all-black outfit.
Classic Red
An oldie but a goodie; you can't go wrong with a classic cherry red. Case in point: Bieber's long, almond-shaped nails saturated in a glossy crimson polish. 10/10. No notes!