It's basically a rite of passage for kids to sneak into their mom's makeup bag and experiment with whatever they find. Sometimes kids are sneaky about it, sometimes they use it to give their parents a makeover, and sometimes they take it as an opportunity to make a stunning video.
Victoria Beckham's daughter Harper, 11 took her mom's mascara (and probably other goodies) and created a beautiful and effortless look. Remember that time on Full House (which featured new mom Ashley Olsen!) when Aunt Becky (played by Lori Loughlin) said, "The secret to makeup is to make it look like you're not wearing any?" Well, Harper nailed that and looks absolutely beautiful with her natural makeup.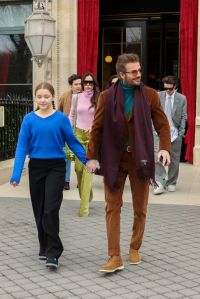 "When someone gets into mummy's makeup bag," Victoria captioned her TikTok post followed by a laughing emoji.
In the footage, we see a closeup of a fresh-faced Harper — who Victoria shares with retired soccer player and current Miami soccer team owner David Beckham — using Vast Lash mascara from her mom's makeup line, Victoria Beckham Beauty. The mascara and the golden hour sunshine make her light hazel eyes pop and she seriously takes our breath away. Followers are feeling the same way about how the 11-year-old looks in the video that has garnered more than 45.3K likes.
"So pretty and gorgeous color eyes." "Harper is just the cutest." "Naturally pretty girl." "She's so beautiful." "Harper is gorgeous."
And on and on it goes. And we'll just say what everyone else is thinking: The tween is growing up right before our eyes! Talk about 11 going on 30. And this video isn't an outlier. We thought the same thing earlier this month when she took to the field with soccer player Lionel Messi, who now plays for her dad's soccer team.
"Making people smile in Miami & and all around the USA 🇺🇸 + 🌎 @leomessi 🩷🖤 My beautiful girl #HarperSeven 🩷🖤 The most beautiful smile 🩷," David captioned his incredibly sweet post.
Oh and don't even get us started on the photos David shared for International Women's Day. Those really had our heads spinning. How is time moving so quickly?
David and Victoria are also parents to Brooklyn, born in 1999, Romeo, born in 2002, and Cruz, born in 2005. And yes, they're all as beautiful — and growing up as fast! — as their youngest.