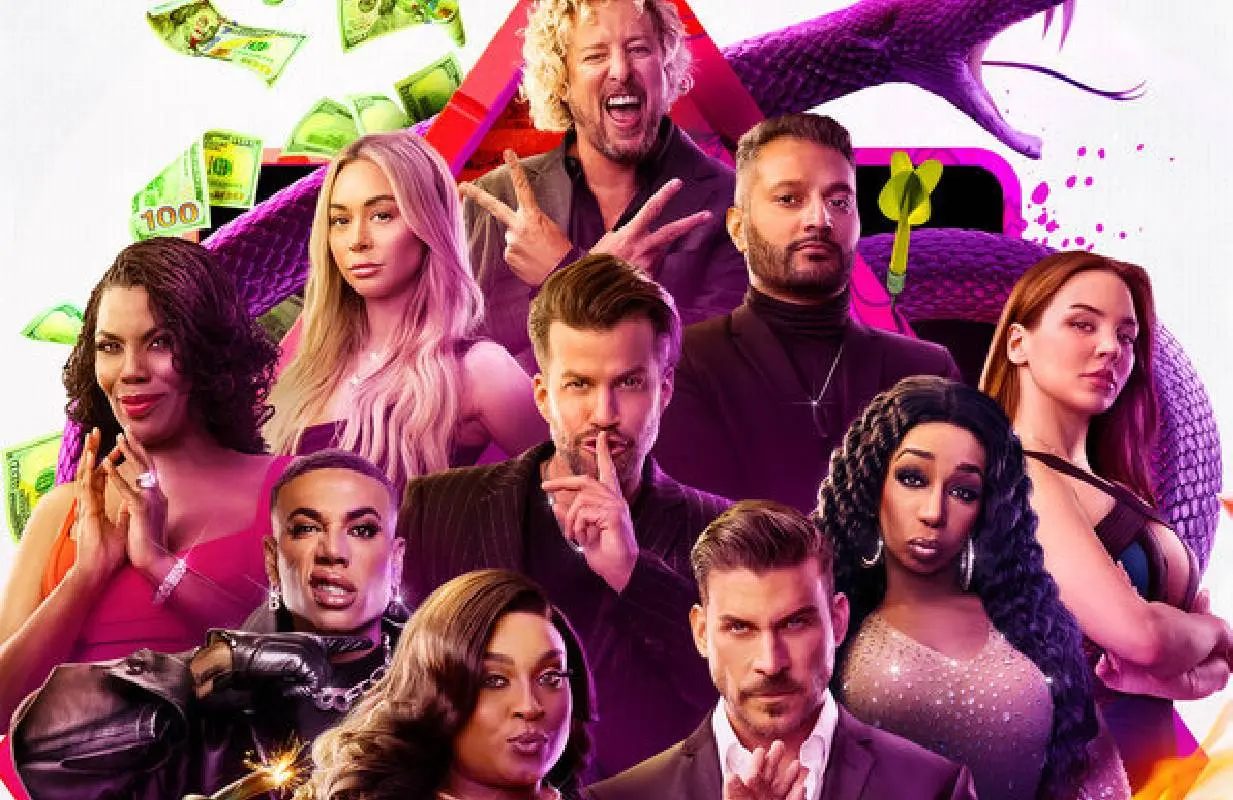 The cast of House of Villains (Photo: E! Entertainment)
Which reality TV villain is really the worst of the worst? As Primetimer staffers have learned through The Ultimate Reality TV brackets, there's much to consider. Someone competing on a challenge-based series like Survivor, for instance, will employ different tactics than someone on a dating show like The Bachelor. How can one really compare the indiscretions of a maligned Bravolebrity to those of a breakout VH1 star? If only there was a way to get a group of notorious villains from various reality series all in one place, face to face, to easily determine who is the most conniving, self-centered, and detestable of them all.
Enter: E!'s House of Villains. The new competition series has seemingly devised a way to put reality TV villains to the test, and to ensure their most diabolical traits are activated, the stakes are high — the last villain standing not only earns the title of America's Ultimate Supervillain but takes home a $200,000 prize. Here's everything we know about this battle of the baddies.
When does House of Villains premiere?
The 75-minute premiere episode airs October 12 at 10:00 PM ET on E!.
Who is on the House of Villains cast?
Joel McHale, who has played an unlikable guy or two (see: Community and The Bear for starters), hosts the series. Joining him are 10 notorious reality TV villains, each from a different franchise:
Jax Taylor (Vanderpump Rules), known for his infidelity, violent outbursts, and extreme gaslighting
Corinne Olympios (The Bachelor, Bachelor in Paradise), who aggressively pursued Nick Viall, often with very little clothing on, and turned the phrase "I'm not here to make friends" into a lifestyle
Omarosa Manigault Newman (The Apprentice, Celebrity Big Brother, The Surreal Life), the ultimate opportunist with plenty of reality TV experience under her belt who proved to be cut throat on-screen and in the White House as an aide to Donald Trump
Tiffany "New York" Pollard (Flavor of Love, I Love New York), known for her unmatched insults and snarky quips while vying for Flavor Flav's heart, she quickly became a fan favorite and star of her own spin-offs
Johnny Bananas (The Challenge), who has won more seasons of The Challenge than anyone else, in part because of his blatant selfishness — even when competing in a team, he only looks out for #1
Shake Chatterjee (Love Is Blind), a superficial, body-shaming DJ who was universally despised for his bad treatment of his fiancée Deepti Vempati
Tanisha Thomas (Bad Girls Club), initially known for being one of the baddest of the Bad Girls club, including regularly baiting her fellow contestants into fights by simply saying, "Pop off!," who's since had her own redemption
Anfisa Arkhipchenko (90 Day Fiancé), who came right out and told her ex-husband Jorge Nava that she was in their relationship for the money from the start
Jonny Fairplay (Survivor), known for lying about his grandma's death to gain sympathy and advantages on the island
Bobby Lytes (Love & Hip Hop: Miami), known for often getting caught up in physical altercations with his fellow castmates
How does the House of Villains competition work?
What the actual gameplay of the competition looks like is fuzzy as of now. E! only describes it as such: "Each week, the contestants will compete in a challenge that tests their physical, mental and emotional strength. The winner of the challenge is safe from elimination, but at the end of each week one villain will be voted out of the house and sent home."
Is there a trailer for House of Villains?
On August 15, E! released the first trailer for the series:
While the structure of the challenges is still unclear, this brief teaser shows that the contestants will in fact all be sharing a living space, implying a similar dynamic to Celebrity Big Brother, Stars on Mars, and The Traitors — putting all these people in one house is sure to bring together plenty of ill-willed alliances, malicious feuds, and backstabbing galore.
Is House of Villains connected to Freevee's The GOAT?
There is another celebrity-focused reality competition in the works that has nothing to do with House of Villains — Freevee's The GOAT focuses instead on determining who is the Greatest Reality Star of All Time, and based on the cast list, that title can be earned by heroes, villains, and anyone in between. While the series was announced with a first-look cast photo in May, there have been no updates on the production or a premiere date since.
Daniel Tosh hosts the series starring Tayshia Adams (The Bachelor, The Bachelorette), Kristen Doute (Vanderpump Rules); Reza Farahan (Shahs of Sunset); CJ Franco (FBoy Island); Wendell Holland (Survivor); Teck Holmes (The Real World, The Challenge); Alyssa Edwards (RuPaul's Drag Race); Paola Mayfield (90 Day Fiancé); Da'Vonne Rogers (Big Brother, The Challenge); Joey Sasso (The Circle, Perfect Match); Jason Smith (Holiday Baking Championship); Lauren Speed-Hamilton (Love Is Blind); and Jill Zarin (The Real Housewives of New York City).
House of Villains premieres October 12 at 10:00 PM ET on E!. Join the discussion about the show in our forums.
Brianna Wellen is a TV Reporter at Primetimer who became obsessed with television when her parents let her stay up late to watch E.R.