She's the granddaughter of a taxi driver, was an award-winning journalist before marring into Spain's Royal Family and is known by her people as the 'commoner Queen'.
So perhaps it's unsurprising to see Queen Letizia of Spain embracing a more down-to-earth approach to royal life.
Indeed, this was demonstrated when the mother-of-two, 50, literally jumped for joy when joining in with the Spanish team's boisterous celebrations following their win at the Women's World Cup in Sydney last weekend. 
Letizia cheered on the squad from the stands alongside her 16-year-old daughter Infanta Sofia – but while Spain's players had royalty in the crowds, no members of the British Royal Family attended the match to support the defeated Lionesses. 
King Felipe VI's wife also proves her more unassuming ways through what she wears – having incorporated High Street fashion into her looks for royal engagements, re-worn plenty of outfits and clearly isn't afraid of showcasing her very toned figure.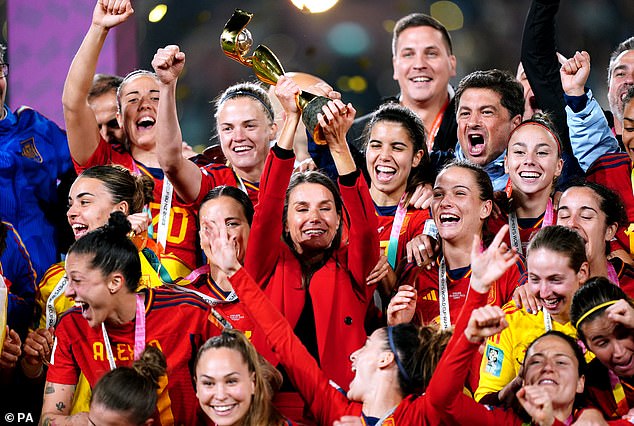 The Spanish Queen – who is known to follow a strict diet and exercise routine, which includes cardio workouts and yoga – is often pictured showing off her remarkably sculpted arms, well-toned back or midriff thanks to the outfits she wears.
For instance, in May 2022, she flashed her toned stomach in a daring pink cut out dress at a Red Cross event in Valencia. 
While she's not shy in showcasing her enviable figure, the royal also proves her fashion choices aren't only for the rich and famous by shopping at High Street stores – including H&M, Zara and Massimo Dutti.
An even more relatable moment of Letizia's occurred when the royal was snapped posing for photographs for the BeReal app in images which were shared online by royal fans in January 2023. 
All followers on the social media app are notified simultaneously at an unpredictable two-minute time slot and asked to post whatever they are doing right there and then. 
The Spanish mother-of-two was meeting with a group of young swimmers on an undated occasion when it appears one received their notification for the day, and dutifully posed for a selfie. 
In snaps shared on Twitter by @david_h_morales, the royal can be seen beaming with joy in one photo with the group.
In a video clip of the moment, Queen Letizia appears to be receiving instructions from one of the young swimmers on how to use the app.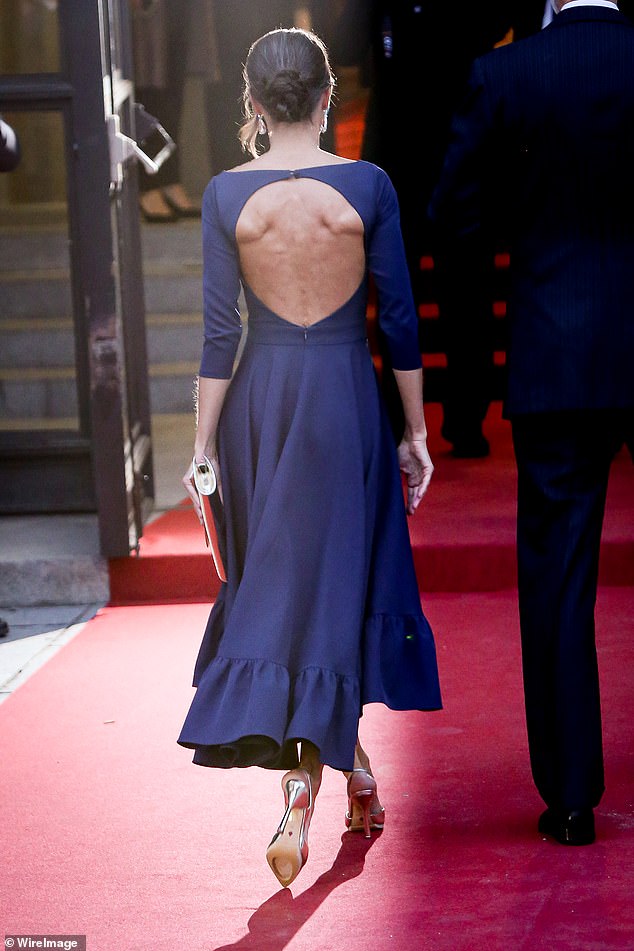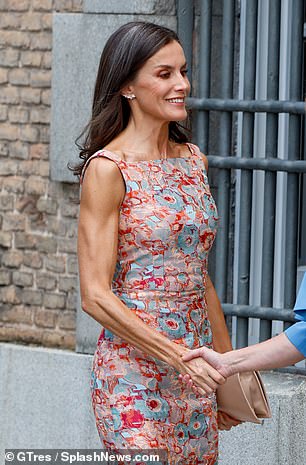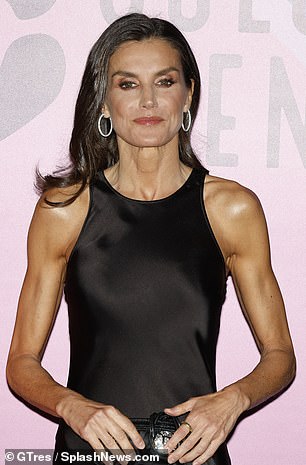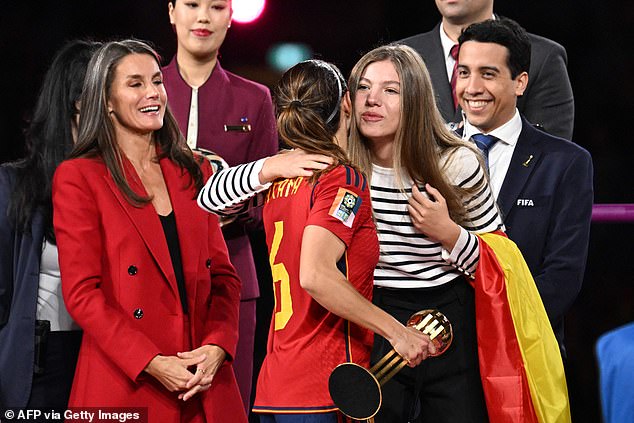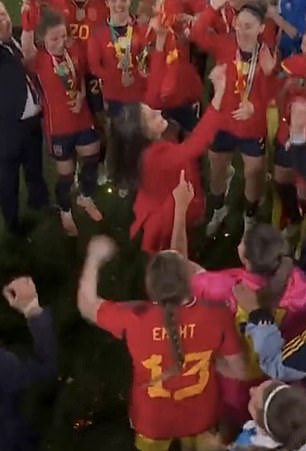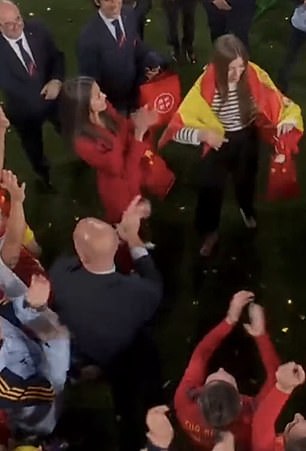 She can be seen neatening her hair as she prepares for a selfie shot, before taking another picture of a group directly in front of her. 
In the snaps, which are undated, the royal is dressed in a fuchsia pink blouse and a pair of black trousers. Letizia's appearance on the social media app appears to be a first for a member of the royal family.
A 2022 profile of Letizia in El País newspaper, saw Spain's secretary of state for international cooperation, Pilar Cancela, say: 'The Queen is our most important help. I thought she was cold and distant, but she is professional, normal and fun', reported euronews.
The relatable royal also comes from humble beginnings. Born on September 15, 1972, in Oviedo, northern Spain, Letizia grew up in a middle-class family and attended a public school.
While her mother, Maria Rodriguez, was a nurse, Letizia took after her father, Jesús José Ortiz Álvarez, and stepmother Ana Togores, who are both journalists, and studied communications at university in Madrid.
She then got her Masters in broadcast journalism and after a stint at Asturian daily paper, La Nueva España, she went on to work for ABC, a popular national newspaper that enjoys the third largest circulation in Spain.
Next came a stint at Spanish news agency EFE before a move to Guadalajara in Mexico saw her take on a role on local paper, Siglo 21.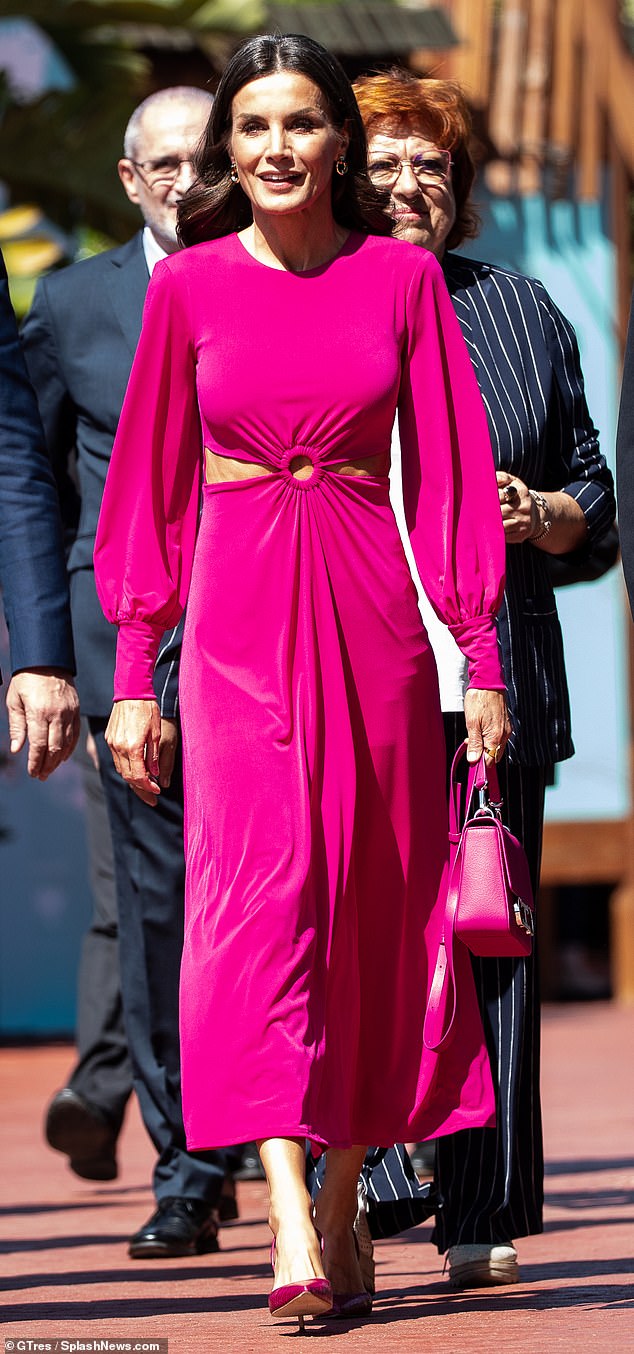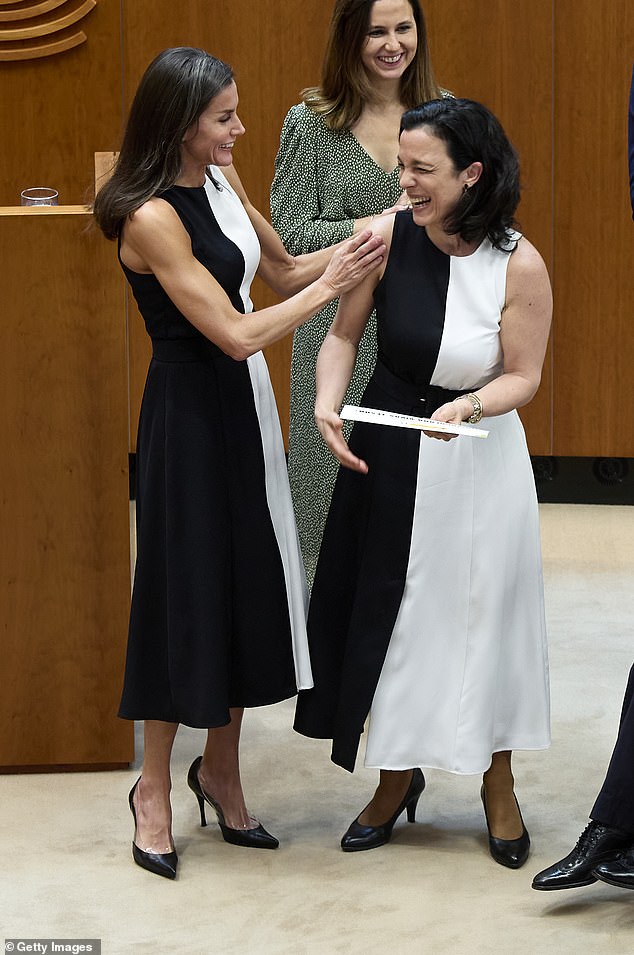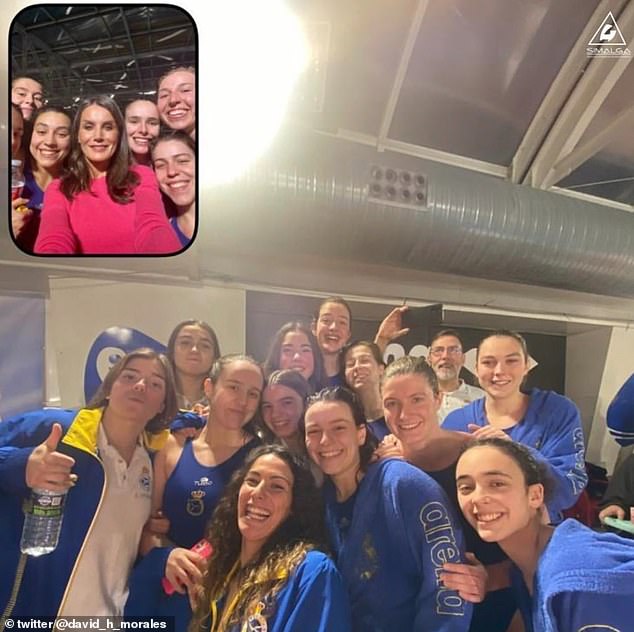 Back in Spain a year later, she worked for the Spanish version of Bloomberg, a news channel and agency specialising in economics, before moving to CNN+.
Before she met Felipe of Spain, Letizia was married to high school literature teacher Alonso Guerrero Perez, who was nine years her senior.
The couple wed in 1998 following a ten-year romance – with the pair meeting when the future Spanish queen was just 16.
They tied the knot in a civil ceremony in the town of Almendralejo, Badajoz, but divorced the following year after just one year of marriage.
By the time she met her husband-to-be, Felipe, in 2002, Letizia was working for popular TV channel 24 Horas, where along with anchoring the popular Telediario 2 evening news bulletin she reported on a wide range of breaking news event.
As a news anchor, she reported live from Ground Zero following the 9/11 attacks in 2001.
She met Prince Felipe the following year – at the site of an oil spillage in Northern Spain. The year after first meeting Felipe, Letizia quit her job and a few days later their engagement was announced.
Letizia and Felipe's marriage in Madrid in 2004 prompted an upswing in support for the royal family, and her habit of championing High Street brands like Zara proved popular. She and Felipe had two daughters, Leonor in 2005 and Sofia in 2007.