Following a series of blunders, Bungie appears to have finally found its footing anew with Destiny 2's Season 22. The Season of the Witch has delivered some crucial improvements to the core Destiny gameplay formula that resulted in some surprising reactions from the community, but it does seem to be warranted well enough. For one, Season 22's Artifact mods are bangers in their own right, allowing Guardians to up the ante on just how quickly and efficiently they can take out an entire squad of baddies, and that's where Elemental Munitions comes into the picture.
Elemental Munitions is an all-new Destiny 2 seasonal mod that allows Guardians to generate even more Special and Heavy ammo in combat. As veteran players will know, it's sometimes all too easy to square up with powerful enemies with nothing but a measly primary weapon for damage. Keeping a steady supply of ammo at hand is, therefore, positively crucial, and Elemental Munitions has already proven its worth in this regard.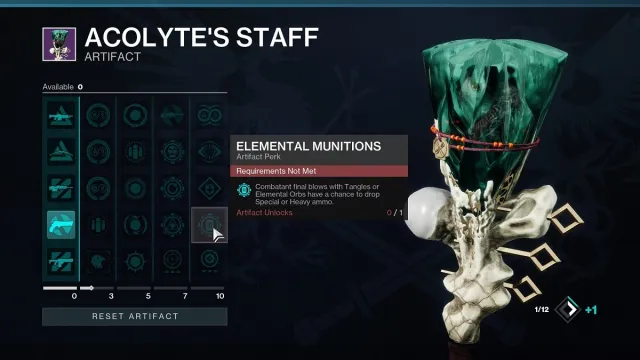 How do I get the Elemental Munitions mod?
As is usually the case with Destiny 2's seasonal mods, the only way to get Elemental Munitions is to farm XP and progress through the seasonal artifact: the Acolyte's Staff. This is, admittedly, not a short process. As Elemental Munitions is a tier-five mod, it's going to take a while for you to grind your way to it. The best way to approach this whole process is to embrace the rest of Season 22's best additions and go with the flow. In due time, the final tier of the seasonal artifact will unlock, allowing you to unlock Elemental Munitions for the remainder of Season 22.
Destiny 2 newbies will want to keep in mind that, yes, Elemental Munitions is a temporary addition to the game. It's going to be removed from the seasonal mod roster by the end of Season 22, meaning you only have a limited amount of time to earn and use the bugger.
What makes Elemental Munitions so good?
Elemental Munitions itself isn't awfully overpowered, granted. It simply increases the odds that users get Special and Heavy ammo from final blows dealt via Strand Tangles or Elemental Orbs. Setting up a Guardian build that leverages these features and combining them with Heavy and Special ammo mods (Finder, Scout, etc.) could lead to some remarkably effective builds. So effective, in fact, that it's possible Bungie may end up temporarily disabling Elemental Munitions until potential problems are resolved.
Curiously enough, Elemental Munitions was disabled for Crota's End, meaning there were some potent builds related to the mod in question. If Elemental Munitions is temporarily unavailable for any reason, odds are that this is what's going on.