Philadelphia is home to hundreds of Black-owned shops and restaurants to support this August and all year long in the city's diverse retail and dining scenes.
ABOVE PHOTO: Marsh+Mane (Photo: J. Fusco)
visitphilly.com
PHILADELPHIA – August marks National Black Business Month, and here in Philadelphia there are many ways to support the Black-owned business community — this month and every one after. The city takes pride in its vibrant Black-owned business scene, offering hundreds of unique spots for visitors checking out the town, restaurant-goers and Philly shoppers picking up everyday wares. 
Here in Philadelphia you'll find an array of Black-owned and -operated shops, boutiques and bookstores dotting the streets from Manayunk to East Passyunk Avenue. Many of these shops and restaurants are small, independently owned, or family-operated businesses that reflect the city's diversity and commitment to fostering minority-owned enterprises. 
Meanwhile, Black-owned restaurants, cafes and bakeries are the lifeblood of Philly's diverse hospitality scene, adding dynamic flavors and one-of-a-kind flair to an ever-growing repertoire of culinary hotspots. Also buzzworthy this month: local Black- and -woman owned clothing brand Philadelphia Printworks hits racks at 400 Target stores nationwide. 
Read on for a curated list of just some of the city's standout Black-owned businesses. 
Black-Owned Shops and Boutiques in Greater Philadelphia
Black-owned spas, boutiques, bookstores and more…
Bookstores
Atomic City Comics
Owned by Michael Yates and Darryl Jones, this classic comic book store, known for its wide selection of comics, graphic novels, manga, back issues, horror, sci-fi and old-school arcade games such as Street Fighter, has been a South Street mainstay since 2001.
Where: Atomic City Comics, 638 South Street
Black and Nobel
More than a bookstore, this cultural center owned by Hakim Hopkins offers DVDs and an array of health and wellness products in a creative atmosphere. The shop also ships to prisons, offering incarcerated folks reading materials.
Where: Black and Nobel, 422 South Street
Hakim's Bookstore & Gift Shop
One of the country's oldest Black-owned bookstores — now an official historic site — resides at the same West Philly address where Dawud Hakim founded it more than 60 years ago. Historic, welcoming, old-school and family-friendly, the shop now belongs to Hakim's daughter, Yvonne Blake.
Where: Hakim's Bookstore & Gift Shop, 210 S. 52nd Street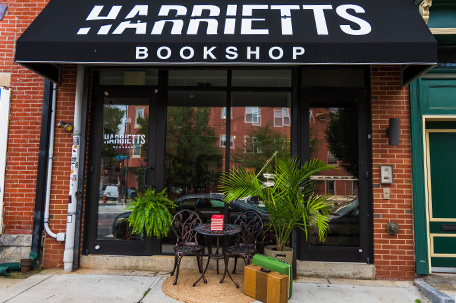 Harriett's Bookshop
This welcoming, Fishtown-based, women-centric, art- and activism-forward, frankincense-scented, named-for-Harriet Tubman bookstore is owned by Jeannine A. Cook, who opened it in February 2020. On its shelves: Toni Morrison's complete collection, works by Zora Neale Hurston, children's books and more titles that Cook herself loves to read.
Where: Harriett's Bookshop, 258 E. Girard Avenue
Uncle Bobbie's Coffee & Books
Owner Marc Lamont Hill's Germantown hangout exudes community pride in its book selection and living-room vibe, a la Washington D.C.'s acclaimed Busboys and Poets chain. This bibliophile's spot takes its name from the columnist and Temple University prof's favorite uncle, who nurtured his love of reading.
Where: Uncle Bobbie's Coffee & Books, 5445 Germantown Avenue
Boutiques & Retail Shops
Blk Ivy Thrift
The latest project by Grant Blvd's own Kimberly McGlonn, Blk Ivy Thrift calls back to the work and aesthetic of the Civil Rights Movement, combining community engagement and activism with cultural artifacts and fashion. The West Philly shop curates vintage and second-hand clothing that challenges industry norms.
Where: Blk Ivy Thrift, 3605 Lancaster Avenue
Common Ground
This Midtown Village consigner owned by Phillip Moore offers exclusive collectible sneakers and vintage pieces — Adidas x Bad Bunny, retro Air Jordans — and features rare, sold-out merch from prominent sportswear brands like Supreme and Bape.
Where: Common Ground, 134 S. 11th Street
Damari
Former Eagles safety Malcolm Jenkins founded this men's boutique to redefine modern custom suiting with creativity, styling and precise tailoring — all while keeping culture at the forefront. The shop stocks men's suits, jackets, sweats, along with custom suits and pocket squares. They're open by appointment only or online any time.
Where: Damari, 72 N. 2nd Street
Dolly's Boutique & Consignment
The stylish set loves that this shop — owned by Shani Newton — carries women's clothing for all sizes (small through triple extra-large), ages and budgets. On the racks: pant sets, stylish separates, maxi dresses and on-point accessories.
Where: Dolly's Boutique & Consignment, 6778 Germantown Avenue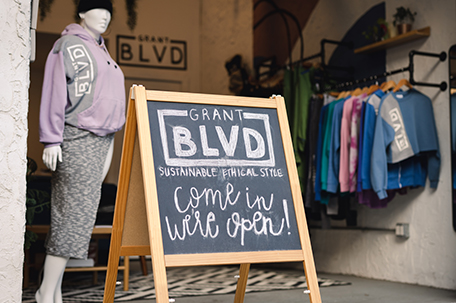 Grant Blvd
When she started her line of women's clothing and accessories in 2017, Kimberly McGlonn prioritized three things: sourcing reclaimed fabrics, manufacturing exclusively in Philadelphia, and supporting incarcerated and returning citizens. And she's just as committed to that mission today. With a new flagship in University City, devotees of the shop can score fashion-forward skirt and crop top sets, denim, dresses and men's clothing.
Where: Grant Blvd, 140 S. 34th Street
Kylie Rose Fashions
A self-taught seamstress, Shaelia Dawkins creates high-end formal and prom dresses as well as streetwear, like tracksuits, T-shirts and hoodies for men and women. Covering both ends of the style spectrum, Kylie Rose Fashions carries attire for red carpets and lazy weekends alike.
Where: Kylie Rose Fashion, 506 Main Street, Darby
Love Yourself by Shea Elizabeth
Across the street from West Philadelphia's Malcolm X Park, Love Yourself by Shea Elizabeth is a chic boutique that helps women create their own definition of cool with a great selection of shoes, jackets, dresses, jumpsuits and more.
Where: Love Yourself by Shea Elizabeth, 503 S. 52nd Street
Moore Vintage Archive
Fresh on the Fabric Row scene, Moore Vintage Archive is the place where you can find vintage Chanel, Gucci, Hermes and more women's designer fashion. Owner Keesean Moore stocks the shop with timeless dresses, jackets, sets and books from Black authors.
Where: Moore Vintage Archive, 725 S. 4th Street
The Movement Philly
Founded by friends (and former business competitors) Aaron Johnson and Bruce Tabbs, The Movement Philly specializes in handmade clothing, T-shirts, tie-dye, jewelry and vegan bath and beauty products. The Mt. Airy shop was featured in a "Buying Black" segment on Philly's Fox 29 TV station in 2020.
Where: The Movement Philly, 7133 Germantown Avenue
Retro Rewind Vintage & Thrift
After operating as a mobile boutique, Retro Rewind Vintage & Thrift opened a brick-and-mortar in Brewerytown (you can't miss its neon yellow facade). Founded by Tia Whitfield, the shop stocks both women and men's fashions, from blazers and dresses to denim and T-shirts.
Where: Retro Rewind Vintage & Thrift, 2804 W. Girard Avenue
Senoj Clothing
This South Street boutique is owned by Charrita Jones, who curates the shop's collection of "effortlessly chic" women's apparel. The vibe at Senoj is all about empowering women to be comfortable in their own skin. The shop offers all kinds of looks, from bodysuits and outerwear to skirts, dresses and sunglasses.
Where: Senoj Clothing, 1609 South Street
Accessories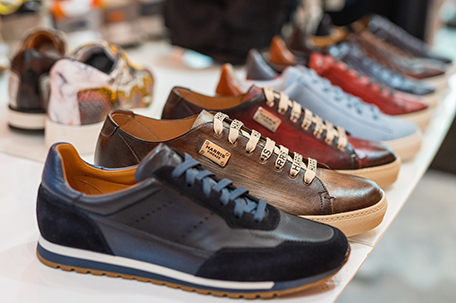 Blue Sole Shoes
Owner Steve Jamison, a fashion footwear specialist, established his sunny Rittenhouse Square boutique in 2007 to cater to high-end tastes in men's shoes, socks and accessories — and to provide high-quality customer service. Among the designers in stock: Harris, Magnanni, John Galliano and Les Hommes.
Where: Blue Sole Shoes, 1805 Chestnut Street
Philadelphia Diamond Company
Custom engagement and wedding rings, one-of-a-kind pieces and gemologist-certified appraisals are the reason clients call ahead to book appointments at this Old City jewelry shop, owned by Ken and Nicole Black.
Where: Philadelphia Diamond Company, 421 Chestnut Street
Style by Blain
With a showroom featuring a pool table, elegant wooden side tables and a beautiful fireplace to display his unique selection of shoes, owner Voltaire Blain — known as the best-dressed man in Chestnut Hill — strives to make shopping for shoes an experience like no other. His shop carries a wide selection of hard-to-find shoes, including loafers, oxfords and both high- and low-cut boots for men, as well as several styles for women.
Where: Style by Blain, 8433 Germantown Avenue
Lifestyle
Amazulu Collections
For more than 30 years, this Reading Terminal Market stall has served as a location for silversmith Charita Powell to showcase her handmade jewelry. For sale: lamps, dolls, sculptures and cultural clothing, including Powell's vibrant pieces from her Urban Karma Wear line.
Where: Amazulu Collections, Reading Terminal Market, 51 N. 12th Street
Black Soul Vintage
This Germantown-based secondhand shop — open by appointment only — features Black texts, ephemera, art and home goods that inspire an Afro-centric lifestyle, curated by owner Tomarra Sankara-Kilombo. In addition to vintage books, visitors can pick up vinyl records and clothing, too.
Where: Black Soul Vintage, 90 Church Lane
Ceramic Concept
Opened in November 2020, this West Philly store showcases pieces by more than 50 national and international artists and makers, including works by owner Stefani Threet, all in a modern, minimalist-styled space.
Where: Ceramic Concept, 5015 Baltimore Avenue
De'Village
Stone and wooden jewelry, artwork, fabric, sculptures and more from Kenya, Ghana and Nigeria are on offer at this Reading Terminal Market stand owned by Watson and Joycelyn Parks.
Where: De'Village, Reading Terminal Market, 51 N. 12th Street
Little Marrakesh Bazaar
Showcasing the goods of owner Chakir Bouchaid's home country, Little Marrakesh Bazaar is Reading Terminal Market's destination for Moroccan handcrafted gifts. In his booth, find intricately designed home goods (like mirrors and spice jars), leather bags and turquoise jewelry.
Where: Little Marrakesh Bazaar, Reading Terminal Market, 51 N. 12th Street
Expect Lace
Expect Lace aims to build customer confidence through an intimate understanding of the female body and offerings that sculpt every shape and size. Owned by Shaw Lewis, the Manayunk boutique carries some of the world's top intimate brands for women and men. Services include personalized undergarment fittings and lingerie consultations.
Where: Expect Lace, 4403 Main Street
Just Gifts N' Vibes
Formerly known as Paper Moon, Just Gifts N' Vibes is a concept shop that stocks local and mission-forward online artists, makers and creatives. Each season, the vendors and decoration in the store shift, giving plenty of small artists the chance at the retail experience. On the shelves, expect candles, tote bags, artwork and more.
Where: Just Gifts N' Vibes, 520 S. 4th Street
Kellijane
Kelly Monk's South Philly home decor shop is designed to feel like a sanctuary, and her rich fabrics and textiles can transform any home to feel the same way. A new bedding line (the product of 20 years of research), cozy blankets, colorful throw pillows and luxe table 
fabrics are among the offerings. Either make an appointment or stop by if you're in the neighborhood.
Where: Kellijane, 1415 S. Broad Street #1
South Street Art Mart
What began as a holiday pop-up shop turned into a permanent fixture on South Street. South Street Art Mart, curated by co-owners Nicole Krecicki and Nicole Wiegand, carries works of art, jewelry, zines, pins and so much more from over 180 Philly-area artists and makers.
Where: South Street Art Mart, 530 S. 4th Street
Trunc
This Northern Liberties lifestyle boutique, co-owned by Dorothea Gamble and Dagmar Mitchell, carries socially responsible, handmade and environmentally conscious products for the home and body, including jewelry, clothing, art and beauty essentials.
Where: Trunc, 929 N. 2nd Street
Ubuntu Fine Art Gallery
This fine art photo gallery in Germantown showcases the work of its founder and owner Steven CW Taylor. Displayed prints of Taylor's work immerses visitors and encourages them to interact with the places and people Taylor has photographed during the course of his travels. Each print comes with care instructions and a certificate of authenticity.
Where: Ubuntu Fine Art, 5423 Germantown Avenue
Yowie
What first began as a home and lifestyle shop in 2016 has now blossomed into a boutique hotel, shop and design studio, founded by Shannon Maldonado. The Queen Village cafe and storefront is stocked with design-forward home goods, jewelry, books and apparel. The hotel is an extension of the shop, with Maldonado's keen eye for style and design carried through each of the 15 suites.
Where: Yowie, 226 South Street
1040 Creative
Founded by Pauline Houston McCall, Sheena Garcia and Marcy Morris, this creative hub, studio space and gallery offers art classes for all ages, pop-up workshops, family arts days and gallery exhibitions.
Where: 1040 Creative, 1040 N. 2nd Street, Suite 301
Spas, Beauty & Wellness
3rd Element Spa
Proving sisters make the best small business partners, owners Tomika Branch and Chyvonne Shackelford established their full-service day spa in West Oak Lane. Popular here: hydrating facials, gel manicures, detox pedicures, plus waxing, lash and brow enhancements, massages and self-care products, including 3rd Element candles and body cleansers.
Where: 3rd Element Spa & Salon, 7175 Ogontz Avenue
Abiyah Naturals
Abiyah Naturals is the spot for owner Topia Tessema's handmade and natural soaps, body oils and moisturizers. The shop also stocks art and apparel from other women and Black-owned merchants.
Where: Abiyah Naturals, 22 Ardmore Avenue, Ardmore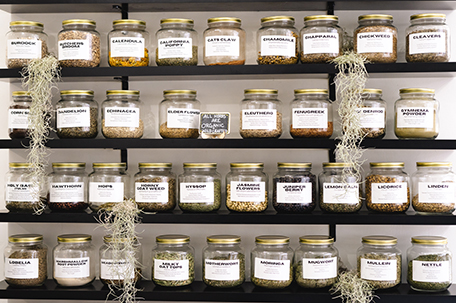 Dope Botanicals
Sisters (and Philly natives) Nakia and Taahirah Stith are the owners of this Rittenhouse Square apothecary — or "a'plant'ecary," as they call it — that sells plant-based remedies in the form of herbs, smoothies, tonics, teas and tinctures. Their goal? To offer up herbs of the liquid, powder or cut variety that relieve customers of what's bothering them in a judgment-free zone.
Where: Dope Botanicals, 257 S. 20th Street
Duafe Holistic Hair Care
Syreeta Scott — stylist to Jill Scott, Ava DuVernay, Questlove and Janet Jackson — has held court in North Philly for two decades, pioneering natural styles and in-demand services (locs, braids, two-strand twists, hair color) that definitely require advanced booking.
Where: Duafe Holistic Hair Care, 3129 N. 22nd Street
Faheem's Hands of Precision
Faheem Alexander has taken the barbering world by storm with his hands of precision. At it for over 25 years now, he's known for his expertise in styling, hairline correction and beard grooming. Faheem has worked on many celebrity clients, including Tracy Morgan and Philadelphia's favorite hip-hop group, The Roots.
Where: Faheem's Hand of Precision, 2100 S. 20th Street
Girls Auto Clinic Repair Center
Engineer turned mechanic (and author of Girls Auto Clinic Glove Box Guide) Patrice Banks has established the city's first and only women-run garage. Next door, she opened Clutch Beauty Bar, serving up manis, pedis and waxing services.
Where: Girls Auto Clinic Repair Center, 7425 West Chester Pike, Upper Darby
The Naked Peach
With three locations in Philadelphia — South Street West, Roxborough and Queen Village — this full-service waxing studio is a convenient option for those interested in quick and painless body and facial waxing, as well as lash-brow tints, lash perm-lifts and threading. Owned by Sarah Giovinetti-Mobley, The Naked Peach has provided more than $42,000 in scholarships to Philadelphians in need.
Where: The Naked Peach Waxing Boutique, 708 S. 5th Street; The Naked Peach Waxing Boutique, 1725 South Street; The Naked Peach, 6226 Ridge Avenue
Nbeauty Inc.
Owned by Naeemah Johnson, Nbeauty Inc. is a beauty brand and salon that caters to African American hair styles and textures. From natural hairstyling to braids and extensions, two locations in North Philadelphia and Ardmore offer full salon services, with stylists who specialize in working with the diverse textures of African American hair. In addition, an online shop offers a line of skincare products, shampoos and conditioners.
Where: Nbeauty Inc., 3933 Ridge Avenue; Nbeauty Inc., 6 Greenfield Avenue, Ardmore
QueenStylista's Mane Artistry
At QueenStylista's, Sheena Dickerson has cultivated a friendly, welcoming space exclusively for women. The Ardmore salon is known for its precision cuts, coloring and styling, and the staff has a reputation for building trust with clients in search of a fresh look.
Where: QueenStylista's Mane Artistry, 55 W. Lancaster Avenue, Ardmore
Salon A'Marie
Owner Aundrea Watkins' experience in natural hair care helped her create a loyal client base when she opened Salon A'Marie in 2020. The hair, brow and lash studio in Manayunk also sells hair oil, edge tamer and Black Lives Matter merchandise.
Where: Salon A'Marie, 5261 Ridge Avenue
Safi Skinsentials
Safi Brown, whose name means "pure and sincere friend" in Arabic, knows what it's like to struggle with acne. At her facial studio, the licensed skin therapist provides customizable solutions for clients specializing in facials, LED therapy, microdermabrasion, chemical peels and dermaplaning.
Where: Safi Skinsentials, 1517 W. Girard Avenue
Salon Tenshi
Owned by Brandy DaVila, Salon Tenshi's two locations in Philadelphia and Narberth offer full salon services, including hair styling, coloring and custom oil treatments. Salon Tenshi accepts clients of all ages. DaVila is also the creator of Tenshi Makeup, a line of all natural and hypo-allergenic beauty products that can be purchased in-store.
Where: Salon Tenshi, 537 N. 10th Street; Salon Tenshi, 859 Montgomery Avenue, Narberth
Ursula's About Phace Rittenhouse Makeup Studio
This by-appointment-only spot belongs to an industry vet whose 25-plus years in the business include stints with Bobbi Brown and François Nars. Devoted clients swear by owner Ursula Augustine's award-winning brow sculpting (Allure, Philadelphia magazine), dermaplaning facials, lash lifts and pro makeup.
Where: Ursula's About Phace Rittenhouse Makeup Studio, 1500 Walnut Street, Suite 816
Wash~Day
Natural hair experts Tori McCutcheon and Ruth Mullen have teamed up to launch this new curly hair heaven in Northern Liberties. The stylists at this natural hair salon speciaize in curly hair of all textures, offering a range of cut and color services that will bring your self-care vision to life. 
Where: Wash~Day, 736 North 2nd Street
Fitness
BeautiFitStrong
Award-winning body builder and coach Audra Anusionwu takes a holistic approach to wellness. In an East Falls studio, Anusionwu and her team offer personal training, group fitness classes and dance fitness classes to help clients feel strong and confident.
Where: Beautifitstrong Fitness Studio, 4027 Ridge Avenue
DanceFit
Under new ownership — by Megan Kizer since 2023 — this Chestnut Hill boutique dance fitness studio offers in person and online classes for people who love to dance. With offerings like Zumba, HipFit and Tone Zone, DanceFit disguises exercise as fun and makes working out feel like a party.
Where: DanceFit Chestnut Hill, 98 Bethlehem Pike
Watts Fitness Studio
Peter Watts opened his gym in 2003 in the heart of the city's Latino community and has nurtured an all-are-welcome atmosphere. Today, Watts Fitness Studio serves a very diverse clientele. People here regardless of age or fitness level are encouraged to participate in a variety of classes, including Zumba, HIIT cardio and weight training, as well as personal-training sessions.
Where: Watts Fitness Studio, 2712 N. 5th Street, 2nd Floor
Flowers & Plants
FarmerJawn Greenery
FarmerJawn Greenery is a food-focused garden center, owned by Christa Barfield (aka FarmerJawn). You'll find plenty of succulents, flowers, fruit trees, herbs, grow kits and teas made from locally grown plants.
Where: FarmerJawn Greenery, 6730 Germantown Avenue
Plant and People
For mother and daughter duo, Cherron Perry-Thomas and Amma Thomas, plants are means of stress management, self-care and community restoration. On top of houseplants and fair trade environmentally friendly wellness products, Plant and People offers books, natural supplements, hemp-based supplies, handcrafted accessories and community workshops throughout the year.
Where: Plant and People, 1431 N. 52nd Street
Paul Beale's Florist
For over half a century, Paul Beale's Florist has been the go-to florist for every occasion from proms and weddings to illness and sympathy bouquets. This family-owned business is committed to offering the finest in contemporary or traditional floral arrangements.
Where: Paul Beale's Florist, 7220 Ogontz Avenue
Sustainable Farm by Custom Cuisine
West Philadelphia urban farmer and owner Christina McCoy wants to help foster everyone's green thumb. Sustainable Farm by Custom Cuisine stocks countertop hydroponic plant systems, organic plant starts and skincare products.
Where: Sustainable Farm by Custom Cuisine at Reading Terminal Market, 51 N. 12th Street
Vault + Vine
Owned by Diana Baye and Breana Pettiford, Vault + Vine is a greenhouse, a flower shop, a retail shop, a floral designer and a coffee shop. Located in East Falls, it's a must-visit for all things flowers and plants.
Where: Vault + Vine, 3507 Midvale Avenue
Online Only
All Caps Studio
Founded in 2018, this Philly fashion photographer-turned-designer Saeed Ferguson has infused nature and positivity into his designs, creating a streetwear line that includes graphic T-shirts, tote bags, hoodies, and more.
Buddha Babe
Tina Dixon Spence creates and sells luxurious but practical items for babies, toddlers and the home. Popular offerings include blankets, swaddles, bibs, burp cloths, teething rings, scarves, clothing, cards, gift boxes and more.
Bungee Oblečení
Founder Darrell Alston began sketching shoe designs (over 250 of them to be exact) while incarcerated. Following his release from prison, Alston launched Bungee Oblečení (a nod to his life's many ups and downs) in 2018, promoting flashy conversation-starting designs. You can find the luxury sneaker and athleisure brand in select boutiques throughout Philadelphia — and online.
Brown Girls Can
Philadelphia native Tanysha Powell helms this online company, founded as a tribute to the Brown women who raised her. On offer: handmade jewelry, apparel, candles and more. Pro tip: Don't miss the shop's hand-poured Intention Setting Candles.
D'Iyanu
Founded in King of Prussia, online shop D'Iyanu carries a co-ed line of ready-to-wear, bold print and African-inspired blazers, pants, scarves, maxi dresses, skirts and jumpsuits. Owner Addie Elabor founded the shop with her brother, Dara Ajayi, and named their brand using a combination of the words "miracle" and "wonderful" from their native Yoruba language.
DNA Floral
The mother-daughter duo of Nicole and Domino Mack designs and creates flower arrangements to tailor any unique style, prioritizing local resources and sustainable efforts. They offer fresh, seasonal floral arrangements as well as dried botanicals, ranging from extravagant show stopping features to elegant centerpieces.
Emotional Therapy
The brainchild of Myles Nicholls — a.k.a Malo — Emotional Therapy's line of sweatsuits and t-shirts was born out of a time when that's all he was wearing: the Covid lockdown. Popular items include beanies with bear ears, sweatsuits and hoodies.
Expressionz By Faith
Philadelphia native Imani (whose first name means Faith) is the self-taught seamstress behind this online-only clothing store for women. On offer: custom tunics and hijabs influenced by Imani's passion for helping women channel their inner beauty.
Flourishing Beauty and Wellness
Flourishing Beauty and Wellness encourages consumers to indulge in self-care with a soothing cup of organic tea and organic skincare products with natural ingredients. The online-only company, which Charisse Nelson opened in 2020, offers loose-leaf teas with delightful names like Brain Love and Mellow Out and skin-care serums.
Freebird1985
Tierra Thompson's handmade jewelry is crafted in Philadelphia and sold online. With a mantra of "be free to be you," the pieces — chunky bracelets, earrings and sets — are as original as their wearers.
Gold + Water Co.
Owner (and Temple grad) Chartel Findlater's focus is on creating handcrafted soaps, bath items and home decor in small batches at Gold + Water. She sells these items online and select events — or sign up for a subscription and luxuriate with new products every month.
Mount Airy Candle Co.
Hand-poured, uniquely scented candles are the star attraction for this growing business founded by owner Marques Davis in 2018. Online and at select Pennsylvania retail locations, devotees can purchase candles in fun scents like grapefruit and vetiver, passionfruit and plum, lavender clouds, and tobacco noire.
Where: Available online and at select retailers including Occasionette, 1825 E. Passyunk Avenue
Philadelphia Printworks
From T-shirts to tote bags, the goods from this workshop are adorned with modern designs, all through the lens of social justice. Founded in 2010 by Maryam Pugh and Ruth Paloma Rivera-Perez, Philadelphia Print Works' products can be found online and at select brick-and-mortar stores in the area.
Where: Available online and at select retailers including Wooden Shoe Books, 704 South Street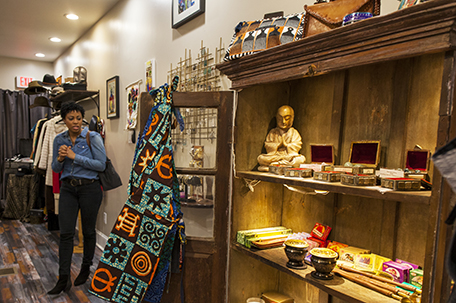 The Sable Collective
The Sable Collective is an online boutique curated with products dedicated to the cultural references and experiences of Black women and women of color. All of the shop's clothing, jewelry, housewares and wellness products are intentionally sourced from BIPOC and women artisans and entrepreneurs.
Xavi Row Bespoke
Scoring a 2021 Best of Philly nod, Xavi Row Bespoke is known for its bold, ultra-dapper custom suits. Owner Leroy West creates suits and shirts for professionals, grooms and wedding guests, prom goers and red carpet appearances, including at the Emmys. Clients make appointments online for West to do measurements and fittings in their home, office or Philly-area showroom. The time from measurement to outfit completion is about four weeks.
Black-Owned Restaurants in Philadelphia
Some of the city's top Black-owned cafes, coffee shops and eateries…
Restaurants & Bars
48th Street Grille
Carl Lewis owns this beloved West Philly destination that serves soul, Caribbean and American cuisines with a soulful, Cajun twist. On the menu: healthy portions of their signature Island Wings, New Orleans-style blackened salmon topped with shrimp scampi, and jerk lunch options.
Where: 48th Street Grille, 310 S. 48th Street
Abyssinia
Get ready to break bread (or in this case, injera) at this cozy Ethiopian restaurant that serves up budget-friendly, shareable cuisine with no shortage of flavor. Don't miss signature dishes like Gored-Gored (beef seasoned with kibbeh and awaze) and a smorgasbord of vegetarian options, including Azifah (whole brown lentils blended with mustard, onion, jalapenos and spices). Drop in for breakfast every day between 10 a.m. and 2 p.m. for dishes like Ful (fava beans with onions, tomatoes, pepper and olive oil served with bread).
Where: Abyssinia, 229 S. 45th Street
Aksum Cafe
Aksum Cafe — owned by John Neufvilles — is a Mediterranean, Afro-centric spot on Baltimore Avenue that serves great marinated Lebanese chicken over rice or mashed potatoes, Moroccan spicy shrimp, and Mediterranean-style red snapper, along with weekend brunches of Moroccan chicken and waffles, spiced shrimp and grits, and eggs Benedict.
Where: Aksum Cafe, 4630 Baltimore Avenue
All the Way Live
On the menu at this raw food/vegan café owned and run by the mother/daughter duo of Nyeisha Cabiness and Beverly Nedley: nut burgers, quinoa salads, chickpea chili and more.
Where: All the Way Live Cafe, 6108 Germantown Avenue
Amina
One of the newest restaurants in Philadelphia's historic Old City neighborhood, Amina brings a healthy dose of Southern food complete with a dash of Nigerian influence to the city's restaurant scene. House specialties include Grilled Lamb Lollipops, Down Home Gumbo (rice, shrimp, crab, oysters, chicken wings, spicy chicken sausage in a rich broth), Flaming Lobster Bisque and the Nigerian Hot Chicken sandwich (bread and butter pickles, soul slaw, peanut butter on a brioche roll). Owned by Felicia Wilson and chef-partner Darryl Harmon, Amina also serves brunch and a lengthy cocktail list. Pro tip: Try out Amina's take on the classic bloody Mary, which uses Harmon's signature spice blend to pack a special kick.
Where: Amina, 104 Chestnut Street
Angry Deekin BBQ
Philly chef and pit master Craig Martin owns this barbecue joint near the city's Callowhill neighborhood. Stop by for the shop's juicy beef and pork rib slabs, delicious beef brisket sandwiches and sides like Bourbon baked beans and mac and cheese.
Where: Angry Deekin BBQ, 1019 Spring Garden Street
Atiya Ola's Spirit First Foods
Atiya Ola serves vegetarian, vegan and raw dishes meant to help customers tap into their spirituality. Stir-fries, salads, wraps and burgers are packed with healthy, natural ingredients at this West Philly spot.
Where: Atiya Ola's Spirit First Foods, 310 S. 48th Street
Barkley's BBQ
Owner and pit master Tank Barkley serves up heaping platters of soul food and barbecue. Thinkhalf or full slabs of sauce-slathered St. Louis ribs; yams and apples; baked mac and cheese; garlicky string beans; potato salad; and pulled pork and chicken platters that draw a crowd to this North Philly spot. Note: The restaurant is open Fridays and Saturdays, while the Barkley's BBQ food truck can be found at spots throughout the region other days of the week.
Where: Barkley's BBQ, 2017 N. 29th Street
Booker's Restaurant & Bar
Named after Booker Wright — a server who risked his life for voicing what it was like to be a Black waiter in the 1960s at an all-white restaurant in Mississippi and eventually was murdered in a confrontation with a customer at an eatery he later opened — this West Philly destination owned by Saba Tedla draws families and more with Southern-inspired cuisine, weekend brunch and great drinks.
Where: Booker's Restaurant & Bar, 5021 Baltimore Avenue
Butter's Soul Food to Go
This charming Brewerytown soul food eatery got its name because its food is so good, it melts in your mouth. Fried wings and sides sell out fast, and home-baked cakes and pies come straight from the oven of owner Kevin Bell's mother.
Where: Butter's Soul Food to Go, 2730 W. Girard Avenue
Caribbean Feast Restaurant
Find jerk chicken, reggae and jazz at Caribbean Feast Restaurant in the heart of North Philadelphia. As seen on The Cooking Channel's Road Trip with G. Garvin, this Jamaican spot serves up oxtail, goat and plenty of seafood, as well as homemade juices. Once a year, the restaurant hosts a family day event that provides 250 free meals to kids. 
Where: Caribbean Feast Restaurant, 1338 Rising Sun Avenue
Cloud Cups
Fishtown just got a whole lot cooler. Frozen, in fact. Having sold high-end gelato from his mobile cart since 2018, renowned gelato artist Galen Thomas — a graduate of Carpigiani Frozen Dessert and Gelato universities — opened Cloud Cups, his brick-and-mortar spot in Fishtown in May 2023. The gelato and sorbet shop, which shares a dining room and patio with next-door neighbor Pizza Brain, serves up a dozen flavors of handmade artisanal gelato and sorbet at a time (from a rotating menu of over 90 total) in scoops and cones, milkshakes, floats, flights and Cloud-Ninis, gelato-filled fresh-baked pastries. The menu also features dairy-free and vegan options.
Where: Cloud Cups Fishtown, 2311 Frankford Avenue
Cray Taste
An acronym for "creativity, revolutionary, artistry, youth," chef-owner Saquan Smith embraces all four characteristics alongside his own Jamaican roots to bring delectable Southern dishes to his BYOB in Philadelphia's Old City. Combining Caribbean flare with American soul food, the menu is littered with chef's specials like Mumbo-Glazed Salmon and chicken breast stuffed with spinach and tomato, while weekend brunch specials include chicken and waffles available in French toast, red velvet or half-and-half varieties. Cray Taste also emphasizes hiring youth in need of mentorship and job opportunities.
Where: Cray Taste – Old City, 118 Market Street; Cray Taste, 3865 N. 7th Street
The Cresson Inn
For six decades, Manayunk's The Cresson Inn operated as a lodge, beauty parlor, billiard hall and even a shoe store fronting a basement speakeasy during Prohibition before becoming a full-time bar run by couple Chuck Otis and Lucy Sanders in 1972. A half-century later, the family sold the "five-star dive bar" to Tracy Hardy and Jennifer Gomez-Hardy (of Lou & Choo's Lounge) who partnered with Nate Sanders — Chuck and Lucy's grandson and Tracy's childhood friend — to renovate "The Original Yunkers Bar," revamping the menu with items like The Philly Anthem cheesesteak and Manayunk Mimosa, sparkling wine and orange jubilee, and adding daily breakfast service.
Where: The Cresson Inn, 114 Gay Street
Dahlak
Nestled in the heart of West Philadelphia, this family-owned Eritrean-Ethiopian concept transports your taste buds thousands of miles away to East Africa with traditional fare like beef tibs, sambusas and doro okra — plus a healthy assortment of vegetarian options. This laid-back spot has been a neighborhood staple since 1987 and boasts an easygoing bar in the back. Keep the party going with hookah available on-site, and DJs on weekend nights add even more pizzazz to the flavors in your food.
Where: Dahlak, 4708 Baltimore Avenue
Dibbs BBQ
Slow-cooked brisket, ribs and barbecue chicken taste as good as they smell at Dibbs, where the meats come by the pound, in platters and on sandwiches. Collard greens, mac and cheese, and seasonal offerings like tuna salad and corn on the cob complete the messy, incredible meal.
Where: Dibbs BBQ, 5617 Lancaster Avenue
Doro Bet
From the owners of Alif Brew & Mini Mart Inc. (see below), Doro Bet is an Ethiopian Chicken House that expertly crafts gluten-free fried chicken. No visit is complete without a marinated, spit-roasted chicken shawarma, while fried thighs, drumsticks and wings available in a variety of spice levels also satisfy. For the vegan in your party, there's the falafel sandwich or teff-flour-fried mushrooms. And don't skip the sauces either: the Mitmita Aioli spicy sauce, senafich Ethiopian mustard, spiced honey, and garlic aioli are sure-fire crowd pleasers.
Where: Doro Bet, 4533 Baltimore Avenue
Down North Pizza
Based in Strawberry Mansion and serving North Philadelphia, this pizza restaurant from owner Muhammad Abdul-Hadi and executive chef Michael Carter features inventive pies, dressed-up chicken wings, hand-cut fries and milkshakes. In addition to serving up flavorful, creative eats, the shop exclusively employs formerly incarcerated individuals and is committed to paying a fair wage.
Where: Down North Pizza, 2804 W. Lehigh Avenue
Friday Saturday Sunday
This elegant Center City haunt from Chad and Hanna Williams reopened after a pandemic hiatus with an indulgent, seasonally inspired eight-course tasting menu served in a luxurious upstairs dining room. Complex flavors spring to life in creative culinary masterpieces like lamb rib with cherry jus and Jimmy Nardello peppers or grilled quail pâté with coco bread. Treat yourself with a wine pairing (you deserve it) or pick an excellently named cocktail from the lengthy list, like the Judgement of Paris (calvados, Torino vermouth, lemon and cilantro).
Where: Friday Saturday Sunday, 261 S. 21st Street
Halal Fusion Chinese Restaurant
Philly's first Black-owned Chinese restaurant uses fresh halal ingredients to satisfy every takeout craving, from General Tso's chicken to shrimp fried rice. But where the father-and-son owners truly shine is with flavor innovations like the chicken cheesesteak rolls and wings tossed in sweet and tangy homemade "fusion sauce." Dig in.
Where: Halal Fusion Chinese Restaurant, 2748 Germantown Avenue
iMunch Cafe
Owner J. Roger Powe III created this popular morning-through-afternoon Brewerytown spot serving good-for-you breakfast and lunch eats. Among the offerings: omelets, French toast, breakfast sandwiches, salmon patties, chicken pesto paninis, fruit smoothies, salads and more.
Where: iMunch Cafe, 1233 N. 31st Street
Level Up Bar & Lounge
Operating since 2020, Level Up celebrates its status as one of a few Black-owned and LGBTQ-welcoming spaces in Philadelphia's Gayborhood. The club is a great cocktail spot, but also widely known for its stacked entertainment calendar. Guests can enjoy DJ shows, karaoke nights, drag performances and trans-specific shows all created with the goal of providing an environment where everyone feels represented and safe.
Where: Level Up Bar & Lounge, 1330 Walnut Street
Lou & Choo's Lounge
No bar can be all things to all people, but Tioga-Nicetown's Lou & Choo's Lounge sure comes close. A North Philly staple for over 40 years, Lou & Choo's recently got a facelift as Tracy Hardy and Jennifer Gomez-Hardy, owners since 2014 who also acquired The Cresson Inn, used the time to renovate the space. The lounge now consists of three full-sized bars (one decorated with photos and quotes of Tracy's personal Black heroes throughout history), a tiki bar, barcade, cigar lounge, DJ booth, live music and The Yard landscaped patio for 500 guests, along with a revamped menu including signature seafood and fish sandwiches from chef Bruce Palmer.
Where: Lou & Choo's Lounge, 2101 W. Hunting Park Avenue
New Barber's Hall
It's a Cecil B. Moore institution. In a 19th-century cycling clubhouse and 20th-century music hotspot where John Coltrane, Grover Washington, Jr. and The Temptations performed, this bar and event space owned by Jake Adams serves lunch, dinner and drinks everyday. Don't forget to warm up those pipes for karaoke on Wednesdays and Fridays.
Where: New Barber's Hall, 1402 W. Oxford Street
Paprika Halal
This North Philly spot serves up the flavor with stuffed shrimp, racks of lamb, crab cakes and popular salmon dishes, in addition to burgers, pastas and desserts.
Where: Paprika Halal, 4167 Germantown Avenue
Reggae Reggae Vibes
This Northern Liberties spot serves Jamaican and American fusion in the form of crispy chicken patties, homebrewed ginger beer and even a jerk chicken cheesesteak.
Where: Reggae Reggae Vibes, 517 W. Girard Avenue
SOUTH Restaurant & Jazz Club
Just north of City Hall, the Bynum brothers' chic SOUTH Restaurant & Jazz Club serves up fare like freshly shucked oysters, fried green tomatoes and shrimp remoulade, shrimp and grits, buttermilk fried chicken, and vegan jambalaya. You can also expect good, old-fashioned hospitality and an extensive wine program.
Where: SOUTH Kitchen & Jazz Bar, 600 N. Broad Street
Suya Suya West African Grill
Named after a popular West African street food dish that originated in Nigeria, Dera Nd-Ezuma's restaurant in Northern Liberties uses authentic, imported Nigerian spices to craft traditional suya — a spiced, smoked meat skewer. The fast-casual eatery also offers customizable bowls that pair steak, shrimp or brussel sprouts with various rices and sides of plantains or cornbread. Also on deck: seasoned whole tilapia marinated with Nigerian tomato stew or suya tacos, which you can wash down with house-brewed beverages like Zobo, a Nigerian-style hibiscus-ginger tea.
Where: Suya Suya West African Grill, 400 Fairmount Avenue
Taste Town
Stop in any day of the week from 10 a.m. to 10 p.m. for delicious, convenient American-style cuisine right in the heart of East Market. Taste Town specializes in classic comforts like burgers, fries and cheesesteaks with a menu that emphasizes local ingredients.
Where: Taste Town, 938 Market Street
Tasties
Long known for casual, takeout soul food, chef and owner Barbara Dewan has leveled up with a stylish setting for down-home wings, candied yams, fried rice and sandwiches.
Where: Tasties, 1214 N. 52nd Street; Tasties – Germantown, 5241 Germantown Avenue
Vegan-ish
This fast-casual joint whips up health-conscious meals using fresh, plant-based ingredients, expertly crafting vegan salads, flatbreads, sandwiches and burgers that don't sacrifice any flavor. Owned by Lamarr Ingram, the restaurant's mission is to serve up meals that help move customers toward optimal health, wellness and fitness. For added range, Vegan-ish also offers pescatarian dishes like the Bangin' Blackened Salmon Burrito (kale, shaved radish, fried capers and chickpeas with Caesar dressing in a flour tortilla), helping put the "ish" in its moniker.
Where: Vegan-ish, 1519 Spring Garden Street; Vegan-ish – West Philadelphia, 1214 North 52nd Street
Cafes
Alif Brew & Mini Mart Inc.
Owned by Addis Ababa native Hayat Alif, this Ethiopian restaurant, coffee shop and corner store triple-whammy graces Philadelphia's food scene with caffeinated brews, diverse pantry essentials, hearty meals and more. Eat your heart out all week long with classics like spicy chicken wraps made with injera or try something new with ever-updating weekend brunch specials. Get creative with your order on Taco Tuesdays, stacked with rotating options like al pastor tacos loaded with butternut squash, roasted pineapple, avocado, pico de gallo and pickled onions, and wash it all down with the Alif Special coffee infused with Ethiopian ginger.
Where: Alif Brew & Mini Mart Inc., 4501 Baltimore Avenue
Bower Café
This colorful Washington Square West spot adds an element to the coffee-pastry-sandwich trifecta: house-cured meats, served on toasts or by the pound. Owner Thane Wright, a long-time coffee industry veteran, seeks to enhance the natural flavors of the coffees served in his cafe by foregoing any syrups, powders or artificial flavors.
Where: Bower Penn, 1 Convention Avenue
Chef Reeky's Cafe & Juice Bar
Satisfy breakfast and lunch cravings in Southwest Philly with stuffed French toast, salmon cake hash, seafood and spinach egg rolls, and smoothies at Chef Reeky's — and don't forget to order grits. Available in several varieties, the Party Grits — jumbo shrimp, Chilean salmon, lump crab and jack cheddar dressed with scallions and scampi sauce — are the real standout.
Where: Chef Reeky's Cafe & Juice Bar, 6517 Elmwood Avenue
Coffee Cream & Dreams
Travelers and locals alike can feel at ease at this charming spot, where owners Stephanie Ford and Sonja West strive to make every customer feel right at home with simple pleasures like fresh zucchini bread, chocolate croissants, caffeinated concoctions and sandwiches like the turkey sausage, egg and cheese on brioche.
Where: Coffee Cream & Dreams, 1436 Fairmount Avenue
Good Karma Café
This Center City favorite has kept owner Shawn Nesbit busy since opening Good Karma Café in 2008. The brand serves up fair trade and certified organic coffee made with rich flavors, as well as small bites and sandwiches.
Where: Good Karma Cafe, 265 Broad Street
Honeysuckle Provisions
Helmed by Omar Tate (Esquire Chef of the Year 2020, TIME 100Next in 2021) and Cybille St.Aude-Tate, Honeysuckle Provisions is a trailblazing Afrocentric grocery and cafe in West Philadelphia featuring Black-made, -owned and -grown foods. Pop in for eggs and grits dishes at breakfast, or grab one of the signature hoagies (including the turnip hoagie) for lunch.
Where: Honeysuckle Provisions, 310 S. 48th Street
Thunder Mug Cafe
Vegan peanut butter blondies, vanilla cream beignets, steaming Americanos and other goodies quickly made Thunder Mug Cafe a favorite of the East Falls community — and the Philadelphia 76ers, who selected the spot as the 2022 recipient of its annual Buy Black Program. Customer go-tos at this relaxing cafe, owned by Lizette Apy, include oat milk lattes, breakfast options like the ham and cheese croissant, and the delightfully strong cold brew.
Where: Thunder Mug Cafe, 4233 Ridge Avenue
Bakeries
Banana Mousse
Milkshakes and mousses whipped up by a mother-daughter duo delight customers looking for something sweet in West Philly. The fanciful shakes are decked out with cookies, cake pieces, whipped cream and colorful sprinkles piled high in flavors like cookies & cream and Fruity Pebbles. Each mousse — not quite ice cream, not quite pudding — is served in a cup with towering sweets, like the birthday mousse and sweet potato mousse.
Where: Banana Mousse, 5602 Spruce Street
Darnel's Cakes
The pastries and desserts at Darnel's Cakes are out of this world, but this little cafe tucked between Old City and Northern Liberties has a full menu that's also worth exploring. Homemade buttermilk biscuits, baked mac and cheese and a BLT sandwich with Thai chili-shallot mayo are among the offerings. The bakery is also committed to raising awareness about HIV/AIDS, and partners with local nonprofit Bebashi, which aims to empower the Black and Brown communities, to discreetly include free HIV testing kits in food orders.
Where: Darnel's, 444 N. 3rd Street
Denise's Delicacies
Denise Gause originally created her North Philly homage to sugar, eggs and flour in 1990 before a fire closed her 25-year-old business in 2015. But Gause did what any strong baker would do: rebuilt it. Today, she's since passed Denise's Delicacies on to her nieces Keshia Davis and Cynthia Benton, who are committed to carrying on their aunt's sugary legacy as the phone rings off the hook for pound cake, pies, sticky buns, donuts, cookies and wedding cakes.
Where: Denise's, 2916 N. 22nd Street
Lokal Artisan Foods
It's all about the French toast for Lokal Artisan Foods: French Toast Bites, French Toast Bites Beer, French Toast Bites Coffee and French Toast Bites Gelato to be exact. Started in 2018, this collection of food and beverage products uses ingredients grown and sourced responsibly with respect to origin and seasonality. Devotees to the sweet treats can find French Toast Bites at places like Cherry Street Pier, Spruce Street Harbor Park and at seasonal pop-up events at City Hall and more.
Where: Various locations including Cherry Street Pier, 121 N. Christopher Columbus Boulevard
Pound Cake Heaven
The name says it all. Owner Pamela Thornton's pound cakes delight in every flavor and every neighborhood. Lemon blueberry, sour buttercream and more are on the menu in the Kensington and Yeadon storefronts, as well as Thornton's dessert-on-wheels Pound Cake Heaven dessert truck. But the bubbly 7 Up pound cake is a can't-miss (and a customer favorite).
Where: Pound Cake Heaven – Kensington, 3415 Kensington Avenue; Pound Cake Heaven – Dessert Truck, 3400 Market Street; Pound Cake Heaven – Yeadon, 712 Church Lane, Yeadon
Sweet T's Bakery
Mark and Tia El made history when they opened their Reading Terminal Market stall in early 2021. Sweet T's Bakery is the first Black-owned bakery in the market's roughly 130-year history. The Els have served Philly baked goods since 2014, operating first as a South Philly storefront and then out of a food truck before starting out with a temporary spot in Reading Terminal in 2020. Pies are the star of the menu and Sweet T's is known for its sweet potato pie with a graham cracker crust — a twist on the recipe Tia learned from her grandmother.
Where: Sweet T's Bakery, 51 N. 12th Street
The Sweet Life Bakeshop
For those with a sweet tooth, The Sweet Life Bakeshop has been a slice of heaven in the City of Brotherly Love since 2010. Its claim to fame is its mouthwatering banana pudding, which has been parlayed into other unique variations like strawberry banana pudding and salted caramel banana pudding. Dessert lovers can also delight in pineapple upside-down cake, peach cobbler and a gamut of cupcakes from sweet potato to cookies and cream.
Where: The Sweet Life Bakeshop, 740 South Street