It's quite common for Black models to do their own makeup for NYFW, since many makeup artists don't know how to work with Black skin.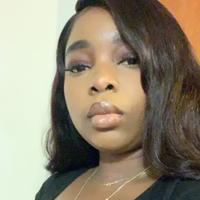 The beginning of September typically marks the start of New York Fashion Week (NYFW). NYFW is the time for fashion houses to showcase their latest creations to the general public, buyers, and the press. Of course, the main focus of the joyous occasion is fashion, however, the beauty and fashion worlds always collide as models strut their stuff down the runway.
Article continues below advertisement
That said, it's key for models of all ethnicities to look their best as they rip the runway. And of course, highly-trained professionals in hair and makeup are key to getting the job done.
Unfortunately, there has long been a trend of MUAs missing the mark with Black models — from Casper The Ghost-like beauty beats to flashback in photos. So, when one Black model was forced to redo her makeup at a neighborhood Sephora for NYFW, folks on TikTok were not surprised. Here's the tea.
Article continues below advertisement
A Black model redoes her makeup at a neighborhood Sephora for NYFW.
It's a tale as old as time. In two TikTok videos, creator Megan Milan (@megan.milan) shared her experience getting her makeup done for an NYFW show, and the results were not pretty.
"I normally bring my own foundation just in case, but I let my guard down. Plus, I didn't want to carry a makeup bag all day. This was my first job of the day. I had to go to Sephora to do my own makeup then come back," the video caption reads.
Article continues below advertisement
As the first video starts, Megan is seen getting her makeup done. As the MUA applies concealer — with the actual concealer applicator which is an ultimate beauty faux pas — they proceed to blend in the product.
After, Megan shows the aftermath of the beauty beat, and it's giving a ghostly ghoul.
Article continues below advertisement
The MUA then pointed at Megan's skin and said "It's light and dark" and shared the designer's dissatisfaction with the look. Megan agreed and said she "looks like a ghost."
As expected, Megan is then seen on the phone with a friend visibly crying about the experience.
Article continues below advertisement
In the second video, Megan replies to a commenter who asked to see the final result of her look after getting her makeup done at Sephora.
"On my way to Sephora, right in the middle of a shoot," Megan said while walking in the middle of Manhattan.
Megan finally makes it to Sephora and airs out her grievances.
"I'm just so irritated… I'm so tired. I barely got any sleep and I have another show after this," Megan said as she wiped the makeup off of her face. "It's just frustrating that we have to deal with this all the f—— time."
Article continues below advertisement
"If you didn't know how to do Black girl makeup, why would you even? You guys know what I looked like before I came in here. So rude," Megan said. "Why am I at Sephora doing my own makeup?"
In the next clip, Megan shows the result of her beauty beat at Sephora, and she looks gorgeous.
Article continues below advertisement
"You can't even tell I just had an entire breakdown," the text overlay in the video reads.
Later on, Megan sat in Donni Davy's chair — the visionary behind makeup on HBO's Euphoria — as she touched up her makeup for another shoot.
"Donni Davy turning my frown upside down one hour later," the text overlay reads.
Donni finishes the look with a shimmer shadow on Megan's lids and the two women pose for a photo-op at the end of the video.
TikTok users are not surprised by Megan's experience during NYFW.
Truth be told, there are some MUAs hired by fashion houses who have no clue how to work with Black skin. And to be quite honest, it's a slap in the face, especially in 2023.
If you're well-versed in the beauty industry, you know that during the '90s, when Naomi Campbell and Tyra Banks were starting their careers, there were very few makeup products created with Black shades in mind. As a result, the models had to concoct their own makeup products to avoid looking like an ashy mess.
Article continues below advertisement
However, the '90s are far behind us, and there have been so many advancements in the beauty world with brands made by Black women for Black women — from Diarrha Ndiaye's Ami Colé to Melissa Butler's The Lip Bar.
So, with that in mind, beauty aficionados on TikTok are upset that designers are still missing the mark with hiring experienced MUAs who know how to work with Black skin.
"The artist using the actual concealer applicator on you told me all I needed to know … I'm sorry you had to experience that," one person shared.
"OMG. This is unacceptable in 2023! I'm sorry this happened to you," another user said.
Article continues below advertisement
"As an art director, if I saw this happening on my shoot, I'd be FUMING. I can't believe no one said anything. I'm sorry, hon. This shouldn't happen," another person shared.
So, when Megan showed the results of Donni Davy's work, TikTok users were pleased.
"Donni Davy, aka Makeup Department Head for Euphoria, for the win," one person shared.
"In Donni Davy we trust," another user said.
There is no way, shape, or form where an MUA, especially at NYFW, should not know how to work with all skin tones and the art of color theory. Fashion houses need to do a better job of ensuring that their hired beauty teams know how to execute a vision properly to avoid situations like this.
SMH! Megan gracefully decided not to air out the designer and MUA who missed the mark, but hopefully this serves as a lesson to all.