FEELING BLUE: IMG Models has signed a new virtual client as modeling agencies, faced with the threat of AI-generated imagery, seek a foothold in the fast-developing digital realm.
The agency said Wednesday it has added computer-generated model and self-described "alien influencer" Zlu to its books, tapping into public fascination with social media clips that make use of augmented reality and trompe-l'oeil effects.  
Launched by Paris-based Zut Studio in April 2022, the brainchild of creator Ilian Gazut has worked with brands including Karl Lagerfeld, Swarovski, GCDS, Chimi, Fila, Havaianas, Pull and Bear, Citadium and Netflix.
IMG also represents the cartoony female digital fashion avatar Noonoouri, created by German graphic designer Joerg Zuber.
Zlu has 731,000 followers on TikTok and 128,000 on Instagram. By comparison, Lil Miquela — the first virtual influencer to go viral on Instagram — is followed by 3.5 million accounts on TikTok and 2.7 million on Instagram. Launched in 2016, Miquela has been signed to talent agency CAA since 2020.  
Gazut is an architect and visual artist who explores virtual experiences and the relationship between the body and space.
"I am incredibly thrilled to have signed with IMG Models and am looking forward to the exciting journey ahead. This feels like the perfect step to foster my creative growth and break down barriers in the digital realm. I am excited to see how the team will amplify the potential of Zlu," he said in a statement shared with WWD.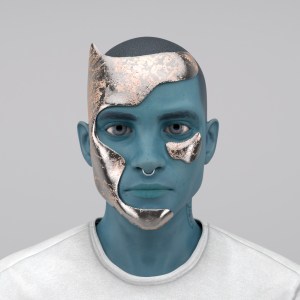 Following earlier partnerships at the Roland-Garros tennis tournament and Wimbledon, Zlu has again teamed with Fila for the U.S. Open as the Italian sportswear brand marks the 50th anniversary of its debut in the world of sports. During the event, which runs until Sept. 10, Zlu will feature in New York locations including Rockefeller Center and Washington Square Park.
The signing of the blue-skinned hologram comes as actors in the U.S. strike to protect their digital likenesses from being manipulated by AI technology, among other issues.
Modeling agencies are experimenting with digital advances, whether avatars or 3D creations like Shudu, even though efforts to stage fashion shows in the metaverse have failed to draw large audiences so far. Bella Hadid has even created virtual versions of herself in NFT form sold through a platform called CY-B3LLA.
Elite World Group revealed last year that it had partnered with Igoodi to create 3D avatars of models, while Los Angeles-based agency Photogenics launched the "Avatar Division," a new business unit with a dozen digital models. — JOELLE DIDERICH
NEW DIRECTIONS: K-pop star Vernon, a member of the band Seventeen and a newly crowned Kenzo ambassador, wears the baggiest jeans imaginable in the brand's fall campaign.
The spots continue the collection's theme of building bridges between east and west. The French brand's latest designs by its Japanese creative director Nigo were captured by photographer Keizo Kitajimi in various locations.
The crisp images — somewhere between street-style photography, reportage and a fashion shoot — showcase the "personal universe" of Nigo and portray the historic elements and contemporary street culture that shaped the designer, according to Kenzo.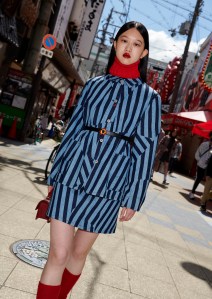 One can imagine diehard Nigo fans and serious Kenzo-philes scoping out some of the venues in the way Asian fans have been flocking to the Swiss village of Iseltwald, a pivotal European location in the popular South Korean series "Crash Landing on You."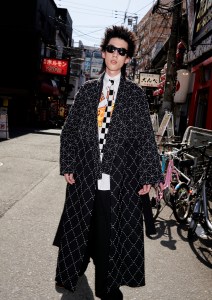 An accompanying one-minute film by British photographer Frank Lebon, with sped-up footage in various venues, certainly elicits an itch to visit Japan. Blink-and-you-missed-it scenes include Nigo playing a game of Shogi, and Vernon brushing his teeth and tugging on socks.
Kenzo also describes the campaign as "a metropolitan dialogue between tradition and the underground" and "a study of the present-day youth scenes of the two Japanese cities."
Nigo has made the interplay between late Japanese fashion designer Kenzo Takada and the French capital a central theme of his Kenzo.
His spring 2024 collection, for which he upped the Parisian sophistication, was paraded last June on a pedestrian bridge that spans the Seine River and connects the Palais de Tokyo and the Eiffel Tower. A repeat show in Shanghai last month took place by the banks of the Huangpu River. — MILES SOCHA
QI'S DEBUT: Michael Kors' global brand ambassador Shu Qi, the award-winning Taiwanese actress, will be featured in the company's newest ad campaign. Shot by photographer Nick Yang at the Peninsula Hotel in Shanghai against the historic Bund riverfront, the campaign channels the brand's jet set spirit.
Qi, who was recently named a 2023 Venice Film Festival selection committee board member, appears in the images and accompanying video in looks from the fall 2023 Michael Michael Kors collection.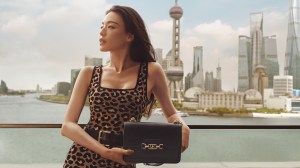 Michael Michael Kors' fall collection features a glamorous twist on seasonal dressing such as an Empire Logo splashed across outerwear and accessories, day-to-night leopard print and opulent outerwear. Among the accessories are a leopard-print Mila handbag, an Empire Logo print tote and the Heather and Parker bags.
"From her on-screen gifts to her off-screen confidence, smarts and style, Shu Qi is a role model to many, and incredibly chic. We're thrilled to have her as part of our Michael Kors family," Kors said.
The campaign will be introduced this month, with ads running worldwide throughout the fall and holiday seasons. The images will also appear in digital outlets, as well as social media platforms and traditional outdoor media placement.
The 49-year-old Qi is one of the most successful Taiwanese actresses of all time. She has been the recipient of three Hong Kong Film Awards and two Golden Horse Awards for best actress, among other awards. She has also modeled for such brands as Flowers by Kenzo, Emporio Armani, Bulgari and Tom Ford Beauty. Last February, Qi was named a global spokesperson for Kors. — LISA LOCKWOOD
AIMING HIGHER: Reiss, the British high street fashion brand, is shifting gears to go more premium with its new line, Atelier.
The name of the line is an homage to the in-house team of designers at Reiss, who have all held positions at luxury fashion labels.
"It stemmed from a gap we identified in the market between the top end of the high street and the premium brands," Una Joyce, womenswear director at Reiss, told WWD.
"A lot of the premium brands are becoming so unaccessible in terms of price point and at the top end of the high street, particularly with the American brands, they're all becoming quite safe and a little bit boring," she added.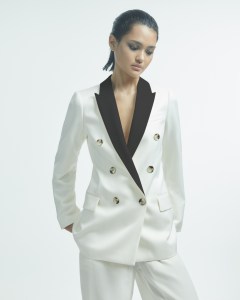 Since the pandemic, Reiss has stepped up its conservative designs to become sleeker and versatile for in and out of the office. 
The Atelier collection has a strong tailoring focus and uses a neutral color palette with silk, Italian wool and cashmere blend fabrications.
Reiss' design director, Jamie O'Hara, is a former Tom Ford designer, which is evident in the DNA of this debut collection.
Atelier launches on Sept. 13 online and in select stores with prices running two or three times he main collections at Reiss, which start around 150 pounds.
"There were no restrictions," explained Joyce, referring to the long lengths and design ambitions the team had when designing the collection, which for a main line collection would have been cut for price and audience.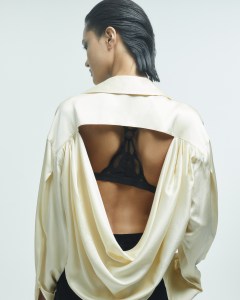 It's clear that this collection is not for the ordinary British shopper looking to buy officewear. This is Reiss' forway into elevated eveningwear as party season looms.
Atelier is going to launch twice this season, with a second drop coming in October. The quantities are running low, with 300 units a style, which is a 10th of the main collections at Reiss.
The brand has become a royal fixture with the likes of Kate Middleton and Meghan Markle, but it has recently become the official travel partner for the McLaren Racing Formula 1 team as well. — HIKMAT MOHAMMED
DINING AT CHANEL: Weeks after opening a new beauty boutique in the neighborhood, Chanel is kicking off a pop-up in Williamsburg, Brooklyn.
To commemorate the launch of Chanel Chance Eau Fraîche eau de parfum, as well as the boutique's opening, Chanel is taking over a diner in the buzzy neighborhood from Sept. 8 through Sept. 10. Dubbed the Chanel Lucky Chance Diner, it will be open to the public, with reservations available on Chanel's website.
In the diner itself, guests will sit at booths or counters to explore the brand's fragrance offerings, such as the Chance range, from which the diner derives its color palette. As reported by WWD, Chanel is the largest prestige beauty business in the U.S.
In an outdoor garden, there will be a point of sale for Chanel Chance fragrances, as well as games and diner-inspired refreshments.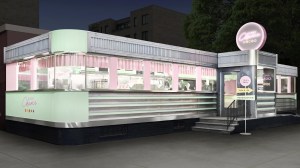 Brooklyn has gained increasing retail traction from beauty companies. At the time of Chanel's boutique opening, Barbara Menarguez, the general manager of the brand's beauty business, said, "We look to establish a presence in markets where our chanel.com clients are most concentrated to build upon those existing relationships with omnichannel experiences, as well as in markets where we believe there is a high potential to build new client relationships."
Those boutiques also attract a larger Gen Z audience than other prongs of the brand's distribution, and often serve as gateways to other Chanel goods, from fashion to watches and fine jewelry, Menarguez said.
Fragrance brand Byredo also recently opened a Brooklyn store, following the likes of Glossier, Glowbar, Credo, Sephora, Aesop and others. — JAMES MANSO
A NEW LEVEL: Golden Hour is where you start your night at Level 8, said Angelenos Mark and Jonnie Houston of Houston Hospitality.
The twin brothers, behind No Vacancy and Black Rabbit Rose, introduce their newest concept: a 30,000-square-foot dining, drinking and entertainment experience on the eighth floor of the Yabu Pushelberg-designed Moxy & AC Hotel in downtown L.A.
"This project started almost five years ago," said Jonnie. "It's an accumulation of Mark and I traveling around the world and kind of bottling up our wildest dreams of experiences that we wanted to recreate. This project was the perfect mashup to throw it all onto one floor."
The brothers thought about what would draw their friends downtown. The beauty of Level 8 is finding different options in one place, they said.
"You can have appetizers here, dinner here, desserts there," said Mark.
And then party.
There are eight venues, with Sinners y Santos standing out as an abandoned 19th-century cathedral turned wrestling ring (expect lucha libre fights as a DJ spins). In food, Ray Garcia's Qué Bábaro offers South American cuisine; there's teppanyaki at Joshua Gil's Maison Kasai, and shabu-shabu at Hisae Stuck's Lucky Mizu. Late nights will likely be at Mr Wanderlust, a piano bar and jazz lounge. While Golden Hour, a pool deck serving bites and cocktails, is open day and night.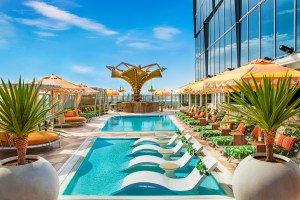 "Come to Level 8 for happy hour at Golden Hour and spend the night," said Jonnie. "For us, that's the perfect beginning to the Level 8 experience."
It's a tropical '70s themed space, with a pool and cabanas. The pièce de résistance is a rotating carousel bar designed by Paul Basile of Basile Studio.
"We want it to look like the top of a pineapple," said Mark.
The drinks mirror the setting, with a menu of tiki options. Mai tais are Trader Vic's original recipe, poured in its signature glassware.
"We're paying homage to one of the tiki trailblazers in the United States," added Jonnie.
Food options include a golden burger, lemon pepper wings and variety of salads.
"Things people would want around a pool," said Mark. — RYMA CHIKHOUNE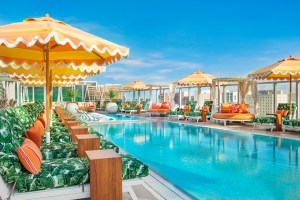 THE RAP ON TRUE RELIGION: True Religion is celebrating its 21st birthday with a colorful collection of denim, activewear and tops with iconography and amplified details referencing its early fashion days.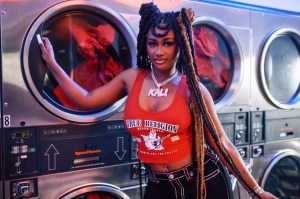 The brand is also harking back to its hip-hop music roots with a "Music Is #MYRLGN" campaign featuring Atlanta-based rappers Lil Gnar and Kaliii, also known as Kali. True Religion has previously collaborated with Chief Keef's Glo Gang, which includes Lil Gnar.
True Religion will later collaborate with hip-hop collective AG Club for exclusive social content, and with Dj Whoo Kid, of G-Unit and Shade 45 fame, on an anthology track of songs over the years that shout out the brand. True Religion will play the mashup at its New York Fashion Week event in partnership with Highsnobiety Sept. 9 celebrating its birthday.
True Religion's second drop of the collection, happening Sept. 14, features the brand's signature stitch in a denim hookup titled the Ricky Red Rope, tapping into AG Club as campaign faces. AG Club and True Religion announced their partnership in 2022 with tour merchandise, sold just at Coachella. The brand also enlisted Peder Cho of Utopia to design a custom-fit archived upcycled look for the duo's festival performance. Most recently, AG Club and True Religion teamed up for a performance in Los Angeles at the Leimert Park Juneteenth Festival.  — DAVID MOIN