I don't know how to feel about pink. The color has been inescapable of late, as Barbie branded shoes, clothes, rugs, and pool floats dominate my social media feeds. But the very meaning of pink seems to be changing. Barbie director Greta Gerwig has successfully wrapped a feminist message up in the traditionally girlie hue. And the public, in its enthusiasm for the movie, now the highest-grossing of the year, has adopted her signature color as well. Even men are wearing more pink. It's not quite a neutral, but it seems to be trending more in that direction than it has at any moment in my lifetime. 
Pink has always been fraught. It's a color that many people either embrace or reject based on their concept of what it connotes. But it's a question I've been wrestling with anew in the wake of reporting a Barbie cover story, and living in her pink world in the months preceding and following its publication, while simultaneously growing a baby girl inside me. As I scroll past yet another bubblegum onesie tangentially tied to the movie, I wonder, Do I incorporate Gerwig's slightly subversive version of pink into my daughter's life or is it still too restricting? Is pink's rising popularity, especially among men, a signal that the gender binary is falling, or does it make the divide between men and women all the more defined? Put more plainly: Is pink still a "girl color," and is it bad if it is?
To understand the meaning of pink right now is to study a marketing behemoth but also to recognize the societal changes that have been happening over time. Jada Schumacher, a color specialist and professor at the Fashion Institute of Technology, argues that corporate entities beyond Mattel set the ubiquity of pink in motion long before the movie premiered. Pantone announced in January that its color of the year would be Viva Magenta, a more purplish shade of pink than the one associated with the doll. Shades of pink also cropped up last year at Valentino's runway show and on celebs like Zendaya, Florence Pugh, and Anne Hathaway. 
"It's been alternating between saturated hues and very soft, but I think it's been years in the making, regardless of Barbie," Schumacher says. But as a Mattel executive put it to me in May, Barbiecore "didn't just happen." The company has tight ties to the fashion industry: Many successful designers dressed up Barbie as kids and have collaborated on a line of doll's clothes at one point or another. The viral photos of stars Margot Robbie and Ryan Gosling filming the movie no doubt stoked excitement and inspiration. And now pink has spread well beyond fashion. When Schumacher noted how pink even insurance commercials had become lately, I gently broke it to her that even Progressive has a specific Barbie partnership. 
With each new pink partnership, the color seems to shed the notion that it's exclusively reserved for girly girls or that it's in any way unserious. Instead it's an expression of empowerment. "The movie is reclaiming pink," says Jo Paoletti, a professor emerita at the University of Maryland who specializes in fashion history and consumer culture and wrote a book on the pink-blue divide. "This is the kind of cultural phenomenon that launches 1,000 dissertations."
Pink's politics have changed in the last decade
It's perhaps unfair to give Barbie all the credit. The perception of pink has changed radically just in the lifetimes of the Millennial women who flocked to see Gerwig's film. That movie consciously references the aesthetic sensibilities of iconic female films from their childhoods—Clueless, Legally Blonde, and Mean Girls—to draw parallels between Barbie's journey of self-discovery and those of other seemingly ditzy, fashion-obsessed blondes who found deeper meaning in life by the end of the film. When Elle Woods decides to wear a pink leather skirt suit for move-in day to Harvard Law School, the audience is meant to chuckle at her apparent frivolousness. She ends the movie in her all-black graduation gown. Cher's pink-hued closet represents her obsession with fashion—until she finds new purpose and gives away many of her clothes. When Regina George insists, "On Wednesdays, we wear pink," she uses the color as a status symbol distinguishing the cool (and vapid) girls from the mathletes. 
Pink got a girl-boss makeover in the mid-2010s, according to Schumacher. A softer hue, Millennial pink, dominated the marketing of makeup company Glossier and period-underwear company Thinx, a nod toward their "made by powerful women, for powerful women" ethos. There was even a brief time where various interior design blogs argued that pink was the new neutral color to consider for your living room. Not coincidentally, Millennial Pink's peak popularity around 2016 coincided with Hillary Clinton's bid for President.
The next year, pink took on a new identity. Think back to 2017 and all the pussy hats at the Women's March paired with rallying cries like "pussy grabs back" in response to former President Trump's notorious Access Hollywood tape. Pink became an emblem for a more aggressive power, according to Rebecca Jordan-Young, the chair of the women's, gender, and sexuality studies department at Barnard College (Gerwig's alma mater). "The ramped-up vocal misogyny of Donald Trump…lots of women decided to own these symbols of femininity that had been grounds of disparagement," she says. "The pink pussy hats were the most feminized moment of political activism I've seen in my adult life."
That wasn't an obvious transition. "People were saying, 'Wait a minute, weren't we anti-pink?' and people were saying, 'No, no, no, this is being used in an ironic way. We're claiming femininity and women's power,'" adds Paoletti. "Barbie has echoes of that, but it's much more commercialized."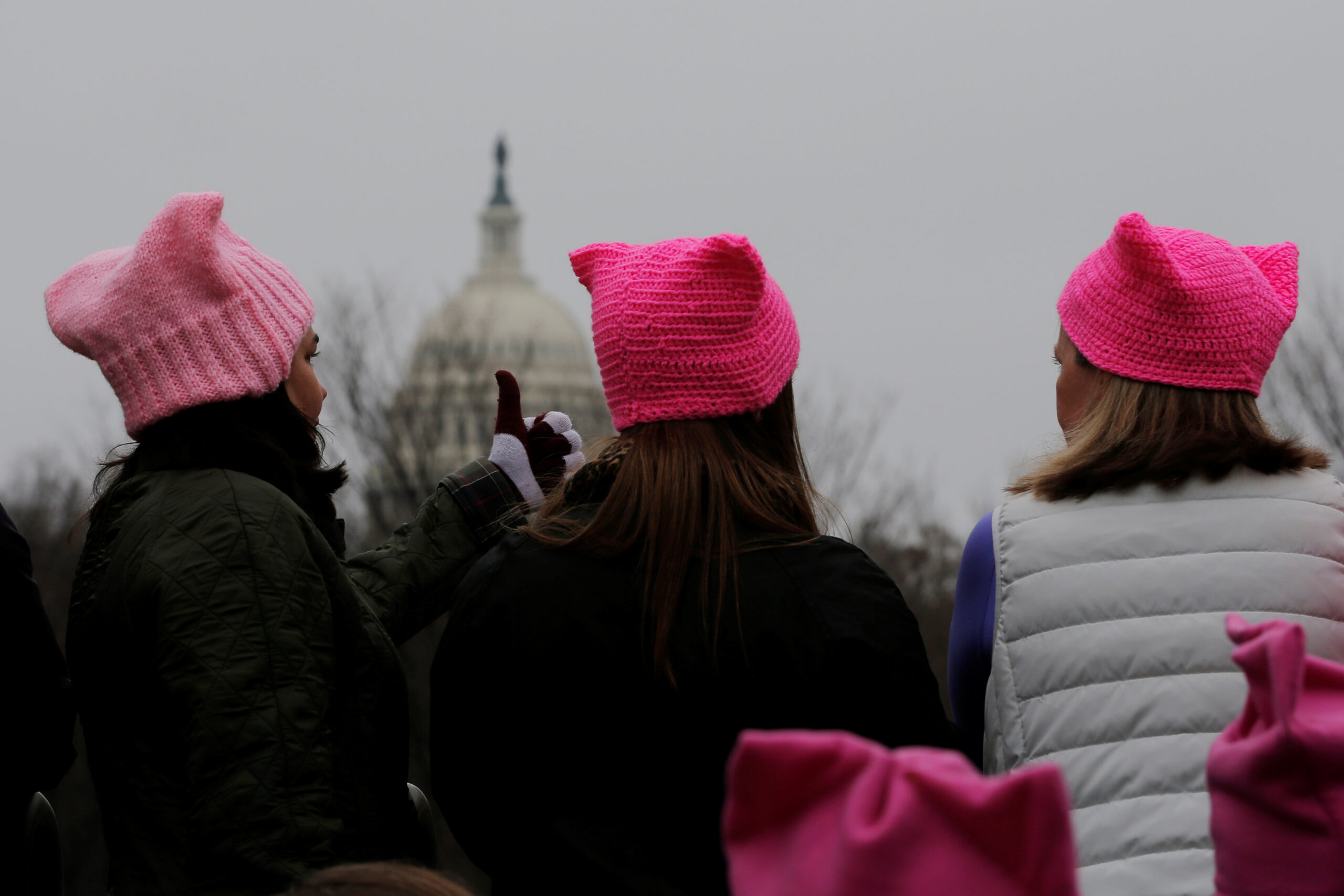 Gerwig's pink isn't a color of protest. Frankly, that wouldn't sell. Instead it's one of fun vibes. It's almost a relief for audiences to embrace the color without feeling they're making a statement about their femininity. They're simply reveling in the joy of an unabashedly feminine film.
But Paoletti believes the marriage of color and message is more complex than it might initially appear and applauds Gerwig's ingenuity. "This isn't a story about Barbie getting married and having a baby and becoming a compliant wife while wearing pink gingham. Not at all," she says. In fact—spoiler alert for the end of the film—Barbie explicitly rejects a relationship with Ken in order to pursue her own path. "It's the pairing of message and imagery that makes the pink powerful. Maybe it's upsetting some conservatives exactly because people are using something that's so traditionally feminine in a counterintuitive way."
Is pink becoming more neutral?
As pink has become more popular, it's figured more prominently in men's fashion, as have other symbols of femininity. "The world is just becoming more gender fluid," says Schumacher, though she cautions that pink still has different meanings for different age groups. "I think for Gen Z, maybe even Millennials, pink is becoming more of a neutral," she says. Members of Gen Z think differently about gender than their predecessors: They are, for instance, are more likely to identify as trans or nonbinary and to believe that there are more than two genders than any previous generation. "But I think for Gen X," Schumacher says, "we're never going to totally lose that idea that 'pink goes with girls.'" She says men of older generations probably won't start wearing more pink, unless they're "clotheshorses, urban trendy people, artists, people of that crowd."
But that crowd can be rather influential. Lionel Messi, the most famous soccer player on earth, is wearing a pink jersey on his new MLS soccer team, Inter Miami. Not a jersey with a pop of pink. An entirely pink kit—shorts, socks, and all. As with Barbie, Messi's arrival in the U.S. spurred a push for pink products, including Adidas literally spraying the city of Miami with pink smoke. David Beckham, the fashionable part-owner of the team and a soccer legend himself, championed the color. The team says that surveys have found Inter Miami's fanbase wanted their players to wear pink because it would help the team stand out. Inter Miami is still the only American pro or college sports team to showcase the color, but they may not be the last. The pink jerseys are so popular that Adidas reportedly can't keep them on the shelves. Still, old color stereotypes die hard: Iowa's college-football team has notoriously painted their visiting locker room pink to discomfit other teams—a sexist choice they've been rightly roasted for on Twitter. 
Messi isn't the only dude wearing pink. Male tennis players from around the world have been sporting pink on the tour for years. Harry Styles has worn not only pink but clothing in general that defies the gender binary. Daniel Craig very consciously wore a pink jacket to the premiere of his final James Bond film at the end of a media tour in which he openly criticized the misogyny of the character. Pink has been the color of choice for several all-male K-Pop groups, including BTS. And pink was apparently inescapable on the streets outside men's fashion week in Milan earlier this year.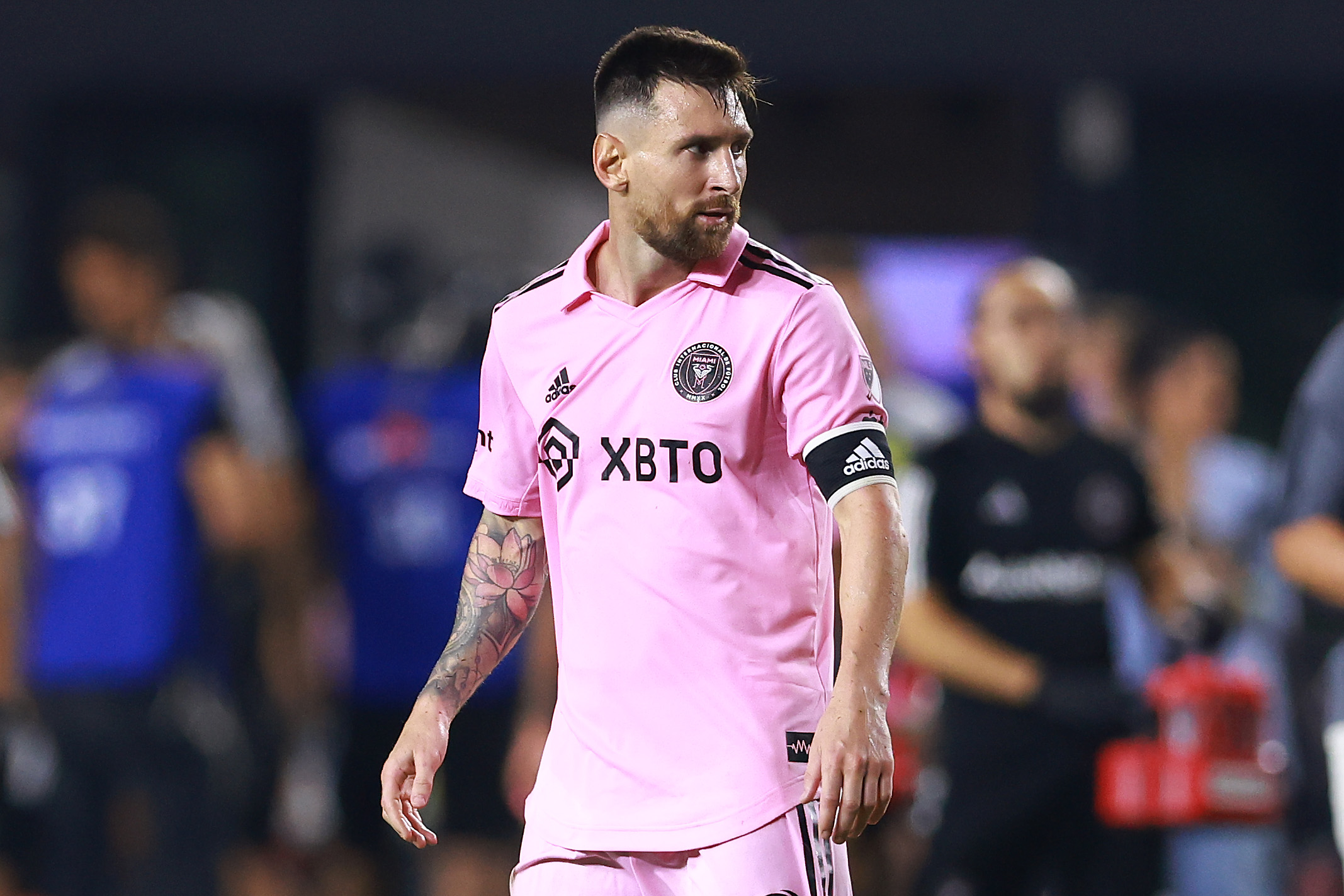 Megan Briggs—Getty Images
These decisions tend to have a trickle-down effect, especially for younger generations. On TikTok younger men have been moving toward traditional symbols of femininity from pink to pearl chokers to bright-colored nails. Machine Gun Kelly, Tyler the Creator, and Pharrell have launched lines of nail polish. Men's magazines are recommending the best pearl necklaces for men thanks to their popularity among even straight cis guys on mainstream reality shows like Love Island. Even professional baseball players are wearing pearls. 
Still, Paoletti argues that it's impossible to tell whether the trend will prove sustainable. Men started sporting long hair in the late 1960s and early 1970s, she says. It seemed rebellious at the time but has become fairly conventional since. Pink could follow the same pattern: "We won't know until a year from now whether it's mainstream."
Jordan-Young, meanwhile, doesn't believe that men wearing pink is a harbinger for some immense societal shift. Yes, the Kens sport pink and pastels in Barbie. But they do so to fit into Barbieland where all things revolve logistically and aesthetically around the Barbies. Jordan-Young argues that, if anything, the pink used in Barbie reasserts the gender binary: Barbieland is a woman's paradise; therefore it's pink. When the Kens and Barbies clash, Barbieland is briefly taken over by the Kens: They fill it with leather and cowhide and the traditional symbols of the hyper-masculine cowboy. Barbies like fashion and sleepovers. Kens like horses and boxing. There's no crossover.
Jordan-Young says she admires Greta and the movie, but "found the gender binary of it, the pink of it, totally exhausting." she says. "This movie is the most 'war between the sexes' thing I've seen since I was a little kid," she says. That trope, that way of doing gender, is very, very mainstream."
She's hardly the only one to call out the lack of fluidity in the movie, though one could argue that Gerwig renders a rigidly binary world in order to critique the stereotypes associated with these two dolls, Barbie and Ken, who have always served as representations of "ideal" men and women—and does subtly hint with the character of Allan at a version of Barbieland that allows for a wider range of gender expression. One of the Barbies is played by Hari Nef, a trans actor who told TIME that she was attracted to the script because the very notion of a doll, or Barbie specifically, as the ideal of a woman is a complicated notion she wanted to explore with Gerwig. "It's a tricky word that holds, for me anyway, such a strict standard created by the patriarchy that deserves to be scrutinized but also a promise of liberation and safety and belonging."
The real test: Babies and pink
So where does all this leave the mothers of little girls? And how should I decorate my daughter's nursery? For a while now, some parents who want to raise empowered daughters have been wary of dressing them or decorating their room in too much pink, worried about the power of princess fantasies and eager to avoid connecting their daughters to all those Legally Blonde-related stereotypes.
Laudable efforts have been made in the recent past to not impose pink and blue on babies. In the last decade, toy stores have begun to stop separating "girls' toys" (dolls) in the "pink aisles" from "boys' toys" (building blocks and chemistry sets) to mix everything together. In fashion, too, children's clothing brands like Primary and Dinki Human are dedicated to ridding themselves of "boy" and "girl" labels in favor of vibrant options for all.
In some ways, the effort to rid the world of pink and replace it with a gender-neutral color scheme may even have gone too far. What's come to be jokingly known as the "sad beige baby" trend favored by momfluencers has dominated Instagram for the last couple years. Baby Gap even created a beige section in some stores. The quiet luxury neutrals showcased by adult fashion brands like The Row and shows like Succession have made their way to toddlers to create one Instagram-friendly, minimalist aesthetic for the well-heeled parent—and those who want to avoid gendered colors anyway. In fact, the style has become so pervasive that even its own advocates are getting sick of it. As one TikToker points out, all those teeny-tiny beige baby clothes make children look like orphaned farmhands in a Werner Herzog film.
Now, if celebrities and influencers are any indication, parents seem to be rebelling against sad, beige babies and adopting, to varying extents, pink for baby girls once again (not that it ever entirely went away). Naomi Osaka's nursery features both beige and pink. Chrissy Teigen and John Legend recently revealed in one of those addictive Architectural Digest videos that their daughter's room is a bubble-gum daydream as is the one occupied by the child of supermodel Jasmine Tookes. The design magazine Domino assures me I'll still love these pink nurseries after the Barbie trend fades.
But even if parents see pink as an empowering option for their daughters, they may not feel the same for their sons. Jordan-Young says the pink popping up is still definitively marketed to girls. "Are the pink baby clothes being sold to put the boy babies in too? That would be amazing, but I don't think that's happening," she says. 
If anything, Paoletti believes, companies are even more aggressively drawing lines in the sand when it comes to colors and babies. "Lavender used to be a perfectly acceptable gender-neutral color," she says. "But now any kind of pastel, except for blue, is considered girlie. Even the territory of gender neutral has shrunk." 
Until we see a push by parents to dress their little baby boys in pink, the system remains rigid. The burden then falls upon the children themselves to find ways to express themselves sartorially. That's certainly happening among teens and tweens, but it doesn't indicate our notions of color will be completely overthrown anytime soon. 
"I see individual people insisting that they can and will move outside and across the gender binary and not be captured by it," says Jordan-Young. "But that's very different from dismantling the binary itself. Those individuals shouldn't be left to do all the work." In other words, dressing in pink still means  breaking with your given "team" as opposed to uprooting the very idea of teams at all. 
"It hasn't weakened the binary at all. If anything, there's a way in which there is a more conscious articulation of gender as a binary than there has been in a very long time," she adds. "It's an interesting paradox."
So if I dress my baby in Barbie pink, am I empowering her or imposing society's conceptions of color on her? "It's not that simple," says Paoletti, reminding me that very young babies can't even see color. The war is still among the adults.
More Must-Reads From TIME
---