Beyoncé specifically requested her fans dress in their best silver fits for the last leg of the tour to celebrate Virgo season — her astrological sign.
"We'll surround ourselves in a shimmering human disco ball each night," she wrote in a post. "Everybody mirroring each other's joy. Virgo season together in the House of Chrome."
Despite some telling KQED they had to scramble last-minute to fulfill Beyoncé's birthday wish, fans did not disappoint. They donned glimmering cowboy hats, HEATED fans and opulent headpieces, all vibrating with excitement to celebrate the album that honors queer dance and house music.

"She actually invests into that culture, understands it, and then does an album that honors the culture," said Sebaztian Pardo on the walk to the stadium.
He said Renaissance shows Beyoncé's expertise and versatility, along with her ability "to blend into another genre without appropriating it."

Keiki Leni poses outside of Levi's Stadium, with gold in her hair.
"Growing up, I always see Black women putting earrings in their hair and stuff like that," she said. "And I was like, 'I love it.' My fashion and my style and everything – it comes from Black women. And I love the Renaissance tour because Beyoncé uses her platform for Black LBGTQIA+ and she's very inclusive. And that's why we here and we are showing out."
Leni's favorite song off the album is "Thique."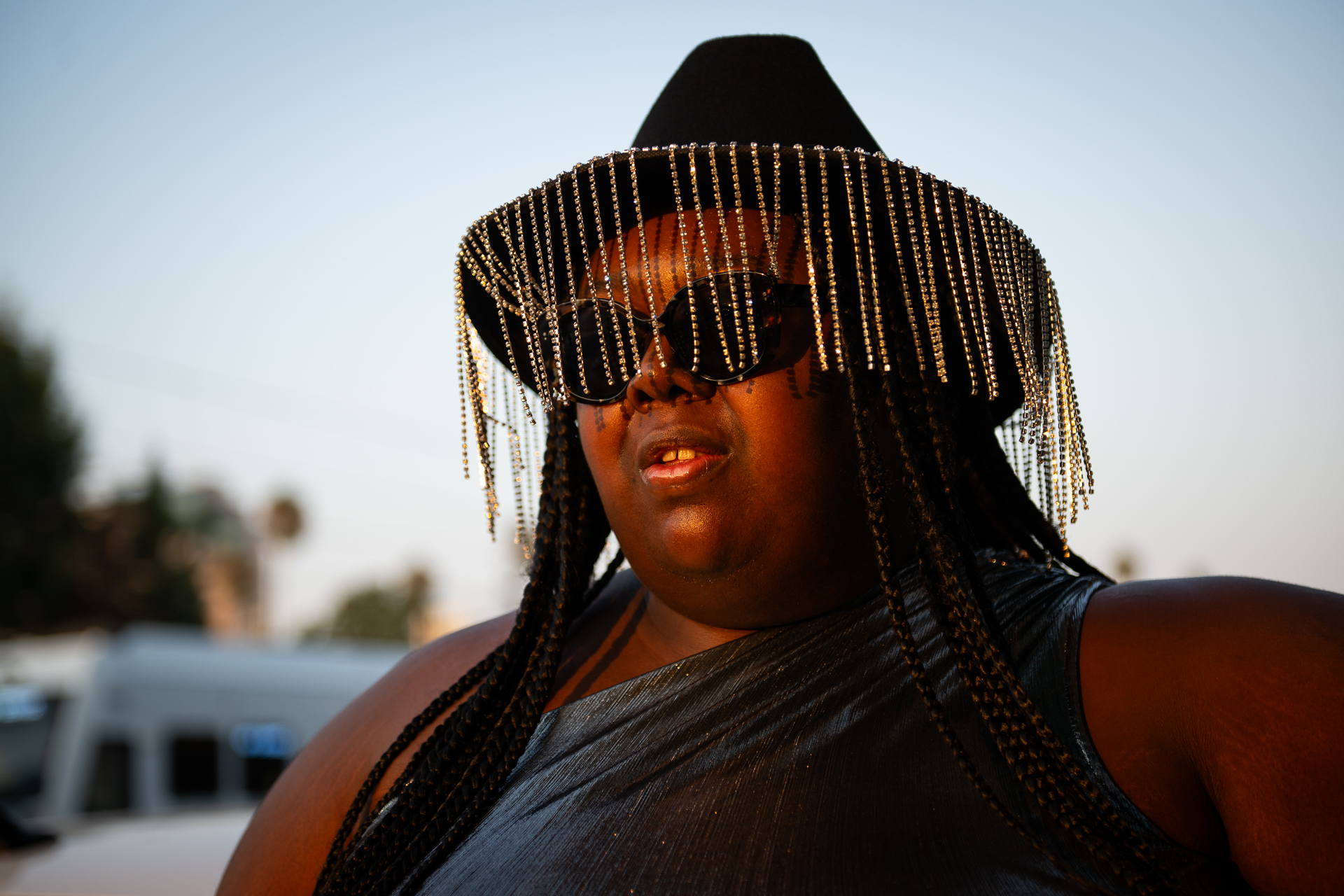 With a fringe cowboy hat, Naomi Wright said, "I feel like a Renaissance cowgirl. I feel like a mistress of the manor, and ready to party."
She said Beyoncé's album represents liberation and individuality.
"It makes you feel free," she said.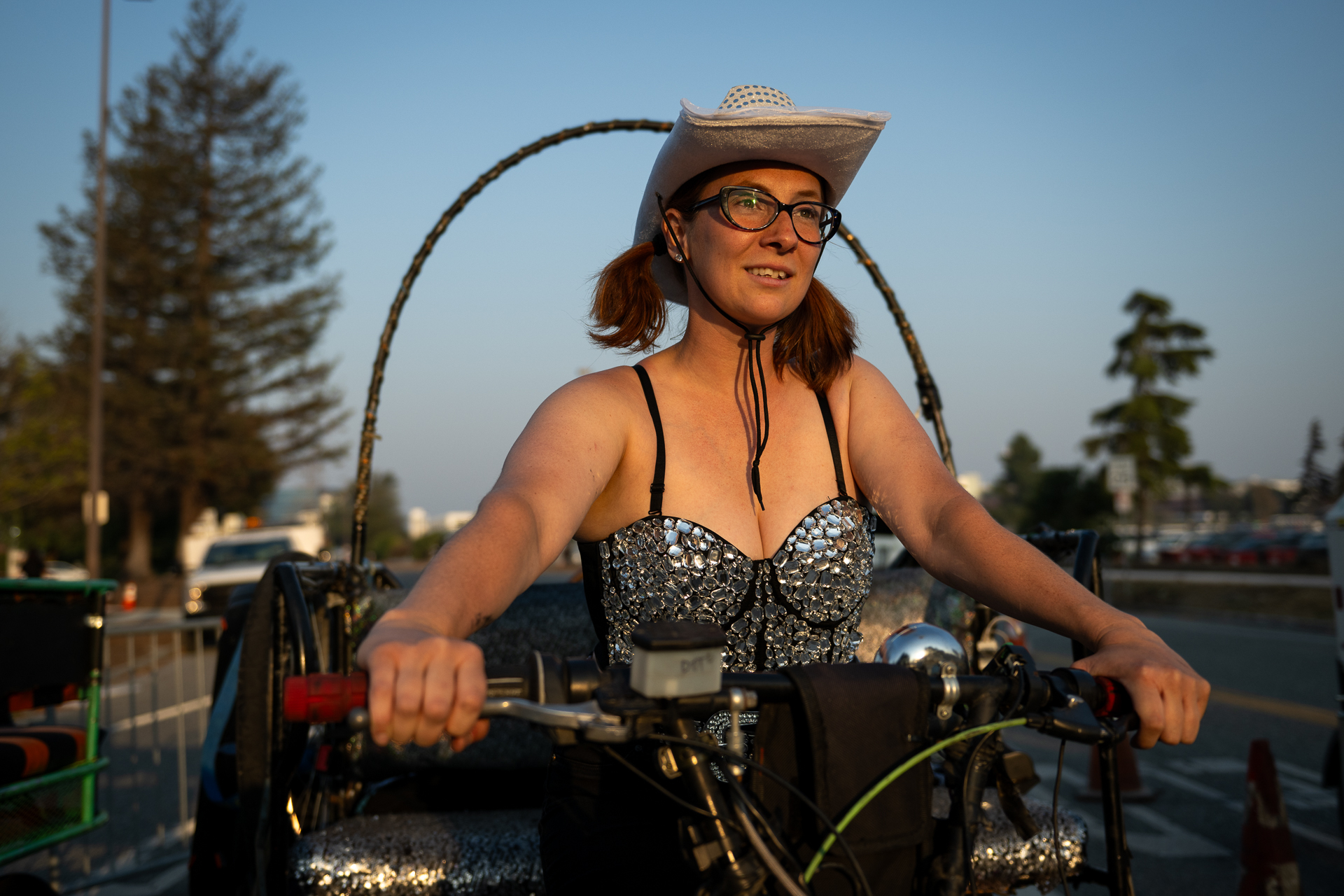 Jeannette Arnold was outside the parameters of Levi's Stadium too, looking for anyone who needed a ride to the venue, her cart blasting Beyoncé hits. She is with Eco City Cycle and has been pedicabbing since 2011. In fact, she has been cycling at Levi's Stadium since its very first game.
"I get to be part of the party no matter what the event is. Whether it's a concert, a football game," Arnold said. "People are almost always really excited to be on a pedicab … It's so fun that I get paid to be part of that experience."

West Walter's disco ball head was actually a regular part of their attire — they said they're known for being the Disco Cowboy of San Francisco, where they produce a queer disco party called Wild West.
"At that event, I'm able to really celebrate queer joy," Walter said. "And that's what I think tonight is all about, is the ability to be able to share queer joy and to be able to just come into a space like this where there's this many people and to like literally be able to be your most authentic self. It's so incredibly rare. And so that's what I think tonight is truly going to be all about."
Walter's favorite song off the album is "Summer Renaissance."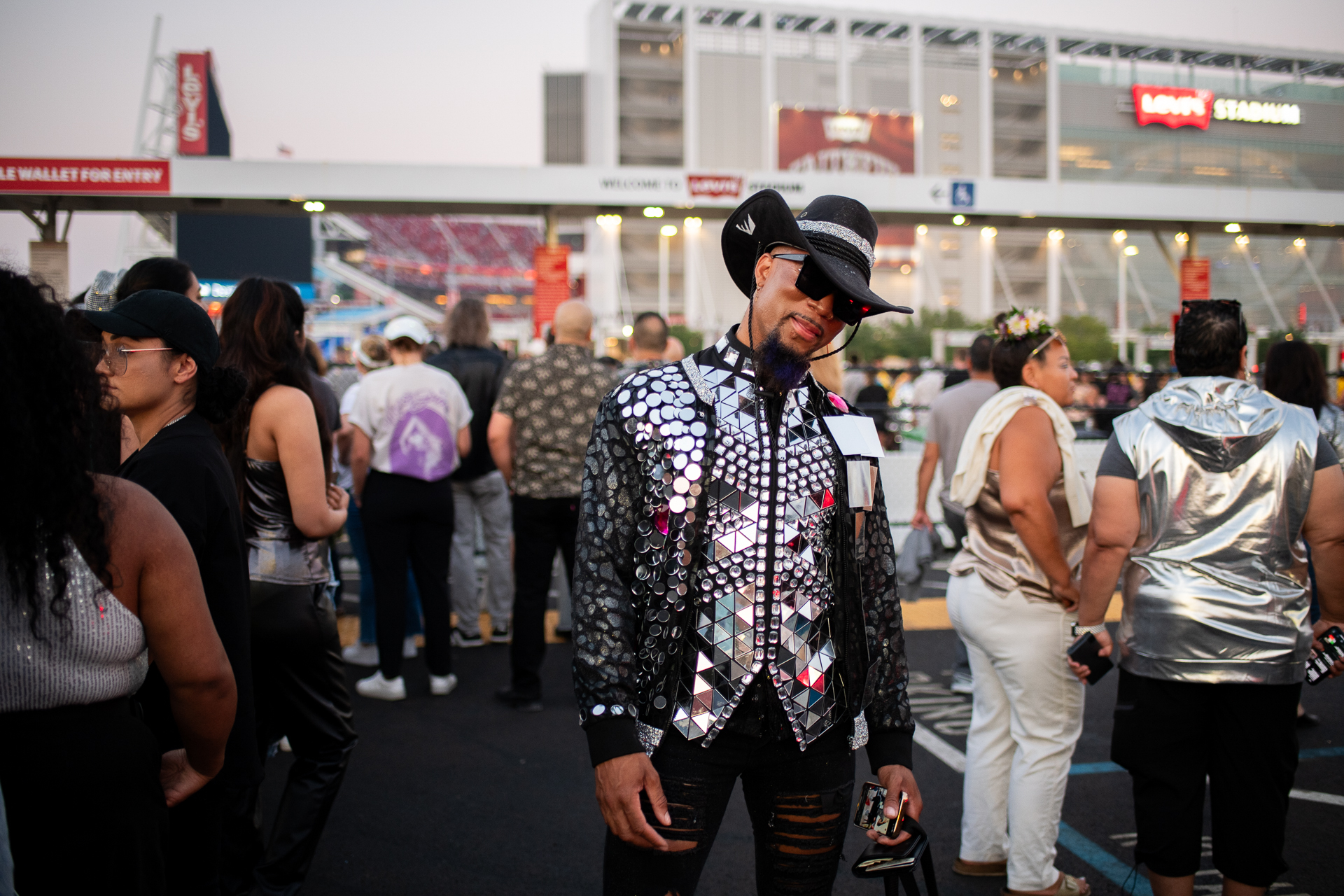 Sergio Skinner's favorite song is "America Has a Problem." When asked why, he replied, laughing afterwards, "Because America has a problem."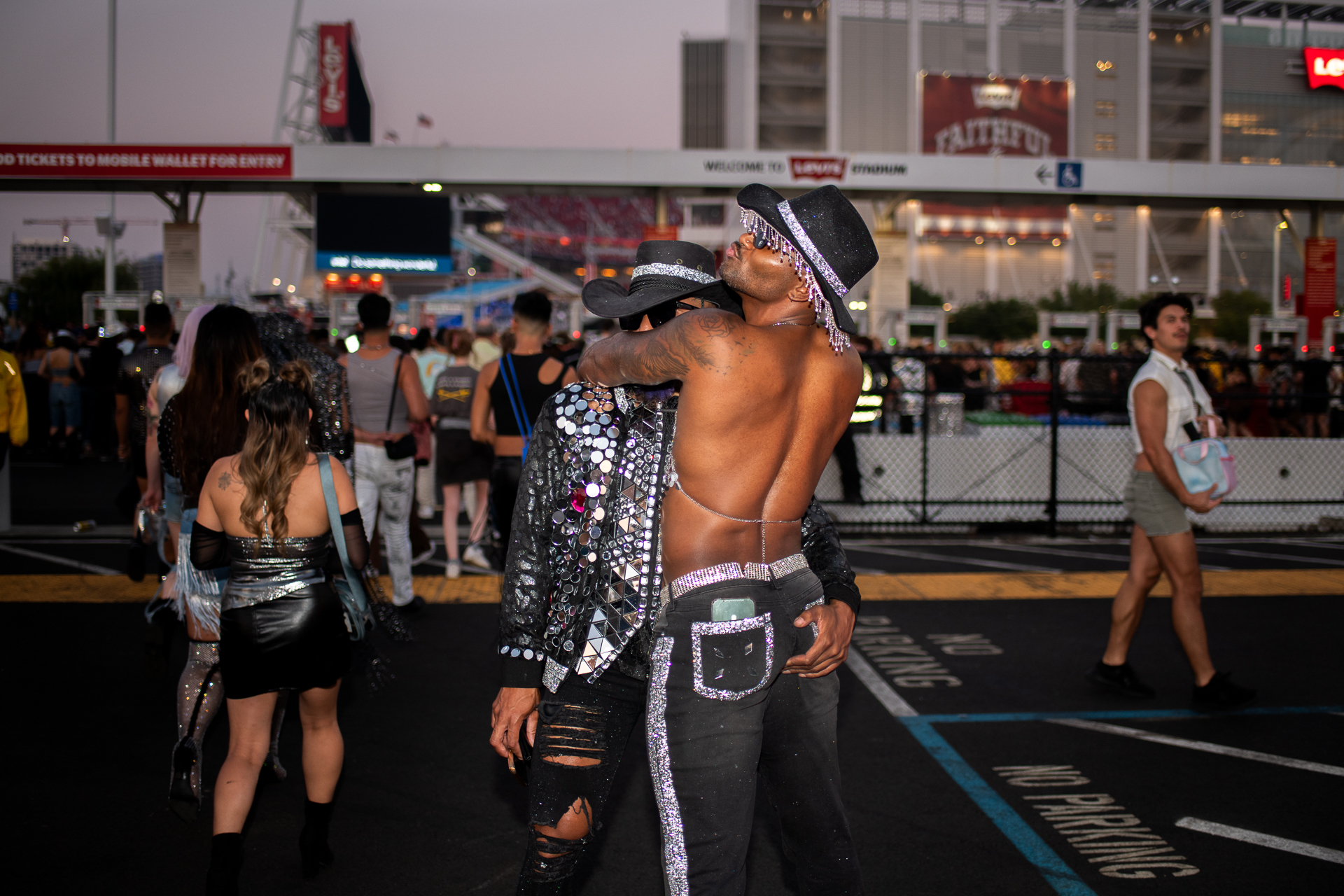 Shikira Dupar said she wanted to look classy and sparkly for the Renaissance concert, fitting into the silver and chrome theme.
"She's just another artist that's, like, on an M.J. level. And I just think she's a phenomenal dancer. She's a powerful singer," Dupar said. "She seems like a wonderful person just outside of what we know her as being Beyoncé."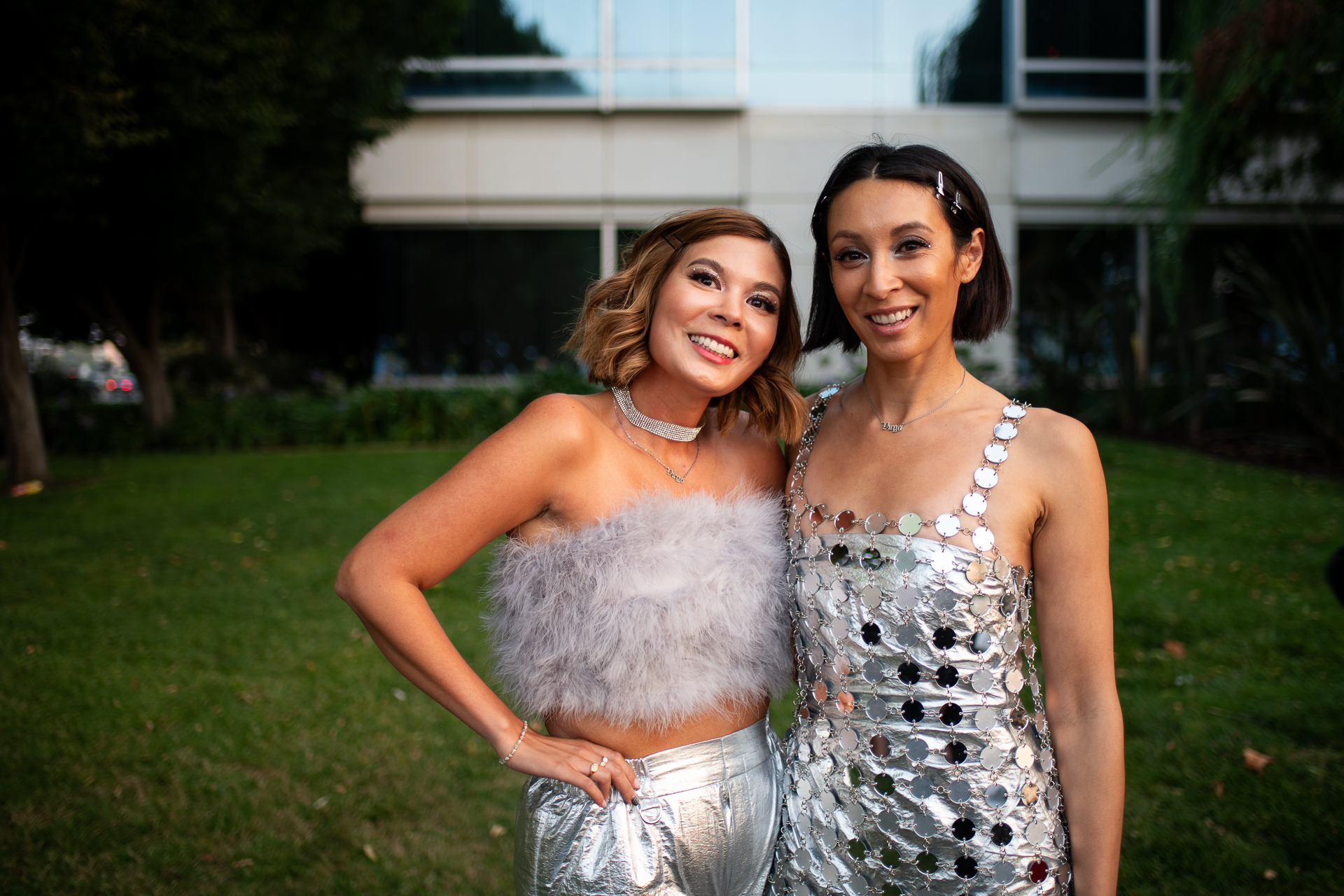 Kylie and Sara Eng are both Virgos, with the necklaces to prove it. It felt like their birthday too, saying they "came to play."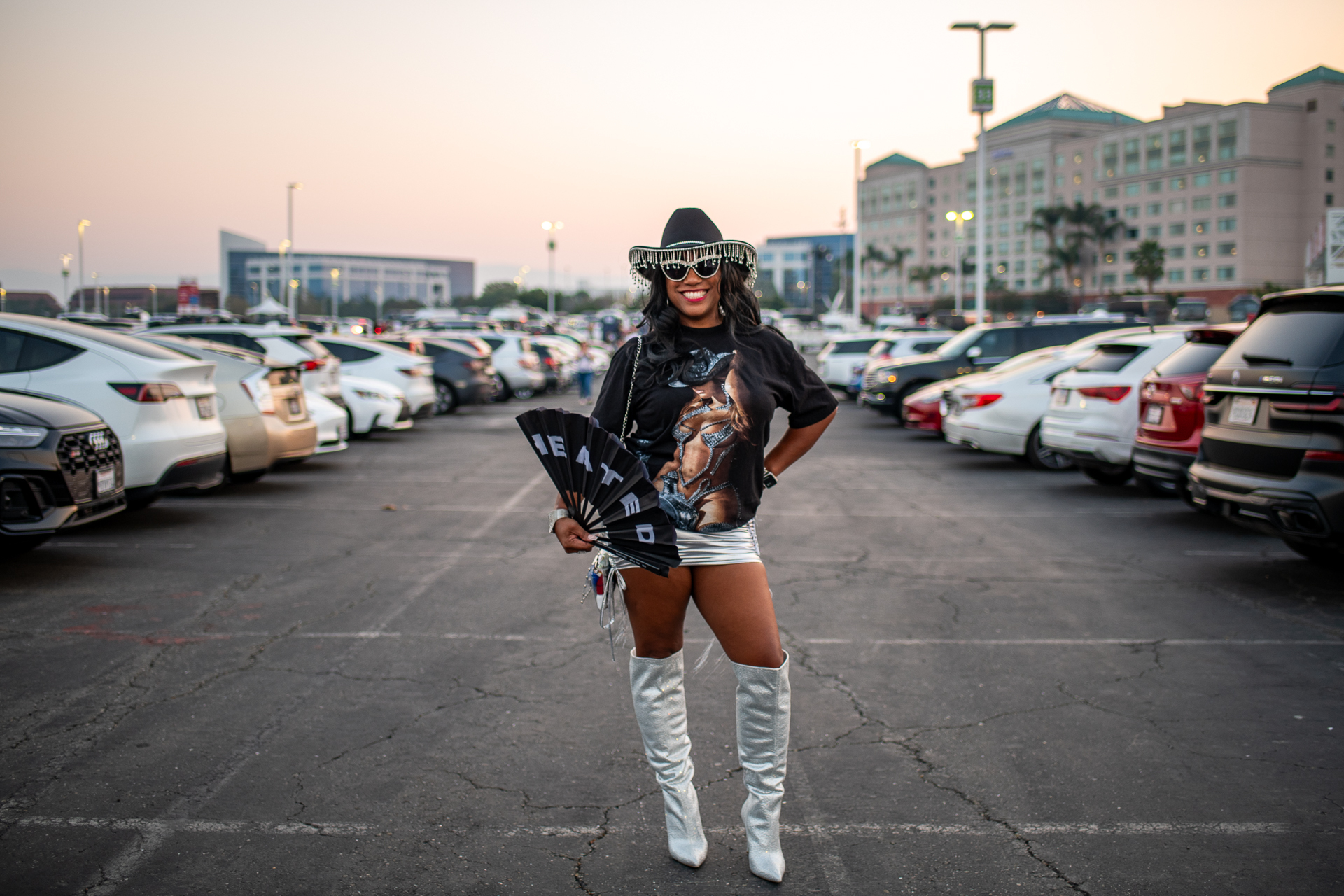 Amelia Mina is a diehard Beyoncé fan, saying she was showing up for the queen.
Mina was at the front of the famous Beychella – Beyonce's set at the 2018 Coachella, which is captured in the documentary Homecoming. (Mina said she tried to see if her head was captured in the shots of fans.)
"Oh, my God. It was insane," she said, recalling the night. "I stayed there from 11:30 a.m. to 11:30 p.m. when she came on."
Her favorite song from the album is "Cuff It."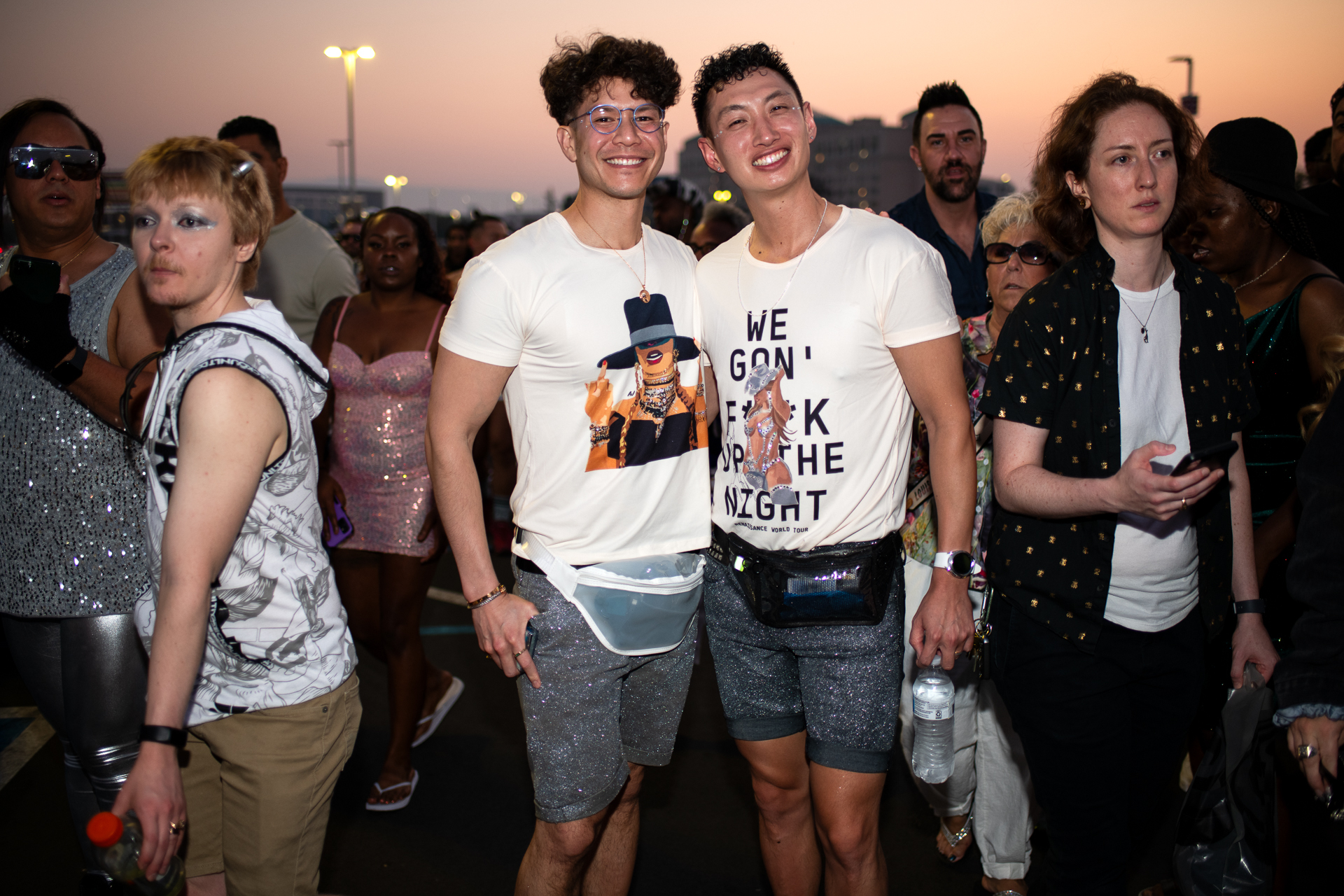 David Eli-Chan and Jimmy Eli-Chan got their shirts online – but they did add their own personal chrome touch, by bedazzling them.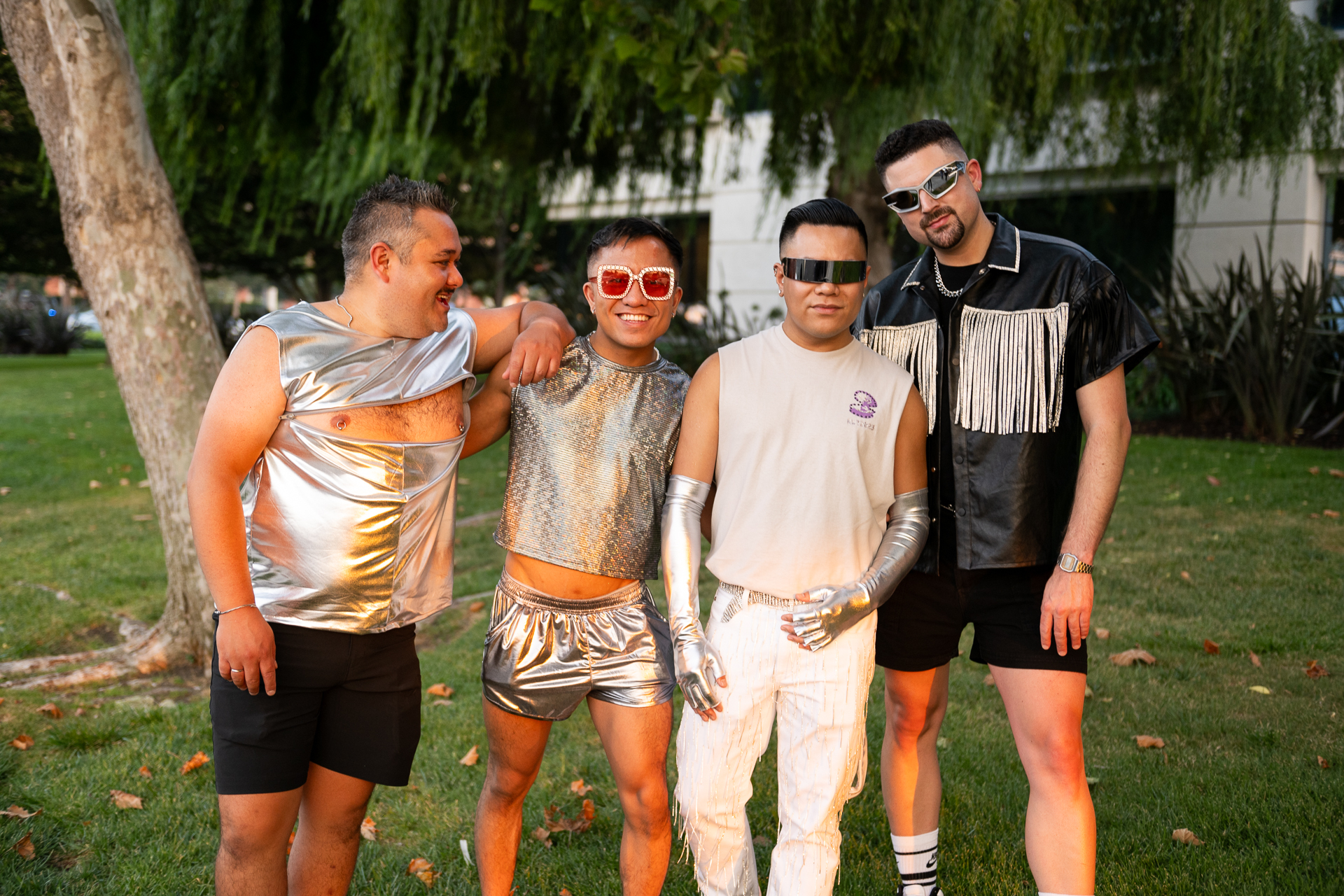 Levi Luna, attending with Ian Nool, Justin Nool and Greg Fiorina, called Renaissance Beyoncé's love letter to queer people of color, queer joy "and giving recognition to the things that we hold near and dear."
"It's about us, through the lens of her lived experience," Luna said.
Ian Nool enjoys how Beyoncé honors her musical predecessors. "When I first heard ["Summer Renaissance"], it gave me chills … because I already know I feel loved by Donna Summer," he said. "But when she took that sample from that track, I knew that this was the album that was to give me joy, give me something to get through this summer."
"It really connected to our queer lived experience to that of yesteryear queers," Luna added. "Like the disco queens of our predecessors, like the people who came before us, who paved the way."