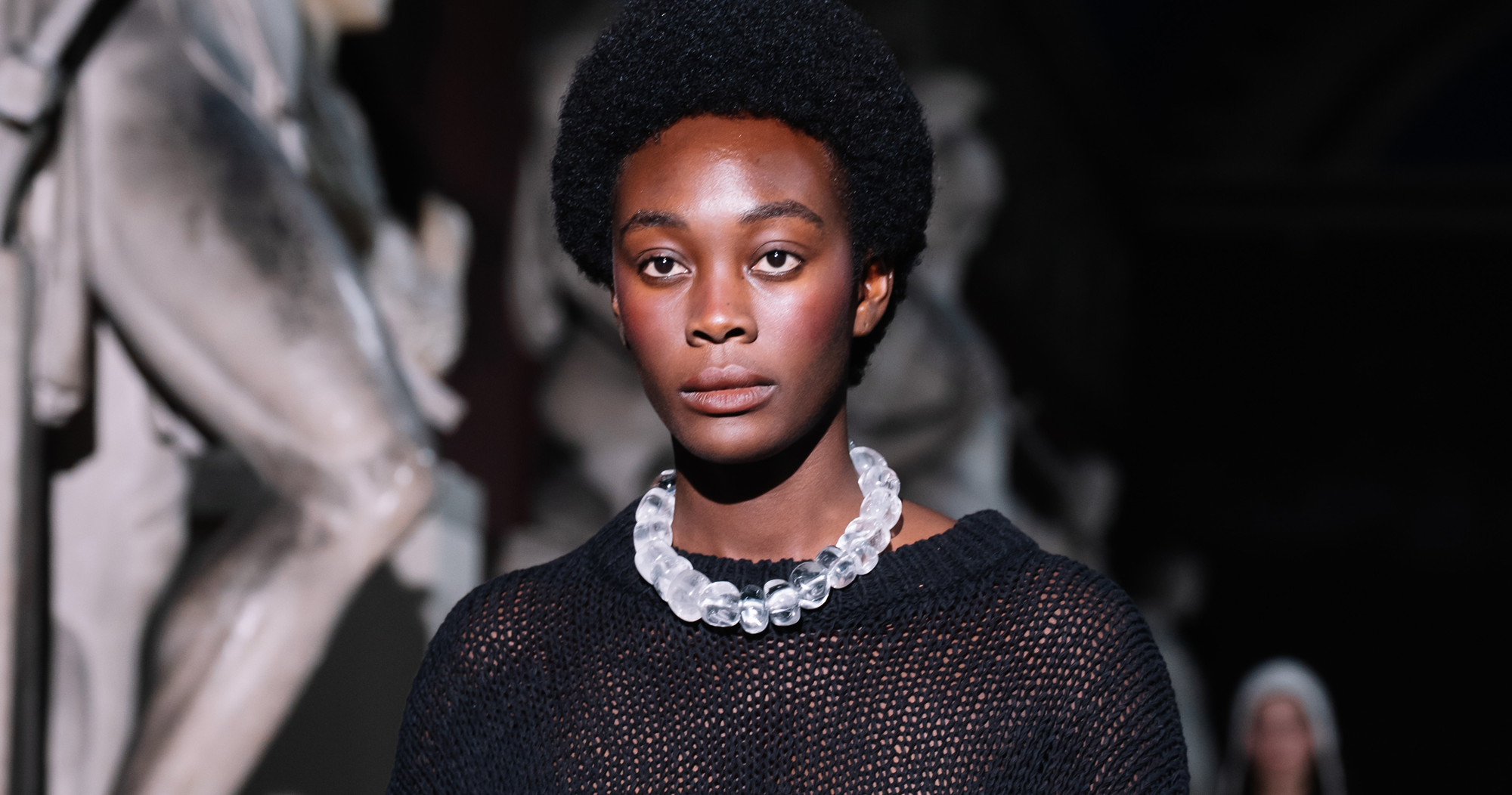 Black hairstyling
is a lot of things: Genius? Yes. Innovative? Absolutely. Beautiful? Undoubtedly. But it's rarely ever described as "effortless" — especially not in the way it's meant for straight and wavy hair types (look up
"bed head hair"
and "undone blonde" for those unfamiliar). Between
braids that took 12 hours to complete
,
wash day detangling
that literally took all day and near-misses with the hot comb, many Black folks wear their effort like a badge of honour. And yet, "effortless" textured hair was a consistent theme at this year's
​​S/S '24 Copenhagen Fashion Week
. Unbothered attended the celebrated fashion event last week to keep a close eye on emerging Black hair trends on the runway. Across the
Spring/Summer 24 runway shows
, the vibe was laid-back, with what I'm coining as 'undone natural hair'. Black model's kinky afros weren't overly styled and coils weren't defined, instead, hair was stretched just beyond shrinkage length and there was rarely a laid edge in sight. 
For Scandinavian brand
Sunflower's SS/24 show,
textured hair wasn't manipulated into elaborate styles, and 4C curls weren't defined or tamed with heavy-duty gels.
Black models' haircuts weren't lined-up
with razor-sharp precision as we've come to expect and praise in our Black barbershops. Elsewhere, at the glorious
Stine Goya SS/24 show
, bountiful afros weren't pressed or slicked down into tight ponytails, unlike the hair of white and Asian models on the runway. Across collections, there wasn't the typical identikit of hairstyles — locs, 'fros, buns, bleach buzz cuts, and braids could be found on the same catwalk. This Copenhagen Fashion Week, Black models and their hair appeared free just to be.
Away from the protective bubble of fashion week, I wondered how the emerging 'undone Black hair' trend translates into real life. Remember when
H&M shared an ad with a young Black girl
whose hair wasn't slicked down into a "neat" ponytail? There was
genuine uproar.
Maybe it's because the word "undone" feels too close to "unkempt" — which, to clarify, isn't what I'm talking about here. All Black folk know that a healthy natural afro takes a significant degree of work, commitment and investment in great products and tools to maintain. It takes a lot of work to look so free. Yet, 'undone natural hair' in this context means type 4 'fros that haven't been over-manipulated; not slicked or stretched, or styled and defined with the twist-out method. I know what you're thinking, 'haven't you heard of the
wash-n-go
'? While similar to the undone natural hair trend, most popular wash-n-go methods are preoccupied with achieving curl definition, and for some 4C gworls, the results can be hit-and-miss (and feels more like a 'wash-n-stay-home'). To be 'undone' means no defining gels, no up-dos, no ponytails, no mohawks, no cornrows — simply washed, detangled, conditioned, brushed, picked healthy, beautiful afro hair. 
The trend for
undone 4C hair
has already been brewing amongst Black hair influencers with tightly coiled hair textures. On TikTok,
creator Aminatu Textures shared her appreciation for her 4C hair
in a video and stressed to her audience that "we need to see more undone/ unmanipulated natural hair that's not being put into another style." "I hate when people talk about shrinkage as if it's a bad thing," she explains in her video. "I almost feel it's an insult to Black hair as if it's not in its
perfect
state when there's shrinkage. And I think it's beautiful just the way it is." 
Many will remember when
Black TikTok creator, @Lipglossssssssss
, who has over one million followers,
wore her hair in a completely shrunken state
and resisted the desire to manipulate it with various products and techniques for it to be seen as acceptable. The videos went viral and she was praised for her candidness. Speaking to Unbothered last year, she said: "I started
wearing my hair in its most natural state
; tightly coiled because of
shrinkage,
not stretched, with no twist-outs, no "laid edges', or protective styles, no manipulation. Just as is. I talked about how I was exploring the idea of living in my natural state especially when there's
shrinkage
and my hair looks short. "I
resented chasing "feminisation"
in the way I dress just to feel attractive and not "masculine" and I challenged my own fears of feeling less desirable and attractive wearing my hair this way." The popular TikTok creator hoped that more Black women and girls would wear their hair in a similar way. "I do believe that if all the Black girls with 4C hair wore their hair shrunken at the same time then it'd be much easier, it would ease some of the anxiousness some feel when wearing your hair out for the first time. If all the girls do it, I swear in two years, people are going to think it's cute."
Thankfully, she isn't alone. Many were inspired by Lipglossssssssss' videos, with some commenting that she had inadvertently started a "
shrunken, natural 4C hair movement
." In response to the viral video,
TikTok creator Life of Deb
said she learned to love her natural hair in an unmanipulated state by accepting "what my hair is and what it'll never be." For those struggling to do the same, she recommends taking pictures of their hair, not stretched, not slicked back and as is. "Do your makeup, get all cute and stare at pictures of yourself with your natural hair," she says. "Try to find beauty in your face with your hair out." 
To wear your hair in its most natural state shouldn't be revolutionary but for many
Black women with 4C hair
, like myself, we know that it is. While the
natural hair movement
has succeeded in allowing more Black people to embrace their curls and coils, for those with the tightest textures, there's still some way to go when it comes to 4C hair representation. With that said, to be 'undone' goes one further than what many natural hair creators promote — it means showing up as yourself with no additional adornments. And, it's something I've personally never done. 
Between the endless pursuit to define type 4 curls, lay edges, and those of us who take our braids out as soon as any evidence of regrowth appears, there is an enduring pressure for Black women to have their hair done* (also read: tamed, smoothed, fixed) at all times. It's easy to understand why.
Hair discrimination in the Western world
is rife, especially for those with type 4 hair textures, and, in some situations, the hair showcased on the Copenhagen catwalks wouldn't necessarily be read as professional in corporate settings. As much as we try to stress that Black hair is perfect as is,
internalised texturism
means not everyone is comfortable with wearing their natural hair,
entirely
natural. Last year, Unbothered talked to Black women about feeling
pressured to lay down their edges
, with one Black woman admitting to writer
Lola Christina Alao
that "the obsession Black women have with looking perfect and polished can sometimes harm us," she wrote. "We can end up being twice as harsh on each other for no reason. It's become a requirement that slick edges are worn with natural or relaxed hair and we need to do more questioning as to why that is."
Still, fashion helps to communicate with the rest of the world its latest beauty standards (for better and for worse). For CPHFW, showing Black hair in this way, in all its various shapes, curl patterns, and glory, made me feel a touch better about my own regrowth (which was struggling to stay slicked down under the blustering Copenhagen winds). Now, I am reevaluating what "done" hair means to me. 
I appreciated CPHFW's show of natural hair on the catwalk. Although, my initial scepticism wondered if this hair styling choice was intentional (I really doubt any statement was being made) or because, well, there were no other styling options.
Black models are known to have a tough time backstage when it comes to hair
. With some hairstylists unfamiliar with how to handle type 4 textures,
Black models have been known to do their own hair
, or even shave their heads for time and ease. Yet, this year Copenhagen Fashion Week was sponsored by Dyson, where its
widely-praised Supersonic hairdryer
was available backstage at every show. They used the hair dryer with the afro comb attachment to gently stretch out afro textures at the roots, whilst maintaining a finish that didn't look overstretched. 
"Backstage at the Sunflower SS24 menswear show we worked with a lot of natural texture. Creating extra volume at the roots by using the Dyson Supersonic hairdryer with the wide-tooth comb attachment. We comb out roots slightly and leave the ends untouched," says Cim Mahoney,
Founder of Mahoney Studio
and Dyson's Styling Ambassador. "Spraying the hair with hairspray at the same time as the supersonic with no attachments creates random "off" shapes that are not too perfect for a cool look. Something that looks easy, can be deceivingly [tricky]. Minutes before showtime we had a guy coming late from another show with cornrows. In four minutes and three Supersonic [hairdryers], we managed to take the cornrows to a natural coily look, thanks to the amazing wide tooth comb attachment."
The process of unlearning negative associations when it comes to textured hair has come a long, long way. Whether on the runway or IRL, it seems we're moving beyond the natural hair movement to something more fluid and free.