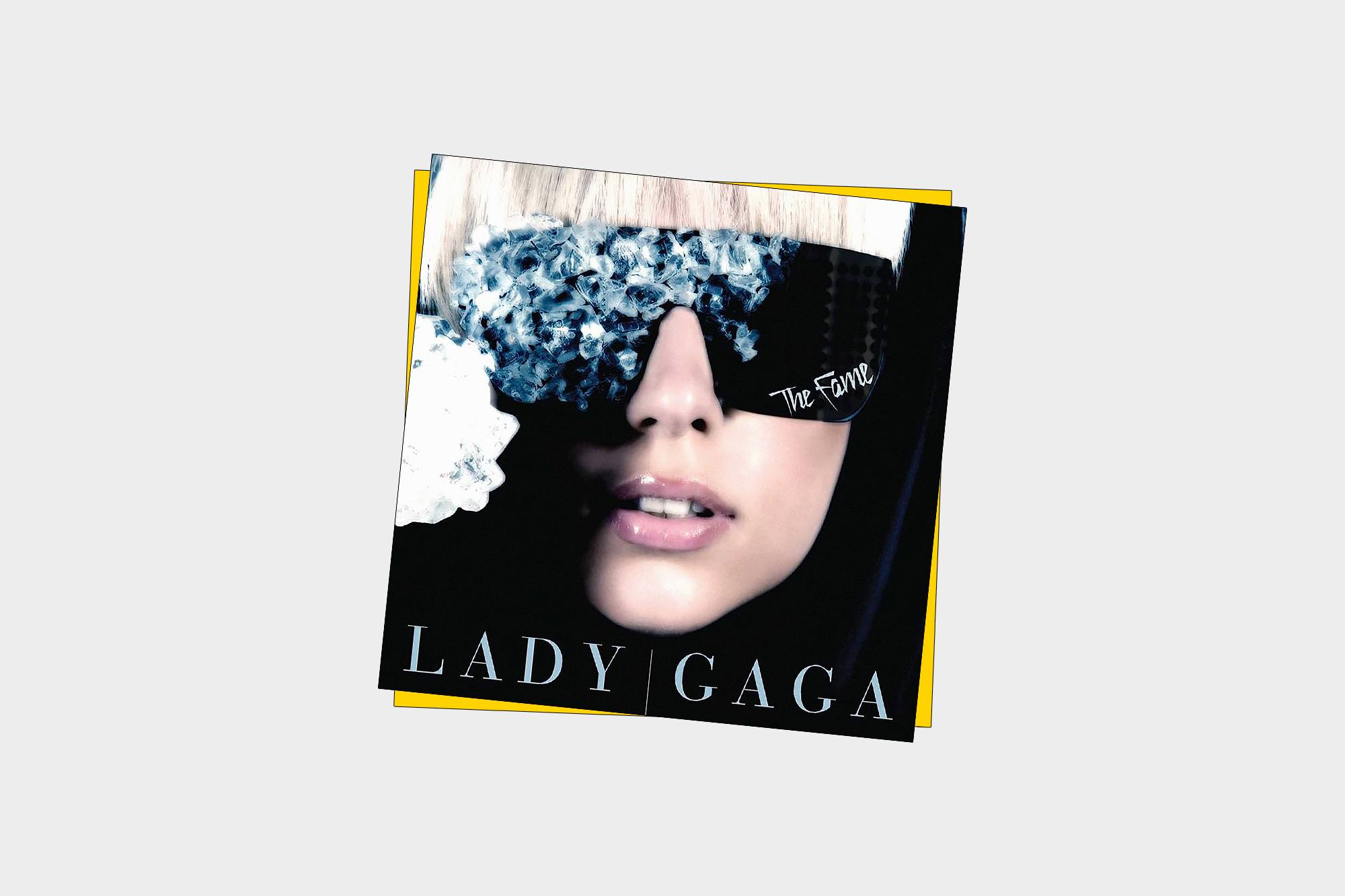 Original release date: 19 August, 2008
Label: Interscope
Lady Gaga's The Fame, released 15 years ago, is pop's purest example of self-fulfilment. Created by a then 22-year-old Stefani Germanotta, an NYU dropout whose creative outlets at the time included knocking out piano ballads at local dive bars and delivering theatrical dance-pop performances alongside Lady Starlight in dingy clubs, the album alchemised glorious delusion into something desirable. "I used to walk down the street like I was a fucking star," Gaga told Rolling Stone in 2009, shortly after The Fame's first two singles, Just Dance and Poker Face, had made her a global superstar. "I want people to walk around delusional about how great they can be – and then to fight so hard for it every day that the lie becomes the truth."
The Fame is an album obsessed with the myriad facets of celebrity and faking it until you make it. On Beautiful, Dirty, Rich – a song initially rejected by her first label Def Jam (she'd later sign with Interscope) – Gaga and her mates head to the club looking the part but "have got no money". The language of fame is projected onto her relationships both on the squelchy Starstruck ("Baby, now that we're alone, got a request/ Would you make me number one on your playlist?") and the excellent Paparazzi, which tracks an intense relationship that is refracted through the prism of obsessive celebrity stalking. Even Paparazzi's central mantra – "we're plastic but we still have fun!" – favours artifice over flesh-and-bone reality. On the fizzing title track, with its dumbed down lyrics, you get the sense there's a tongue firmly placed in cheek – until the middle eight lays it out straight: "Don't ask me how or why/ But I'm gonna make it happen this time," she sings, recalling those years of struggles. "My teenage dream tonight/ Yeah, I'm gonna make it happen this time."
This focus on the shiny and aspirational as an escape route chimed with a youth culture saturated in post-2007 Britney pandemonium, the façade of scripted reality TV shows like The Hills and Paris and Nicole's The Simple Life, and the faux fame factory of TV talent shows. But that gloss was also being scuffed by the effects of a worldwide recession spinning out of control. On the RedOne-produced Just Dance, which a hungover Gaga wrote in ten minutes during her first proper studio session, she makes it clear that pushing through is the only way out: "Just dance, gonna be OK."
Musically, The Fame coats its lyrics in a glistening dance-pop lacquer, opening up the music landscape, especially in America, for the imminent arrival of EDM. Suddenly four-on-the-floor beats were back on US radio, its beautifully dumb escapism becoming the soundtrack of the period. By 2009, as Gaga started work on what would become The Fame's more artful follow-up, The Fame Monster, the newly dance-leaning Black Eyed Peas became the biggest band on the planet, while DJ David Guetta – with the help of Rihanna and Nicki Minaj – took up residency in the US Top 10.
As EDM's jacked-up version of pop barrelled onwards, Gaga used The Fame Monster as a way of splintering off into other sonic territories, be it absorbing R&B on Telephone, Ace of Base-style Europop on Alejandro, or finessing Poker Face's pummelling synth theatrics into the untouchable Bad Romance. Charli XCX, whose brand of party-girl pop would later also aim to fuse both high and low art, was paying close attention. "I remember when Lady Gaga first came out with Just Dance thinking, 'This girl is playing the game,'" she told Zane Lowe last year. "She played the game to give herself the platform to be able to do whatever the fuck she wanted, on this insane level. I always respected that. I think it's genius."
"Her lyrics, sound, visuals, choreography, and fashion were unapologetic and unafraid. But more importantly, she had the songs" – Zara Larson
Anchoring The Fame's maelstrom is Lady Gaga's mix of pop genius and pure determination. There was no way The Fame wasn't going to succeed. Cherry-picking iconography from the past – the Bowie-esque flash on her face, the multiple references to Warhol, the nods to Madonna – she created a new space for women pop stars to push both their musical content and imagery. Not many pop artists at the time were alluding to bisexuality in their biggest hits (Poker Face), or taking mischievous rides on disco sticks (LoveGame), for example. "I think The Fame really influenced pop because it was so bold," agrees Swedish pop sensation Zara Larsson. "Her lyrics, sound, visuals, choreography, and fashion were unapologetic and unafraid. But more importantly, she had the songs – to come out the gate with Just Dance, Paparazzi, Poker Face, LoveGame… are you serious?!"
Gaga's presentation, meanwhile, was more high-fashion and extreme than your typical 'pop princess'. From the start, Gaga sought to add high art to her aesthetic, building a team of creatives around her (the so-called Haus of Gaga), and swinging from a chandelier covered in fake blood at the end of her incredible MTV VMA performance in 2009. For a period, Gaga was everything, everywhere, spewing wonderfully oversized declarations of her own genius.
"I feel like I have so much to do," Gaga told Rolling Stone in 2009. "The whole world sees the No. 1 records and the rise in sales and recognition, but my true legacy will be the test of time, and whether I can sustain a space in pop culture and really make stuff that will have a genuine impact." Years later, having returned to stomping dance-pop with 2020's Chromatica, that space in pop culture she envisioned on The Fame all those years ago is hers for keeps.