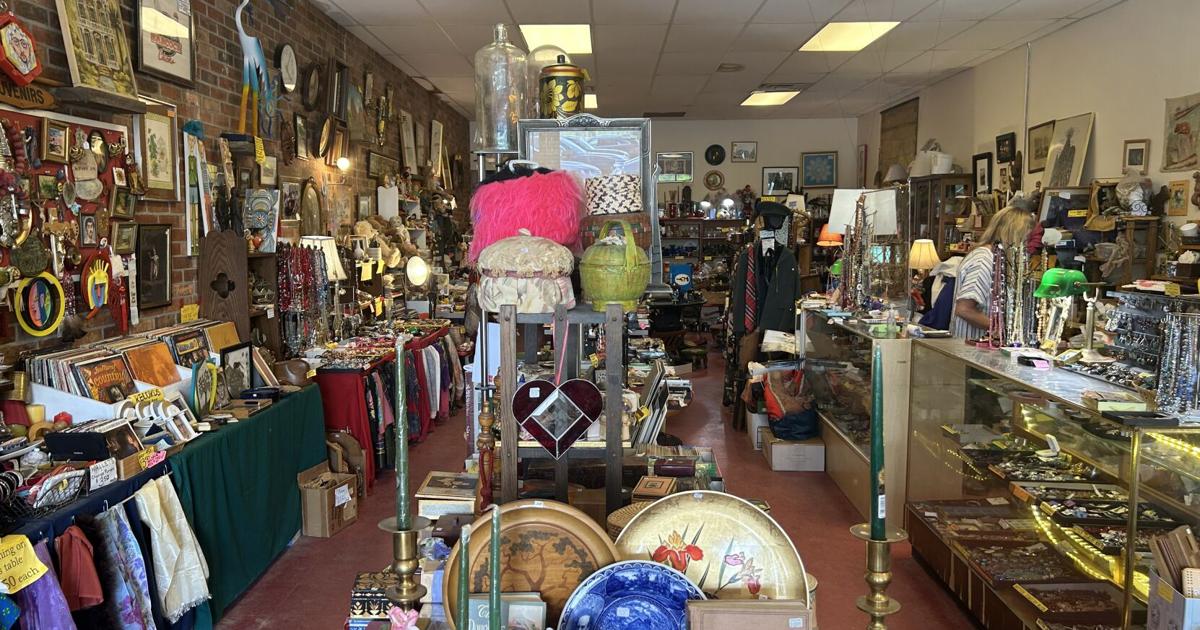 Thrifty students, crafty tourists, and keen collectors will appreciate Ithaca's thriving resale market. The city features many independent stores that specialize in all things reused, from clothes to furniture to DIY supplies. Here are a few worth checking out.
Found in Ithaca 
With thousands of items from over 40 vendors, Found in Ithaca offers something unique to every customer. Its spacious location at 227 Cherry Street gives visitors room to explore.
"It's not your mother's antique shop," said co-owner Dan Quest.
Found opened 13 years ago. It features a variety of items, from jewelry and clothing to home décor. Its vendors come from Ithaca and the surrounding region; they each rent a ten-by-ten booth and specialize in different wares. 
Quest stated that each vendor adds something different to the store. Some of them offer specific categories or eras of antiques; some take an artistic approach, restoring their goods in creative ways.
What sets Found apart from other antique markets, Quest stated, is its attention to presentation. The store has bright lighting and space to move around. The vendors regularly clean their booths and update their offerings. 
Quest also values authenticity, making sure that all of Found's antiques come from the eras they claim. 
"We don't want knock off stuff," Quest said. "It's got to be what it is and say what it is on the tag."
Quest has a professional background in antique restoration. He emphasized that reusing older pieces can benefit the environment and the consumer; they can last longer than mass-produced modern goods and retain their resale value. He said that students buy furniture at Found for these reasons. 
"They realized they can get the same look of a coffee table for the price of a new one, but there's less pressboard, and it's not using any rainforest woods," he said.
Quest expressed that Found focuses on unique, authentic, and quality goods in an easy-to-navigate space. 
"There's sort of a flavor for everybody here," said Quest. "It is a different kind of shop."
For more secondhand furniture and home décor, shoppers can visit Mimi's Attic at 401 Elmira Road or the Ithaca ReUse location at 214 Elmira Road.
East Hill Antiques 
East Hill Antiques offers oddities, trinkets, and crafting supplies from its cozy location on 335A Pine Tree Road. It acts as both store and community space, according to owner and artist Kyllikki Inman.
"It's nice to make people happy and hear their stories," she said. "And I also really enjoy fixing things." 
Inman opened East Hill Antiques on June 1, 2011. She had previously worked at Pastimes Antiques for 32 years, chasing a lifelong passion for secondhand shops. She picked the East Hill location for its vintage charm and accessibility; the brick wall, level flooring, and nearby parking made it an attractive space. 
East Hill Antiques prioritizes a positive environmental impact. All of its packing materials, from bags to boxes to bubble wrap, are reused items donated by store customers. It also uses green power.
Inman emphasized that the shop doesn't throw anything away; it donates large items to other resale stores and finds a new use for old things. Inman uses vintage beads to make modern jewelry. She repairs broken objects or turns them into art.
"If they need fixing," she said, "I'll fix them and then sell them or sometimes give things away. But we don't ever put stuff in the trash."
Inman has obtained many unique items over the years. Ithaca locals, traveling collectors, and Cornell professors all sell to the store, providing diverse objects from around the world. Inman pointed out paintings from Bali and vintage photographs from Tompkins County. She cultivates a large animal-themed section, where customers can find their favorite critter.
"When people sell us stuff," she said, "it happens all the time: they always say they're happy, because it will be appreciated by somebody."
East Hill Antiques also sells vintage crafting supplies, from beads to crochet hooks. Sculptors and potters use trinkets from the shop within their work. Inman labels prices with a color-coding system; when items don't sell, she packs them into $1 bargain bags.
The shop attracts clients of all ages and pursuits, from artistic children to elderly collectors. Some people, Inman noted, use the shop for recreation.
"People love to come in here to decompress, which is fun," she said. "They don't even really want to buy something; they just want to see memories."   
Inman expressed that she values old things and the connections they create. Visiting the shop, she stated, can teach unique lessons. 
"It's a way to learn history and to have a connection, and not everything is a piece of junk," she said. "They weren't made with chemicals and slave labor; these things were made with care."
Fans of East Hill Antiques can also explore Pastimes Antiques, which sells trinkets and local historical objects. Pastimes is located in the downtown Dewitt Mall at 215 North Cayuga Street. 
Mama Goose and Jillian's Drawers
For parents seeking baby supplies, children's clothing, and more, Mama Goose and Jillian's Drawers can provide. The sister stores, now located together at 609 West Clinton Street, offer both new and used items alongside community events for families. 
"They come to some of the things we do here," said store owner Kelly Serbonich, "and they can find their community and just feel like they belong."
Serbonich bought Jillian's Drawers in 2017 and Mama Goose in 2020. She had previously worked at Jillian's Drawers since 2007, selling natural parenting products like cloth diapers. When the store merged with Mama Goose in August 2020, Serbonich moved to the current location and opened that year on October 15.
The stores source used items from community members, who can sell them outright or receive store credit. It hosts various classes, free and paid, within its community room. The idea began with parenting meetups at Jillian's Drawers, and it continues to grow. 
"It's a really great first way for people to get comfortable going out," Serbonich said, "and also to overcome the isolation you can feel when you have a new baby."
The community room offers meetups on Wednesdays and Mondays. It also hosts prenatal and postnatal yoga, music classes, and dance classes. Local organizations can rent the community room; Serbonich said that improv and dance groups meet there every week. 
Serbonich emphasized the stores' commitment to community support and environmentalism. She said that Jillian's Drawers helped her while she was raising her son, and it's meaningful to extend that service to other families.
"We just love helping people in our community," she said.
Mary Durham Boutique
Ensconced in a colorful house at 110 West Court Street, Mary Durham Boutique offers professional women's clothes for a good cause. It acts as a fundraising arm for the Women's Opportunity Center of Tompkins and Onondaga Counties, and it hosts several programs for local women in need. 
"We want them to feel very nurtured and cocooned and loved in here," said workshop manager Susan Weiner. "And we provide what they need free of cost depending on the situation."
Mary Durham helps women access clothing and supplies, especially for job interviews or other professional settings. It works alongside the Center's main offices in Ithaca and Syracuse.
The boutique occupies the home of its late namesake, Mary Durham. Durham was a local activist who created the Department of Spiritual Care at the Cayuga Medical Center; her family donated the building after her death.
The boutique works with student volunteers from local high schools, Cornell University, and Ithaca College. They partner with OAR of Tompkins County to help formerly incarcerated people recuperate. They visit nursing homes and transitional housing with the MDB Cares program, which provides supplies and company to the inhabitants.
"It's our way to give back to them," said program manager Ronnise Way. "We take clothing and jewelry, shoes, snacks. We chat with them and just spend time with them."
The boutique's signature offering is the personal stylist program, where a stylist assembles new outfits for a client in a free 90-minute session. Afterward, the client can buy the clothes or get them for free, depending on their needs. 
"The personal stylist is for women who don't feel good about themselves, who are abused or in terrible situations," Weiner said. "We want them to feel special."
Currently, the boutique is working to renovate the upstairs dressing room where these consultations take place. Weiner said they're looking for community help to revamp the space, installing new features like permanent racks and curtains. 
Weiner stated that the boutique's primary goal is to help as many people as possible. The employees try to uplift struggling clients and lend a listening ear. Way stated that the boutique's comfortable, safe environment can create meaningful experiences. 
"It's so exciting for women to meet up under these circumstances," Way said, "and they can leave feeling better about themselves or happier than when they came in the doors."
The boutique runs on community clothing donations. It keeps the best women's clothing as inventory and donates other goods to the Salvation Army, local schools, and free closets around Ithaca.
The boutique also offers a loyalty program, where customers who spend $100 get a $10 coupon. Students and members of the Lifelong Ithaca community center get a 20% discount; seniors get a 40% discount on the first Tuesday of each month.
"Our goal, short term and long term, is to reach more women and to have them come here," Weiner said.
Evergreen Ithaca
Evergreen Ithaca's new shop at 609 West Clinton Street is the place to find comfortable, 90s inspired clothes. Owner Erick Hudson curates a collection of durable clothing with a comfortable fit.
"I'm looking for quality stuff," he said. "I don't care about the brand. I don't care how much it retailed for originally. I want jeans that you could wear for 30 years."
Evergreen began as an online shop at the end of 2020. It hosted popups and local events to gauge what customers wanted, and it opened beside Mama Goose in November 2022. Now, Evergreen is open four days a week.
The shop is airy and bright, with houseplants and a large bank of windows. Hudson organizes items by type and color.
"It's an incredible atmosphere," Hudson said. "Everyone's always happy. People find something they love, and they find it for a great price." 
Evergreen specializes in comfortable, loose-fitting clothes with a 90s street style flair. Hudson said he has items to suit all genders and body types, so everyone can find a treasured piece. He sources items from local sellers and events like garage sales.
Hudson expressed his interest in environmental sustainability, which inspired him to start Evergreen. He stated that he tries to price clothing reasonably for its quality. 
Evergreen focuses on a niche clothing style, which Hudson views as a positive. He expressed his hope for a wider variety of secondhand stores as Ithaca's resale market expands.
"The more you niche down, the more you can become an expert," he said. "The more you become an expert, the more you know what you're looking at, and the more you can provide value to the customer."
For more secondhand clothing options, shoppers can visit the Ithaca ReUse location at 2255 North Triphammer Road. For curated vintage pieces, they can find The Haunted Closet at popup locations announced onInstagram, from Press Bay Alley to the Ithaca Night Bazaar.