KIM Kardashian has flaunted her tiny waist and slim figure in a micro crop top and matching booty shorts for a birthday tribute to her bestie Olivia Pierson.
The Kardashians star has raised controversy with her recent posts as many fans have accused her of abusing Photoshop.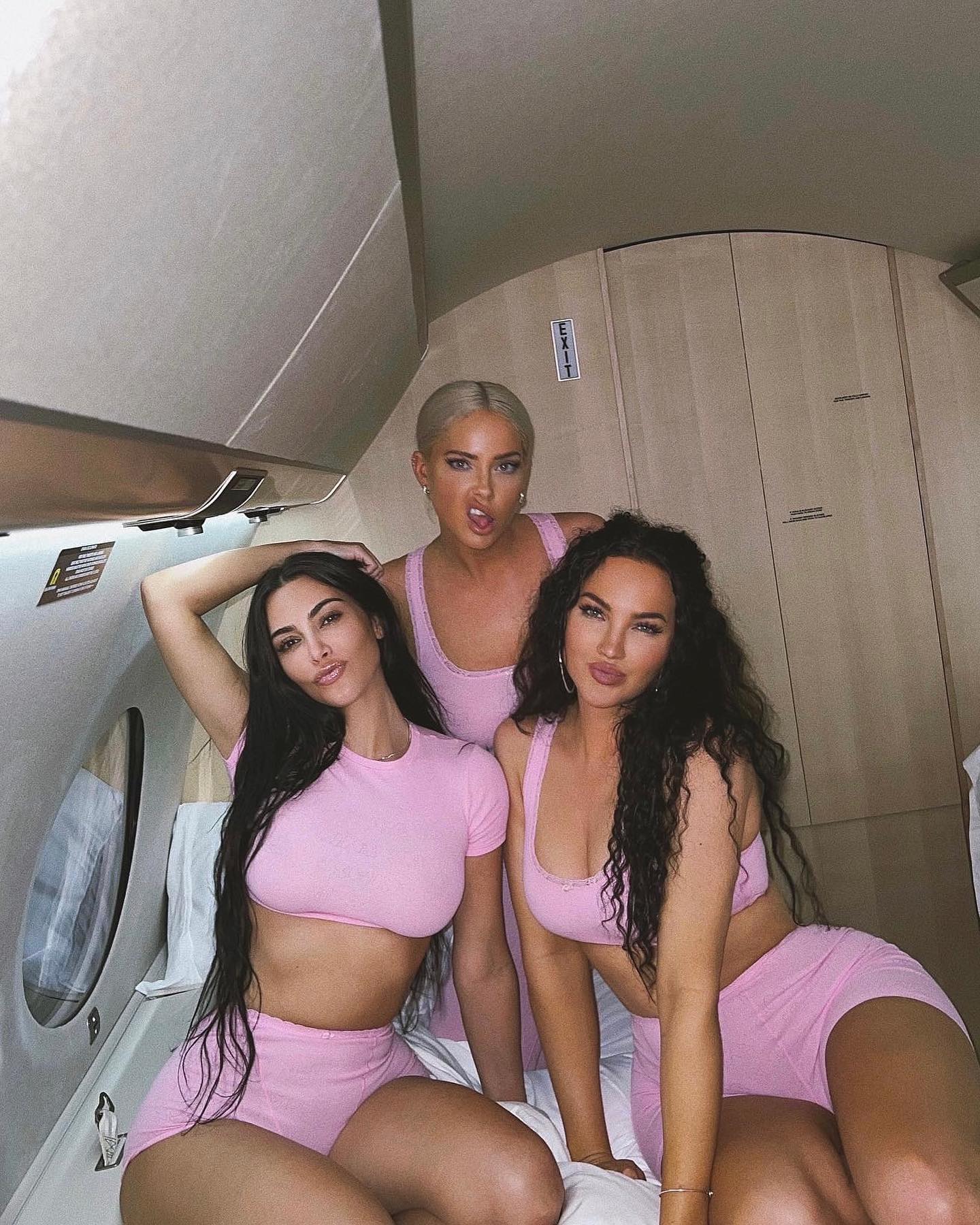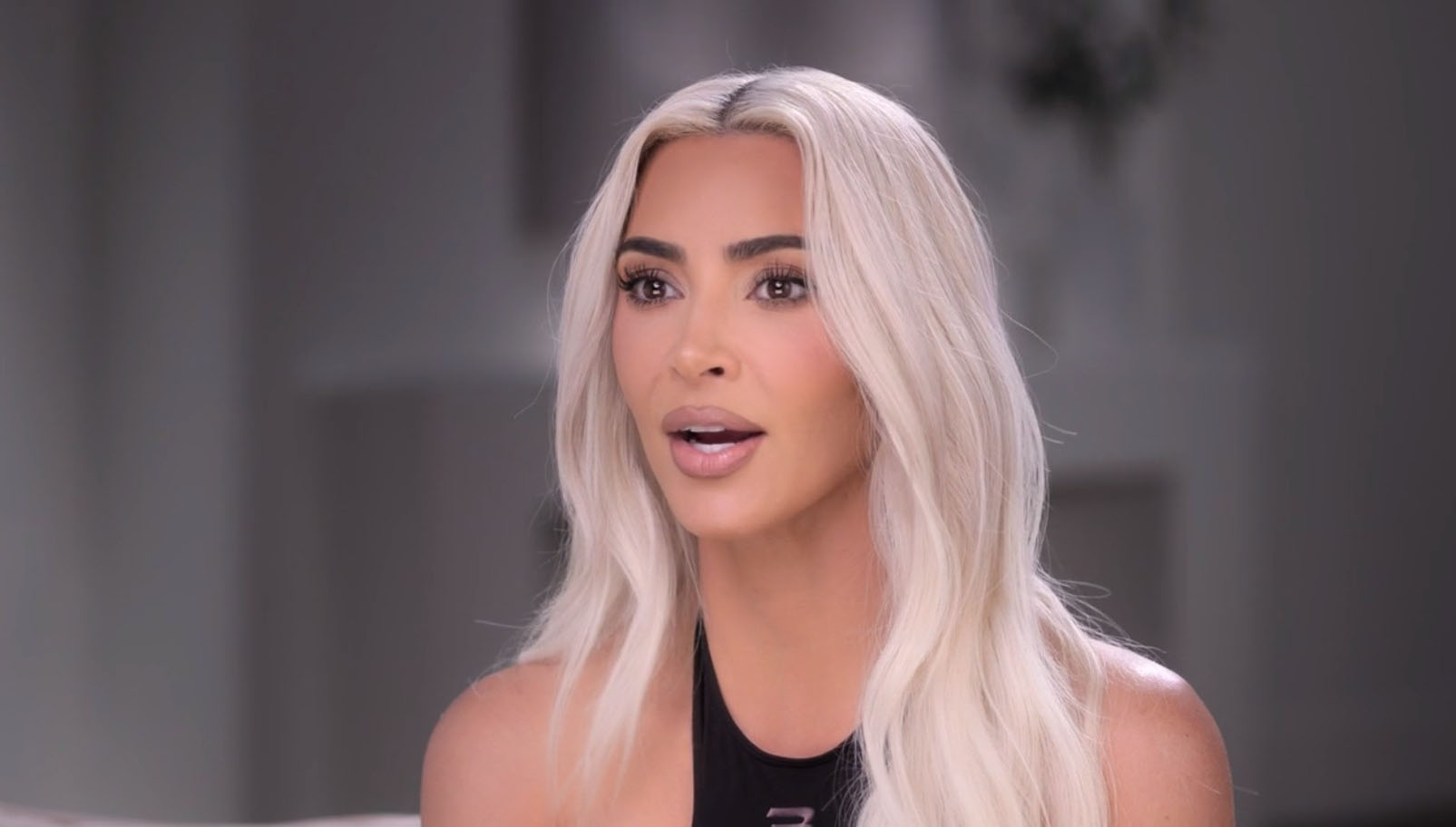 But that hasn't stopped Kim, 42, from sharing revealing photos in a pink two-piece set in honor of her best friend Olivia Pierson's birthday.
The reality star took to her Instagram Stories on Sunday night to post a tribute to the WAGs star.
In the photo, the TV personality posed next to Olivia and another friend while enjoying a girl's night sleepover on her private jet.
The trio wore matching SKIMS pajama sets, with Kim flaunting her fit figure in a skintight pink micro crop and matching booty shorts.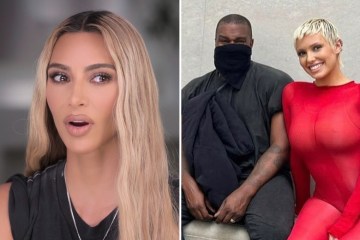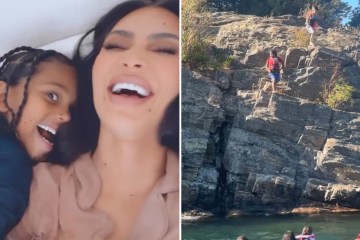 Kim's tiny waist and rock-hard abs were displayed in the snap as she ran her fingers through her long dark hair.
The mother of four made a kissy face at the camera as she snuggled close to her friends.
Olivia sported a similar outfit with a low-cut tank top that showed off her cleavage.
Kim captioned the post: "Happy Birthday @oliviapierson the silliest of the bunch!
"The one who teaches the best TikTok moves and the most supportive friend."
'TOO MUCH!'
The Hulu star's post came amid major backlash concerning her editing of recent photos.
Over the weekend, fans slammed Kim for abusing Photoshop to whittle her waist to an unnatural size.
The Kardashians star flaunted her slender physique in a new bathroom selfie.
In the Instagram photo, Kim donned a tight white tank top with pink leggings.
The Hulu star exposed her flat tummy as she posed in front of the white sink.
The reality star captioned the post: "I'm actually never free. I just make time."
While Kim displayed her slim figure, fans were distracted by her teeny tiny waist. 
FAN BACKLASH
In the comments section, critics dragged the TV star through the mud for photoshopping her waist into an "unnatural and odd size."
One critic said: "Can clearly see the editing on her track pants. This doesn't even look good, bruh."
Another critic added: "This looks very odd to me. It's unnatural."
A third critic mentioned: "Bizzare! Does anybody's stomach actually bend that way!"
A fourth person chimed in: "Photoshopped. You cut too much off on the right side."
A commentator chimed in: "What happened to your hips and waist?"
BACK TO WORK
The Skims mogul also showed off the results of her workout session in her new gym selfie. 
In an Instagram Story, Kim modeled a black sports bra with matching leggings. 
She loosened her brunette hair and took a snapshot of herself while posing near the fitness equipment. 
Kim appeared with her trainer Senada Greca, who wore a greenish sports top. 
She wrote: "Afternoon workout."
SURPRISING INJURY
The former E! star appeared to have returned to the gym after suffering a shoulder injury.
At the beginning of August, the TV personality explained why she stepped away from her exercise routine.
In a short video, Kim filmed herself meeting with a new trainer at her personal home gym.
In the brief clip, the SKKN founder walked to her outdoor courts and found fitness coach Melissa Alcantara waiting for her arrival.
In the background, Kim said: "Who's this girl? Who's this girl in my gym?"
The twosome laughed as the mom of four explained Melissa was visiting.
Kim shared: "OK, guys, well, something you don't know about me, I broke my shoulder, and I tore the tendons, and so Melissa had the same thing happen to her."
She zoomed in on her new trainer and shoulder, where she had the same injury.
Melissa replied: "That's right."
Kim added: "So we're starting our rehab today and our workouts cause I have to get back in the gym.
"Nothing is going to keep me down."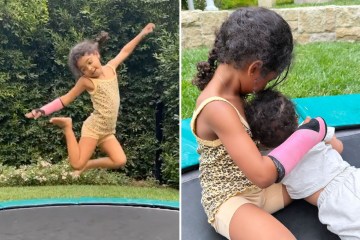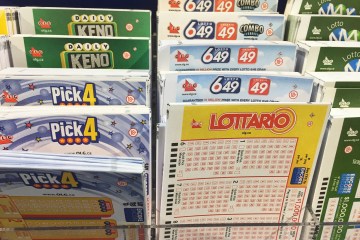 She captioned the post: "I broke my shoulder and tore the tendon, so I've been out of the gym a few weeks, but I'm back!"