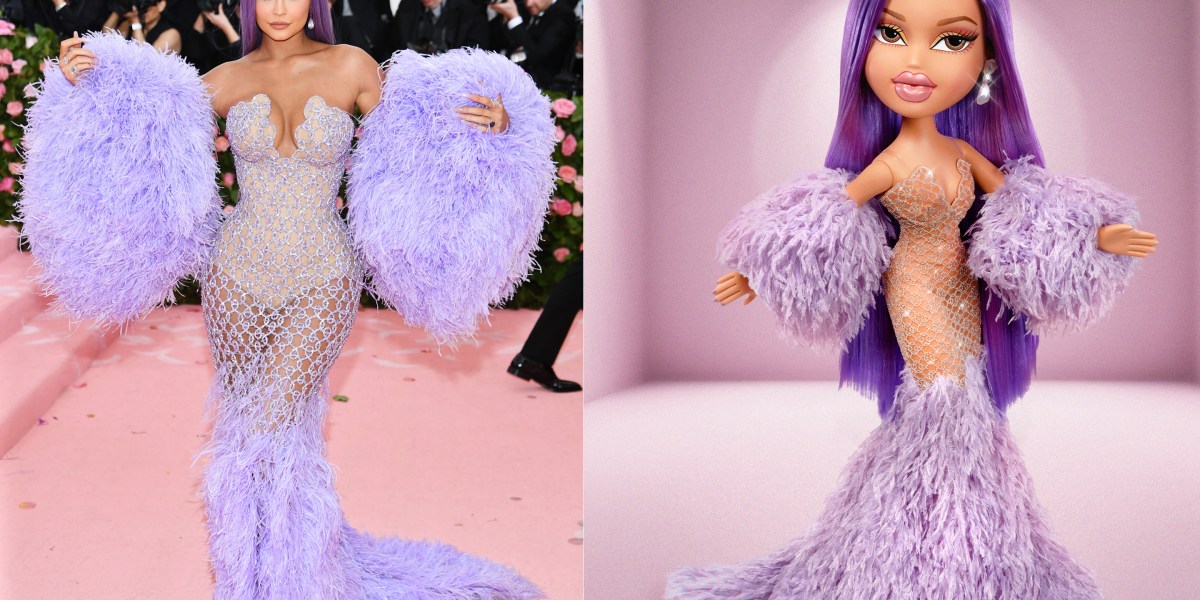 Bratz dolls have long been seen as the "anti-Barbie." Bratz are edgy and rebellious; Barbies are preppy and traditional. Now, in the wake of the record-breaking Barbie movie, Bratz are mounting a comeback, and they're recruiting Kylie Jenner to do it. 
Jenner, who has been compared to the cat-eyed, pouty-lipped doll in the past, is being "Bratzified" in the brand's first celebrity partnership. The pop culture icon is launching a line of dolls in her likeness, with one doll selling for as much as $100. And the Bratz-Barbie dynamic goes beyond contrasting aesthetics—Bratz's maker, MGA Entertainment, once went into a nearly decade-long legal battle with Barbie parent Mattel over plagiarism and ownership claims. 
Bratz were introduced to the public in 2001. The dolls' distinctive look was defined by their arched eyebrows, bold eyeshadows, and full, glossy lips. They wore fashionable outfits reminiscent of Britney Spears in the '90s and were celebrated for their ethnically diverse representation. But they were also criticized for being overtly sexual, and some parents deemed the dolls inappropriate for their young children. 
Still, Bratz steadily ate into Barbie's market share, reportedly grossing over $2 billion in sales in its first five years on the market and selling over 150 million dolls within the decade after they were introduced. By 2004, Bratz outsold Barbie in the U.K., the BBC reported. That same year Mattel launched a messy legal battle against MGA Entertainment, plunging the two manufacturing giants into years of litigious twists and turns.
You don't own me
In its lawsuit, Mattel accused Bratz creator Carter Bryant of stealing Mattel's trade secrets. The Barbie parent asserted that Bryant had been working at Mattel when he first designed what would eventually become the Barbie doll competitor. In 2008, a jury found the claim to be true and awarded Mattel $100 million, but the Ninth Circuit soon overturned the verdict and ordered a new trial.
In a turn of events, one federal district court judge allowed MGA to submit a counterclaim before the second trial began. The Bratz manufacturer accused Mattel of engaging in corporate espionage at toy stores and conspiring to keep Bratz products off shelves. In April 2011, a jury sided with MGA, rejecting Mattel's original claims and ordering Mattel to pay $309 million in damages and legal fees.
That verdict didn't last long, either. Nearly two years later, in January 2013, a three-judge panel unanimously ruled that the trial judge was wrong to have allowed the jury to consider MGA's counterclaims since they were unrelated to Mattel's initial lawsuit. But the panel allowed MGA to keep $137 million for legal fees, and the smaller competitor lived on to keep selling its dolls. 
The "Bratizification" of Kylie Jenner
Now, beauty and fashion mogul Jenner is jumping into the fray by launching a new line of Bratz dolls. The partnership with Jenner, first announced Aug. 1, is the brand's first celebrity Bratz collection, and includes miniatures of a "Bratzified Kylie" in some of her most iconic looks, like the lavender Versace gown she wore to the Met Gala in 2019. The mini collectibles sell in packs of two, retailing for $9.99 on the Bratz website.
The partnership was expanded on Aug. 21 with the release of the "Bratz x Kylie Fashion Dolls – Night and Day," preorders retailing for $29.99 on the brand's website, and the "Bratz x Kylie 24-inch Fashion Doll," preorders retailing for $99.99 on Amazon. 
Jenner, 26, is the youngest member of the famed Kardashian-Jenner family, which includes sisters Kim Kardashian and Kendall Jenner, and mother Kris Jenner. Her makeup company, Kylie Cosmetics, has helped propel her net worth to $680 million, prompting Forbes to name Jenner the youngest self-made woman for six consecutive years. (The "self-made" moniker has sparked backlash given Jenner's background as the youngest child of a wealthy celebrity family; she has defended herself by telling to Paper Magazine her parents, Kris and Caitlyn Jenner, cut her off at age 15, and that while she "did have a platform… none of my money is inherited.")
Jenner said in a release that she's "been a fan of Bratz since childhood and I've always wanted my own Bratz doll." She's even been compared to one, including by her own family. 
"Kylie truly embodies everything Bratz has stood for since its inception," Bratz creative director Jasmin Larian said in the same release, describing her as "disruptive and rebellious" and "energetic and expressive."
But not all Bratz fans are pleased that Jenner will represent the brand. Some have criticized the company for choosing a white woman for the partnership when it was Bratz dolls' varying skin tones and hair textures that gave them cultural significance and set them apart from Barbie, especially among girls of color. Jenner and other members of the Kardashian-Jenner clan have also been accused of "blackfishing"—a term for white influencers appropriating the beauty standards and aesthetics of Black people, such as darkening their skin or wearing Fulani braids. 
One person posted on X, the social media platform formerly known as Twitter: "Giving Kylie (a white woman who modeled her face/body around Black women) her own Bratz doll (which is an arguably more Urban/Black presenting doll) before an ACTUAL Black woman is… weird."
In many ways, Jenner is a smart choice for the partnership given her massive social influence and Bratz-y aura. However, that doesn't mean she was necessarily the right choice in a society that often overlooks women of color in favor of their white counterparts.