Google Pixel, in collaboration with Mass Appeal and Sony Music's Certified, proudly introduces Pixel RePresents, an exciting series showcasing the talent of five next generation female hip-hop artists as they infuse their unique styles into timeless tracks. This groundbreaking initiative also features the brilliant artistry of renowned photographer Myesha Evon Gardner from Creator Labs, who photographs captivating visuals using the cutting-edge Google Pixel with Real Tone. Our next featured artist is none other than Doechii, who brings her unique perspective to the UGK classic, "Int'l Players Anthem," in her smooth rendition titled "Universal Swamp Anthem."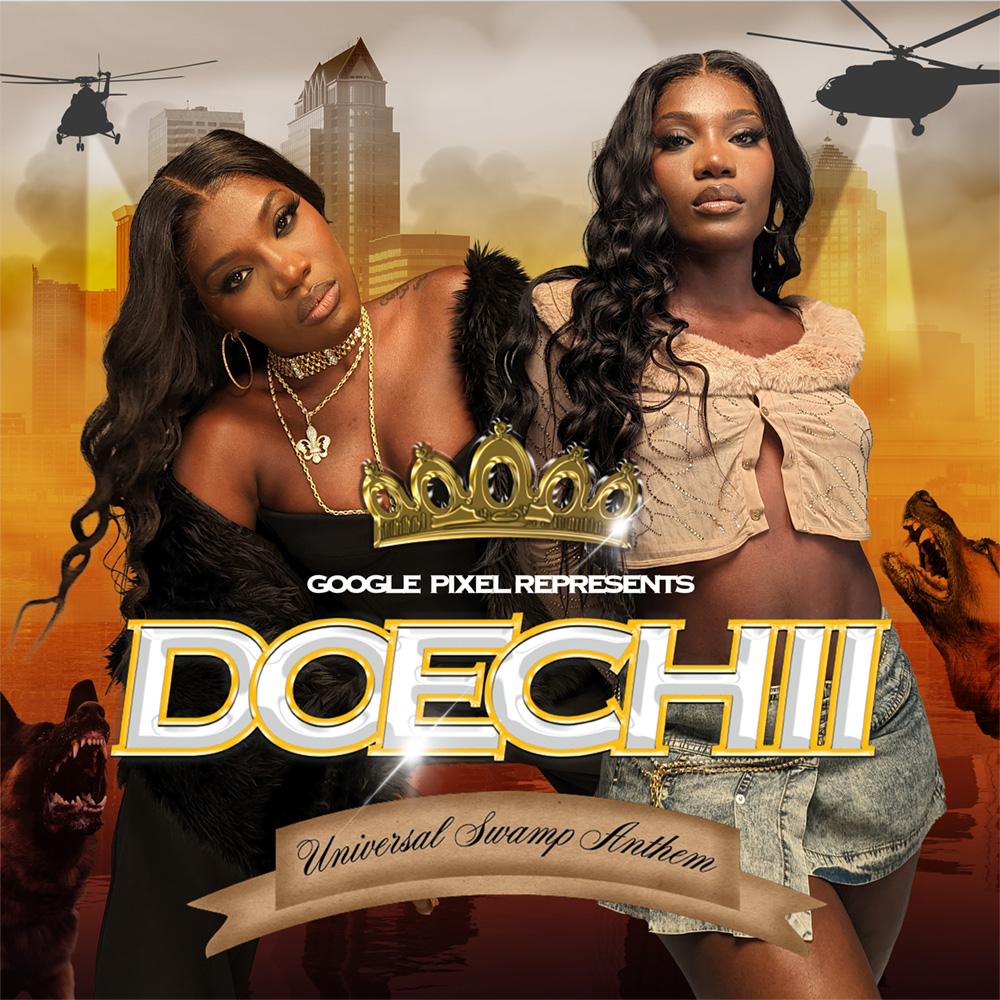 Hailing from Tampa, Florida, rapper Doechii is an undeniable force reshaping the hip-hop landscape with her unique style and unapologetic attitude. Her journey from obscurity to prominence is a testament to her unwavering determination and raw talent. After her debut EP, "Oh the Places You'll Go" (2020), caught attention, she skyrocketed to fame with the viral hit "Yucky Blucky Fruitcake" on TikTok in 2021.
Doechii's lightning-like flow and captivating stage presence have earned her a notable spot in the rap world. Her hometown's cultural richness has undoubtedly shaped her identity, infusing her music with genuine grit and authenticity. Her second EP, "She/Her/Black Bitch" (2022), included the single "Persuasive" with a remix featuring SZA, which made waves on the Billboard Mainstream R&B/Hip-Hop Airplay chart.
What sets Doechii apart is not just her lyrical prowess, but her fearless embrace of her truth. Her gritty storytelling invites listeners into her world, sharing her journey's highs and lows with palpable vulnerability. Her verses paint vivid pictures of her experiences, providing a window into her soul.
More than a rapper with a mic, Doechii is a sonic maverick. Her beats hit hard, radiating infectious energy that immerses you in her rule-breaking universe. She challenges conventions, infusing her music with a fusion of genres and a fresh, perspective-altering approach.
Her breakthrough single "What It Is (Block Boy)" featuring Kodak Black marked her Billboard Hot 100 debut at number 60 in 2023. Doechii's artistry is a testament to the ever-evolving hip-hop landscape. Each verse, beat, and performance cements her place in the rap pantheon, asserting her as an enduring artist.
Amidst a hunger for authenticity, Doechii shines as an unapologetically creative beacon. Nominations for MTV Video Music Awards and two Soul Train Music Awards showcase her impact. The Rising Star Award from Billboard Women in Music (2023) solidifies her rise. As her star continues to ascend, there's no doubt that Doechii is poised for an even greater musical influence, leaving an unforgettable mark.
Check out Doechii's remix for Google Pixel RePresents and exclusive behind-the-scenes images from her photoshoot below!