Google Pixel, in collaboration with Mass Appeal and Sony Music's Certified, proudly introduces Pixel RePresents, an exciting series showcasing the talent of five next generation female hip-hop artists as they infuse their unique styles into timeless tracks. This groundbreaking initiative also features the brilliant artistry of renowned photographer Myesha Evon Gardner from Creator Labs, who photographs captivating visuals using the cutting-edge Google Pixel with Real Tone.The next featured artist is none other than Lakeyah, who brings her new perspective to the iconic JKwon party anthem, "Tipsy," in her intoxicating rendition titled "In Da Club."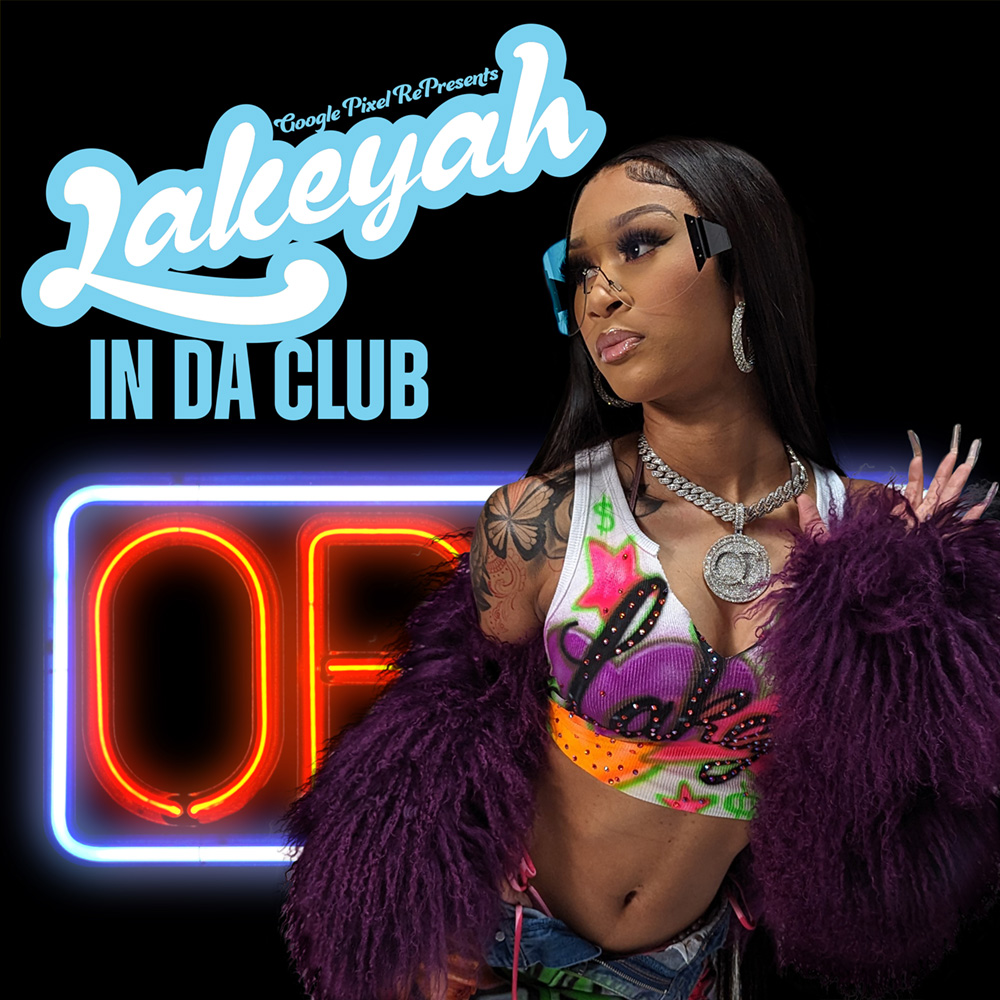 In the ever-evolving landscape of hip-hop, Lakeyah stands tall as a beacon of artistic innovation and unbridled determination. With each verse she delivers, she is redefining the rap narrative, leaving an indelible mark on the genre's history.
Hailing from Milwaukee, Lakeyah began rapping at the age of 15. At 18, she moved to Atlanta and was signed to Quality Control Music. Lakeyah's meteoric rise is a testament to her unwavering drive and magnetic presence. Her lyrical skills grab listeners' attention and demand that they take notice. From local stages to global platforms, Lakeyah's journey embodies the spirit of ambition, resilience, and unapologetic authenticity.
Lakeyah's music is a dynamic fusion of sharp wit and undeniable flair. Her verses are more than just words; they're a powerful blend of storytelling, empowerment, and social commentary. On December 11, 2020, Lakeyah released her debut album, Time's Up, which included the single "Female Goat" featuring City Girls and a Midwest style beat by Detroit producer Reuel StopPlaying. It remains Lakeyah's most popular track on YouTube, with over 16 million views. Her ability to craft rhymes that resonate on a profound level is a testament to her artistry and her commitment to using her voice for something greater. In 2021, Lakeyah released her second project, In Due Time. After the album's release, Lakeyah was 4th on Rolling Stone's Breakthrough 25 charts. In 2021, she was announced as part of the XXL magazine Freshman Class, the first from Milwaukee.
As you immerse yourself in Lakeyah's music, get ready to be moved, inspired, and invigorated. Her work goes beyond entertainment; it's a rallying cry for progress, a call to action, and a testament to the transformative power of hip-hop. Lakeyah isn't just blazing a trail; she's constructing a new path for the next generation of hip-hop visionaries to follow.
In a world that's constantly evolving, Lakeyah remains a steadfast force in her pursuit of excellence. With her potent blend of authenticity and ingenuity, she's leaving an indelible mark on the rap scene, carving a space where her voice can be heard. As Lakeyah continues to redefine the boundaries of hip-hop, we eagerly await each new verse that will undoubtedly propel her legacy even further into the musical stratosphere.
Check out Lakeyah's remix for Google Pixel RePresents and exclusive behind-the-scenes images from her photoshoot below!