The world may be going to hell in a handcart yet the rich are still buying extortionately priced handbags and top-end fashion as though there is no tomorrow.
As F. Scott Fitzgerald famously wrote in his short story, All the Sad Young Men, the rich… 'are different from you and me.'
They certainly are. Take a walk around Knightsbridge or the Champs-Elysee at any time of day and you will see visitors from the Middle East and elsewhere are out and about in their dozens buying the most expensive luxury brands by the cartload.
The thirst for the right purse – as the Americans call handbags – is the main rationale for the astonishing 65 per cent premium which Tapestry, the US luxury brand owner of Coach handbags, is paying to takeover former rival Capri Holdings, owner of Michael Kors.
The £7billion deal creates an American fashion giant bringing together Capri's Versace, Jimmy Choo and Michael Kors brands under the Tapestry roof which includes Kate Spade and shoe-maker Stuart Weitzman.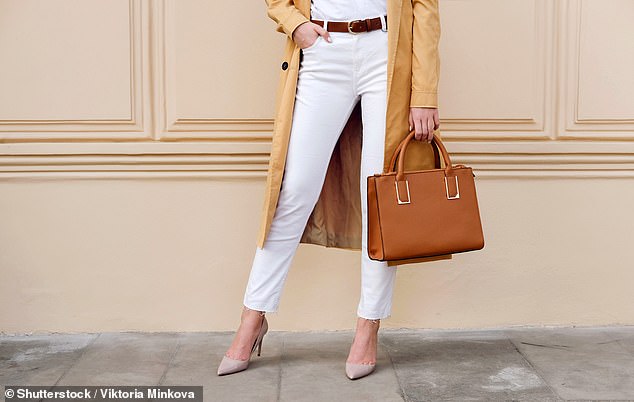 Target: Tapestry, the US luxury brand owner of Coach handbags, is paying an astonishing 65% premium to takeover former rival Capri Holdings, owner of Michael Kors
While the new Tapestry will still be nowhere near as big as European competitors such as LVMH – now one of the world's top ten most valuable companies – or as prestigious, the merger means it should be better placed to compete against them at the more accessible end of the luxury market.
That's certainly the logic behind the deal, says Tapestry's boss, Joanne Crevoiserat. These 'six iconic brands' will now have a presence in over 75 countries and drive over £10billion in annual revenue. 
Even LVMH's chief, Bernard Arnault, will be a little jealous as he has always wanted to own Versace to add to his world-class collection that includes Dior and Bulgari.
But why do the deal now, when the global economy is running out of steam? Is there the whiff of a defensive play behind the scenes? 
Tapestry is paying a fabulous premium for Capri shareholders who are getting a whopping £45 per share in cash. 
It must be betting that paying top dollar for such complimentary brands will give it more clout selling into international networks as well as potential cost-savings where there is overlap.
That sounds sensible. The merger comes as Tapestry and Capri have experienced weaker business in the US market and both admitted that American consumers are becoming far more cautious about spending on luxury items with the soaring cost of living.
Capri has been hit by slowing sales the most across all its brands, with shares falling to a year-low in May after trimming its earnings forecasts.
In contrast, Tapestry has raised its forecast, and has done well by marketing its brands to a younger generation of rich Gen Z shoppers. 
It has also been careful about the famous 'price-points' and not discounting products but narrowing down the range. Coach has been working with Disney while actress Kirsten Dunst has been showing off their handbags on TikTok.
It's a big market to play for. Market research firm, Data Bridge, reports the luxury handbag market is on an upswing, and will be worth £34billion by 2029.
Credit Suisse predicts high-end handbags will beat art and jewellery as the best investments of 2023. 
One Hermes Faubourg Birkin bag sold last year at Christie's for $320,000 and the year before that the auctioneer broke the world record selling a Hermes Himalaya for $513,200. It's handbags at dawn.
Mixed signals
US consumer prices rose 3.2 per cent in the year to July, a small rise on June's figures which at first glance looks like inflation is on the move again. 
But economists were quick to point out that the figures must be put in context: inflation was rapid in June last year, but was down the following month.
This means when you measure this year's figures, June looks lower and July appears higher than if last year's numbers had been more stable.
Slightly confusing, but it suggests that prices are cooling. Core inflation was down slightly, another positive sign of cooling and that interest rate rises may have peaked.
Housing medicine
The Bank of England's medicine is working. Housebuilder Persimmon is slashing 300 jobs and half-year profits down by 65 per cent as the number of houses sold has fallen sharply. 
Earlier Bellway reported poor sales. Longer-term, Persimmon says the outlook looks good because there is a chronic under-supply of homes. So long as the Bank's medicine doesn't turn to poison.