After 10 p.m. on any given day, most Plano streets are dark. Few businesses or restaurants are open, besides a Taco Bell or Whataburger.
In South Korea, however, it could not be more different.
Pochas, street vendors that open late to offer comfort food and a place to hang, line the streets of Seoul. It's that environment Jenny Ko and Sooyun Lee have attempted to recreate here in Plano.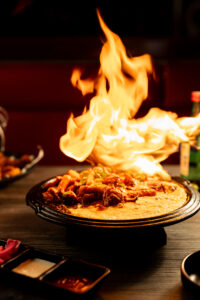 "Pocha is not really fancy. It's not like a speakeasy kind of thing," Ko says. "It's really straight, easy, where everybody comes and drinks and eats until very late at night. So we needed to capture that concept here."
Ko and Lee's restaurant, Mighty Chick, embodies the pocha style, with Korean fried chicken, street food and an always hyped playlist. The place is covered in flags from around the world, disco balls made of shiny foil and walls filled with Sharpie drawings and notes from customers who've enjoyed the joint.
When it comes to food, Korean fried chicken is the main event. Double fried with vegetable oil, the chicken has an extra-crispy coating and a sweet-spicy taste. Mighty Chick serves wings or thighs with five flavors: crispy, Seoul hot, BBQ soy garlic, cheesy flake and varying levels of Nashville.
"Chicken is a very simple food, but simple is the hardest one because we need to make a slightly sophisticated [version], with more detail in it," Ko says. "That's why we import from Korea, and the sauce and everything is made in house. We're really proud of using fresh ingredients and never-frozen meat."
A plate is too much for one person to eat. Each dish is meant to be shared.
The pair didn't intend to get into the chicken game. Lee started out as a dentist, Ko a fashion designer.
After both eventually moved from New York to Texas, they discussed getting into the restaurant business, which Lee grew up around.
They started Mighty Chick in Watauga, where there were few Korean places, as a way to introduce the locals to the pocha culture. The restaurant was near Lee's dental practice, and the duo quickly created regulars at the restaurant.
"There were a couple of chicken places, but none in the Keller/Watauga area," Lee says. "So we imported chicken powder from Korea and made all the sauce in house in a very typical Korean-style flavor that we wanted to introduce to neighbors."
They ran the place for two years before the pandemic forced restaurants to tighten restrictions.
When looking to reopen after pandemic restrictions were removed, Lee and Ko thought Plano's more diverse population would be the perfect setting and opened their Ohio Drive location last year with an expanded menu.
"When we came here originally, the concept was the same as before, but I just realized that Plano is more delicate of a city, more sophisticated, more diverse," Lee says. "So we got to make it more Korean, with more Korean dishes and flavors."
Besides chicken, Mighty Chick also serves up street foods like 12-hour sous vide pork ribs, beef brisket, spicy rice cakes and spicy snail salad.
If you're up late, drinks are definitely on the table. The bar rings up draft and bottled beer, cocktails and many flavors of soju and makgeolli, traditional Korean alcoholic drinks typically akin to wine made of rice.
"They [customers] will see two cute Asian women and say, 'Oh, you guys are mighty chicks,'" Lee says. "We wanted to have something special, something different, owned by women."
Mighty Chick, 8900 Ohio Drive, 214.308.9556