Earlier this month, Nia Archives organised a day rave with a line-up of female and non-binary DJs, promoting inclusivity in the rave scene. The award-winning DJ and producer spoke to NME about the event alongside some of the acts on the bill.
The Bad Gyalz rave took place in East London on August 6 and featured a set from Nia Archives, as well as her mentor and UK dance legend DJ Flight, Pxssy Palace (Nadine Door and Mya Mehmi), Sim0ne, Izzy Bossy and Saint Lude.
"I've always wanted to do a Bad Gyalz rave," Nia told NME after taking over a shipping dock with some of London's immense DJ talent. "I've been running 'Up Ya Archives' events for nearly a year and surprisingly those parties are full of young women under the age of 25. So I really wanted to do a party for all the baddies."
Known for championing the LGBTQIA+ community in the clubbing space, Pxssy Palace's Door and Mehmi said it was "normal" for them to be on a solely female and queer line-up. They added that they "love to be in that bubble" of comfort such environments create for them.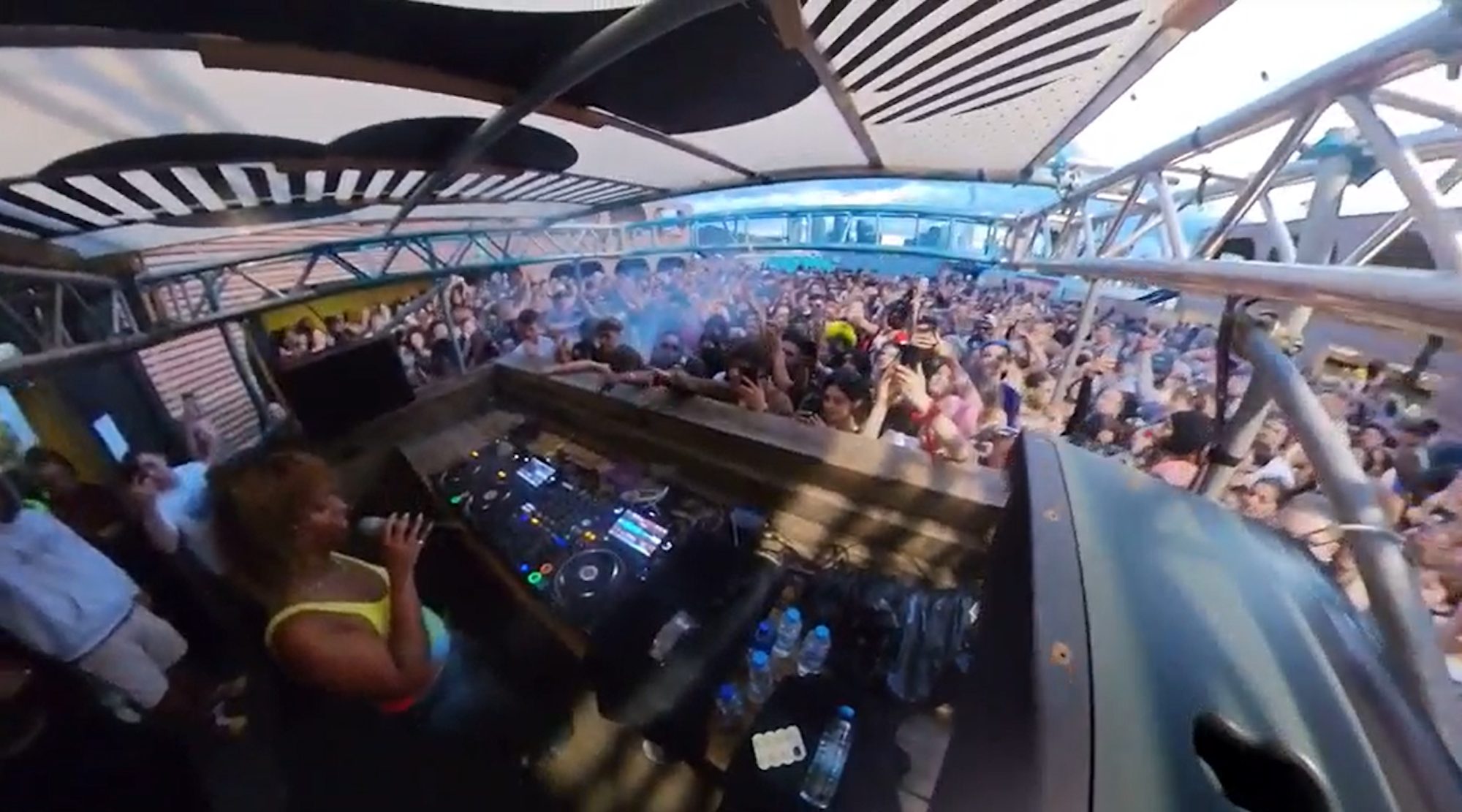 Noor explained that the fact they "pretty much DJ with other women, trans and non-binary people", or at events to honour initiatives like South Asian Heritage Month, sometimes making them feel like "tokens" on other, less inclusive line-ups. "[Just because they DJ on predominantly LGBTQIA+ line-ups] doesn't mean boys shouldn't book us," they said. "We don't just play for the girlies. We're serious DJs."
Their musical partner Mehmi added that it's "hard to really gauge how much things have changed" because she mostly appears on line-ups that champion inclusivity. "I'll be like, 'Oh my God! this is amazing," she explained, "The music scene is amazing. Progression.' And then I'll get booked for something where there are more men on the line-up or men-ran and I'm like, 'Oh.'"
"I was excited to be asked," said Scottish DJ Sim0ne, who is now based in London. "Especially when I found out that the lineup was, like, predominantly female and just a safe space." Coming to music from the modelling and content-creating worlds, she explained she expected "a lot of misogyny when [she] made this shift into a more male-dominated space", but had been surprised by what she found.
"We're not there yet," she said of progress made in equality for women in the DJ scene. "But I do think there's a lot of good people making a lot of good moves. There's a slow shift, but as long as everyone's sort of looking towards the same direction, we should hopefully get there."
thx 2 all tha baddies who came thru 2 da rave on sunday <3>pic.twitter.com/OqsVuGlYRj3>

— Nia Archives (@archives_nia) August 8, 2023
Uplifting other female and non-binary DJs was part of the intention behind the Bad Gyalz rave – a theme that can be felt in Nia's latest single 'Bad Gyalz', which was released on August 3. "Big love to all mi rude gyal / Let me see you come through gyal," the lo-fi jungle track goes, uplifting women and non-binary people and showing that there is sisterhood in the electronic and dance music spaces.
"I think sisterhood in dance spaces is so important," Nia told NME. "It makes people feel more welcome in those spaces."
"It's the reason I'm still in it," Mehmi agreed. "The world treats us with a lack of care and a lack of thought and, within our circle, we've created an environment where we not only appreciate each other's talent but also take care of each other's mental health and each other's general capacity and hold a lot of space for each other in that regard."
"Our DJ-musician community and the people around us, they're so unbelievably amazing and supportive and as we are to them," Noor added. "But then again, on the flip side of that, we are just passing the same 20 pounds to each other."
Speaking about the support she's received from other women, Sim0ne said: "There's definitely enough space for all the men, that's proven. So there's enough space for women. So we should all be lifting each other up and going to the top together." The DJ added that, because a lot of electronic and dance music has been created by queer people of colour, "it's really important to include" those artists on line-ups and "highlight and shine upon" them.
In her NME cover story last year, Nia spoke about her experiences as a DJ, including the viral "horrible" moment when a security guard stopped her headline Boiler Room set by reaching over the decks and shutting off the music. "People can see that intimidation still happens, and when people complain about the issues within the dance community, it's not just them moaning," she explained. "Dance music has had kind of a problem with creating a safe space for women."
At the Bad Gyalz rave, though, Nia and the line-up she curated proved that didn't have to be the case. "We had a sick line-up full of baddies who absolutely killed it covering a range of genres and music," she told NME. "It was overall such a fun event and brought in a cool crowd."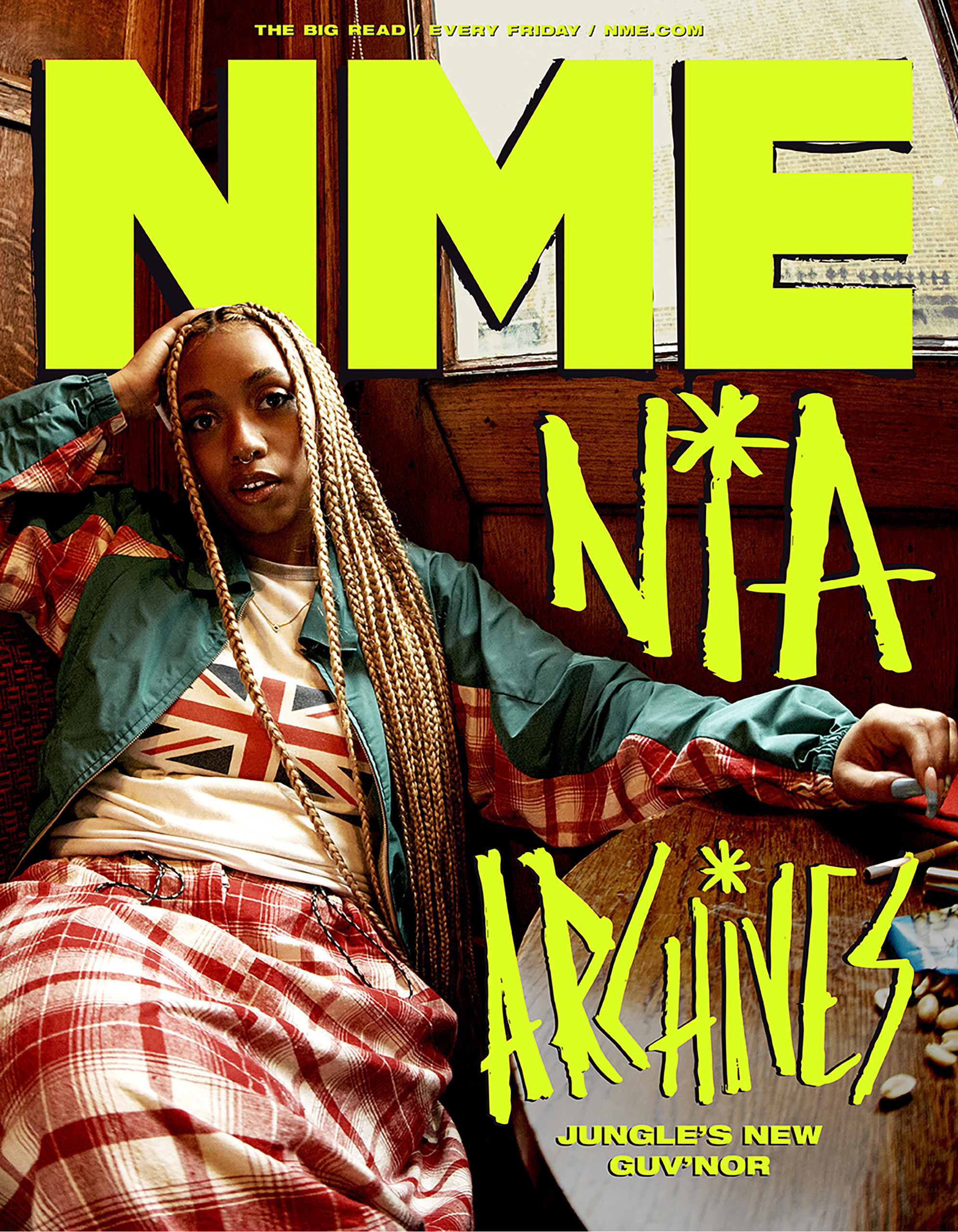 Last March, Nia dropped her third EP 'Sunrise Bang Ur Head Against Tha Wall'. In a four-star review, NME wrote, "… It's her songwriting that really takes the spotlight on this EP. Less reliant on beats to get you moving, its toned-down feel makes you sit with Nia's stories and see the person behind the tunes she spins.
"Being able to show so much humanity and versatility so early in her career is highly respectable and if this is a glimpse of the future, Nia Archives looks set to become an unstoppable generational talent."
In June, the NME Award winner released 'Off Wiv Ya Headz', a flip of A-Trak's legendary rendition of Yeah Yeah Yeahs' 'Heads Will Roll'. Meanwhile, she DJed at Glastonbury and Coachella this year.