Reality TV baddies Jax Taylor, New York, Omarosa, and more clash for $200K prize in first trailer for E!'s House Of Villains
On Thursday, E! Network unveiled the first preview for House Of Villains, a hot-tempered competition where 10 reality TV baddies clash for a $200K cash prize and the title of ultimate supervillain.
The Apprentice alum Omarosa Manigault Newman's conniving diva reputation proceeded her as two different co-stars put her on blast in the two-minute trailer.
Bad Girls Club alum Tanisha Thomas called the 49-year-old fired political aide to President Donald Trump 'a f***ing slithery, slimy snake' at the kitchen table.
Another clip showed Flava of Love runner-up Tiffany 'New York' Pollard telling Omarosa to 'get out of my face' on a couch before cursing in a confessional: 'You c***-sucking, c**-guzzling Republican c***!'
The group all lived together in the same mansion and received a visit from Dance Mom alum Abby Lee Miller, who commiserated with Love & Hip Hop: Miami alum Bobby Lytes after he confessed: 'I've been to jail! I've been a convicted felon.'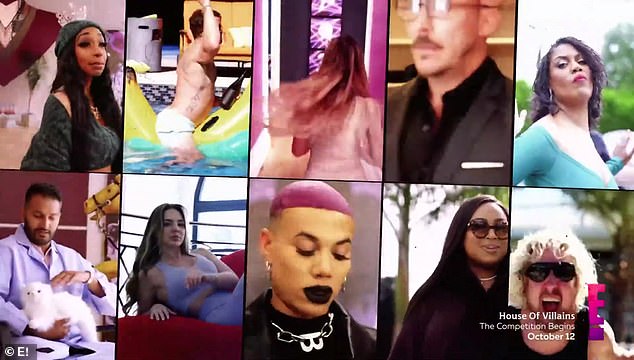 The flamboyant 32-year-old was reportedly arrested for disorderly conduct and failure to obey police in 2019 following a brawl at a Fort Lauderdale night club – according to The Shade Room.
Meanwhile, the 57-year-old choreographer served eight months in prison and a halfway house from 2017-2018 after being indicted by the Department of Justice on charges of financial and customs fraud – according to TMZ. 
At one point, Vanderpump Rules alum Jason 'Jax Taylor' Cauchi threatened Love is Blind alum Abhishek 'Shake' Chatterjee with the poolside taunt: 'If I see you out in Hollywood, I will gladly go back to jail for you.'
The 44-year-old former SUR bartender – who confessed 'I feel like my demons are just coming back' – has been arrested over six times but only served jail time twice in 2008 and 2010 on driving malfeasances, according to Star Magazine.
The House of Villains also received visits from The Hills alum Spencer Pratt, Real Housewives of New Jersey alum Danielle Staub, Below Deck alum Ben Robinson, and Tiger King alum Carole Baskin.
The group 'attempts to outsmart, out-manipulate, and out-scheme each other through a series of challenges' in the competition hosted by Emmy-nominated producer Joel McHale.
Catch the 75-minute premiere of House of Villains on October 12 on E!, and the show will also be simultaneously broadcast on Bravo, SyFy, and USA.
Jax clearly got along with fellow contestant – Survivor alum Jonny 'Fairplay' Dalton – as the pair are co-hosting a watch party for the second episode at The Greatest Bar in Boston, MA on October 19.