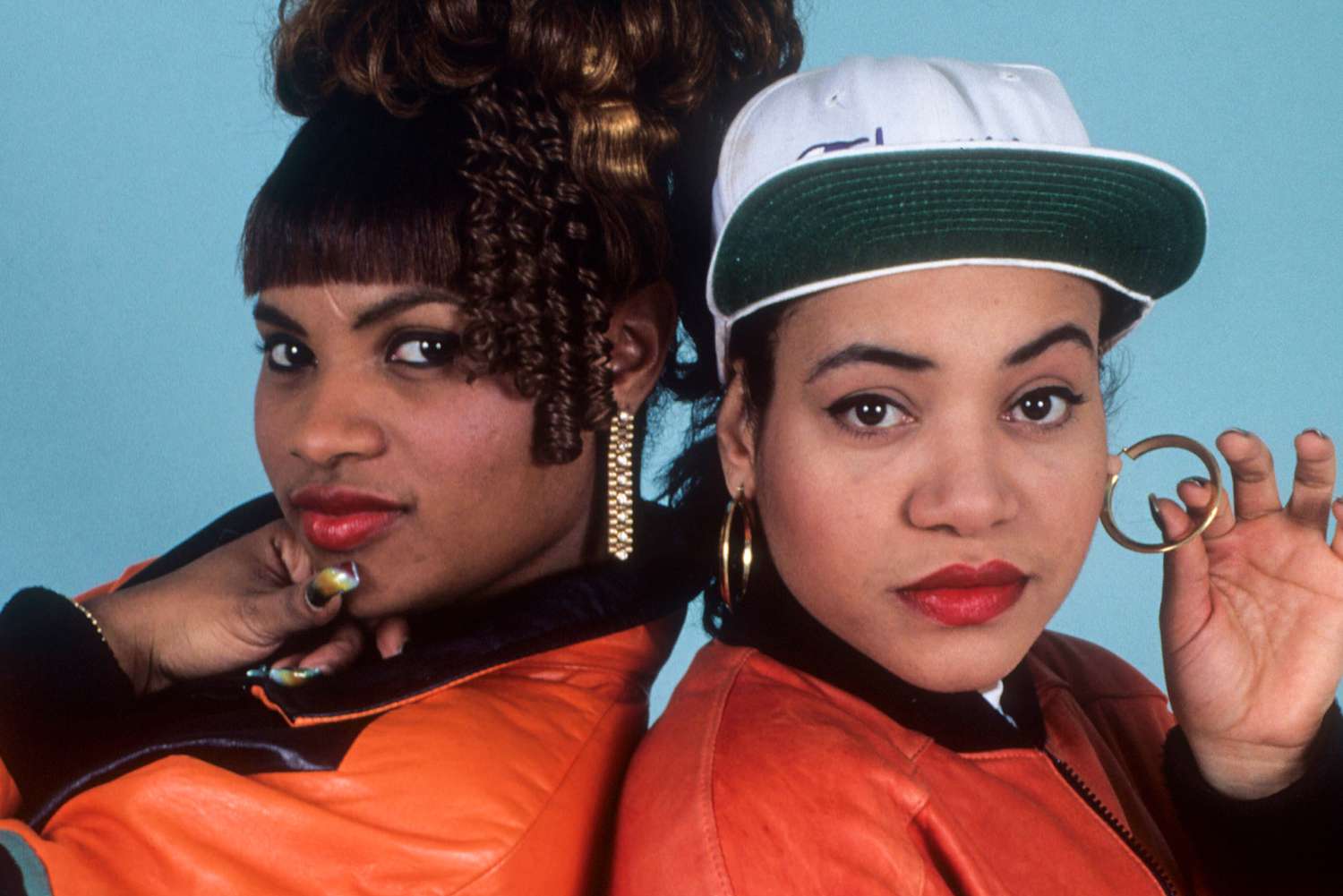 Salt-N-Pepa remember the first time they heard themselves on the radio. And how could they not? Sandra "Pepa" Denton hopped right out of the car.
The now-iconic hip-hop group was driving around Queens in Denton's beat-up Datsun when it happened, during the era when rap was only played for one hour every Saturday, they tell PEOPLE.
"I don't even think we was thinking about it at the moment," Cheryl "Salt" James says. "Maybe thinking they probably won't even play it. And then we heard it. Pep jumped out the car."
"Put that thing in park," Pepa adds. "I said, 'Ah! We on the radio!' I couldn't believe it. I jumped around. I jumped on top of the hood. There was a liquor store there, they was like, 'What's going on?' I was like, 'We on the radio!'"
Since then, the group — originally comprising of James, Denton and DJ Spinderella — has become an iconic pillar in hip-hop's story, from becoming the first women in the genre to score a platinum record with 1986's Hot, Cool and Vicious, as well as the first women (alongside Queen Latifah that same night) to win a rap Grammy in 1995. 
To celebrate hip-hop's 50th anniversary, and their recent inclusion in the Rock & Roll Hall of Fame's "Holla If Ya Hear Me" exhibit in honor of the anniversary (which is now open), Salt-N-Pepa reflected on their legacy, and where they are today — now rocking the mic without cords attached.
Salt-N-Pepa are one of the over 30 acts sharing their stories as part of PEOPLE's celebration of hip-hop's milestone 50th anniversary. For more on the anniversary, pick up the latest issue of PEOPLE, on newsstands Friday, or subscribe here.
When you think about 50 years of hip-hop, what does that mean for the both of you individually?

Pepa: I'm coming from a time honestly, it sticks in my head. It's the '80s, but throughout that, wondering would hip-hop last? Those were the interviews constantly, and it was early when they didn't understand this music, this genre, what's going on here. So to be here and then a lot of our friends that are still here, that have been through it and we came from an era, Salt-N-Pepa dancing with mics with cords, come on now.
Salt: For me being in this genre and so successful for so many years, it is still mind blown emoji, because we are booked and busy. And I knew Salt N Pepa were going to be a success, I just always believed that. But I never thought in my mind that we would be in our fifties and still traveling and performing probably just as much as we ever did. So that's a testament to the power of the culture and how much people embrace it and love it. When we do shows and we see '90s babies, '80s babies, millennials, Gen Z, knowing our songs, it's just like, "What are you guys doing here?" They're there with the grandma, the mom and the daughter. Three generations we get sometimes. So, it's a blessing.
And when you think about this milestone, how much does it take you back to, like you said, those days people questioned if it would be around?
Salt: That was the question. Like Pep said, it was so annoying. We were like, "We don't know. We just here doing our thing." We really didn't know. We wouldn't go, "Yes, hip-hop is going to last this long." We were like, "It's a new music, it's a liberating music for young people and we hope it lasts." But had no clue.
Pepa: Especially experiencing coming from the park jams. I'm coming from going to the park where they hooking up the turntables and join electricity from the light. And then you got your local MC that's good coming. And then that was coming from that era. It's amazing, and thinking back because you can't not think back to that moment of the park and going to the-
Salt: And the moment Sugar Hill Gang, "Rappers Delight" started playing on the radio. I lived in Brooklyn and I lived across the street from a park. Bushwick High School was across the street from me and behind it was a park, so I was too young to hang out in the park, but I would hear the music. And it was so infectious and I'm like, "I got to be there." So I would sneak to the park to Pepa's point, speaking of park jams. And my mom used to come and get me out the park and the DJ used to announce, "Cheryl, your mom, Barbara James is here." And this happened to me more than one time, but I loved the music and the culture and what I was experiencing. Like Pep said, the B-boy spin, it was just like, "What is this?" And I had to be around it,
When you go to an exhibit like "Holla If Ya Hear Me" and you see your faces, what is it like to be a part of that at this point in your lives?
Salt: I know. And amongst them, you got the Flavas, you got the Chuck Ds, you got the LLs, the Roxannés. And to be a part of an exhibit. You work for that, you work for that legacy. Salt-N-Pepa has been blessed. Yo, we killing this with this timeless music. And to the exhibit, like you said, it's what you want, what you hope for, and to achieve it and accomplish it. It's like wow. Who knew, we'd be the Aretha Franklin and Gladys Knight of hip-hop? So it's like the full circle, complete career that we've had. We've had the platinum, all the accolades, Lifetime Achievement award, Walk of Fame, Rock & Roll Hall of Fame is going to be next. And we also were activists for HIV and AIDS during our career. We've had longevity, we have timeless music. It's like a full circle moment celebrating this 50th anniversary. And I feel like we should really be proud of the legacy that we created because it was super impactful.
Pepa: Yeah. And just the impact across the board, not just in music. In television and in product placements and just in all kinds of different genre music that you can mix hip-hop with country, you can mix it with gospel, you can mix it.
Salt: It's like, you didn't know it was going to be a culture. I liked when the word "culture" came around because it really encapsulated what it is because it goes into, like Pep said, all of these different areas of advertising, of clothing, of fashion. We bought fun, fashion and femininity to hip-hop and it's just become ingrained in all parts of entertainment.
Is there a favorite look that you both have from over the years, that you hold the closest today?
Salt: The iconic "Push It" look hands down for me, the history behind it. Play designed the jackets, Dapper Dan constructed the jackets. Mary Bird, a lady that made Kente hats in Harlem, right next door to the Apollo. We threw that hat on there doing our little sexy spandex and favor boots, honey. Cheap favor boots. That was back when we was putting our own stuff together. Fat rope chain, door knocker earrings. Amazing.
Pepa: Well, I had actually two, I have the asymmetrical, the head to the side. But I have to give it to our "Shake Your Thing" song and video with the cut-off jeans because it went on to be this success, not ours, but just the thought of, "Well that's probably, maybe they got it from us." But I'm just saying, starting that trend of us just sitting there, cutting up some jeans, putting on some spandex, having a whole video look that we put together ourselves.
Salt: It was fun back then because you were just making it up as you went along. That's how you create iconic looks. They come from street, with the influence you have from Brooklyn, Queens or wherever you're from, to make something that lasts throughout time. Now, we have stylists, we have hair and makeup thank God, we're happy about that.
'Hot, Cool and Vicious' was the first platinum record by a woman in hip-hop. Could you feel you were making that history with it? Or is that something that didn't come till later on?
Salt: I think "Push It" was the moment actually, that video, that song, the way it even came about, it was actually the B-side to "Tramp." "Tramp" was the single that we were pushing and a DJ flipped it over and just started playing it. And because the song was so infectious without any payola, without any pushing the record, it just took off on its own. And to this day, I feel like it's the most known Salt-N-Pepa song. You might not know who Salt-N-Pepa are, but if you say "Push It," they going to know the song, and it still rocks to this day.
So funny story, I love this story. So they were trying to mate sharks by using music therapy. They tried all these different songs and they started playing "Push it," and the Sharks started mating. Now tell me that. We were talking about dancing though, when we made "Push It," we were not thinking about anything else. But apparently the sharks were.
Do you feel proud when you hear the newer women in the game on the radio for the first time?

Salt: For me it was the ladies that came right after us, Like MC Lyte. There was such a variety, right. Like Salt-N-Pepa bought fun, fashion and femininity, and Latifah was the queen and Missy was the innovator. Lauryn Hill was the consciousness. Lil Kim bought the freedom of being sexy, it was just such a great variety. So to see those ladies pay homage to us was for me just amazing to watch.
Pepa: Right. Yes. That is a nice feeling because to just see that you … not birth but went hard for it. Like women, y'all went for it. Took it to succeed, what hip-hop is made of and it's just to see women, like she said, to acknowledge us and how we inspire them, or they say we are the soundtrack to their lives. I'm like, "Yo, thank you." Because I know this is some other stuff to inspire someone to do their outfit or cut their hair like you.
And what do you hope when you look back in another 50, or even when listeners look back at the imprint that Salt-N-Pepa has had in hip-hop, what do you hope that contribution was?
Salt: Inspiration. To believe in yourself, to hope for your dreams, to work hard and to represent all things are possible. If you really, really work hard for it and you believe in what you're doing.
Pepa: Even with the adversity in your way, we understand this, good and bad. Let's make no mistake and just stay focused. Just focus on what you want and your goal.
Salt: Focus on business. And you know what for me? Don't let this industry consume you. A lot of artists, as we know, we can go from Elvis Presley to on and on and on, there's a dark side of the industry that can also swallow you up. And so remaining connected to your identity and who you are as a person and not getting so caught up in the industry and the things that come with the industry. Before I started, I always say it was a few things that I wasn't going to happen to me that I saw happen to a lot of artists. I'm like, "I'm not going to have any tax issues, I'm not going to be broke and I'm not going to be a drug addict." So I think if you go in with those intentions in mind to not get lost in the music industry, in the entertainment business, period.
Pepa: Basically you have to not only be creative, you have to become a lawyer, an accountant, all the above as well. You have to cross your T's and dot your I's. Sadly but yes, you entrust people to do their job and so you don't have to do it. You can just create … Sorry, sometimes some people may be blessed and lucky like that, some are not. So it's good to stay on top of your business as well as being creative.