SPINNING THE TOP SIDER: Sperry has tapped Chris Echevarria, founder and creative director of the Brooklyn-based brand Blackstock and Weber, to reinvent some of its signature styles.
Echevarria has been named creative director for Sperry by Chris Echevarria, a limited-edition capsule collection that will focus on Sperry's history as the originator of the classic boat shoe. The collection will be made at the family-owned Rancourt factory in Maine, one of the few remaining shoe factories in the U.S. Echevarria will work alongside the Sperry team to reimagine the company's best-known styles.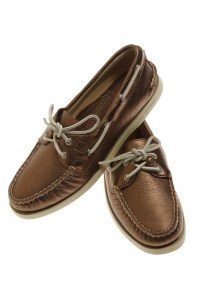 The first drop from Sperry by Chris Echevarria is expected to release globally in the first quarter of next year. Because the line is still in development, there are no details yet on the styles, the prices or the distribution plan.
Elizabeth Drori, chief merchandising officer of Sperry, said Echevarria's "distinct design perspective and focus on impeccable quality aligns seamlessly with Sperry's legacy of producing timeless, high-quality footwear. These shoes not only pay homage to Sperry's heritage but also push the boundaries of design."
"Partnering with Sperry is an incredible opportunity to reimagine icons that are deeply rooted in the history of American style," Echevarria added. "As a longtime fan of the Top-Sider, I'm excited and honored to receive such a prestigious opportunity."
The footwear brand has collaborated with a number of labels and companies over the past several years, including the women's fashion and lifestyle website Who What Wear, Malbon Golf, Beams Plus, Brooks Brothers and Pleasures. It also has an ongoing collaboration with Rowing Blazers. — JEAN E. PALMIERI
A NEW BLACK SHEEP: At 19 years old, four months after revealing her engagement to Prince Charles, Lady Diana Spencer wore a distinctive red black sheep sweater by the brand Warm & Wonderful. Truly a sartorial moment, the knit is firmly at the top of the list of Princess Diana's many style moments. Once thought to be lost, the sweater is soon to be auctioned at Sotheby's inaugural Fashion Icons sale and American accessories brand LeSportsac is marking the moment, partnering with Warm & Wonderful on a capsule collection of pieces, each a nod the iconic red knit with the black sheep.
Part of the New York-based brand's Arc En Ciel range — an in-house collection that is created in partnership with Rowing Blazers' Jack Carlson — the limited-edition collection, priced from $145 to $325, features a range of tongue-in-cheek yet practical bags and accessories, each showcasing the signature black sheep design.
"The Warm & Wonderful project was a natural fit as a collaboration within our Arc En Ciel line. The reinterpretations were a marriage between Jack and our creative team here at our SoHo studio — and really nailed the spirit of subtle royal rebellion with this capsule," said LeSportsac chief operating officer Thomas Becker.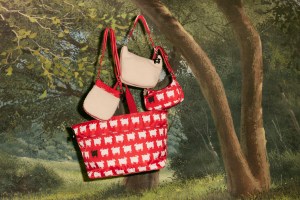 "When I joined LeSportsac, working with Jack and his team was at the top of my list — since Jack's understanding of our brand and heritage was a perfect marriage with what he does with his brands. I thought about how we structured Gamme Bleu for Thom Browne when I ran his business — and how that partnership and approach was different, but also powerful," the executive said of plans for the Arc En Ciel project.
Collaborations are core to the LeSportsac DNA, being an early adopter of the brand partnership model with a mix of marquee brands including Stella McCartney, Jonathan Adler, Diane von Furstenberg, and their famed collaboration with Gwen Stefani "that gave birth to L.A.M.B.," Becker said. He noted, though, that times have changed for the way collaborations work. "Today is a more crowded time, and the proliferation of collaborations in the market has created a lot of noise."
He continued, "The Gen Z consumer that has been marketed to their entire lives is adept at discerning fabricated truths. Our approach, which you can see with Arc En Ciel, is to give more space and time for creativity and partnership. We're more interested in creative partnerships with brands with aligned interests and values than just putting another IP on our product."
Over the next two seasons Becker said to expect expect tight, elevated capsules "marrying Jack's twisted prep with everyday street chic style. We have a lot of exciting things on the horizon, as we move towards our 50th anniversary next year."
But before that, the brand will make a mark at New York Fashion Week, "debuting a new multiseason partnership on the runway — so expect continued unexpected, but understandable creativity from us as we move towards our next 50 years," he said.  — THOMAS WALLER
FASHION AWARDS NOMINEES: Grace Wales Bonner, Martine Rose, Maximilian Davis and Kim Jones are among the nominees for the 2023 Fashion Awards taking place on Dec. 4 at Royal Albert Hall in London.
The awards will have a definite British accent this season, with the majority of nominees born or based here, or drawn from the London Fashion Week calendar. They represent emerging and established talent, and most of them run independent labels.
In the past, many of these British-based designers had to compete with international names working for the big European luxury groups.
Categories include Model of the Year, British Menswear Designer, British Womenswear Designer, Designer of the Year, BFC Foundation Award, Isabella Blow Award for Fashion Creator, Outstanding Achievement Award and Leader of Change.
There are two new categories, New Establishment Menswear and the New Establishment Womenswear, which are meant to highlight up-and-coming talent.
"What's so special about this year's nominees is that they are a true representation of British creative energy and its impact on the fashion industry globally," said Caroline Rush, chief executive officer of the BFC.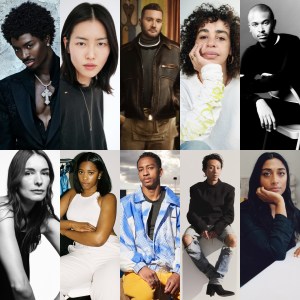 "We invited key press and buyers with an in-depth industry knowledge to define the shortlist of nominees and the list of names selected illustrates the wealth and breadth of design talent coming out of the U.K. right now," she added.
Nominees for Designer of the Year and the BFC Foundation Award will be announced in November. 
Recipients of the Isabella Blow Award for Fashion Creator, Outstanding Achievement Award, Leader of Change and several Special Recognition Awards will be announced in the next few months.
A committee of 1,000 industry members will vote for the nominees in the next weeks. For the first time the Model of the Year award will be decided by members of the public with an open vote. — HIKMAT MOHAMMED
ALL FOR PETS: Iris Ventures, which has invested in businesses including Allyson Felix's Saysh footwear brand and the Italian arts and crafts platform Artemest, is turning its attention to animal health and well-being with an investment into Mammaly, a leading pet supplement brand.
Iris, which specializes in purpose-led, consumer-centric brands and tech-based solutions, has co-led a 14-million-euro growth round alongside Five Seasons Ventures, a food tech fund, with participation from pet food and consumer specialist Attila Balogh.
An announcement is expected Wednesday.
Mammaly manufactures holistic, nutritional supplements for dogs, and offers a range of more than 20 products that aim to tackle day-to-day pet health issues including digestion, joint-care, mouth hygiene, skin care and relaxation.
The company said it will use the funds to further develop the brand and product, solidify its direct-to-consumer business, and "conquer the retail channel" as the leading omnichannel player in the European market.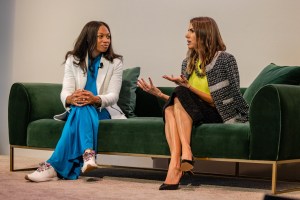 Montse Suarez, founder and managing partner of Iris Ventures, said Iris invested because "we are seeing preventative health at the forefront of consumers' mindset and a shift in the market with respect to attitudes towards pet ownership and pet care."
She described Mammaly, which launched less than three years ago, as a first mover in the pet supplements space "combining a modern look and feel, an innovative product portfolio and a relevant content strategy."
Stanislav Nazarenus, who cofounded Mammaly with Alexander Thelen, argued that pets are often fed "mass-market one-size-fits-all products" despite the fact that they have individual health and nutritional needs.
He said that Mammaly works with "in-house vets, nutrition experts and leading veterinarians" to create tasty, chewable supplements packed with functional ingredients.
Thelen added: "Unlike in North America, where supplements for dogs are mainstream, in Europe this segment is completely underdeveloped. By launching Mammaly, we have taken on the challenge of building the pet supplement market across the continent."
Over the past two years Iris Ventures has invested in community-based lifestyle businesses such as Saysh and Artemest, a curated platform that sells homeware made by Italian artisans.
In April, Iris teamed with soccer stars Lionel Messi and Antoine Griezmann on a multimillion-euro investment in Vicio, a top food-delivery start-up based in Spain that sells premium burgers online, and through its own physical locations. — SAMANTHA CONTI
NEW IN TORONTO: Ferragamo has swung open the doors of its newest boutique at 131 Bloor Street West in Toronto.
The company's 41st boutique in North America and the fourth in Canada will showcase Ferragamo's seasonal collections of women's and men's ready-to-wear, footwear, leather goods, silk products, eyewear, watches and fragrances. There will also be some products exclusive to Bloor Street.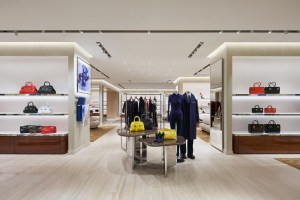 The space reflects a transitional design consisting of special materials such as travertine, walnut, precious wallpapers, bouclé fabrics and a selection of elevated bronze, espresso and ivory silk hand tufted rugs. It is a modern update to Ferragamo's existing retail concepts, with hints of creative director Maximilian Davis' aesthetic changes.
The street facade accents the natural light that comes inside the store from the large windows. The beige color of the storefront contrasts with the black metal frames together with the illuminated brand logos.
Spread over 5,628 square feet, the store has opened with women's and men's pieces from Davis' fall 2023 collection, titled "Cinema," drawing inspiration from midcentury Hollywood's timeless glamour. In addition, a selection of Canadian exclusives will be available at the Bloor Street location such as gold embossed mirror leather sandals, Hug bags in interesting colorways and the Frame bags with structural resin handles.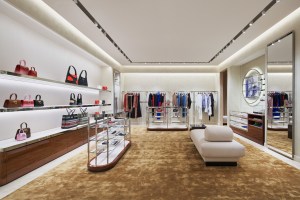 "It's been a goal of ours to bring a new audience into Ferragamo under the creative direction of Maximilian Davis, and Toronto is an important market to help us to do," said Daniella Vitale, chief executive officer of Ferragamo Americas. "Given its prestigious reputation, Bloor Street made perfect sense for our fourth Canadian store — it has transformed into one of the world's top destinations for luxury retailers and Maximilian's collections will resonate with Toronto's discerning luxury clients." — LISA LOCKWOOD
IN THE CARDS: P448 is embarking on a new collaboration.
The Italian streetwear brand is teaming up with popular card game Booray for a capsule collection. The size-inclusive collection offers apparel, like T-shirts, hoodies and sweatshirts, as well as sneakers. 
Booray is described as a "high stakes trick-taking card game similar to spades with a twist of poker" that's popular among NBA athletes. 
"Booray has been a passion borderline obsession of mine for years with too many colorful stories to count about playing it with fellow teammates," said Booray brand ambassador and former NBA player Mario Chalmers. "The craziest Booray gambling experience I had was on a team plane with LeBron James, which didn't end well for me. On the last hand, LeBron was designated as the ghost, which resulted in me losing out from an almost-winning scenario — and out about $50,000, which was a crazy moment for everyone on the plane. But, that experience never derailed my love for this card game — in fact it only intensified my bond to Booray."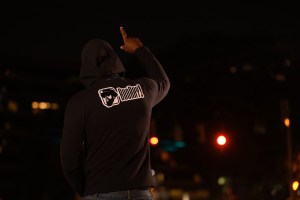 P448's capsule collection takes inspiration from the card game, with the apparel featuring the Booray trademark card suits of spades and hearts. The collection's sneakers offer 12 styles in low and high-top silhouettes in NBA team colors and neutral colorways. 
"It has been my life mission for the past three years to bring Booray out from the shadows of its underground persona and onto a global platform for all to enjoy," said Kahari Nash, the chief executive officer of KSN Gaming, which is teaming with P448 on the collection. "The opportunity to creatively showcase this beloved game with a popular streetwear brand like P448 gives KSN Gaming a winning hand to help achieve that goal." 
The P448 x Booray collection is available on P448's website. The collection ranges in price from $129 to $298. — LAYLA ILCHI
ON THE CORNER: Lights, camera, Versace!
The luxury Italian brand has taken over The Corner Shop at Selfridges with a black-and-white diamond wallpaper inspired by the brand's store on Via Gesù 12 in Milan.
The black gown from Versace's Los Angeles show that Gigi Hadid wore, which was subsequently worn by Lady Gaga at the 2023 Academy Awards, sits in the front window display of the Corner Shop with photography light boxes facing the dress.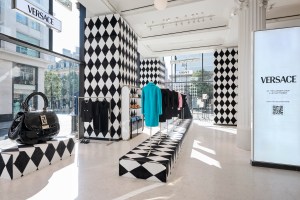 The Corner Shop will hold pieces from Versace's fall 2023 show including handbags and accessories from the Greca Goddess line and soft leather tailoring taken from the Versace Icons collection, the campaign for which features Anne Hathaway and singer Chris Lee.
A Versace Icons photo booth has been installed in the space for visitors to use.
The brand's Greca Goddess top handle bag is center stage with a larger-than-life sculpture in glossy leather.
During the two weeks that the space will be open, visitors will receive complimentary white and black germini flower stems wrapped in paper featuring the House's Barocco motif; a poster of Hadid in the fall 2023 campaigns, and chocolate coins embossed with a golden Medusa.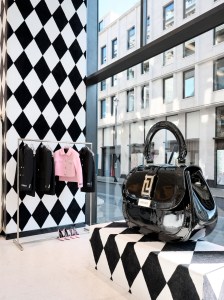 In July, Barbie took over the department store's nook to celebrate the release of Greta Gerwig's "Barbie" film starring Margot Robbie and Ryan Gosling. The luxury department store's windows featured official movie costumes, meanwhile upstairs there was a Barbie pop-up in The Toy Store, and next door at the Selfridges cinema, the film was playing back-to-back. — H.M.
YURMAN'S NEW FACE: David Yurman is expanding its roster of celebrity talent for its latest campaign.
The American jewelry brand has tapped Sofia Richie Grainge to be the face of its new Sculpted Cable bracelet collection campaign. Richie Grainge is also the jeweler's newest global ambassador.
"Sofia is a style icon with endless charm, and we're delighted to collaborate with her," said Evan Yurman, president of David Yurman. "She is truly the perfect ambassador to launch these new Sculpted Cable designs, which are the newest evolution of our signature house motif: Cable." 
David Yurman's Sculpted Cable collection is described as a subtler version of the jeweler's original helix design. Richie Grainge appears in the campaign modeling different versions of the bracelet in 18-karat yellow, rose and white gold and with hand-set pavé diamonds. One version is designed with 170 hand-set diamonds in varying sizes, totaling 1.7 carats.  
The campaign was photographed at the Kellogg Doolittle House in Joshua Tree, California, by Glen Luchford. It was styled by Elin Svahn and creative directed by Evan Yurman.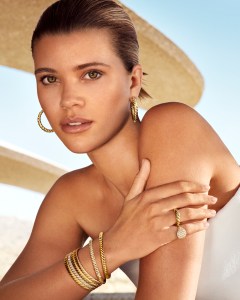 "Being on set with David Yurman has been such a unique experience," Richie Grainge said. "We're playing with such beautiful pieces of jewelry, and in such a beautiful location. It's an experience I'll never forget. David Yurman embodies everything that I'm trying to express with my aesthetic — with how I dress, and how I want to feel, which for me is very timeless and elegant. This campaign is about paving your own way: really being confident, taking direction and being the leader of your own pack." 
Richie Grainge joins a long list of other David Yurman global ambassadors that also includes Scarlett Johansson, Henry Golding, Shawn Mendes, Taylor Hill, Camille Rowe and others.
While Richie Grainge has been in the public eye for a few years now, she caused waves earlier this year for her viral wedding to Elliot Grainge in April in the south of France. Since her wedding, Richie Grainge has embarked on many partnerships across the fashion and beauty worlds, working with brands like K18 and Jo Malone. Richie Grainge has also held the role of beauty director at Nudestix since October. — L.I.
ANNABEL'S AMAZON CLUB: Annabel's, the private members club in London, has unveiled its annual facade for World Amazon Day.
The installation will be seen throughout the month of September outside the club's famous location on Berkeley Square replicating plants, flowers and birds of the Amazon.
"This year, we celebrate four years of Annabel's for the Amazon and the Caring Family Foundation's work dedicated to the Amazon Rainforest. Though we have made good progress, I have seen first hand that there is much work that remains to be done. The Annabel's facade this year draws attention to our beautiful rainforest being engulfed by flames to depict the reality of what the Amazon is facing, it serves as a stark message that it is in great danger," Patricia Caring, co-executive chairwoman of The Birley Clubs and cofounder of The Caring Family Foundation, told WWD.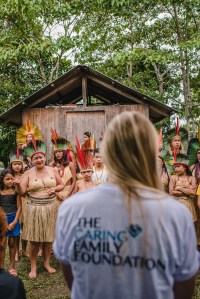 "Our mission this year is to continue planting trees, but our focus is to support the Indigenous communities who carry out the reforestation programs," she added, reiterating that the need of the Indigenous people comes first.
The Caring Family Foundation will be working with the Brazilian foundation SOS Amazônia, as well as expanding their efforts to two more Indigenous and traditional communities.
To date the foundation has planted 1.75 million trees and is on track to hit 2 million seedlings by March 2024.
The members club will host its annual For the Amazon event on Sept. 21 with a special performance by artist Seal and a set by Copenhagen-based house group, WhoMadeWho.
A special talk conducted by Sônia Guajajara and Txai Suruí, members of the Indigenous community, will take place on Sept. 25.
"It gives me so much pride to be doing this work for my country Brazil, but even more so to be able to do this work for us all, for this generation and those that come after us," Caring said. — H.M.