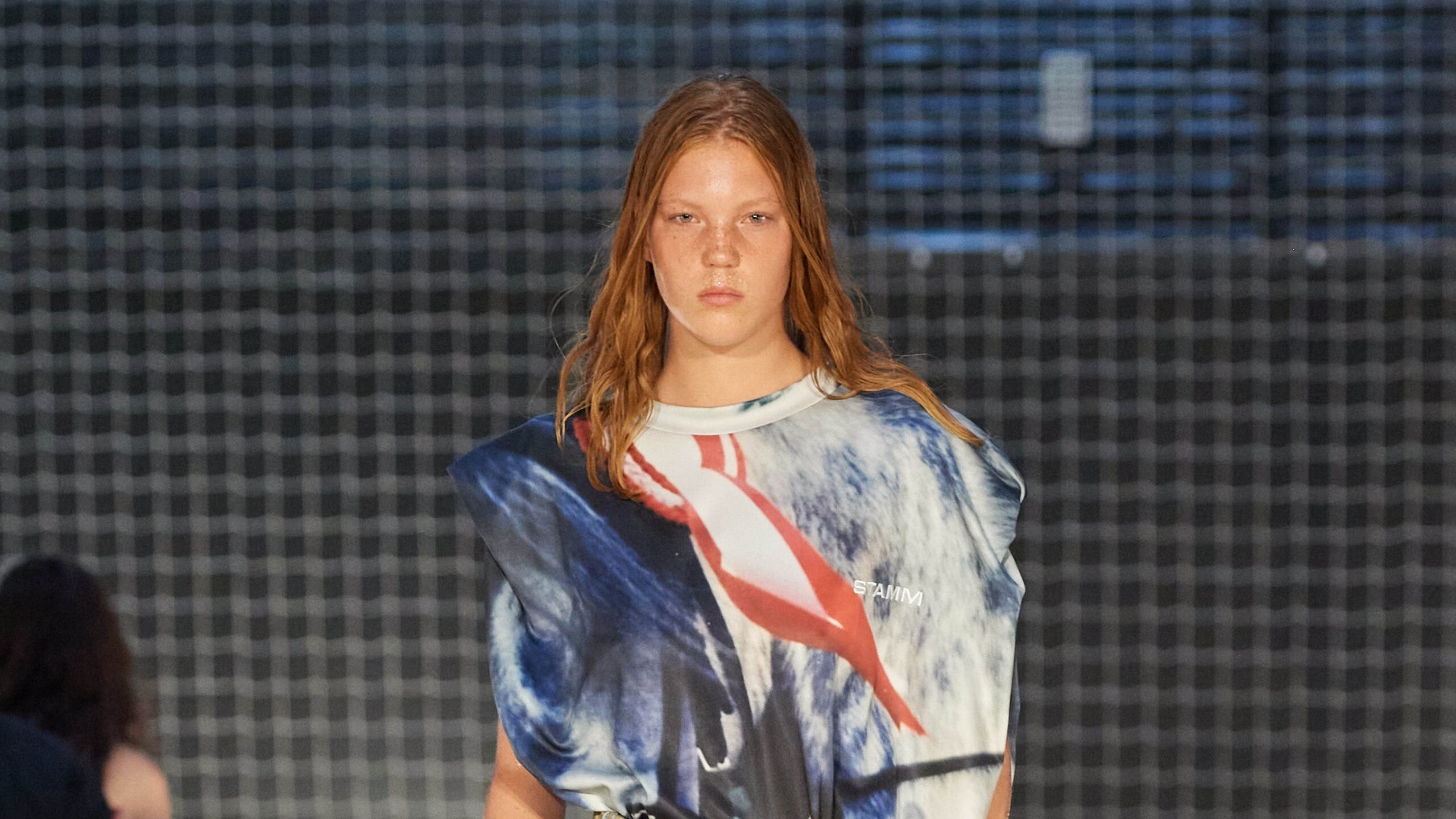 "Say Yes to Everything," isn't just a slogan on a Stamm T-shirt, it describes the leap of faith designer Elisabet Stamm took with her spring 2024 collection. "I'm in so fucking deep, I might as well go all the way," she said with a laugh after an exhilarating, heart-led show that was anything but a joke.
Stamm was raised in Jutland, where she played with friends and animals and landscaped with her dreams, finding a sense of home in hip-hop music. The designer catalogued some of those fieldings on the brand Instagram account. "We had four dogs all named Chili," read one post. Another started, "I had two imaginary friends, Janus and Yanting. They were courageous and fun, they made me do all sorts of things," then continued, "later on I felt more connected to Tupac, Aaliyah, Snoop Dogg, and Eminem on MTV than the two kids who lived next door." Following those collection teasers there was a photo of Burna Boy performing in Stamm four days ago. A dream come true, and all more impressive considering that the brand was founded last year.
Stamm was a winner of the fall 2023 Zalando Sustainability Award. This season was her first show independent of a program and she wanted to create an authentic experience that reflected the values of what one Instagrammer called the "Stammily." And what a gathering it is. Looking around the space one saw a new generation, and also got a glimpse of a new Scandinavia. Speaking after performing live in a printed puffer jacket and pants at the show, the popular rapper Silvana Imam described it thus: "It's all mixed together as we're third culture kids. I mean, I'm Arabic and Lithuanian, and I live in Sweden. In 10 years…it's going to be a mixed world; it already is so we just need to relax."
There was nothing uptight about the clothes in the collection. Shown in a wonderful mix of colors and made of material woven in India and man-made textiles, they were pieces to chill out in. The volumes were generous: JNCO-sized pants and huge jackets. Your knee-jerk response might start with a B (as in Balenciaga), but these clothes come from another place.
If they look truly rave- or Roskilde-ready, it's because they are genuinely connected to music and speak to the hip-hop community. The tunes that were played at the show were arranged specifically for the event by the Paris-based producer Prince. It was fascinating to see not only silhouettes and shapes once associated with the '90s electronic music adapted for a new generation, but also how the spirit of freedom and community carries on as well. Stamm builds some of those values into her clothes with a seamless fluidity; she explains that the way the sleeves are set liberates the arms; similarly she says that there are no fixed waistlines in the lineup, everything is adjustable.
That the designer and her team materialize ideas through construction is reflective of the roundabout way she came to fashion. Though it's something she'd always fancied, she shied away from its superficial aspects and went on to study art history. Still the flame burned bright. Although Stamm's work speaks to many different kinds of people, her practice is rooted in her surroundings and her family and friends. The designer's son plays football, hence the soccer references; among the prints in the collection is a photo of her father's truck and one of Stamm herself on a horse. Most of the cast, she said, are regularly coming in and out of her studio. This combination of hyper-local and universal is a key aspect of modern communication, thanks in part to visual storytelling. "If I do fashion [instead of art]," said Stamm on a call, "I collaborate with people. Fashion is universal and in the streets, what I like about [it] is a moving image." One imagines that for Stamm that image isn't one that is consumed with the eyes, but equates to a figure moving—or dancing—through space.