Capcom's first major crossover content in Street Fighter 6 is ridiculously priced, but fans are at the very least seeing the funny side.
Street Fighter 6's Battle Hub and user-created avatar characters were one of the elements of the game that ended up most highly praised in our 5/5 review of the game. It's a brilliant way to bring players together – but it's also a great way for Capcom to cynically rake in some cash, as it turns out.
While there's plenty of gear available in the game through in-game currency, in the weeks since release Capcom has offered a couple of premium content drops of gear and cosmetics players can equip to their custom-made characters. New this week is SF6's first big cross-over – a tie-up with Teenage Mutant Ninja Turtles.
It's a perfect fit, what with Street Fighter and TMNT being 90s icons about cool characters fighting evil baddies – but if you want in, it's expensive.
While this content is sold with 'Fighter Coins', which can be earned in-game and on SF6's flawed battle pass, in real terms to afford coin purchases with any regularity you'll need to whip out your credit card and buy some extra coins. If you wanted to buy all of the TMNT content, it'll set you back well over $100. A single costume that transforms your user-created character into one of the TMNT quartet visually will require forking out the better part of $15.
Let's be real: they're taking the piss a bit. Even if Nickelodeon needs its pound of flesh for the TMNT license, this feels absurd. It also feels exceptionally silly, given just a few weeks ago I was praising Capcom's initial DLC setup and roll-out of Rashid as excellent. Capcom has a good thing going here with SF6 – it needs to not let bad pricing drag it down.
If one thing can be relied on, however, it's Street Fighter fans' ingenuity and ability to get around having to pay out money. This is a community that grew up on battered and bashed arcade cabinets with busted sticks, of course. I've seen people at tournaments playing on arcade sticks made out of cereal boxes. And so, some fans are… making their own turtles.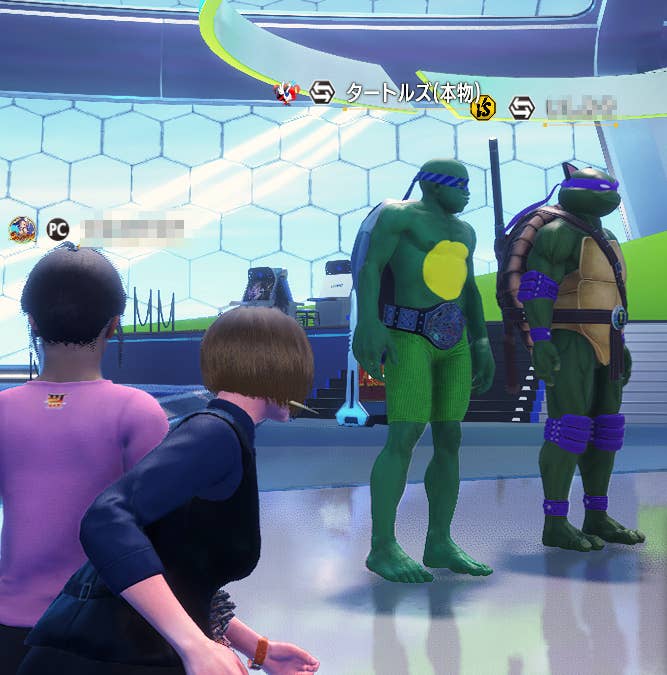 Behold this heroic user, spotted in the Battle Hub and posted to reddit, standing shoulder-to-shoulder with one of the official TMNT costumes.
Unable or unwilling to fork out Capcom's ridiculous king's ransom for the duds of Leonardo, Raphael, Donatello, or Michelangelo, they headed into character creation to make their own. Body paint, tight-fitting shorts, a wrestling belt, a necktie and a backpack all combine to create… the poverty turtle. Standing next to the real deal, it's hard to tell the difference. Or at least, that's what I'm telling myself.
And so, even as Capcom screws us with this pricing… We have another demonstration here of why SF6's Battle hub is so brilliant, and why it adds so much to the game. This community is brilliant. Because of that, it deserves not to be nickel-and-dimed – but at least if it is, it takes it on the chin with humor.