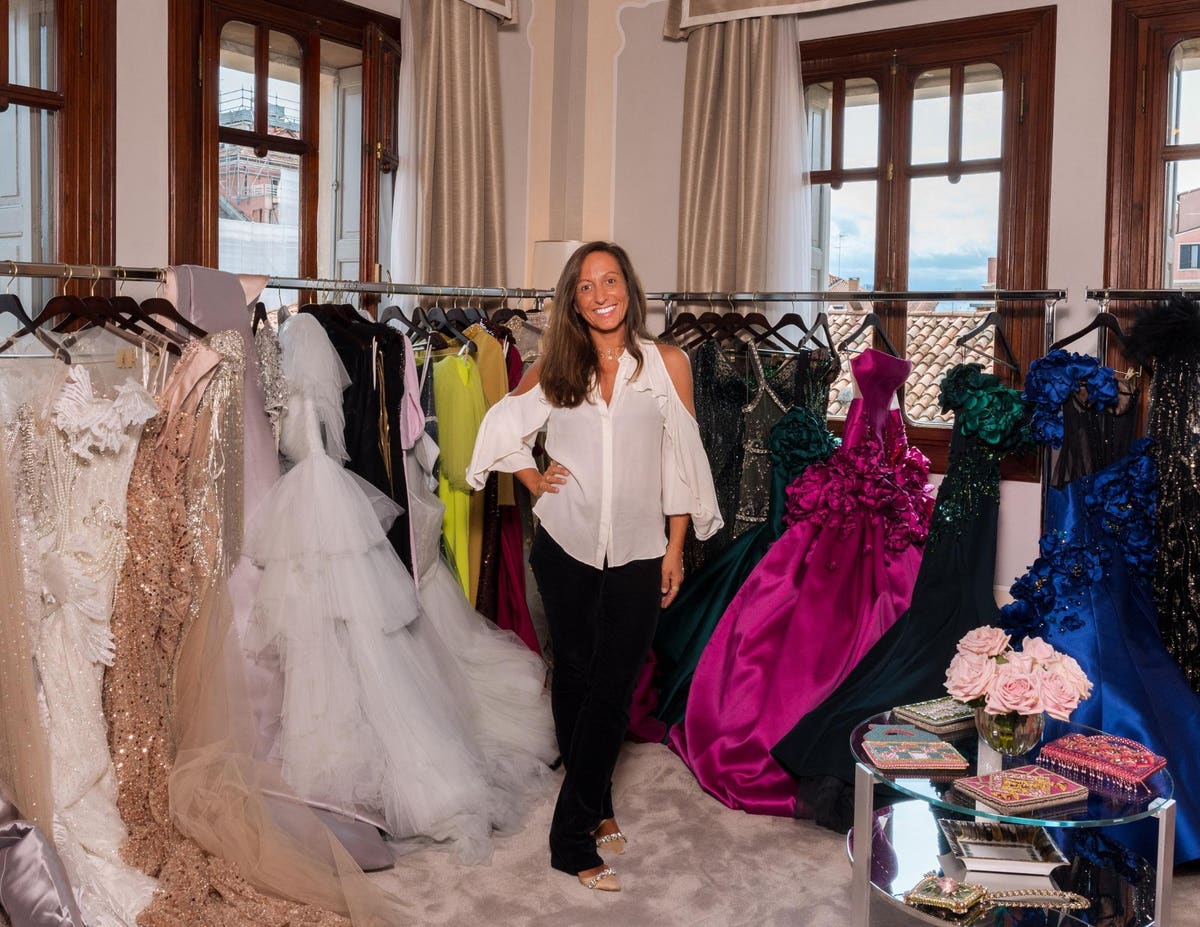 Fashion consultant Giorgia Viola's showroom at the newly opened Nolinski Venezia Hotel, features some of fashion's top luxury brands from Lebanon to Australia, Lettonia to Malaysia, and passing by Vietnam, says Viola. These luxury couture collections from around the world, flowing in tulle and sequins have been worn by top celebrities during this year's Venice Film Festival.
The relation of fashion and film is a strong one. "It was here in Venice that the Lumière brothers shot, immortalizing from a vaporetto on the Grand Canal, the first moving picture in the history of cinema," says Viola. But the relation between fashion and film can be extended to hospitality as well. Film festivals need showrooms of gowns for women to wear for events, and hotels are one of the few places that can offer stylish ambiences for such showrooms- and for editorial shoots to take place. It's a fully functioning and symbiotic relationship that happens between fashion, film, and hospitality.
This summer Italy has seen partnerships between fashion and luxury hotels. Luxury fashion brand Camilla partnered with Leading Hotels of the World for one of her 2023 collections, Dolce&Gabbana took over the beach club at the San Domenico Palace Hotel in Taormina, Sicily, Dior branding was all over the pool at the Grand Hotel Timeo Hotel, also in Taormina, Sicily, and Valentino decked out the beach club at the Palazzo Avino Hotel along the Amalfi Coast.
There's another fashion showroom in the city at the Sina Centurion Palace Hotel, where brands from Marco Melia eye wear to Jenny Monteiro are hosting their products for celebrities to wear during the festival. And, Armani Beauty has its makeup lounge in Hotel Excelsior on the island of Lido.
It was a no brainer for Viola to host her showroom at the Evok Group's first hotel outside of France, the Nolinski Venezia, a brand she has known for a while. "The beauty and attention to detail that Evok has already managed to create in each of its hotels in Paris has once again been able to be managed and recreated in Venice," she says. "It's refined art-de-vivre tinged with carnivalesque fantasy that perfectly matches the Nolinski spirit. It also helps that being in Italy and in France (where she is based) is the right balance that makes me feel at home," she says.
"We are thrilled to partner with the talented Giorgia Viola, who has worked with many celebrities, and be part of the iconic Venice Film Festival during our first year of opening," says Emmanuel Sauvage, General Manager and Co-Founder of the Evok Collection.
"Luxury is the delicate art of made-to-measure creation without a context," says Viola. This is why she and the Nolinski Venezia chose to partner. "Like treasuries of works of art, prestigious hotels and establishments can also be places of unexpected innovation. Creating a luxury hotel's experience comes back to the same principle as making a made-to-measure couture dress: always being attentive to each nuance, color shading, choice of fabrics, to the tiniest detail. Everything must always be in perfect symbiosis and the result reveals with sincerity and passion the sources of inspiration, the artistic approach behind the finest creations. To me, Evok and Nolinski Venezia share these same values and as I heard once from Emmanuel Sauvage, the founder of Evok, 'Offering pleasure, creating emotions, participating in creating beautiful memories is what we do,' and Venice could not be more in tune with our values."
The Showroom
Viola has a history working with top brands from Ferragamo, to Eric Bompard, The Atelier by Professor Jimmy Choo, and niche brands from Gemy Maalouf, Rami Kadi, Vivienna Lorikeet, and Yanina Couture. The hotel is a former palace restored by Le Coadic and Scotto, and its historic mood is reflected in the showroom, which is positioned in a suite overlooking the San Marco Tower, from August 31st until September 10th.
"We have gowns by Lebanese designer Gemy Maalouf, who merges elements of heritage and tradition with cutting-edge techniques and innovation," says Viola. "Melbourne based label, Vivienna Lorikeet celebrates femininity through confident colors, innovative prints, and spectacular fabrics," she says.
"Creativity is a large part of the Evok brand's DNA, and we felt a close synergy with Giorgia who has a refined eye for design and fashion. We are honored to showcase Giorgia's work with a like-minded audience of fashion leaders, artists and aesthetes, who similarly appreciate luxury and style, and this partnership adds a layer of sophistication that harmoniously complements our identity. We are truly excited to be a destination that values and supports artistic expression, culture and fashion," says Sauvage.
Continuing Viola notes, "The Atelier Couture by Professor Jimmy Choo always upholds the idea of pursuing the ultimate beauty and endowing every detail, which is also a part of our showroom. Their fusion of wedding culture around the world with their international vision and use of sophisticated fabrics and avant-garde tailoring highlights the proportion of the female figure. Vietnamese brand Joli Poli, by Anh Thu has pieces that are created with unique mathematical formulas for her 3D corsets, which gives the same proportion regardless of size. Dobržanska's embroidery elevates uncomplicated silhouettes by use of exquisite materials and imaginative attention to detail; and LE999, another Lebanese brand by Claudine Rihan, who fuses bold design with exquisite fabrics and embroidery to refine the silhouette," says Viola.
The showroom is a hustle and bustle of busyness from fittings, hair, makeup, and photoshoots. "We're here for last minute fashion emergencies from lost luggage, packages that didn't arrive, and last-minute invitations to red carpet or cocktail parties. A day in the showroom is often very intense and breathless because even if you want to anticipate as much as possible everything is played out at the last moment, and you have to be quick, effective, and timely. You press play and repeat every day until the end of the festival. A French TV channel will air their touch down at the airport to setting up the showroom, to red carpet glamour, to take down, which will give a visual understanding of what showrooms like Viola's go through during a film festival.
The Nolinski hotel opened in June. It's a few canals away from Piazza San Marco and the Teatro la Fenice, housed in the city's former Stock Exchange building. "Nolinski Venezia is at the heart of Venice's culture, art, and design. It is conveniently located not only near Piazza San Marco but also La Fenice opera house and Doge's Palace. While the area is further home to many international fashion houses, jewelers and shoe designers, the hotel itself is a haven of peace located on a street not to be missed," states Sauvage. Located on one of the city busiest streets, Calle Large XXII Marzo with no-two of its forty-three rooms (thirteen which are suites) being the same style, an Ottoman-inspired spa, a pool that overlooks the city, their IL Café, and Palais Royal restaurant that will open next year.
"We've carefully preserved and honored much of the original design, such as the grand staircase with its ornamental ironwork, and gave an Evok twist through the contemporary artworks, objects and sounds tastefully selected by our in-house Curators for the ultimate immersive experience," says Sauvage.
It's has been a fashion-faire for the hotel, which has seen models and celebrities enter to get their couture festival wear in Giorgia Viola's showroom. "Hosting Giorgia's showroom and all the fashion brands she represents helps to make the Nolinski Venezia a place to be, and to make it shine during this very special week for Venice and the world of film and fashion," says Sauvage.
Working year round, Viola will keep busy after the film festival. Her Follow the Sun, traveling pop up will host a showroom of fashion brands at the soon-to-open Maradiva Resort and Spa in Mauritius on November 1st.