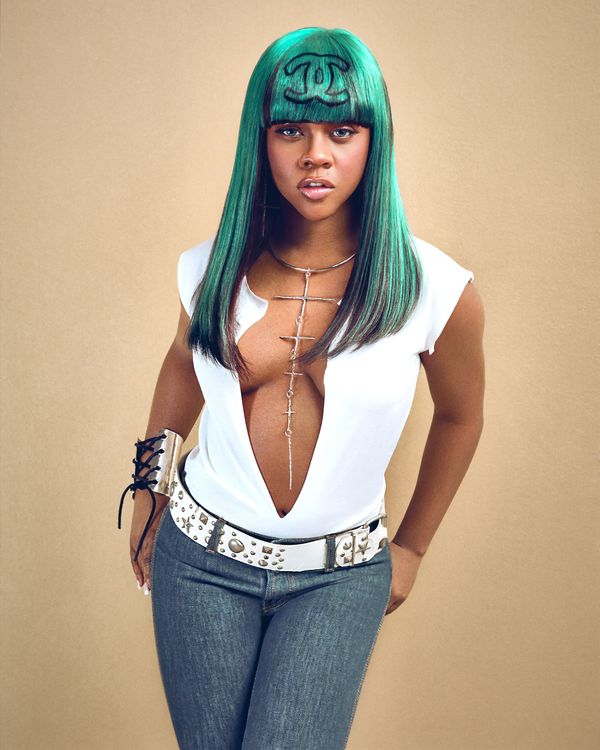 Photo: Danielle Levitt / AUGUST | Image
Dionne Alexander is the hairstylist behind some of the most creative hair looks that still influence culture today: Lil' Kim's Chanel logo bangs, as well as her infamous purple wig for the 1999 VMAs; Lauryn Hill's very first lace front in the "Doo-Wop" video (one of the first lace front's to ever appear on an artist); Mary J. Blige's updos, which are still recreated in Black salons all over the country; and more. Alexander is the blueprint for various styles recreated over the years. Her clientele also included MC Lyte, Missy Elliott, Aretha Franklin, Iman, SWV and more; all artists with a strong image in the '80s and '90s, and their signature hair moments, were a major part of that. Her work has been recognized and referenced by today's female rappers like Nicki Minaj, Megan Thee Stallion, and Cardi B, who've all worn tattooed wigs. She recreated a handful of her looks earlier this year for an exhibit at the Baltimore Museum of Arts after being approached by curator Rikki Byrd. "I never thought my work would be in a museum," she says. The anniversary of hip-hop is a celebratory moment for her work.
She worked on set a lot with other hip-hop legendary creatives like Nzingha and Misa Hylton. But her greatest inspiration was her mom, who was a hairstylist and owned a hair salon in the D.C./Maryland area, her hometown.
Tell me your path to becoming a hairstylist. 
My mom was a cosmetologist. I'm the youngest of three, so when she went to beauty school, I was the baby. When she was working in salons, I spent a lot of time there with her. Since the age of about 5 or 6 years old, I was surrounded by hairdressers. My mom opened her salon in 1979 and I was cutting hair by 14 years old. I loved the lifestyle of the hairdresser. My mom's lifestyle was so glamorous to me and all the other ladies around her, they were just very beautiful. So I wanted that. As I grew up and decided on what I wanted to do, I was already in the salon shampooing with my mom so I just fell into it. I would say the gift came through me from God. So it just worked out. But it wasn't something that I just sat at home saying, "Oh my God, I want to be a hairdresser." It just happened for me. I always say I have over a hundred hairdressers in me because I've met so many women along the way. I went to beauty school after high school and following that, I left D.C. and went to Europe and that expanded my creativity and my mind outside of the box.
It's been history ever since then. How did hip-hop inspire you before becoming a stylist?
I started seeing MC Lyte, Queen Latifah, and Monie Love, which inspired me to know that there's a possibility. Then I saw En Vogue and the thoughts started coming to me: Oh, you know what? You can do their hair, do celebrity hair.
We have to talk about your iconic tattooed wigs for Lil' Kim. From the Chanel one to the Versace one, tell me the process.
The wigs 20 years ago were just raw and organic. I grabbed some Sharpies and some trace paper, and I made the logos. I cut them out and put the Magic Marker to use. We weren't as advanced as we are now with wigs. So a lot of the materials that you had at your disposal weren't the colors that you wanted. She wanted blonde, and you had a yellow blonde; you didn't have that white blonde. If you notice, all of the wigs have bangs, because we weren't into lace fronts yet. Lace fronts didn't come until popular culture until Lauryn Hill in the "Doo Wop" video, which I also did. When we did the MAC Viva Glam ad, Lil' Kim and Mary J. Blige, that was also Sharpie as well.
Do you have a favorite look you've ever done?
I have a few. One was with Mary J. Blige that I loved. It was one of her videos with Nas, "Love Is All We Need." And then of course the Lauryn Hill one, because that was my first time working with the lace front, so the process was interesting. I had to deal with a theater wig-maker. Then everything that Kim did, I just had so much fun with her. That Versace one touched me a lot because of the level of excitement. I made the wig for her, and she took it with her to a Versace show in Paris and left this message on my machine that was so inspirational, empowering, and it just made me feel so good. I kept that thing as long as I could.
What were the prices then when lace fronts were first starting, but only available to theater, compared to now? Was it super expensive?
About $4,000 at the time.
You seem like you had such a great relationship with your clients. How did you gain trust from them?
Keeping it 100, to be honest. Understanding the truth of who I was and not buying into the hype that we all created. We are all people. Knowing I have a family at home that loves me, it allowed me to be me. And, I'm a trustworthy person. You don't have to worry about anything. I'm not going to tell your secrets. And I know they felt that from me. They knew. It's about being yourself to be even chosen to be in a role like that where you influence somebody, there's a light around you. You're a magnet that people are drawn to so it is fascinating to be around these people. However, you have to maintain the fascination with yourself and stay grounded and then they respect you. 
The early aughts really forced you to be creative. Do you think that creating looks with fewer resources in the '90s challenged you to be more creative with your looks?
Yes, because the materials were different, so you had to figure things out. You have a lot more access to human hair today. You can do different things, everything is easier now and it's just quick, quick, quick. Nobody's making wigs with bangs now, everybody has baby hair.
How do you feel about the baby-hair trend?
I mean, it's what they're doing. They feel pretty. If they feel glamorous with it, hey, I don't have any real comment on it. The reason why I say that is because it goes along with the culture. Do I think that our culture needs an uplift? Yes, period. But I'm not going to hate on the girls who are feeling cute about themselves with that little baby hair.
Do you think that that same creativity you had in the '90s still exists in hip-hop today when it comes to beauty?
No. There's something else going on that's not allowing us to be as creative in our art form. When I look at hair now I see a part down the middle and these little wavy hair things. I see different colors with maybe a little less baby hair or more baby hair, but everything's the same to me. It's no cuts. I will give it to Atlanta. To me, I feel like Atlanta is trying really hard to bring some style back into the community with the haircuts and women are taking out the weaves and cutting their hair and doing their hair. That's when it gets fun again, because every hair texture is different. If you are dealing with the same hair texture, baby doll, then it's no fun. The fun comes in the texture. The creativity and the originality comes with each individual person's hair texture, because we're all different. So your curl may be a little tighter than my curl, but if everybody's coming in here with a body wave and curly, I'm bored. The girls do work it with the weaves, but I just like real hair, I came from that era.
Would you say there are any hairstylists in hip-hop right now whose work you enjoy watching?
Cardi B, Cardi B, Cardi B — whoever got her first, they got it going on. That whole team got it going on over there. I don't know who that is over there, but I just love what they do with her. My guy, Terrence, I love Terrence Davidson. He does a lot of people. He's so creative. He's so creative and so good.
Love Terrence! Tokyo Stylez does Cardi.
Okay. If that's who's doing her, then I love Tokyo Stylez.
Thinking forward to another 50 years from now, are there any current trends you see being art? 
No. And I hate to say that I don't know what moment in time we're in right now. Maybe we are at a place where something will spark that will revolutionize or change or be around to influence groups 20 years, 30 years from now, but right now, I don't know, because we're pulling back from the old.
The Hairstylist Whose Wigs Influenced a Generation