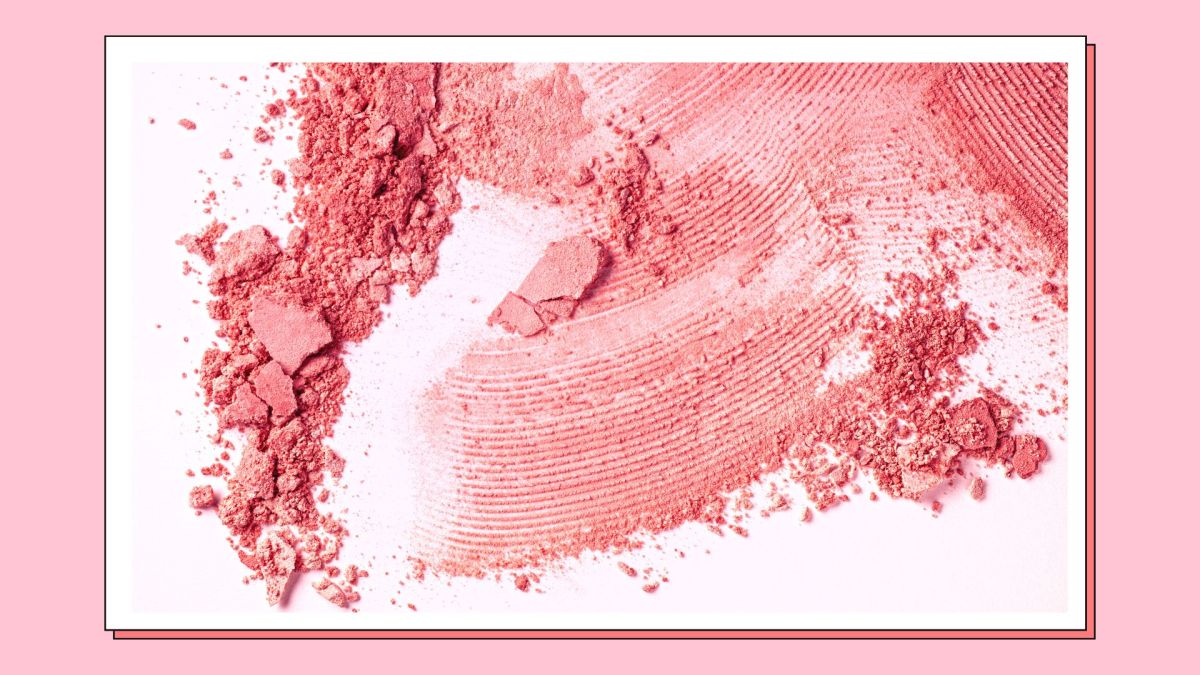 Move over glazed donut nails, there's a new 2023 nail trend in town and it's a blush enthusiast's dream—meet Korean blush nails.
Much like that of Hailey Bieber's nails (which have inspired many a "glazed" foundation look), our all-consuming love of blush seems to be spreading to our manicures. Even singer, Bad Bunny (aka Benito Ocasio) is a fan, having repped the flushed look in his recent interview with Time magazine.
For anyone who doesn't know, the look features a soft, pink aura on your nails that looks like your fingers have their own little blushy moment going on—and if TikTok is anything to go by, the design is actually quite easy to recreate, especially if you have a collection of blushes on hand. So, for anyone looking to adorn their fingertips with Benito's fave mani, here's how to try out the trend at home or, alternatively, what to ask your nail tech for…
What are blush nails?
As the name implies, this dreamy, minimalist gradient-like manicure trend (which would make for the perfect Valentine's Day nail art design, FYI) was born in Korea. So, if you already swear by Korean skincare products, this nail look is also a safe bet.
The look, much like the "Lipgloss" nail trend, features a soft, baby pink base (usually on longer, oval-shaped nails) with a subtle, diffused dot of blush placed at the center of the nail—and yes, we mean actual face blush! Exhibit A: 
The design is supposed to look almost like an aura of blush and you can also add a few cute decals, like gems or waterdrop-style stick-ons. As mentioned, Bad Bunny is apparently a fan of blush-pink nails as he was described as wearing: "Y2K-style sunglasses, a skull ring, mismatched heart earrings, blush-pink nails, and three-layered gold chains," for his interview with Time—iconic!
How to do the blush nails at home:
Since at-home manicures are rising in popularity, this trend is a good starting point for beginners, if you want something super pretty but straightforward, especially since you can just dive into your makeup bag and don't need to purchase loads of pink polishes for the blush effect.
The "blush nails" hashtag itself already has over 52 million views, with users either showing their post-salon manicure or tutorials on how to create the design yourself. 
1. If you're using gels or Biab, all you need to do is first prep your nails, by buffing them, tidying up your cuticles and applying a base coat, before adding your extensions (if you're wanting to keep your natural nail length, skip this step). You'll also want to cure between each layer!
2. Next, apply your preferred pink shade, cure, and then get a fluffy brush and your favorite blush (we'd recommend a hot pink or a coral shade). We're actually obsessed with the fact you can use face blush to create such a cute nail look—don't you just love a multipurpose makeup product?
3. Start tabbing and buffing in your blush on the center of your nail until you have that desired, diffused look, before locking it in with a top coat. You can then also add a few gemstones of decals if you prefer and voila! You have blush nails!
@heluviee

cutie blush nails ˚ʚ♡ɞ˚ gel extensions r so fun!!
The Korean blush nail trend: what to ask you nail tech for?
If you'd rather leave it to the professionals, thankfully this nail trend is pretty simple and given its popularity, your nail tech will likely be familiar with the look already!
If you're getting acrylics or gel extensions, you'll want to request almond-shaped nails (like Hailey Bieber's nails) and a soft, pastel pink base coat, with a blush/ombre effect in the center of your nail using a slightly dark pink or red polish shade. But of course, it doesn't hurt to take a few reference pictures with you to show your nail artist exactly what you want!
If in doubt, though, simply discuss with your local salon the best way to achieve the look while also promoting healthier nails!