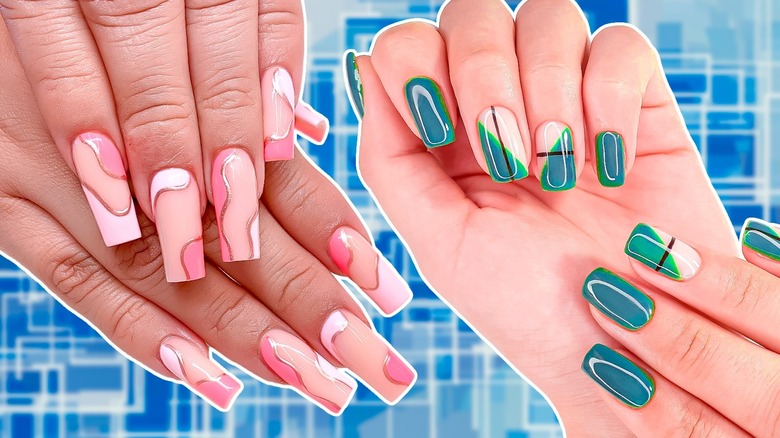 Static Media/Shutterstock
Just like manicure colors and nail art fads, nail shape trends come and go. From almond-shaped looks to round nails and, of course, the extreme edge nail shape, there are countless options. But one underrated look making a comeback in 2023 is the classic compact square. The square nail shape is perfect for fall, as the shorter, straighter shape won't get in the way of your favorite fall activities; you won't have to worry about square nails breaking when you carry the pumpkins you picked at your favorite orchard or hand out candy to trick-or-treaters. Plus, typing, cleaning, and other tasks should be easier with square-shaped nails, as everyone who's ever had longer and more intricate nail shapes knows how frustrating they can be with longer and/or pointed nails.
Nail experts are noting this shift in nail shape trends, too. "Some would say they are seeing a shift to sharp square," Elle Gerstein, a celebrity manicurist, told Who What Wear. While square nails might initially sound dull compared to longer, rounder, and more elaborate options, the classic square-shaped look is pleasant, convenient, and chic — just remember to take care of them and keep up with filing or trimming them to maintain their shape.
Black and white manicures look chicer on square nails
There's arguably nothing chicer and more timeless than a classic white manicure. The minimalistic, compact square nail shape perfectly suits the solid, no-nonsense manicure color. After all, a simple, elegant color can look cheapened or overpowered by a pointier, more elaborate nail shape, but that will never be an issue with the ever-practical square nail.
French manicures are better than ever with square nails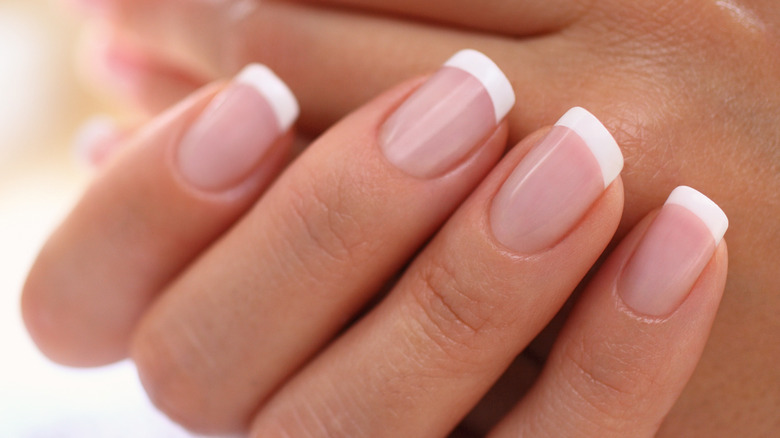 Gilaxia/Getty Images
Square nails are arguably the best option for French manicures, as that iconic, slim line looks the sleekest on a straight and smooth square tip. Moreover, it will be easier to apply the tip line on a square shape than it would on a rounder nail shape, as painting a curved line without creating an ounce of messiness is quite challenging.
Natural square nails look classy in a minimalist way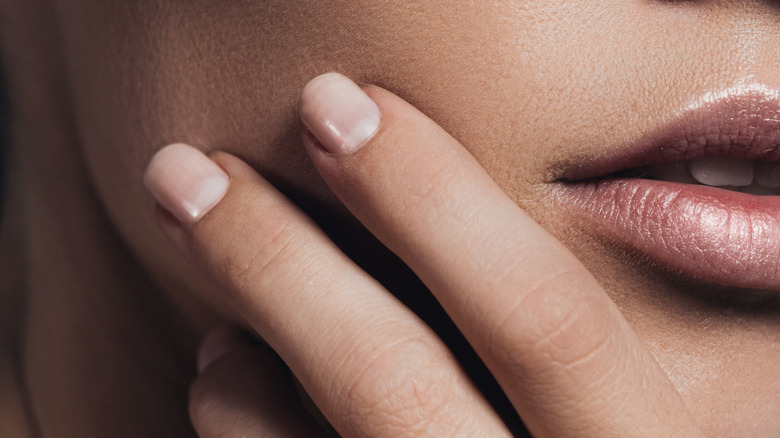 Coffeeandmilk/Getty Images
While more intense nail shapes can look like something's missing or off when they don't boast polish or nail art, the natural look suits the classic square shape, as a no-nonsense nail shape naturally pairs well with clean, unembellished nails. As long as you keep them clean, they'll look great without embellishment for an elegant, ultra-minimalistic look. 
Or just add a clear shiny gloss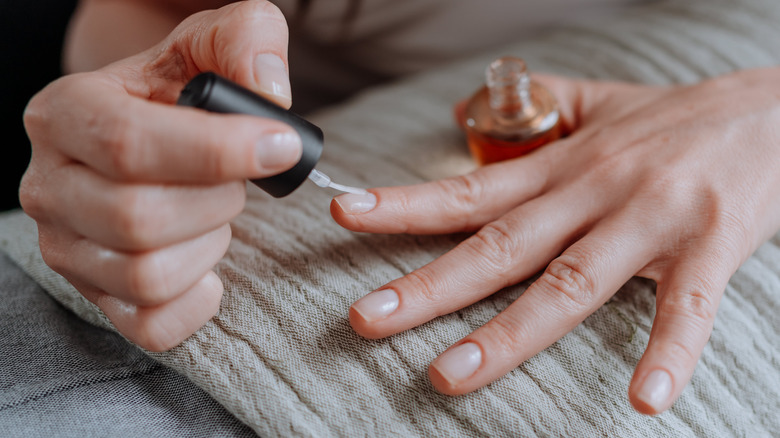 Gabrielpevide/Getty Images
Minimalism pairs well with the square nail shape, but that doesn't mean you can't rock a glossy look. To keep it simple but more glamorous than simply leaving your square-shaped nails natural, add a coat of clear, glossy polish or top coat — something we all have — for a shiny look that exudes the quiet luxury aethetic.
Lean into the square look with square-like nail art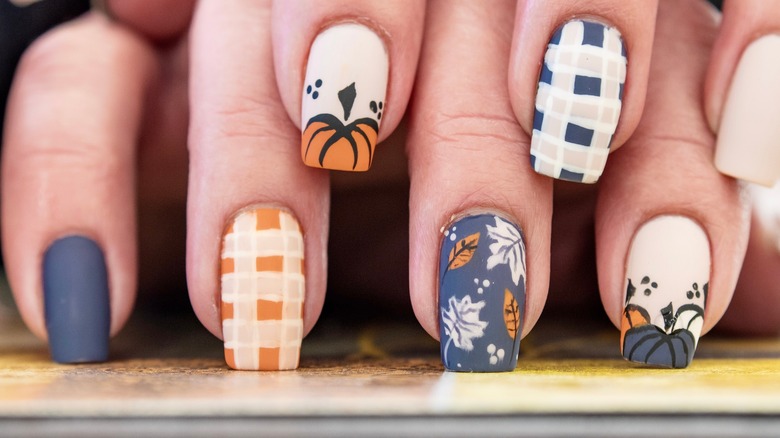 CHRISTINA RADCLIFFE/Shutterstock
One of the best ways to embrace the square nail shape is to add a square-inspired design — or designs — to your square-shaped nails. For instance, geometric nail art will give instant cool-girl vibes to square nails, and plaid designs will look chic and perfectly poised on a square surface since the pattern naturally creates squares.
Fall colors look beautiful on square nail shapes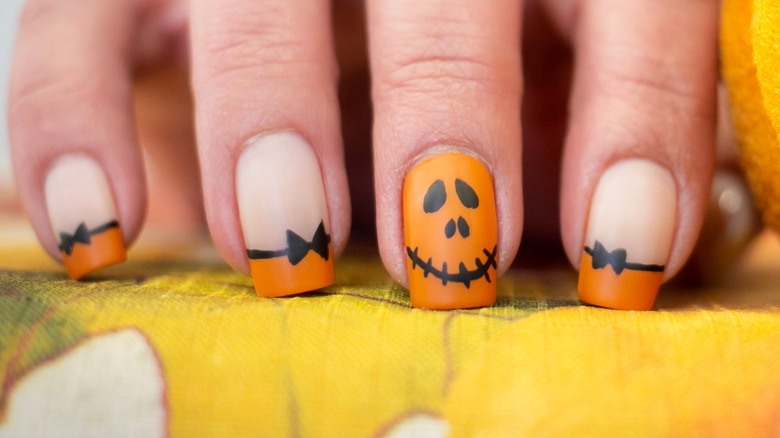 CHRISTINA RADCLIFFE/Shutterstock
Fall hues like brown, dark red, and orange typically give warm and cozy vibes, but there's nothing cozy about pointier nail shapes. The classic square shape makes a simple, convenient canvas for the fall nail colors of your choosing, while ultra-curved, round, or pointed shapes will take away from the manicure's warm fall energy.
Red nails will look super sexy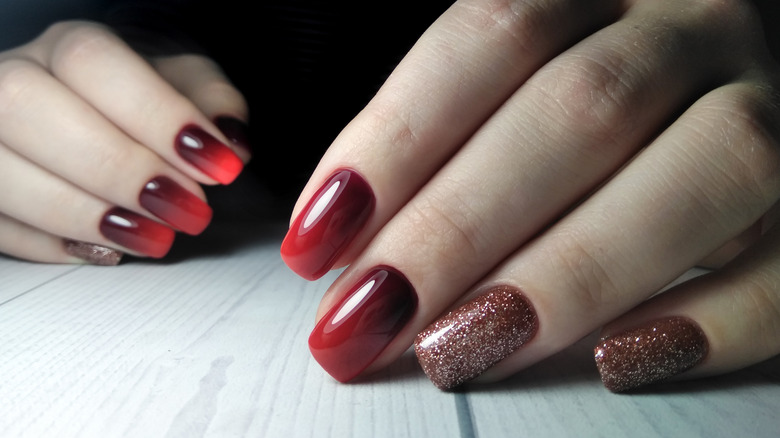 Olejohny/Getty Images
We all know the deal with the red nail theory, which suggests that red nails attract more romantic partners than other manicure colors. However, if you're going for a seductive look, you should also pay attention to your nail shape. Long, pointy nails can be divisive, taking the attention away from the sultry red you're rocking. On the other hand, a simple square nail shape will leave all the attention on your scarlet fingertips.