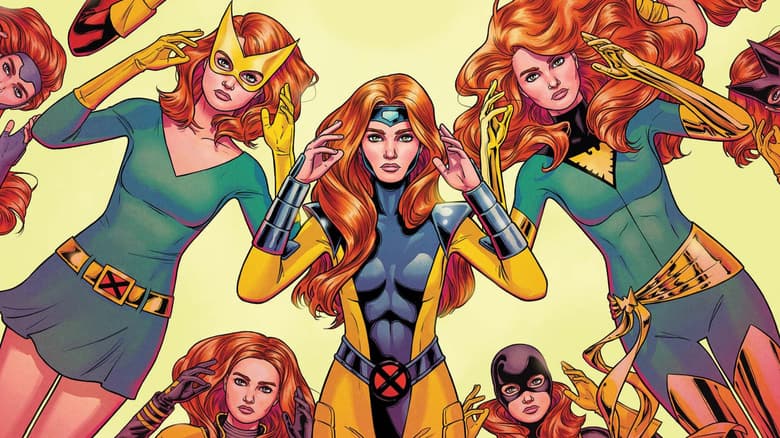 HERO OF X-MEN: THE ANIMATED SERIES
For so many of its viewers, the 1992 cartoon X-Men: The Animated Series launched a lifetime love of Marvel Comics and the X-Men. A primary cast member on the show, Jean's depiction in X-Men: The Animated Series evolved throughout the course of the series' five-year run. We spoke to Julia Lewald, one of the series writers and showrunners, about the impact Jean had on the writing room and on fans watching at home. 
"Interestingly enough, if you really look hard at the X-Men: The Animated Series team, the folks with the coolest powers were the women," she pointed out. "The women could fly, the women were strong, but it was never at the expense of anyone else. But in terms of what would look good on an animated TV screen, it came down to what the variety of powers could be, how it would animate, and what those different powers would look like choreographed into a giant fight scene. And Jean Grey. Pretty darn cool powers! She was incredibly important, incredibly strong."
But even though Julia was convinced of Jean's dynamism in the cast, there were larger concerns about overcrowding the team. 
"Interestingly enough, at the very beginning, there was concern that the team was going to be too big. And so two characters, Beast and Jean Grey, were initially marked down on a chart as being part of the 'B team,'" she revealed. "But in starting to write for the show, it just became apparent Jean Grey herself, not with the powers, but just Jean as a character, had such a specific, important relationship to each of the characters on the team. Every one of them would talk to her in a way they wouldn't talk to anybody else."
"So, it may sound funny, but she exerted herself into the show in the same way that Beast and Xavier exerted themselves into the show as important characters for the whole team's sake. But I love [what] Jean Grey became in the [series.] She wasn't going to be a major player, but she became that because of who she was," she added.