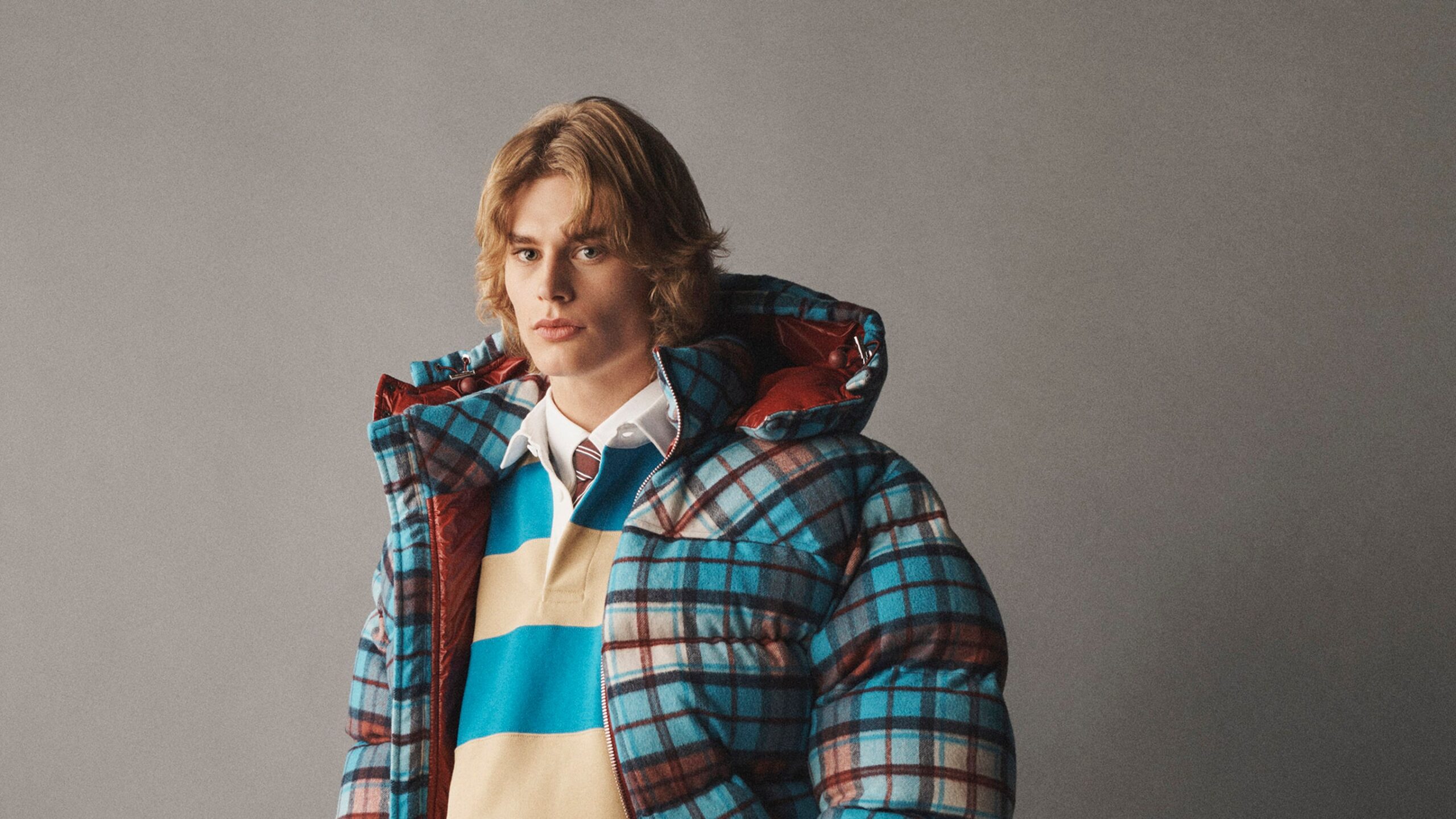 How do you reinvigorate heritage? From fresh designers hired to "revive" dormant labels to stalwart brands trying to convince new generations that they're still relevant, this question is top of mind for anyone leading a brand born before the year 2000. At Tommy Hilfiger, the conversation is less about convincing Gen-Z that it's cool—long association with hip-hop's vanguard does the trick—and more about delivering a product that captures that cool essence.
The better question, then: How does one repackage heritage? Can brands translate online nostalgia for their bygone visuals, products, and vibes, into sales?
"The brief to the design team is to start with American classics and find the filter to make them relevant for today's customer," said Lee Holman, Tommy Hilfiger's Chief Design Officer at a preview. The thing is, the notion of American "classics" has been revisited so much that it's lost most of its meaning. Here's where the filter comes into play. For fall, the Tommy design team looked at the great outdoors, aka the woodsy portions of New England that have long informed the spirit of prep that made Tommy Hilfiger so enchanting back in the '90s. But more so than just outside, Holman explained, it's the idea of "American recreation" that was appealing. City dwellers escaping to the Catskill Mountains, Montauk, or New England is a New York tradition—affluent and mostly white, it should be said—and it paints a charming and stylized image that simply does not go out of style. Now that's an American classic.
To bridge this into today, the Tommy team combined this idyllic image with a grounding concept: What is the customer doing? Escaping the city, sure, but these clothes should serve a year-round purpose rather than just address a weekend getaway, so Holman tasked his designers with reinterpreting some quintessential Tommyisms—a pair of Chinos, a shearling coat, a varsity jacket, a cricket sweater, an Oxford shirt—in today's proportions. The results are convincing and confidently elevated, if sometimes over-branded. Elongated and wide wool-twill tailoring in navy and camel looked preppy yet contemporary, while a pair of burly his-and-hers leather shearling jackets captured the woodsy spirit the team was after. A snazzy shade of cyan brightened the palette and offered a break from the signature Tommy red, white, and blue, and a tartan shirt bonded to a knit backing brought modern comfort into an age-old essential. It's a tall order to make classics like these identifiable, but this is an honest effort from the Hilfiger team.
Oftentimes, fashion heritage is less about the clothes and more about how they are worn. Hip-hop turns 50 this year, and one can see its influence both on the Tommy codes and fashion itself. It would be interesting to see Tommy Hilfiger fully go there in celebration and acknowledgement.
Most promising here was the reissuing of a signature Tommy tartan from the '90s. It was rescaled, recolored, and reinvented in the shape of fuzzy knits, wooly tailoring, and sleek puffer jackets. The driving force behind this story was a fall 1994 campaign image Holman and co. found in the company archives. It pictures three very handsome models with very '90s haircuts posing by a muddied red truck. They're wearing the tartan in question paired with chinos, classic wash jeans, and brass-buttoned tailoring. There's a sense of sartorial playfulness and discovery in that old ad that the label should dig into. It's fun, recognizable, and believable, all the things the Tommy Hilfiger heritage should stand for as it looks to the future.