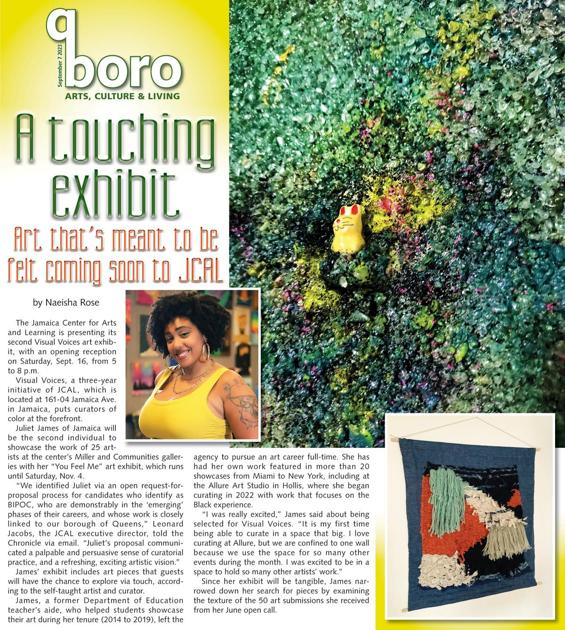 The Jamaica Center for Arts and Learning is presenting its second Visual Voices art exhibit, with an opening reception on Saturday, Sept. 16, from 5 to 8 p.m.
Visual Voices, a three-year initiative of JCAL, which is located at 161-04 Jamaica Ave. in Jamaica, puts curators of color at the forefront.
Juliet James of Jamaica will be the second individual to showcase the work of 25 artists at the center's Miller and Communities galleries with her "You Feel Me" art exhibit, which runs until Saturday, Nov. 4.
"We identified Juliet via an open request-for-proposal process for candidates who identify as BIPOC, who are demonstrably in the 'emerging' phases of their careers, and whose work is closely linked to our borough of Queens," Leonard Jacobs, the JCAL executive director, told the Chronicle via email. "Juliet's proposal communicated a palpable and persuasive sense of curatorial practice, and a refreshing, exciting artistic vision."
James' exhibit includes art pieces that guests will have the chance to explore via touch, according to the self-taught artist and curator.
James, a former Department of Education teacher's aide, who helped students showcase their art during her tenure (2014 to 2019), left the agency to pursue an art career full-time. She has had her own work featured in more than 20 showcases from Miami to New York, including at the Allure Art Studio in Hollis, where she began curating in 2022 with work that focuses on the Black experience.
"I was really excited," James said about being selected for Visual Voices. "It is my first time being able to curate in a space that big. I love curating at Allure, but we are confined to one wall because we use the space for so many other events during the month. I was excited to be in a space to hold so many other artists' work."
Since her exhibit will be tangible, James narrowed down her search for pieces by examining the texture of the 50 art submissions she received from her June open call.
"Then I chose a lot of colorful pieces and ones that spoke to me and that I thought other people will find interesting," James told the Chronicle. "I like art I don't fully understand right away, so I pick a lot of art that I had questions about."
James plans on asking the 25 people selected for the exhibit more about their work in artists talks scheduled for Sept. 30 and Oct. 4.
To learn more about the artist talks, visit jcal.org. To RSVP for the free exhibit and its reception, go to eventbrite.com.
A few of the artists featured in the showcase are Juliana Castaneda, Lee Jensen and Stanislava Ivanova, also known as DarkReconstruction.
Castaneda, a recent graduate of the Fashion Institute of Technology (2019), with a specialty in knitwear, has an art piece, "Reanimation 1," which features T-shirt scraps.
"I wanted to imagine a world where all the trash was actually transformed into something beautiful," said Castaneda, a Corona resident. "It's deconstructing the product industry … gender, gender roles, beauty and beauty in society. I wanted to make characters that break those boundaries."
Jensen's piece, "Into the Wilderness," uses textile, thread and yarn.
"I went to the School of Visual Arts and I have a background in graphic design, but I have been a fine artist at heart," said Jensen, who lives in Jackson Heights. "I started making textile pieces (after the pandemic) … The piece is about venturing into the unknown and finding the right path forward, even when it's hard to see."
DarkReconstruction's work, "Sea Bunny," uses glass and mixed media.
"I'm super excited," she said. "Ever since I started showing my work professionally, I wanted to show my work at the Jamaica Center for Arts and Learning, because it's so close by to where I live and it's such a beautiful building. It's been five years since I first applied to one of their open calls, and this is the first time I got in."
The Woodhaven resident lives along the J train, which brings her to Jamaica, where she frequently shops.
"I use a technique where I combine acrylic paint with pieces of glass, crushed crystals and nail art beads — everything to create a very rich and sensual texture."
"Sea Bunny" is inspired from her time visiting a friend who had a rabbit as a pet.
"I did a show in Lake Como and my friend brought her pet bunny. It was a really fun time," she said.