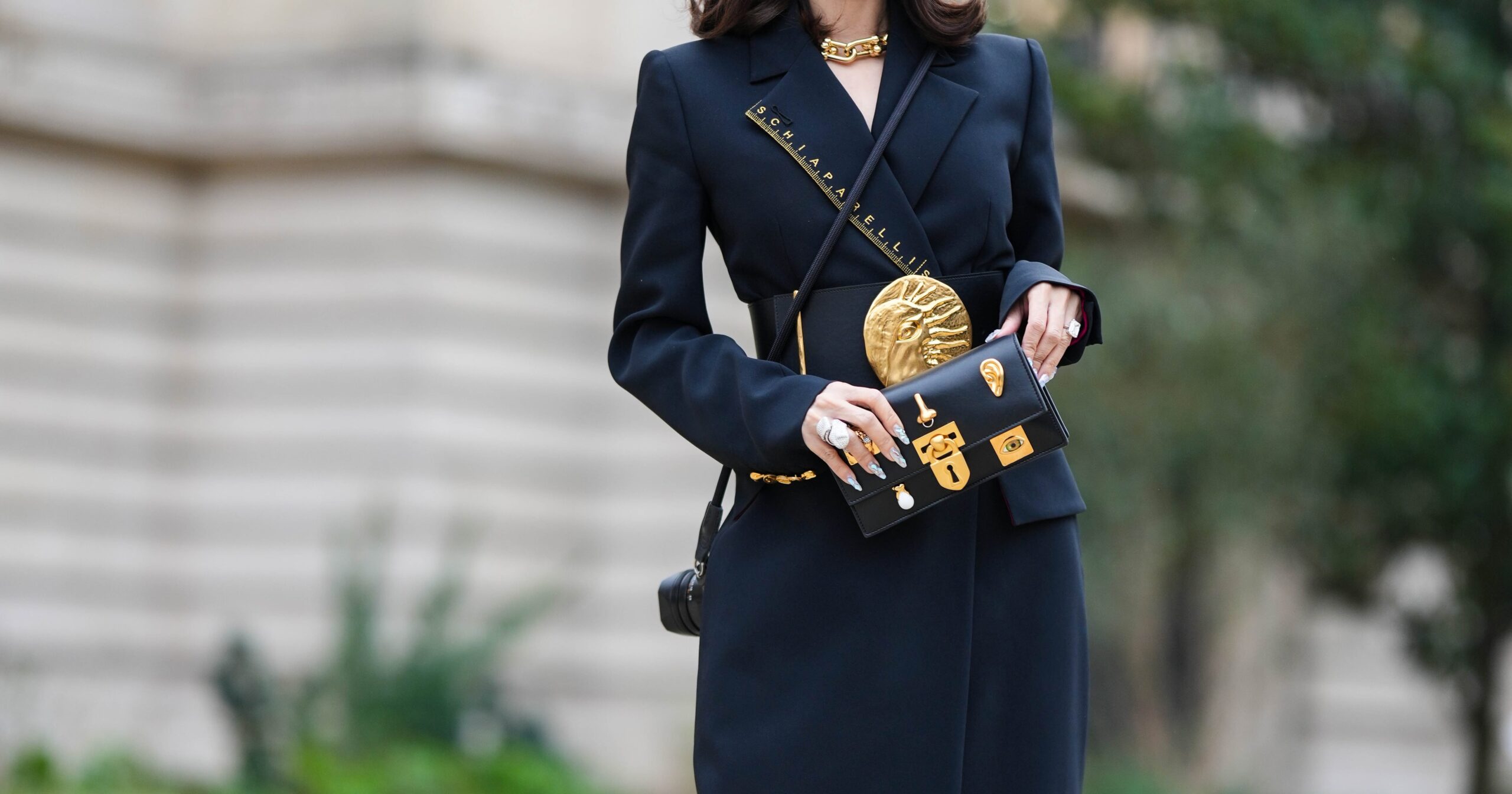 As POPSUGAR editors, we independently select and write about stuff we love and think you'll like too. If you buy a product we have recommended, we may receive affiliate commission, which in turn supports our work.
Fun fact: eponymous fashion brand Vivienne Westwood doesn't offer a single nail product for purchase, but the late founder's designs have inspired an entire wave of manicures that have been taking over our social media feeds the last few months. The brand, which is known for its punk aesthetic, is loved by celebrities like Olivia Rodrigo and Billie Eilish, and it turns out that the maximalist designs of Westwood's jewelry just so happen to make the perfect nail art.
The hashtag #VivienneWestwoodNails has more than two million views and counting on TikTok, and there are thousands of videos where platform users can be seen showing off their manicures inspired by the late designer. People are leaning specifically into the orb pendant often found on her necklaces, earrings, and bracelets. What's fun about this look in particular is that it can be combined with most other nail trends, like "aura" nails or "cloud" nails.
Ahead, Liana Thomson, nail expert at Nails.co.uk, answers all of our questions about Vivienne Westwood nails, including what they are and how you can achieve the look for yourself.
What Are Vivienne Westwood Nails?
"Vivienne Westwood nails pay homage to the iconic designer and her brand by featuring a Vivienne Westwood-inspired orb fixed to acrylic nails," Thomson tells POPSUGAR. "This nail trend's popularity can be attributed to the influence of the designer herself, as well as the growing mainstream interest in punk-rock-inspired fashion, embraced by influential figures like Kourtney Kardashian."
While the base of the nail can be anything from colored french tips to ombré to one singular shade, the look usually features some combination of crosses, flames, and swirls, and it almost always features one key element: the orb, which kind of looks like a mini model of planet Saturn. The orb initially came into existence when Westwood was designing a collection centered on the theme of royalty. According to VivienneWestwood.com, the image of an orb was originally pulled from the crown of jewels, and the satellite ring was added to give it a futuristic feel.
Because of this, the trend is most often seen on longer nails, as well as nail shapes like stiletto, almond, and coffin, due to their elongated surfaces, which is usually necessary when considering the orb attachment.
However, if you have naturally short nails, Thomson says you can still get the look using acrylics or something that offers a robust base, like gel extensions or builder gel, which will make your nails strong enough to handle having a 3D element attached to them.
How to Get Vivienne Westwood Nails
One thing to note before trying out this look is that it is a bit of a time commitment. "A standard solid-color manicure typically takes 30 minutes, while acrylic extensions can extend from one to 1.5 hours," Thomson says. "Adding this unique design might require an additional 30 minutes, depending on the complexity of the chosen design and whether acrylic extensions or just a gel topcoat are required at the salon."
If you decide you want to request Vivienne Westwood nails at your next salon appointment, there are two things you should bring with you: inspiration photos, and whatever 3D elements you want glued to your nails. It isn't likely that your salon will have exactly the orb pendant that you want, but luckily, there are plenty of options online that you can purchase and bring along. Our favorite are the Noverlife Planet Nail Art Charms ($9), which feature plenty of different colors.
For anyone who likes to DIY, we've got good news. Due to the popularity of the trend, there are plenty of press-on nails available on websites like Amazon and Etsy that are already Vivienne Westwood-themed and only require a little nail glue to attach. Some of them are a little pricey, but they're less than what you'd pay for a similar manicure in a salon. Our favorite picks are these Press On Vivienne Westwood Nails ($64), as well as these Cosmic Love Vivienne Westwood Press On Nails ($42).
Vivienne Westwood Nails Inspiration
If you're ready to try the trend for yourself, keep scrolling for some inspiration photos to get the creative juices flowing.