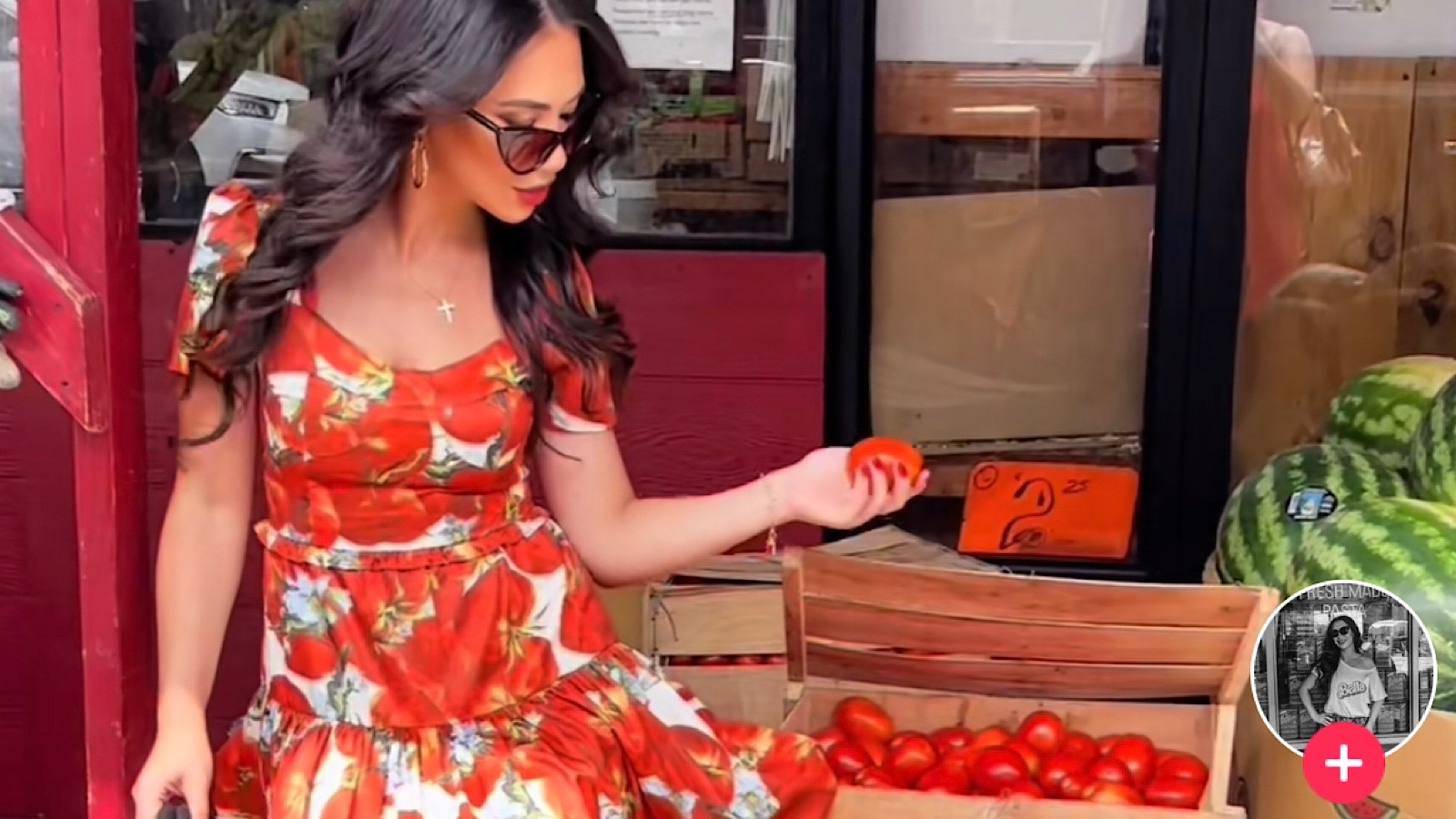 ❘   Published: 2023-08-03T21:12:14
  ❘   Updated: 2023-08-03T21:12:27
TikToker shares her fashionable tomato girl summer attire while posing with the tasty red fruit.
The hashtag 'tomato girl summer' has taken TikTok by storm with various celebrations of the tasty fruit — but what really is a 'tomato girl summer?'
The hashtag 'tomato girl summer' has been shared over four million times on TikTok, leaving TikTokers to wonder what the famous saying really means. 
From makeup to recipes, outfits, and even feng shui, tomato girl summer is a hot girl necessity. 
Not only is the voluptuous red fruit a hashtag, but it's also a whole aesthetic, as women from all over the world have shared their colorful take on the trend.
Article continues after ad
Tomato-inspired attire skyrockets fashion trends across the country
As a bold color, red represents passion, joy, and heat. So it's no surprise that TikTokers have used the captivating color to heighten their summer aesthetic in many ways.
There's red-tinted makeup tutorials that women have used to enliven their tomato girl spirit. There's apparel that has the tasty fruit pictured on it. And let's not forget the perfectly refreshing tomato treats. 
Subscribe to our newsletter for the latest updates on Esports, Gaming and more.
The tomato girl summer trend has gotten so popular, that it's even spiked sales in certain fashions like crocheted pieces and ruffled patterns, as celebrities and influencers have taken to TikTok to post their fashionable tomato-themed attire.
Article continues after ad
Not only is TikTok celebrating the red fruit, but countries all over the world have been noted in the trend, as the crocheted and white linen tops that have been associated with tomato girl summer outfits have had their sales skyrocket. The term 'crochet tops' has even had a 1,011% increase in online searches.
Places in the Mediterranean like Greece and Italy have especially been pivotal in tomato girl summer, as the tomato is a central part of the Mediterranean diet. 
Article continues after ad
TikTokers have even shared their favorite tomato dishes like tomato toast, tomato sauce, and of course an Italian special— the Margherita pizza. 
So for those of you who love the taste or aesthetic of a beautiful red tomato, it's time to hop on the tomato girl summer trend and share your favorite tomato inspos, because summer is winding down and tomato season will soon be ending.