One sunny day in 1995, the Notorious B.I.G. sat in the passenger seat of a black Mercedes-Benz, smoking joints and talking shit. Of course, Biggie did these things on many days during his short lifetime, but on this particular day, a neighborhood friend named dream hampton was in the back seat with a video camera. Wearing Versace sunglasses and a checked purple shirt, the 23-year-old rapper—whose breakout album, Ready to Die, had come out the year before—held a chunky cellphone to his ear. He was making plans and talking about girls, riffing in his lisped woof of a voice. He laughed and brought a square of rolling paper, full of pot leaves, to his lips.
From behind the camera, hampton asked whether he intended to consume their entire bag of weed. Annoyed at the interruption, Biggie mocked her question. Hampton's voice turned sharp. "Why are you going at me today?" she asked. "What's the problem? Do we need to do something before we go on the road? Take this outside?" The video cut to static.
I watched the footage this past June in the basement of hampton's house on Martha's Vineyard. Hampton herself was upstairs. She'd said it would be weird to view her younger self with me; I was surprised that she was willing to show me the footage at all. Hampton is arguably the most significant music journalist of her generation. She started out writing for the hip-hop magazine The Source in the 1990s before becoming a contributor to Vibe and The Village Voice. As hip-hop ascended to global dominance, hampton—whose lowercase byline is inspired by the Black feminist critic bell hooks—challenged it from the inside, treating rap music with the seriousness it deserved while calling out its materialism and misogyny. She co-wrote Jay-Z's landmark 2010 memoir; she produced the 2019 documentary that is widely credited with landing R. Kelly, the R&B star who contributed many horny refrains to rap songs, in prison after decades of unpunished sexual predation.
Yet I'd arrived two days earlier thinking that the many artists who'd crossed her path would be mostly off-limits for discussion. She has publicly, repeatedly, broken up with hip-hop. She is now primarily a filmmaker and an activist. A profile of her focused on hip-hop, she'd texted me, would be her "nightmare"—a stance that had softened only slightly by the time we met.
Her reluctance is partly a reflection of the life she leads in her early 50s. Although she was born in Detroit, and made her name in New York City, she now spends much of the year on Martha's Vineyard. When she first visited friends there, shortly after the birth of her daughter, in 1996, she experienced a new kind of calm: "I didn't even know what it felt like for a place to bring you peace," she told me. Now wild turkeys wander past the rhododendrons in her yard. Her home thrums with indie rock and NPR news, not Kendrick Lamar or Ice Spice. Though hip-hop celebrated its 50th birthday this year—commemorating a legendary August 1973 party in the Bronx—she realizes that the genre isn't exactly courting middle-aged moms. "Even if I could get down on some kneepads and do 'WAP,' which I can't, it's not for me," she said, referring to the raunchy choreography associated with Cardi B and Megan Thee Stallion's 2020 hit.
But her turn away from hip-hop is also rooted in pain and frustration. She and Biggie were so close that she asked him to be her daughter's godfather; he gave his daughter the middle name Dream. She brought him to her film classes at NYU; he gave feedback on her writing. Hampton also hassled Biggie about the sexism of his lyrics while he, out of her view, abused his girlfriend and protégé Lil' Kim. Maybe he would have evolved; maybe he wouldn't have—hampton will never know. A drive-by shooter killed him when he was 24, likely because of a rap beef. "I watched someone get killed who would still be alive if it wasn't for hip-hop," hampton told me.
As she looks out on today's hip-hop landscape, hampton still sees plenty of the violent machismo that shaped and endangered her friend—and that she has protested in various ways since she was 19. Hip-hop, in her view, has turned out to be a tool of the same unequal, exploitative system it once defied. In the beginning, she felt that the music had a certain joy and uplift, even as it was "grounded in the funk and the mire" of the country where it was born. Rap seemed to be "reaching for something," hampton told me, but "maybe the sin was that it was reaching to be a part of America."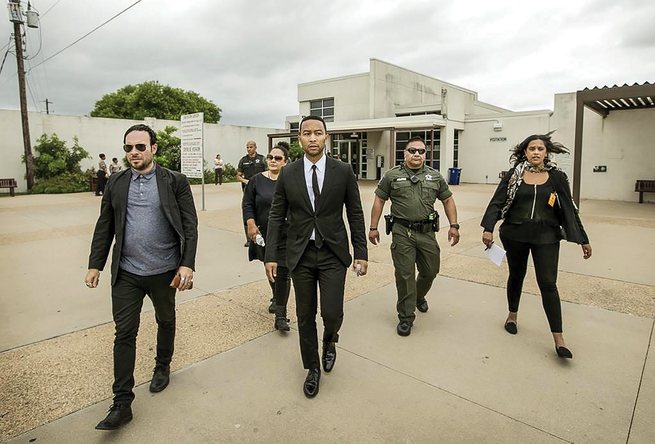 Gradually, over decades, she has focused on other ways of trying to make change: advocacy and film work, which she has always believed were truer callings for her than writing. She's been a liaison between political causes and popular culture, helping John Legend, for instance, launch a campaign against mass incarceration in 2015. She has also directed, written, or produced activist-minded entertainment, such as Finding Justice, a 2019 BET documentary series about Black grassroots organizing, and Freshwater, a 2022 visual memoir about flooding in Detroit. These efforts have shaped law, litigation, and the thinking of everyday people.
Lately, however, hip-hop has drawn her back in. The genre's 50th-birthday celebrations—a 12-minute Grammys medley, commemorative sneaker lines, a press conference at which New York City Mayor Eric Adams, an ex-cop, quoted Public Enemy's "Fight the Power"—have put a gauzy sheen on a difficult history, and hampton feels obligated to offer a more complicated view. To that end, she reluctantly helped produce and direct a new Netflix docuseries about female rappers. And she has been revisiting her archives, including the Biggie footage I saw, with thoughts of how to correct unduly rosy public narratives about the dominant musical form of our time. Once again, she can't help but talk back.
Hampton's first editorial was so controversial that she says Spike Lee offered to lend her some bodyguards. It ran in 1991 in The Source, where hampton had been hired as a photo editor, and called out the rapper Dr. Dre for assaulting the 22-year-old TV personality Dee Barnes. Hampton described an emerging pattern of misogyny in the lyrics and behavior of hip-hop's young male stars. In our present era of morally charged cultural criticism, the essay seems—as the Pulitzer Prize–winning journalist Rachel Kaadzi Ghansah (a former assistant of hampton's) put it to me—like a "letter from the future."
Hampton brought up the article on the first night we met, to mock it. We were standing in her kitchen. Hampton was searing salmon in a cast-iron skillet; a bag of superfood powder slumped on the countertop. The house is bright and airy, with white walls and sculptural furniture. Sitting on her mantel was a Kehinde Wiley bust of a Black boy posed like Louis XVI. One bookshelf featured an "ancestor altar" with black-and-white photos of lost loved ones, including Biggie. Though she lives alone, she has a 10-foot-long dining table both here and in the apartment she keeps in Detroit, for hosting.
Hampton called her Dr. Dre editorial "shrill" and "sanctimonious." I recited its last line, an assertion that the abuse of Black women "has no place in revolutionary music." Hampton laughed at her own naivete. "It's so funny!"
Her youthful belief that hip-hop could upend society, she explained, was born from growing up on the east side of Detroit as the daughter of a mechanic father and a waitress mother. While the crack epidemic turned many of her neighbors into dealers or users, she stayed inside reading bell hooks—captivated by the way hooks fused politics and culture in her criticism, and the way she centered Black women, whose perspective had for so long been sidelined. Hampton's teen years were spent taking a bus to a magnet high school full of rich kids who threw house parties straight out of a John Hughes movie. The classism of the Reagan era was in the air, but so was a stark counterpoint, the economic deprivation of Black and brown people in American cities. "I was ashamed of being poor," hampton said. "And hip-hop made me not ashamed."
Rap introduced rebellious ideas to hampton's own life. KRS‑One's "Beef," an anti-animal-cruelty manifesto, turned hampton into a vegetarian. A Public Enemy lyric taught her about Assata Shakur, the Black Liberation Army activist living as a fugitive in Cuba after being convicted of killing a police officer. After hampton moved to New York to study film at NYU, she co-founded a chapter of the Malcolm X Grassroots Movement, an activist organization inspired by Black radical figures such as Shakur. Hampton began enlisting rappers to play benefit gigs.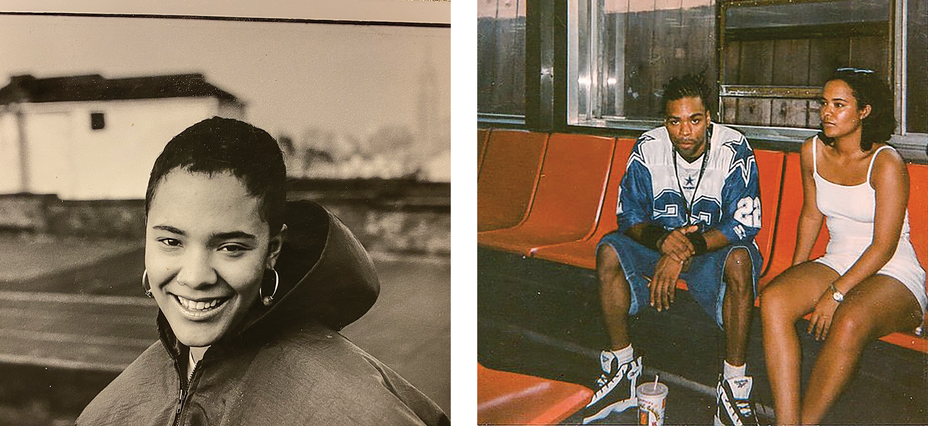 Journalism gave hampton a broader platform. The Source sought to document rap with the energy and ambition that Rolling Stone had brought to rock. Informed by the cool wit of Joan Didion and the cadences of rap itself, hampton filled her articles with color and incident, slang and exegesis. In one 1993 feature, she wrote that the rapper Lil Malik, suspicious of what she was scribbling in her notes, threatened to shoot her: "Gimme the gat, I'ma smoke this bitch." Hampton was unfazed. "I'm not sure if this is the beginning of some new rhyme or if this little boy is trying to get a spanking," she wrote.
In the male-dominated realm of hip-hop, female rap journalists had to contend with this kind of treatment from their subjects. Hampton came up among a group of "hip-hop feminists," to use the culture writer Joan Morgan's term—women who championed the genre while still sharply criticizing it. Even in that fearless cohort, hampton's voice stood out for its boldness, recalls Kierna Mayo, a former editor in chief of Ebony and a longtime friend of hampton's who also worked with her at The Source. "Dream had a certain kind of self-possession that was not easy to miss," Mayo told me. "I remember being like, Damn, this girl is not playing games."
Then there was her inimitable style. "Every story she wrote left an impression," Questlove, the drummer for the Roots, told me. As a young musician, he thrilled to hampton's work for its cinematic portrayal of a world he hoped to join—"I'm talking '70s-Scorsese levels of description." When a hampton column in Spin described Treach from Naughty by Nature as "one of about three people on the whole planet who gives real hugs," Questlove made a promise to himself: One day, he'd become important enough to hug dream hampton.
Hampton really did get that close to hip-hop's major players. She rode Jet Skis at Puffy's house; Queen Latifah briefly hired her to work at her record label. (Hampton's daughter, Nina, who is now in her late 20s, told me, "The only person I've ever seen her be starstruck about was the Property Brothers.") A few blocks away from where hampton smoked with Biggie, the members of Digable Planets were recording jazz-inflected anthems about Black pride; hampton dated a rapper in that band, Ishmael Butler. He told me he found her "glamorous in a way, and a little aloof," yet he was mesmerized by her patter of literary observations, political theory, and wisecracks. "She would say things to you about yourself that nobody else would. But it was always true." He could feel their conversations seeping into his work. "She was already understanding what hip-hop was in a way that even people participating in it weren't, in terms of social, economic, and historical context," Butler said.
Being so enmeshed in the culture might have sanded down another writer's edge, but hampton's intimacy with the scene she wrote about lent her a particular authority. She came off as concerned but not condescending, always alive to artists' intentions and environment. When commentators began to pit so-called street rappers such as Biggie against so-called conscious ones such as Digable, hampton took to The Village Voice to point out that both acts hailed from the "same hood" and voiced the same struggles. The artists' contrasting sounds, hard and smooth, were equally valid forms of Black self-expression; both artists were responding, in their way, to life in a racist society. As hampton put it in her review, "If they differ, it's hardly on theory."
By the mid-'90s, national politicians were regularly inveighing against rap's indecency, but hampton was developing a more nuanced, and bleaker, complaint. A 1996 double review of now-classic Nas and Jay-Z albums (It Was Written and Reasonable Doubt, respectively) offered a sweeping sermon on the state of hip-hop. Aesthetically, the music was at its "absolute best and most sophisticated," but philosophically, it was stuck on "hyper-capitalism, numbness, cartoonish misogyny." These were, in her analysis, generational pathologies, instilled by the crack era. Drugs hadn't just brought death and incarceration to poor urban areas—they had created new classes of haves and have-nots. "My fellow tenth graders left for summer break aspiring breakdancers and returned that fall as ballers—dripping in gold," hampton wrote. She yearned for music "about land and liberation rather than suitcases full of Benjamins and ice," but she saw hip-hop as merely repackaging American greed and individualism.
Jay-Z, then a 26-year-old who'd started dealing drugs at age 13, had rarely been written about with such rigor. He called up hampton to chat, sparking a friendship that continues today. In 1998, hampton wrote a masterful Vibe cover story probing Jay-Z's "murderous, enterprising" persona. It culminated with her asking if he was haunted by "the little boys who just wanted to be him" and who ended up dead or imprisoned. Jay-Z acknowledged some guilt but said, "I shake it off, you know?" Hampton wrote, "Well no, I don't."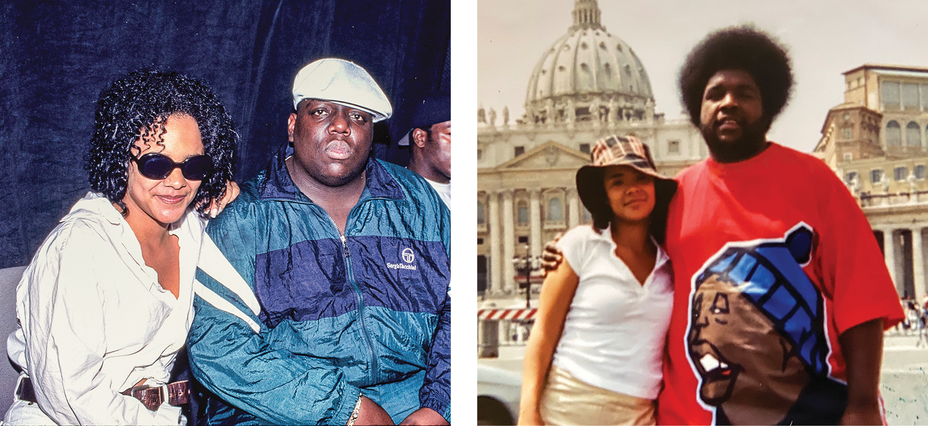 Rap's body count was, by that point, a personal source of anguish. Hampton had spent six months profiling Tupac Shakur, the West Coast firebrand who'd been raised around the same Black radicals hampton admired, and they'd become good friends. He used to tease hampton for her unruly hair: "How you get pregnant?" he'd joke. When he was killed in a still-unsolved 1996 shooting, hampton felt a selfish anger: He'd never get to meet her newborn daughter. Six months later, Biggie was murdered in what many believe was a mistaken attempt at revenge for Tupac's death—a sickening end to a relationship that began with hampton introducing the two men on a music-video set in the early '90s.
Her Village Voice obituaries for both rappers seethed with frustration. The Biggie essay was an intimate account of grief: "I visit Big's mother at his condo in Teaneck and she cries a lot. Her whole chest caves in and she can't breathe." Hampton's Tupac obit was more of an elegy for an idea. She lamented that Tupac didn't "get his shit together and articulate nationalism for our generation." She also wrote a vow that she would break and renew for years to come: "I want to say that for me hiphop is dead."
One morning, hampton took me on a driving tour of the curving, forested roads of the Vineyard, past shingled cottages and rocky bluffs, pointing out the island's various neighborhoods. (Over there, she said, "people wear lobsters on their pants, and they're serious about it.") She told me that she'd had an epiphany after we'd talked the night before. She'd been up late, thinking about Tupac, and suddenly she was thinking about her own brother, and the cowardice of men.
Tupac was on trial for sexual assault when hampton profiled him in 1994. A female fan said that the rapper and his friends had raped her in a New York hotel room; Tupac said that he'd been sleeping in another room while other men attacked her. Eventually Tupac would be convicted of groping the woman but not of raping her. At the time, hampton's speculation was that Tupac hadn't assaulted the accuser, but that he had been awake while the other men did, and he hadn't intervened. When hampton accused Tupac of this over lunch, she said, he went on a sexist tirade, causing the two of them to get kicked out of the restaurant.
What she'd realized the night before our Vineyard drive is that the story of Tupac in that hotel room echoes one of her most difficult memories of her own brother. Hampton's brother, who is one year younger than she is, recurs in her writing as an example of men absorbing hip-hop's messages. Hampton's 1991 review of N.W.A.'s second album of brutal gangsta rap—"When will this caveboy shit end?" she asked—closed with the image of him, "right hand on his nuts," cranking the volume. In 2012, he appeared in a personal essay she wrote about the time a group of neighborhood bullies tried to rape her when she was in eighth grade. He had let the boys into their house and, she wrote, stayed downstairs as she fought them off.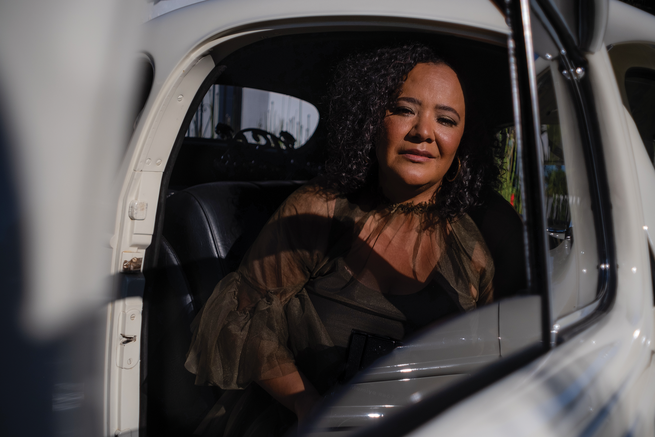 Hampton hasn't spoken to her brother in decades. But I called him, and he picked up on the first ring. "I feel bad for what happened," he said, of the night hampton was attacked. He disagreed with some details of her account, saying that he entered the room a few minutes after the violence began, at which point the boys stopped. On the whole, he expressed a mix of sadness and resentment about his relationship with his sister. He's proud of her, he said, and has followed her career from afar. But he thinks she believes that "men are the villain."
When I told hampton that I'd talked with her brother, she replied: "Oh good. He's alive then." She didn't want to relitigate the night of the assault. "I remember doing my own fighting," she said. But she had a strong response to the accusation that she vilifies men. "That's a Twitter-troll comment" about feminists, she said. "It's so reductive and it's so old."
She told me that she doesn't see her brother, who was a young adolescent then, as a "villain" for not fighting for her that night. In fact, she said, she tries to have sympathy for him, and for Tupac. The male tendency to band together at the expense of women has been inculcated over generations, long before rap. "I always say, I didn't learn about 'bitches and hos' from hip-hop, " she said. "I learned it from the Bible." But she believes, as bell hooks argued, that little political progress for Black people, much less a revolution, can be accomplished without addressing sexism. Misogyny, hampton told me, is a gateway to other forms of intolerance. "If it's possible for you to hate people in your own community," she said, "then it's possible for you to be corrupted in all these other ways."
Although she has never really stopped trying to get men to rethink their programming, the effort can feel maddening. In 2012, the rapper Too $hort made a video counseling young boys to put their hands down girls' underwear. In a dialogue published by Ebony, hampton explained to him why this was a disgusting thing to do. Too $hort said he hadn't known, until that controversy, what sexual assault really was. Coming from a then-45-year-old rap legend, this was a rather dispiriting sign of progress.
So when hampton was approached to direct a documentary about R. Kelly's sex crimes in 2018, she had little reason to believe that the project would change anything. Kelly's interest in underage girls had been infamous ever since he illegally married the 15-year-old singer Aaliyah in 1994. In 2008, he was acquitted in a trial over child-pornography charges involving a video that appeared to show him urinating on a 14-year-old girl. In 2017, the journalist Jim DeRogatis reported that Kelly had led a "cult" of women whom, through abuse and emotional manipulation, he kept in virtual captivity. DeRogatis's article was widely circulated, and yet Kelly denied the allegations and remained a major-label ticket seller.
Hampton agreed to make Surviving R. Kelly as a kind of penance. She had profiled Kelly in 2000, but she'd failed to look behind the closed doors of his studio. As she later wrote in The Hollywood Reporter, "I'd been in Jeffrey Dahmer's kitchen and not opened the fridge." So she set about the grueling work of getting victims to tell their stories on camera, despite Kelly's threats to blackmail those who spoke out. The singer's manager called in a threat to the theatrical premiere, warning that someone there had a gun and would start shooting. The event was canceled. But an average of 2.1 million people still tuned in as the six-part series aired on Lifetime in early 2019. Kelly's behavior had been widely treated as a punch line in the past, but now public sentiment turned toward horror and fury. One woman who watched the documentary was Kim Foxx, a Chicago-area prosector who issued a call for victims to contact her. Litigation around the country soon followed. In New York, charges were filed for sex trafficking and racketeering, and Kelly received a 30-year prison sentence in June 2022.
The documentary, which arrived amid the #MeToo movement, is now invoked as evidence of what a well-formed provocation, timed to its moment, can achieve. W. Kamau Bell, who was inspired by hampton to film his own docuseries about the crimes of Bill Cosby, noted that Surviving uses long takes and in-depth interviews to depict its subjects as "fully functioning human beings, and not people who were defined by their experience with R. Kelly." Hampton's filmmaking transcended voyeurism by conveying an urgent message: "There's an active crime taking place right now, and I need your help to stop it," as Bell put it. Her uncompromising sensibility had, it seemed, made a difference.
Hampton, however, is focused squarely on what the documentary has not accomplished. Her speech, normally fluid and lively, stiffened whenever Kelly's name came up in our conversations. "Surviving gets held up as something that had impact, right?" she said. "What they mean is that there were consequences for R. Kelly. But I would argue this: If R. Kelly had apologized, if he had owned the harm that he caused, if he had made a real attempt at restitution, then … it would have impacted the culture." Instead, he sobbed and screamed denials at Gayle King in a March 2019 TV interview.
Hampton thinks that America's legal system, so focused on punishment, discourages honest reckonings in cases of abuse. Kelly's victims have been left to process what happened to them while fending off harassment by the singer's supporters, who hampton says remain active enough that she retains a security manager. And although Kelly is finally in prison, she doesn't see much evidence that Black women are now any more likely to be believed when they speak out about abuse.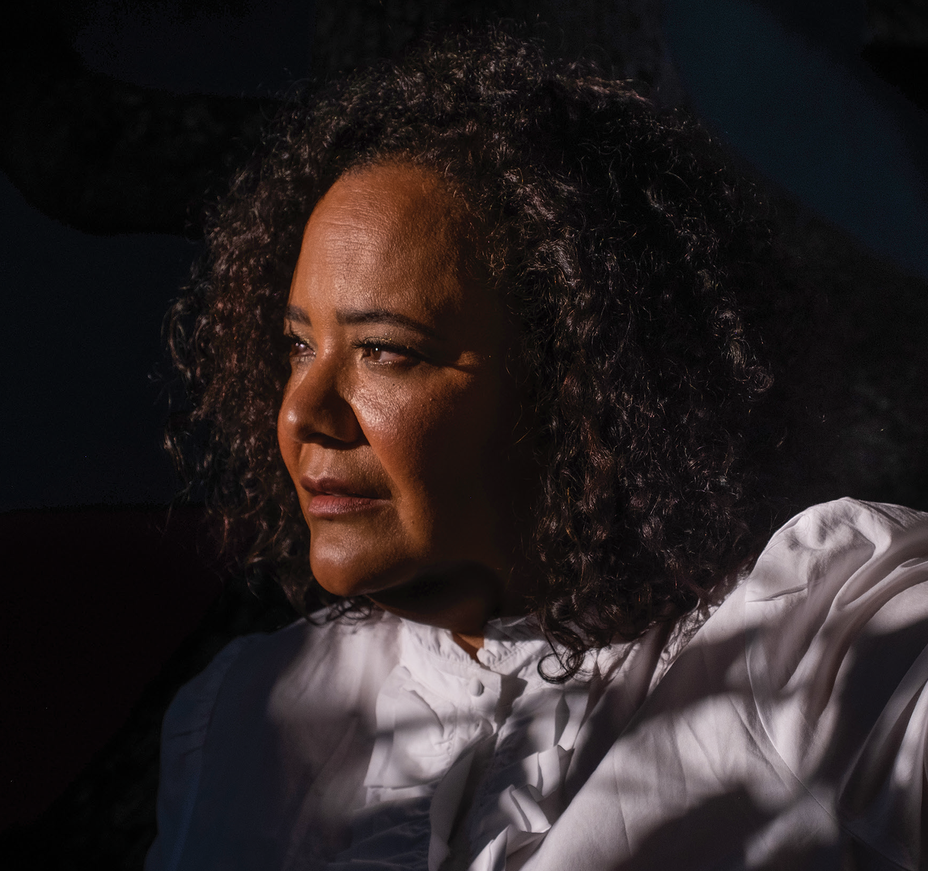 When talking about R. Kelly, hampton brought up a seemingly unrelated incident: the shooting of Megan Thee Stallion by another rapper, Tory Lanez, in 2020. An abundance of evidence indicated that Lanez had fired a gun at Megan's feet during an argument, and he was convicted of assault in December. (He's since been sentenced to 10 years for the shooting.) But up until that conviction, much of the hip-hop world had coalesced around a narrative that portrayed Megan as a jilted lover of Lanez's who had fabricated his attack on her. She wept on TV about the pain she'd experienced; Drake made a song that seemed to call her a liar. To hampton, the way that men had circled up to discredit a Black woman felt like a repudiation of everything her work represented. "You do something like Surviving or you have a moment like #MeToo, and it's incredibly Sisyphean," she said. "The blowback is immediate and louder than any progress that was made. So it can have you retreat to your garden."
Hampton's dismay is not limited to hip-hop and the patriarchy. When we spoke, she also worried about climate change, Gen Z's mental health, and the popularity of the TV series Yellowstone. But she has a certain exuberance too, and even her darkest riffs are interspersed with jokes and recommendations. Listening to her talk, you get the feeling that great catharsis and truth are always just around the bend, after one more digression about poverty or shark attacks.
A little gloom can be useful in the idealistic world of left-wing activism. Hampton's longtime friend Monifa Bandele—formerly a head of Time's Up, the organization that fights workplace sexual harassment—said that hampton's pessimism has had an unusually constructive bent. She recalled that hampton would bemoan the futility of the Malcolm X Grassroots Movement's mission to free incarcerated Black activists, and then whip up a ferociously effective publicity campaign for the group. "She sees things for what they really are," Bandele said. "So that includes the cracks, the deficits."
But her candor can also alienate people who would otherwise be on her side. In both social and professional settings, "I have had to tell her to bring it down a thousand," Bandele told me. Mayo, hampton's friend and former colleague, told me that she's long admired that hampton was "born free—just came here without the rules, without the propensity to even understand the rules." Yet because of that wild honesty, people have at times "questioned whether she was kind—sometimes unfairly, sometimes fairly," Mayo said. "She is not absolved of her accountability to friends and relationships any more than any of us are."
A few clashes have been public. In 2012, she caused a media vortex by tweeting that an album of protest music by Nas, one of the most vaunted lyricists of all time, had been largely written by the rappers Stic.man and Jay Electronica. She told me she just wanted to deflate hype around songs that aren't as deep, politically, as they pretend to be. But in a genre where the myth of the lone genius reigns supreme, accusations of ghostwriting are explosive. The songwriting credits for the album included the artists she had named, but all three men publicly denied hampton's claims, and rap fans tweeted that she was a "bitch" and a disgruntled "groupie." Even though the backlash was clearly laced with sexism, friends wondered why she'd needed to poke this particular bear. Stic.man had been a close friend, she'd been an early booster of Jay Electronica's music, and she'd first met Nas in the '90s. None of them has talked to her since.
Surviving R. Kelly also tested her friendships. After the film premiered, she spoke openly about the fact that a number of celebrities, including Questlove and Jay-Z, had declined to be interviewed (the latter recorded two full albums with Kelly in the early 2000s). Some on social media accused these artists of tacitly supporting abuse. Jay‑Z privately expressed bafflement that she'd thrown him into the controversy. Questlove tweeted that he'd decided against appearing in the documentary only because he'd been asked to attest to R. Kelly's musical talent, a claim hampton denied. She told me she refused to apologize for truthfully responding to questions from reporters about the public figures who had turned down interviews. Even now, she believes that Jay‑Z could have used his position of power to hold Kelly accountable: "I feel like what I did in six hours, he could have done in a 15-second verse," she told me. Questlove, who'd sought out her friendship so long ago, still feels shaken by the episode. "The cooling-down of a really great relationship—I mourn that," he told me.
Hampton tends to invoke being a perfectionist Virgo when discussing her propensity for confrontation. She's trying to change: Moving from writing to filmmaking—a medium that requires intense collaboration—has, she said, shown her the need to communicate more gently. Yet she also had a cutting take on people who can't handle harsh feedback. "There is an ego in having everything filtered through the lens of you and your feelings," she said.
Butler, the Digable Planets rapper, pushed back on the suggestion that she looks for conflict. "I would not say she challenges; I would say that she loves," he told me. "Because if she don't love you, she'll watch you do whatever you do and just be like, 'Oh well.' "
Hampton wanted to say "Oh well" when asked to help produce and direct the new Netflix docuseries Ladies First: A Story of Women in Hip-Hop. She'd prefer to spend time on her own creative ambitions—a TV comedy about white militias, an adaptation of writing by the South African author Bessie Head, a documentary dissecting the politics of police procedurals. But the production firm Culture House pitched her repeatedly, even after she declined. What finally pulled her in was her need to critique.
For decades, the list of household-name female rappers remained vanishingly small. But in the past few years, women have, by some measures, become the driving force in mainstream rap. This development, arriving around the 50th birthday of hip-hop, might seem like an occasion to celebrate. But hampton felt that the "Black-joy mafia" needed a reality check.
"They were telling a kind of triumphant story about representation," she said of the team at Culture House. "And I'm saying, 'In so many ways, the story of women in hip-hop is more Game of Thrones than it is Sex and the City.' " The horror stories are numerous: An unfair record deal left TLC penniless at the height of the group's success; early innovators such as Sha-Rock feel they've been driven out of the industry. As for today's boom in female rappers, "most of these women are putting the p in patriarchy." Cardi B, who has channeled marriage and motherhood into famously racy lyrics, is "incredibly conventional," hampton said. "She's like, 'I'm a ho for my husband.' "
Cardi B is an Afro-Latina ex-stripper and vocal Bernie Sanders supporter with a string of No. 1 hits—she has quite plainly broken a few boundaries. In her unapologetic vulgarity, she is also part of a wave of artists arguably doing for the female libido what decades of music—not just hip-hop—have done for male lust. But hampton is asking that we not overrate symbolic victories; that we not let flashy displays of female empowerment distract from the very real problems women face.
Carri Twigg, one of the executive producers of the series, gave a wry smile when I relayed that hampton had described herself as a "pain in the butt" on the project. Twigg had sought hampton's expertise precisely to give Ladies First some bite. "It's really easy to tell a glitzy, happy version of hip-hop: Hey, look at all these women; they made all this money," she said. "Dream was always the first person to be like, 'And at what cost?' Every single pass, dream was the first person to be able to spot compromise, inauthenticity."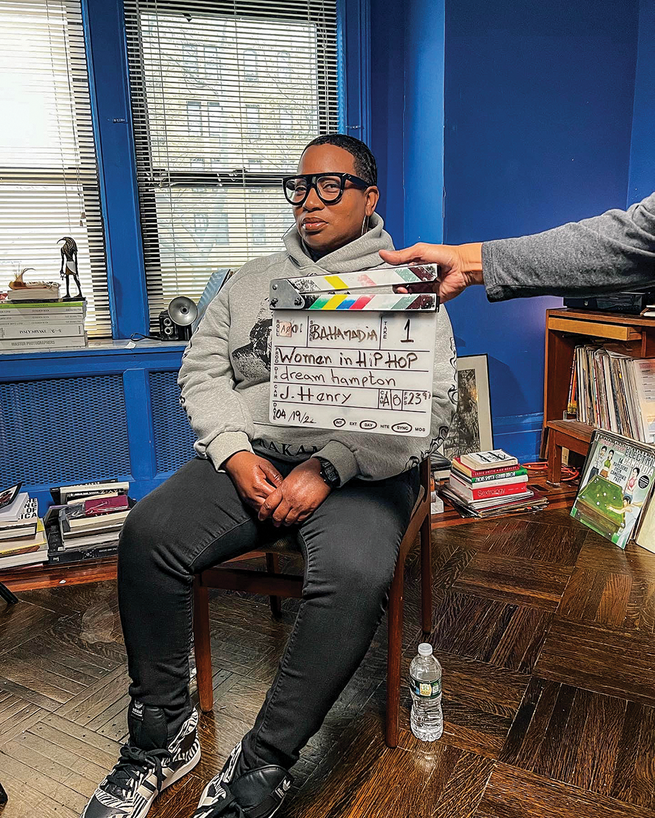 The resulting series doesn't shy away from showing tragedy and exploitation, and it smartly highlights a variety of sexist double standards. But it also flaunts the sounds and fashions of artists such as Nicki Minaj, Doja Cat, and, yes, Cardi B to show how hip-hop really has opened up to female performers. Hampton admitted that even she was moved by some of the more celebratory material. Over the years, she has adjusted to the idea that not all progress needs to be a full-on revolution. "The creativity that we fight with is, like, life itself," she said. "For me, hip-hop was one of those creative tools with which we fought. We weren't always fighting systemic oppression. Sometimes we were just fighting respectability politics. And we didn't even call it that, but we just knew that we wanted to wear shorts that cut our ass."
The series also devotes a few moments to hampton herself. The now-middle-aged Dee Barnes, the TV host whom Dr. Dre attacked 32 years ago (an incident for which he offered only a vague apology, to "the women I've hurt," in 2015), expresses tearful gratitude that hampton defended her in The Source. Photos of hampton and snippets of her articles flash on the screen. Joan Morgan speaks of the importance of female rap journalists: "We love hip-hop enough to hold it accountable."
In what were supposed to be my final hours on Martha's Vineyard, wildfire smoke blanketed New York City, grounding my flight home, so I had time to sit on hampton's back porch. Nina, her daughter, and a houseguest, the architect V. Mitch McEwen, were there for lunch. Nina shared a story about taking a nap at the house of some family friends: Jay-Z and Beyoncé. McEwen described hampton's Detroit home as a kind of salon for the city's promising minds. "You would hear about these young real-estate developers, or these amazing artists, or these queer activists, and then you'd go to dream's dinner, and they'd all be sitting around the table," she said.
Hampton came out with plates of shrimp and grits and explained why, after two days of telling me she was over hip-hop, she was now comfortable having me see the footage of Biggie that she hadn't watched in years. She soon hopes to say a final farewell to the genre by editing her tape archives—including '90s-era video of Snoop Dogg, Method Man, and Q-Tip—into a short feature. Tentatively titled I Used to Love You, the project will cut against 50th-anniversary hagiographies of rap greats. She says she has footage of Biggie lecturing Lil' Kim that she needs to wear makeup in public. Hampton says she also has tape of herself chewing out Biggie in the studio for lyrics about robbing pregnant women.
But the clips I watched that day mostly captured what hampton had called "life itself." On a Brooklyn street, she and Biggie sat amid a fleet of double-parked cars filled with members of the rap crew Junior M.A.F.I.A. At one point, the rapper Lil' Cease jumped into the seat next to hampton and flashed a grin. "I met this cutie and her name was dream," he rapped. "Shorty was top choice, had golden brown eyes / def lips and fly thighs." Biggie called for the windows to be rolled down—to "feel a nice little breeze, man"—and hampton's camera followed a plume of pot smoke escaping into the daylight.
I turned from the screen to look around hampton's basement. It is her working space, bedecked with Post-it Notes about projects and plans. On one wall hung a poster of Jimmy Carter, who is hampton's favorite president. Tacked to a pinboard was a commemorative subway card with Biggie's face on it, W. E. B. Du Bois's farewell letter to the world, and a photo of Apache warriors. There was also a sign expressing, in block letters, a sentiment that hampton had never said out loud to me: BETTER IS POSSIBLE.
---
This article appears in the October 2023 print edition with the headline "The Joy and the Funk and the Mire."