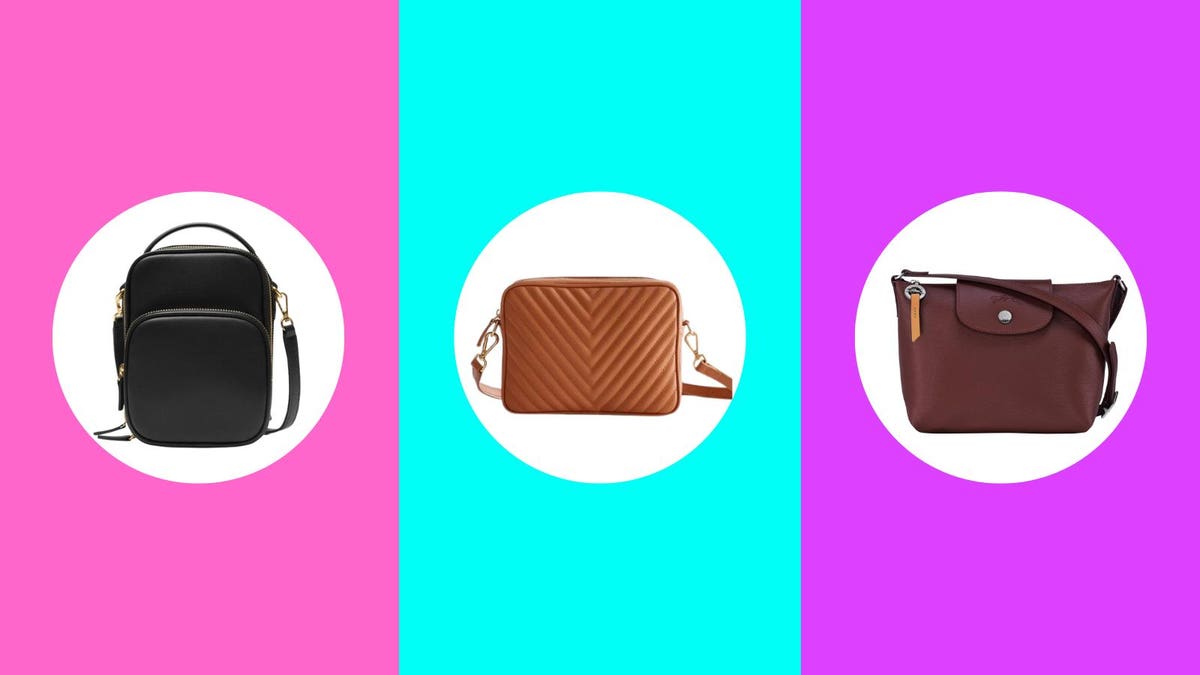 After months of reporting to find the best crossbody bags, here's what I quickly learned: Once you start carrying one of these super convenient bags, you can never go back to a heavy tote again. Designed to be worn across the body (hence the name), these compact bags let you go about your day hands-free and are highly convenient for commuting and travel, not to mention running errands (especially if you have kids) or going out at night when you don't want an oversized bag on your shoulder.
Given their appeal, there are no shortage of designs on the market. To find the best crossbody bags, I spent months testing and scrutinizing the options so you don't have to: I evaluated hard facts and metrics, like weight and capacity sizes, materials and strap lengths, and then gave my fashion editor's take on the style appeal and versatility of the bags. My top pick overall, Quince Italian Leather Quilted Crossbody Bag, scored the highest marks across all those categories, and is extremely affordable as a bonus. But since no one bag is perfect for everyone, I tested different options for specific use cases: Lululemon's Everywhere Belt Bag, for example, is the best crossbody cellphone bag while MZ Wallace's Small Sutton Deluxe is ideal for travel.
Here are all my picks for the best crossbody bags, along with my reviews on each, as well as answers to readers' most commonly asked questions and expert tips at the end. And for more accessories advice, we also have guides to the best travel totes and work bags for women.
---
---
---
---
---
---
---
---
---
---
---
Other Crossbody Bags I Tested
Everlane The Luxe Italian Leather Crossbody ($225): I like how you can carry this bag two ways: as a tote with the handles or a crossbody with the removable strap. The top seals shut with a snap closure that I noticed still left some open gaps on the sides where I worried items might fall out. The leather strap was also a little thin and twisty. On the plus side, this bag is extremely lightweight and stylish.
Madewell The Sydney Crossbody Bag ($168): A popular bestseller from Madewell, this bag is well priced and has a cool-classic shape. Still, the leather was not as luxurious as some of the other picks I tested and, similar to the Everlane's crossbody, the magnetic closure and straps didn't feel sturdy enough.
Smythson Envelope Phone Case Crossbody ($415): This is a compact bag designed to hold your cellphone mostly, or just a few small essentials. I can't say enough good things about the leather—it's rich, elegant and fantastic—but the bag's size was too small; I couldn't fit my iPhone 14 inside, so it wasn't practical for my needs.
Hobo Heidi Satchel In Port Suede Tote ($468): The suede on this bag felt soft and luxurious, and interior is spacious and well organized. You can carry this bag two ways—personally, I found the size to be on the larger end, so I felt this bag is best utilized as a tote rather than crossbody.
---
How I Tested The Best Crossbody Bags
In testing crossbody bags, I primarily examined three main factors: the caliber of the construction and materials; ease of use and comfort; and the practicality and versatility of the design. Was the bag easy to carry all day? Did the materials, including the straps, hardware and buckles, hold up well to daily wear and tear? Did the quality of the bag justify the price point and align with other similar options in the market? Was the bag trendy or did it have a style that would last season after season?
I considered options from both established and emerging brands that are known for their top-rated bags and accessories. I also relied on my firsthand knowledge and experience in fashion, having been an editor for more than 20 years in the field. Forbes Vetted contributor, Molly Calhoun, also consulted fashion stylist Gina Donnelly and personal stylist Janel Alexander for their advice on the most important features and answers to readers' commonly asked questions about what to look for in the best crossbody bags.
As I started to compile a list of initial contenders, I tested each bag, a process that took roughly 4 months to complete. In total, I tested 15 crossbody bags. I first ran in-depth but realistic tests, including feeling the weight of the bag, assessing my ability to wear it comfortably across my body and adjust the straps, and its ability to hold a standard set of items (my phone, cardholder wallet, snacks, personal care items and keys). From there, I rotated through the bags, trying each one in a variety of scenarios—doing daily tasks and errands, traveling on short trips (for the weekend) and longer trips (for a week), running around with my kids to sports and activities, going out in the evenings and attending work events. In doing this, I identified the use-cases that each crossbody bag would be best for, ultimately narrowing down the contenders to a single best overall option, the Quince Italian Leather Quilted Crossbody, and those that are more specialized for specific needs.
---
What To Look For In A Crossbody Bag
Function
In order to get the most use out of an over-the-shoulder style, you'll want to consider size. You may want something that fits your cell phone, keys, cash and any small makeup items, or you may need something slightly larger that holds a planner or work-related papers. Next, determine if you want a single compartment or pockets. If you want a secure closure for safely storing belongings when on the move, then a zipper or sturdy magnetic fastening is a good choice. Finally, pay attention to the bag's straps. "If you want the bag to double as a crossbody and a shoulder bag, adjustable straps will be your best bet," says fashion stylist Gina Donnelly.
Drop
Where the crossbody falls on your body when slung over one shoulder is referred to as the "drop." Strap length, your height and whether you wear your crossbody in front or back of your body will influence the ideal drop for you. "Ideally, you want the bag to sit right around your hip bone so you're not constantly knocking the bag with your hands as you walk," says Donnelly. "Also, if the bag sits too high, it looks awkward; and if it sits too low, it looks like it is dragging you down."
Material
Consider how often and where you'll be wearing your crossbody to figure out what material is most appropriate. For example, if you plan to wear the crossbody to a night out or concert, where there's drink-spilling potential, waterproof nylon or wipeable vegan leather may be your best bet. Also, keep in mind that textured leathers and woven styles are typically more durable than smooth leathers.
---
My Expertise
I'm a senior fashion editor at Forbes Vetted, where I cover women's and men's fashion, accessories and fitness apparel. Prior to joining Forbes, I was a longtime freelance writer and my work has appeared in T: The New York Times Style Magazine, Vogue and The Wall Street Journal. I've also written two visually-focused books, including The New Beauty: A Modern Look at Beauty, Culture, and Fashion, and I currently hold certificates in the history of design from Sotheby's Institute of Art and fashion styling from the Business of Fashion.
---
What Are Best Features To Look For In A Crossbody Bag?
"Like any bag you should consider function," says Alexander. "If you carry a lot of items in your bag, it should have a comfortable strap that's not too skinny so it won't dig into [your shoulder]. If you will be in and out of the bag often, try not to get one that is too deep or soft leather so it will help to retain its shape. Bags used professionally or for evening do better in leather or suede whereas a bag used more casually may translate better in a nylon, canvas or a print."
How Do You Know If A Crossbody Bag Is The Right Length?
"Many bags have an adjustable strap that allows you to customize where the bag will sit—the technical term is the 'drop'—between your arm and your hip," says Alexander. "The perfect spot is not too low because you don't want a saddlebag situation. It should line up with the middle your hipbone."
How Can I Convert A Regular Bag To A Crossbody?
If your handbag already has small rings for a shorter shoulder strap or wrist strap, it can likely be converted to an over-the-shoulder style. "Don't forget that your beloved handbag may be easily turned into a crossbody bag with the simple addition of a longer strap," says Alexander. "This is a great way to day-to-night the bag—use the crossbody for day and then remove or tuck in and use the shorter strap for night. It's okay to let the shorter strap hang forward when doing so."
What's The Difference Between A Crossbody Bag And A Messenger Bag?
A crossbody style is really just a type of messenger bag, and in general, crossbody bags are significantly smaller in size and are more refined. "A crossbody bag has similar functionality, but is designed to be worn more fashionably," says Alexander.