High Snobiety is continuing its series of fashion week pop-ups with its first hosted in New York City.
The media and lifestyle company on Monday revealed its "Neu York" initiative, which will debut on Sept. 7 in conjunction with New York Fashion Week. The initiative includes a pop-up shop, which is located at 21 Greene Street, events and shoppable experiences. The pop-up will be open from Sept. 8 to 10.
"The main goal [of 'Neu York'] is to come to New York City as High Snobiety being the host to a portfolio of partners that we are really honored to have worked with on this, to meet the community, to bring energy, but also to receive energy," said Hendrik Jürgens, vice president of brand energy at High Snobiety. "Coming from the digital space, we have a large community and it's key for us to meet them in the physical space to go beyond what we do online. That's why these kinds of projects are so key for us." 
"Neu York" is High Snobiety's latest pop-up experience linked to fashion week. While this is the company's first initiative for New York Fashion Week, it has hosted pop-ups for Paris Fashion Week, Milan Design Week and Berlin Fashion Week, among other events.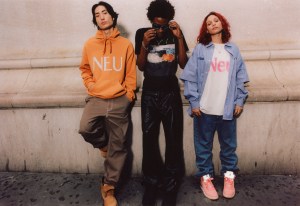 The New York pop-up is meant to celebrate culture and style with a retail component. The pop-up will offer High Snobiety's collaborations with the likes of menswear designer Willy Chavarria, workwear retailer Dave's New York, hip-hop group De La Soul and Italian restaurant Sant Ambroeus, among others.
The pop-up will also sell styles from High Snobiety's new fashion line, HS05, which offers streetwear-inspired pieces across apparel and accessories.
"When it comes to the collaborations and the clothing we produce with our partners, it's an ongoing process of learning how to do things better," Jürgens said. "Simply what we do as a whole [at High Snobiety], we've come a long way and we're reached a greater level. We're ready to show this to the community in the right way."