Ask anyone to recite the lyrics to PinkPantheress' chart-topping "Boy's A Liar Pt. 2" featuring Ice Spice and they'll just as likely — if not involuntarily — conjure up the image of Ice Spice's flurry of reddish-orange curls.
Since splashing onto the scene last fall with her viral song "Munch (Feelin' U)" the rap newcomer has enraptured audiences not only with her distinctly New York delivery and down-to-earth attitude, but her look.
Between her signature afro, always-primped nails and Y2K aesthetic, Ice Spice is among a rising wave of female rappers — including Flo Milli, GloRilla, Megan Thee Stallion and others — whose expressive hair and makeup looks are as key to their musical personas as their lyrical flow.
It's a phenomenon that goes way back. When Salt-N-Pepa in the '80s released their global hit, "Push It," the trio's matching, asymmetrical haircuts were heard just as loudly as their knack for crafting hooks.
It wasn't long after Brooklyn, New York, native Lil' Kim released her debut album "Hard Core" in 1996 — which made the highest debut on the Billboard charts for a female rap artist at the time — that she began to garner notoriety for her audacious fashion and beauty choices.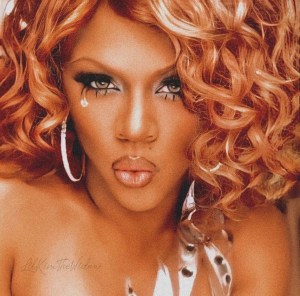 "She was the contour queen," recalled Nzingha, Lil Kim's then-makeup artist. "She contoured everywhere. Sometimes she'd do it without me and I'd come back and just, 'Girl — that is not what I gave you.'"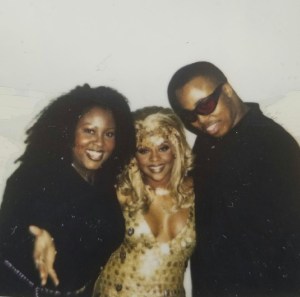 Lil' Kim donned fluorescent wigs, heavily lined lips and iridescent eye shadow: She was over-the-top in her glam always, and in doing so proved that female rappers didn't have to renounce femininity to gain legitimacy in the male-dominated rap game.
Around the same time, R&B powerhouse Mary J. Blige was coming up and became known for her nude looks, eventually collaborating with MAC Cosmetics on a nude lipstick in 2020.
Because of her soft glam M.O., it was a shock when Blige appeared wearing bold, dark lipstick in the 1995 music video for "Not Gon' Cry."
"Everybody thinks she wore a black lipstick, but it was wasn't black — it was eggplant," said Nzingha, who crafted Blige's look that day, inspired by a tradition in Nigeria's Wodaabe tribe in which men paint their lips black or blue to show off the whiteness of their teeth. "The whiter your teeth, the more marriage material and wealthy it meant you are."
Lauryn Hill, meanwhile, became known for her signature brown lip-liner and her lush locs, and Erykah Badu — who fronted a Givenchy campaign in 2014 — has sported an array of natural hairstyles throughout her career, including braids, blowouts and an afro.
Modern-day hip-hop monarch Nicki Minaj, like Lil' Kim, has often experimented with colorful wigs and makeup. After years of referring to herself as a Barbie, Minaj fittingly landed a feature on the soundtrack for Greta Gerwig's "Barbie" film — which she brought to life with Ice Spice, of course.
Here, a look back on some of hip-hop's most iconic beauty looks.