---
Find out which stores have opened, closed or moved and what's new in Berkeley's small-business communities. If you have Berkeley business updates to share, send an email to editors@berkeleyside.
In the spotlight
A Berkeley designer who emigrated from China opens up her garage for one of her seasonal sales
For 22 years, Xiaoyan Lin's contemporary women's clothing was sold in boutiques in Berkeley and around the country. During the pandemic, Lin lost a big chunk of her business when the pandemic caused many small boutiques to close. In 2021, she closed her Sawtooth Building studio. Since then, she has continued to sell her designs out of her Berkeley Hills garage two to three times a year. 
The next sale is Saturday, from 10 a.m. until 2 p.m.
The self-taught Lin has had a stubborn commitment to fashion. Growing up in Fuzhou, China, Lin took a test to enter the country's best art school. Though she received one of the top scores, she said, she wasn't admitted because she has polio and walks with a leg brace.
"Life was pretty difficult for me there," she said. "They're not very friendly toward disabled people."
Nevertheless, she insisted on making clothes, first for a friend who attended a wedding, which spread the word. She opened a tiny shop in Fuzhou in 1990 "and it just grew from there." 
She emigrated to the U.S. in 1996, landing in San Jose, where a cousin lived. Her cousin suggested that Lin move to Berkeley, where her clothes would be appreciated by a "more creative and artistic clientele," Lin said. 
In 1998, she started working from her Berkeley home and a year later began renting at the Sawtooth Building. From 2000 to 2007, Lin also had her own boutique, Xiaoyan Lin Designs, next to the Elmwood theater, on College and Ashby avenues. Her fashions were also sold at Fourth Street's Molly b. boutique. 
Lin is known for a contemporary and artistic style that often plays with angles and asymmetry.  She favors black-and-white graphics, as well as boldly colored, large-scale patterns. Her shirts, jackets and coats will be sold at wholesale prices, ranging from $40 for a cotton shirt to $290 for a wool coat. 
Looking back, Lin said her cousin was right. Berkeley was the right fit. "I love it here."
Xiaoyan Lin Designs, 699 Grizzly Peak Blvd., Berkeley. Phone: 925-322-3676.
Moved Solano Avenue 
Eye to Eye, glasses shop moves across the street into bigger space in Berkeley
Xavier Bovie had been running his boutique eyewear shop out of a 640-square-foot Albany storefront for almost 30 years when new owners took over the building "and decided to kick me out."
He didn't go far, but he went big. He opened a 1,050-square-foot store across the street, in Berkeley, on May 1. 
"I made it all pretty," he said. "It looks like an art gallery, more like a Hollywood or L.A. vibe inside."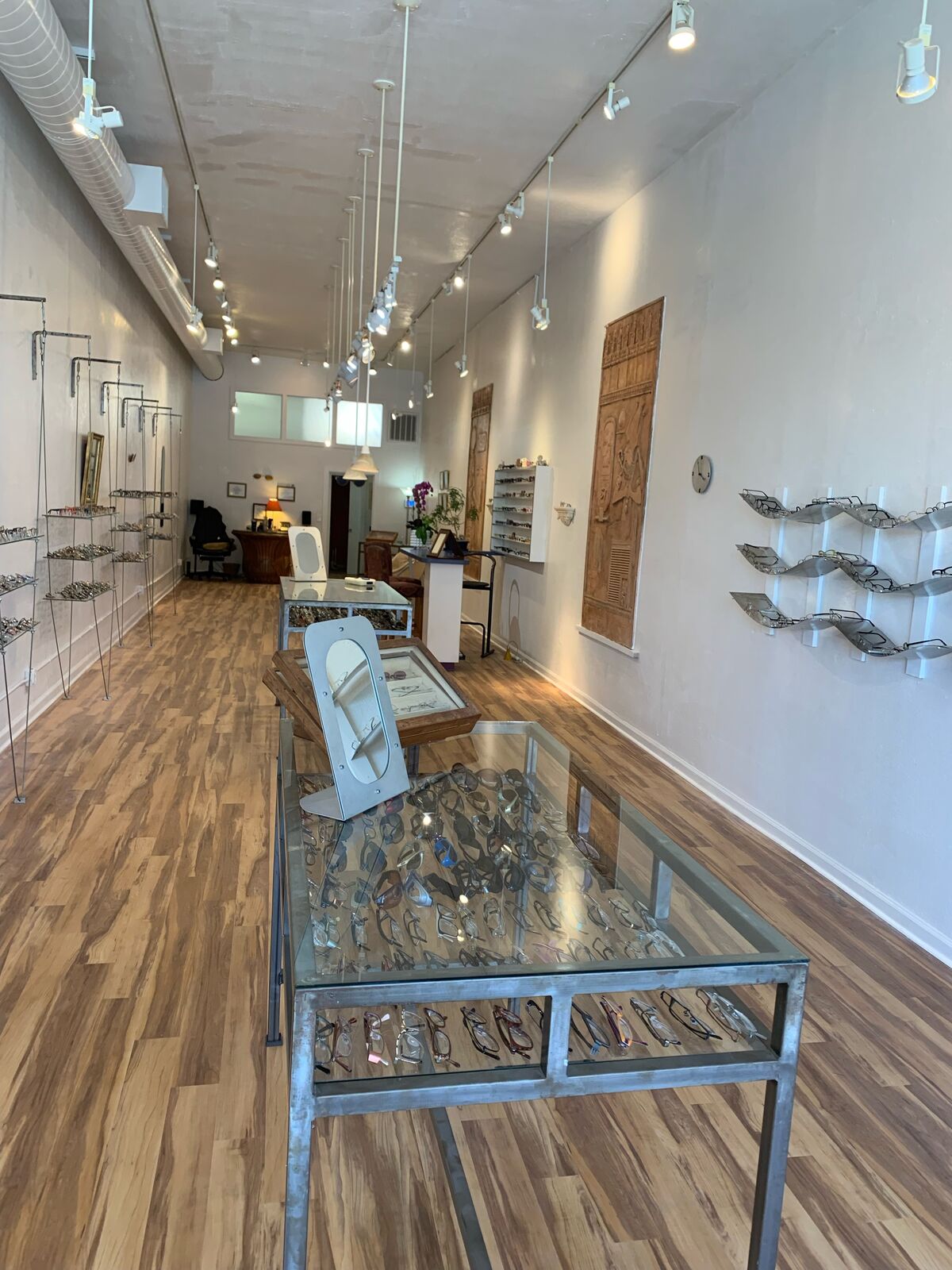 Eye to Eye is known for carrying what he calls "micro-makers" of offbeat frames (like the Bay Area brand Kala Eyewear) and hard-to-find small frames sought after by those with small faces. What the store does not carry: what Bovie considers "run-of-the-mill frames."
For those who love their old frames yet have to change their prescription, Bovie has an on-site lab where he can cut and edge updated lenses to fit the old frames. The store also does repairs and sells vintage and antique models, too. 
In addition to his store's new location, Bovie has another Berkeley connection. His grandmother was the prima ballerina Vala Bovie, whose Grove Street ballet school taught an 8-year-old Kamala Harris. Grandmother Bovie, who had escaped the Russian Revolution, moved to the Bay Area to teach at the San Francisco Ballet in the 1960s. By that time Bovie and his expat family were living in Paris.
"She said, 'Dahling, come live with me in California,'" he said. "So we all came.'"
Eye to Eye, 1603 Solano Ave, Berkeley. Phone: 510-526-0862. Hours: Tuesday-Saturday, noon-6 p.m. Connect via Facebook.
In the spotlight
Trio of tech-savvy UC alumni made a 'dealio' and launched a coupon website for Berkeley and the rest of the Bay Area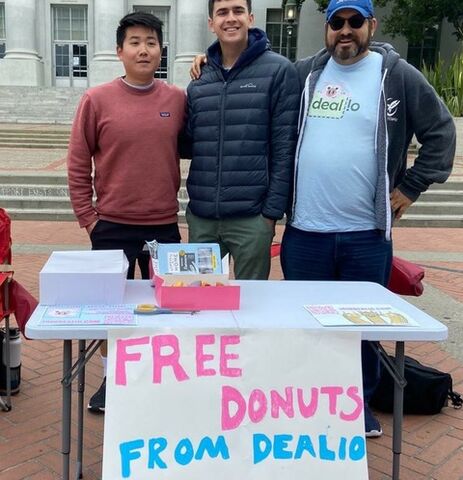 In 2007, while a student at UC Santa Barbara, Aaron Belsh opened a "Craigslist for coupons." It folded three years later. Smartphones weren't yet ubiquitous, Belsh said. Paper coupons still ruled.
During the next decade, Belsh worked for several tech startups, but never gave up on his coupon concept and brainstormed ways to make it better. His a-ha moment came in October 2022, when he conceived of an "ethical Groupon" and named his new company Dealio, a hyperlocal coupon startup that is not an app but a mobile-enabled website. 
Belsh said his problem with Groupon was that its deep discounts came at a high cost to businesses. (A 2011 Harvard/Boston University study found that businesses using Groupon saw lower Yelp ratings.) Belsh used the example of a 50% off deal for a $100 massage, which would require a 25% fee to Groupon, with the spa making only $25 on the massage.
"A lot of small businesses went out of business because of that," Belsh said. 
Fast forward to February 2023. Using Reddit and old-fashioned signage he posted on the UC Berkeley campus, Belsh met two interested students there with computer science backgrounds, Richard Zhouren and Milad Brown. After a meeting at Berkeley Espresso, the trio became the cofounders of Delio, which went live on Aug. 1. 
Dealio asks businesses to discount at least 20% and takes 50 cents per coupon, so it's a model based on low cost and high volume. "It has to spread to thousands of businesses and millions of people," Belsh said.
Dealio's benefit for customers: After using a one-time deal, returning customers then receive a smaller deal (10% off or better). In this way, Belsh said, Dealio seeks to create long-term relationships, a win-win for both businesses and customers. 
Because Zhouren and Brown were Berkeley-based, the trio initially focused on Berkeley, but are expanding to include the rest of the East Bay, Belsh said. Dealio now has eight Berkeley coupons on its website, along with one in Oakland and one in Alameda. At least five more businesses are expected to be on board within the next month or two.
For Belsh, highlighting a best Berkeley deal from his website is like "choosing my favorite child," he said. 
Nevertheless, he pointed out the 50% off waffles coupon for Las Cabañas Mexican Grill & Taqueria and a free Thai iced tea with a $15 purchase at Thai Delight. The offerings aren't only food: Artistic Picture Framing is also offering discounts, starting at 10% off three or more orders. 
Right now Dealio is free, but in the future, Belsh hopes Dealio will have enough deals from local businesses to entice coupon users to pay a monthly subscription fee of $4 a month. (Half the fee would go to Dealio; half to a nonprofit of the subscriber's choice.) 
"The fee will kick in when we get about 100 businesses," he said. "It depends on what people are getting value from."
Dealio. Connect via Instagram and Facebook. 
In brief
Biz Buzz: Library survey, Climate Resilience Prize
Are there not enough circulating copies of American Prometheus? Should your branch library need to be open longer? If you have thoughts or concerns about the Berkeley Public Library, now is your chance to voice them. As part of its new strategic planning initiative "to better serve community needs as we look to the future," library patrons can vent via the Berkeley Public Library Community Survey.
Two Berkeley companies are among 10 finalists Verizon has chosen for its annual Climate Resilience Prize, a national initiative focused on supporting and evolving climate resilience solutions in underserved communities across the U.S.

Clarity Movement is a provider of air-quality monitoring that informs government agencies and communities when air quality is at unhealthy levels and gives them the tools to inform regulators and leaders.
Perimeter is a platform that supports information sharing and collaboration, making real-time evacuation management software accessible to all types of first responders and the public. 
Four winners will be chosen at the end of October, with each receiving $125,000 in funding, in addition to business consulting and other services, courtesy of Verizon.